American & Canadian CH Saredon Mistress Nora
Canada's #1 Welsh Terrier – 1999
Darwyn's 1st Welsh Terrier, 1st dog hand-stripped by Larisa, 1st show dog for Larisa, 1st dog owner-handled by Larisa. Despite these challenges, she still won.
Darwyn's Foundation Bitch …. this girl is Joe and Parker's grand-dam, both made breed history and are multiple Best in Show Winners! Both are from two different daughters of Honey's, girls that were out of 2 different litters from Honey.
Honey is a daughter of the Crufts Best in Show Winner (sire from the famous Saredon Terriers). Her dam is from the famous Felstead lineage.
Honey is a Multiple Group 1st Winner – owner handled!
Won the Terrier Group at Canada's Largest Show (LMDF, at Tradex in Abbotsford, when there were over 1500 dogs each day at this Canadian show)
Best of Winners at Regional Welsh Terrier Specialty (US)
Best of Opposite Sex (BOS) at the Floating National Specialty for the Welsh Terrier Club of America (WTCA)
Dam of Haley who is the dam of 2 WTCA National Specialty Winners (Parker was Best of Breed at Montgomery & Athena was Winners Bitch at Montgomery)
Dam of Mercedes (a Canadian & American Champion and National Specialty Winner herself), but she is the dam of the famous dog JOE – Canada top Best in Show winning Welsh Terrier in Canadian history!
Cardiac – normal;  Patella – normal; Full Dentition
Note: This girl was bred and owned prior to the Primary Lens Luxation (PLL) and DM tests were developed.
Sire

CRUFTS BIS & English Supreme Champion Saredon Forever Young (Mel)

Dam

Felstead Fortitude of Saredon
#1 Welsh Terrier in Canada in her first year shown!
Plus owner-handled to a WTCA Floating National Specialty BOS win at the 100 year anniversary for the US Breed Club!
Honey achieved both her American and Canadian championships in style, and is recognized as one of Canada's top Welsh Terriers (#1 in the breed for 1999).
She is a true example that you can win even if you are an unknown novice.  I was competing with a very challenging breed.  In addition, I was in one of the most competitive areas of Canada (some would say it was the most competitive area), for terriers in general. At the time that I got Honey, there were 3 group placements that were almost always spoken for – gorgeous dogs, presented in beautiful condition.  These were Tim & Don with the Annfield Miniature Schnauzers, David Gignac, with his top Westi's, and Joy Henderson that holds the Manchester Terrier breed record in Best in Shows.  There were also many others that were there with top competitive dogs in many of the other terrier breeds (ie. the Normans with their Kerry Blues, etc).  The fact that I was able to "break into" the group ring at all, looking back, really surprises me. But, I was focused and I had a quality example of my breed.
I imported Honey into Canada when she was almost a year old in the spring of 1999.  By the end of the year, she finished her Canadian Championship, with multiple group placements, and was #1 Welsh Terrier in Canada!  This was a very significant thing, as she was owner-handled, by me, very much a novice in showing, and certainly had no background in the sport (I had a career in a bank head-office and wanted to do this for fun).  The area that I showed Honey in was considered *the* most competitive in all of Canada.  I didn't really understand that, at the time.  This was also years before social media and the ease of gaining information easily from the internet, and connections made through the internet.
During that first year, I also took her to the US.  She won points at a Regional US Specialty, and traveled from the West Coast of Canada to the East Coast of the US to attend the Welsh Terrier Club of America National Specialty, where she won her 12-18 month old class!  That famous year will always be remembered as 'Mudgomery' as it had rained so much that the mud was very deep in the rings.
Honey's legacy was in many Group Placements as well as Group 1st wins.  Two of her more significant wins were when she won the Terrier group (twice) at Canada's Largest Show.  It was a show that had almost 2000 dogs attend, from all over North America, and the show giving club (LMDF) rented the huge TRADEX building in Abbotsford.  Those were very exciting wins!
They do say, if your first one does very well, you get a bit spoiled.  I did, but that was OK.  My next two champions were nice dogs, and they finished fairly fast, but they weren't *Honey* and her quality.  I have learned to understand the difference and to be able to tell the difference.
Honey's legacy lives on at Darwyn to this day
Honey didn't have puppies right away.  I wanted to learn first.  I wanted to take my time.  Since then, I have tried to encourage other new to the sport that I have mentored to do the same.  This was a valuable time for me and I am glad that I did this.
I wanted to learn about the breed in more detail.  And, learn about the process of breeding and selecting puppies.  I attended seminars, while I held a full-time job (with a multi hour daily commute), and trimmed and showed her myself.  I traveled for some of these seminars, as well as the shows.  I joined the breed club and tried to learn as much as possible, from wherever possible.   Prior to the days of ease of knowledge transfer with social media and the Internet, this was not an easy process!  But, I am glad that I took my time.
For Honey's first litter, I took them to an expert for evaluation.  That expert lived about 7 hours away, and in the US.  To get their opinion, I had to take the entire litter and I had to take them within 3 days of them being 8 weeks old.  That in itself was a real challenge.  The money I paid, the effort I made, and the time I took to do this, was invaluable for me.  Looking back, working full-time, I really don't know how I accomplished it.  But, I did, and I am grateful that I did.
I didn't really like what I heard about the evaluation of the puppies in that first litter.  It was mediocre.  But, I listened and I learned.  I grew up 2 puppies from that litter, and they both became champions.  But, they were not the quality that I strove for.  I learned.
2 years later I had my next litter and this time, I produced 2 US Specialty Winners!
Honey had 3 litters, and in those litters is the dam of 5 champions!
4 are Canadian, CKC, Champions
3 are American, AKC, Champions
2 are dual – both American and Canadian, Champions
Today at Darwyn, we still see "Honey" in some of our Welsh Terriers here.  2 of her daughters, Mercedes and Haley (from 2 different litters) contributed significantly to the success of Darwyn.  Mercedes is the dam of JOE (Canada's Top BIS winning Welsh Terrier in Canadian history).  Haley is the dam of Parker (BIS winner and BOB winner of the US National Specialty at Montgomery, 2009).  Both Joe and Parker have influence in the genes today at Darwyn.  We also have frozen semen of both of this outstanding males, and with Joe still being healthy and well (albiet 11.5 years old), I might still breed a natural-covered litter from him in the future.
I am grateful to the well-known Saredon Terriers for trusting this quality girl with me.  Specifically, Judy Averis gave me her time, advice, encouragement, as well as allowed me to buy this fabulous girl!
I believe that Honey has contributed to the development of the Darwyn Kennel Line, and contributed positively to the breed genetics in North America.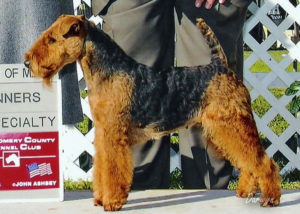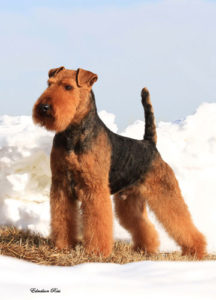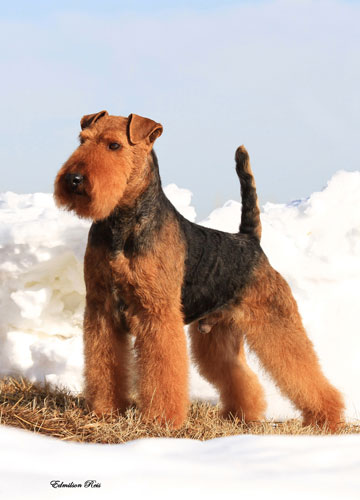 Honey's sire is a very famous dog in the breed - Crufts Best in Show Winner!
Supreme CH (UK) Saredon Forever Young, "Mel"
I (Larisa Hotchin) feel very fortunate in that I got a chance to see and meet "Mel" in person on my visit to Saredon Terriers when I went to pick up his daughter, Honey.  I got a chance to go over him with my own hands, and to watch him move on lead.  This is something that I am forever grateful for, and will never forget.  Some kennels will not allow you to put your hands on their top dogs.  To this day, I have remembered this, and I try to take this forward with my own top dogs.  I have encouraged many breeders to put their hands on my dogs.  I'm proud of them, just like Judy was of her boy "Mel".  Judy and I saw each other a number of times after that, once again at her kennel when I imported another beautiful bitch, and a few other times when we both traveled to the Montgomery shows.  I feel very honored to have met Judy.
Judy and Mel…
Bred and owned by Judith Averis and David Scawthorn, Mel is the fourth of only four Welsh Terriers to win Best In Show at Crufts.  This was in 1998, the same year that Honey was born.

In 1998, Judith Averis handled Ch. Saredon Forever Young to Best In Show at Crufts. Therein, she became the first daughter of a father, professional handler Les Atkinson, who also achieved this prestigious award in 1963 with Lakeland Terrier.
Terrier World published Judith Averis' remarks on her career at the time of her passing in 2014:
"My father Les Atkinson was a professional handler so I have been involved with dogs all my life.
I had passed [the exams] to go onto Art college but I was hooked on the world of dogs and decided to work with my father after leaving school and on his retirement from handling I started to breed and show my own dogs.
The first dog that I exhibited was my mother's Yorkshire Terrier and I won a Best In Show with him.
My first Champion was an Airedale Terrier and they are still my favourite breed and I hold the male breed record with Champion Saredon Handyman.
I have bred and owned over a hundred Champions in Airedale's, Dandie Dinmont, Irish, Kerry Blue, Lakeland, Manchester, Norfolk, Skye, Smooth & Wire Fox, West Highland White, Welsh terriers and a Rough Collie.
I have judged in Argentina, Australia, Belgium, Luxembourg, Germany, Denmark, Norway, Finland, Sweden, South Africa, Japan, New Zealand, Spain, Italy, Russia, Hungary, and U.S.A. I am President of the Welsh Terrier Association.
Over the years I have taught many of today's young handlers and watch their success with pride. My finest hour was winning Best in Show at Crufts with my Welsh Terrier Supreme Champion Saredon Forever Young, owned jointly with my partner David Scawthorn.
I could not ask any more from the world of dogs than to judge The Terrier Group at Crufts."*
Judith Averis passed away in October, 2014 at the age of 67.
References: