Welcome to Darwyn Welsh Terriers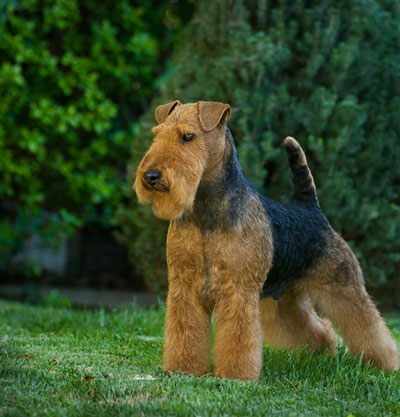 Mickey's Grandsire JOE - top winning Welsh Terrier in Canadian history
MBIS & MBISS GCh (AKC) & Can Ch Darwyn's I'm Not Arguing That
Photo by Derek Glas)
Mickey wins BACK-TO-BACK Terrier Group 1st wins in the US!
Zora is awarded her Canadian Championship, all from Group Placement wins! As of May 2017, Zora is Canada's #1 Welsh Terrier!
Bruce (Mickey son) is awarded Best Puppy in Breed and Reserve Dog CC at Crufts 2017!

******************************************************

Who is Darwyn?
We (Larisa & Michael Hotchin) are a Preservation Breeder of Welsh Terriers, located in Western Canada. We are focussed on preserving the breed's unique characteristics, with healthy, sound and home raised puppies.
Larisa's foundation bitch was imported from the well-known Saredon kennel in England in 1999, of which that same year, Larisa owned her first #1 in the breed in Canada. That girl was a daughter of the Crufts BIS winner. Over the years, we are proud to have had many top awards in our country, in the US, and around the world, on a large number of Welsh Terriers. We usually breed 1 to 3 litters a year.
We love puppies and seeing them do well with people that get our dogs - both companion pet homes and appropriate show homes. We raise each of our puppies as if they will be our own companion pet, as well as our next Best in Show winner.
To do our best to ensure our next generation comes from dogs that are living happy and enriched lives, we sometimes choose to partner with some great pet owners that have retired show dogs of ours, some of whom come back here to have a litter or two. These dogs get to live wonderful companion pet lives where they don't have to share the attention, people get special dogs earlier in their life, and wondeful experiences and friendships have developed. Some of our pet owners have become friends with each other, developing their own social communities.
Larisa is devoted to the breed and is very active with the US Breed Club, Welsh Terrier Club of America. For years, she has taken a leadship role on new and developing health tests and information. With this interest, she developed a health questionaire that is publically available for any Welsh Terrier owner to fill out for their dog, and volunteers her time to summarize this information for the club.
For ourselves, we focus on excellence. This is seen in our research, our breeding, raising of the puppies and dogs, in our presentation in the show ring, in our committment to our puppy owners, breed seminars for judges, and to the important task of being a guardian of the breed for generations to come.
The perfect dog alludes all breeders, but we still try! I breed only very good welsh terriers to other great examples of the breed -- temperament, how well they conform to the written breed standard, health & appropriate health testing, combined with a vast information on pedigrees. I have gone to dozens of seminars and read books on this subject to only learn that there is so much more still to learn!
At the time of this writing (Jun 13, 2017); we have owned/bred:
* 41 champions, 35 of which were bred by Darwyn
* 26 - also US/AKC champions (keep in mind that I live in Canada and my main focus is my home country)
* 6 - US Grand CH (also bred by Darwyn)
* 1 - US SILVER Grand CH (also bred by Darwyn)
* 2 - achieved their US Bronze Grand CH (also bred by Darwyn)
* 17 - Terrier and/or Welsh Terrier Regional Breed Club Specialty Winners
* 16 - winners at the Welsh Terrier Club of America (WTCA) Specialty on Montgomery Weekend, or a floating national of the WTCA

* 17 - Terrier Group Winners (17 different welsh terriers that won at least 1 group)

* 5 Multiple all-breed Best in Show winners

* The top winning Welsh Terrier in Canadian history (Joe!)

* #1 Welsh Terrier in Canada: 1999 (our first Welsh Terrier!), 2009, 2010, 2011, 2012, 2013, 2014, 2015, 2016 & 2017!
* #1 Welsh Terrier in the US: 2009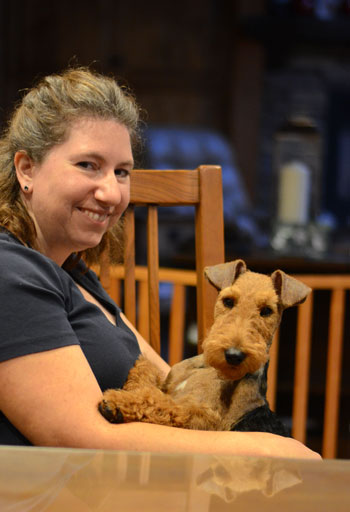 Puppy Maria with Larisa at home (2013)
Now: Am GCh & Can CH Darwyn's Santa Maria
While Facebook seems to catch my immediate attention these days (past few years!) on posting fun photos - I will try to
update my BLOG periodically
.
Enjoy and connect with me if you have any questions!
Thank you for visiting.

Larisa
Website updates:
Sep 29, 2017: Puppy page updated
May 12, 2017: Zora adds "Canadian Champion" to her list of titles. She is currently Canada's #1 Welsh Terrier!
Mar 14, 2017: Bruce's page added
Mar 9, 2017: Bruce wins Best Puppy in Breed and Reserve Dog CC at Crufts in England!
Feb 25, 2017: New Champion! Zelda is now a dual country (American & Canadian) Champion. She won a Group placement - from the classes!
Feb 8, 2017: Mickey's page revised
Jan 22, 2017: Mickey wins BACK-TO-BACK Group 1st wins in the US with Ernesto Lara!
Jan 20, 2017: Trooper wins BIS and is Canada's #1 Welsh Terrier for 2016! This is the 8th year in a row (2009 - 2016). Trooper is a Joe son and Trooper is Mickey's grandsire.
Jan 17, 2017: Zora (our MJ daughter from Germany) is our latest new American Champion - she finished with 3 majors! Click here for Zora's details. Zora is Darwyn's 41st champion, of which 26 are also American Champions!
Dec 3, 2016: 2017 Calendar is done and available for purchase. It features photos that I took during 2016 of puppies born and raised here
Jun 17, 2016: A lot of new photos were added for Ella & Mickey's puppies (6 weeks old - on the wobble board and tunnel exploration!)
May 10, 2016: Zelda is a new American Champion! She finished with 5 majors - latest at Garden State All Terrier in New Jersey (Bucks County weekend!
Mar 30, 2016: Maria is now an AKC Grand Champion - the 6th American Grand Champion for Darwyn!
Mar 13, 2016: Java is now an American Grand Champion
Feb 22, 2016: Slideshow of fun photos in their loving families (click here)
Feb 21, 2016: Next Welshie Walk in Victoria is Sunday Feb 28, 2016 (click here for details)
Nov 6, 2014: Health Page updated (click here). This includes a link to the new on-line Health & Death Incident Report by the WTCA (click here).