MBIS & BISS American & Canadian & Australian CH Darwyn's Webslinger
Owned by Larisa Hotchin (Breeder) & Sonya Cornick (Australia)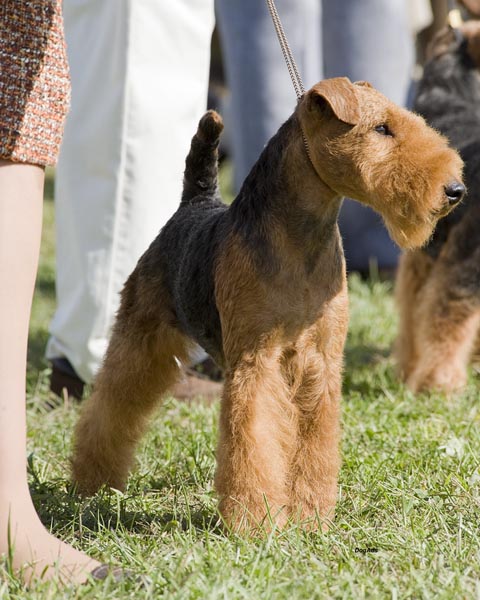 Best in Show Winner in both Canada and Australia!
BISS – Best of Breed at US National Specialty (WTCA); from the OPEN DOG CLASS!
Best of Breed at the AKC National in 2009!
Award of Merit at Westminster Kennel Club (2010)
Group 1st and multiple group placer in the US
#1 Welsh Terrier in Canada – 2010
#8 Terrier in Canada (2010)
Shown a limited number of times in Australia; Multiple Group 1st winner and Best in Show Winner
Primary Lens Luxation (PLL) DNA – carrier;  Hips – Good; Legg-Calve-Perthes – normal; Thyroid – normal; Cardiac – normal;  Patella – normal
Sire

MBIS Am.Grand CH Bayleigh Shaireab's Super Hero (Spyder)

Dam

Darwyn's Carpe Diem (Haley)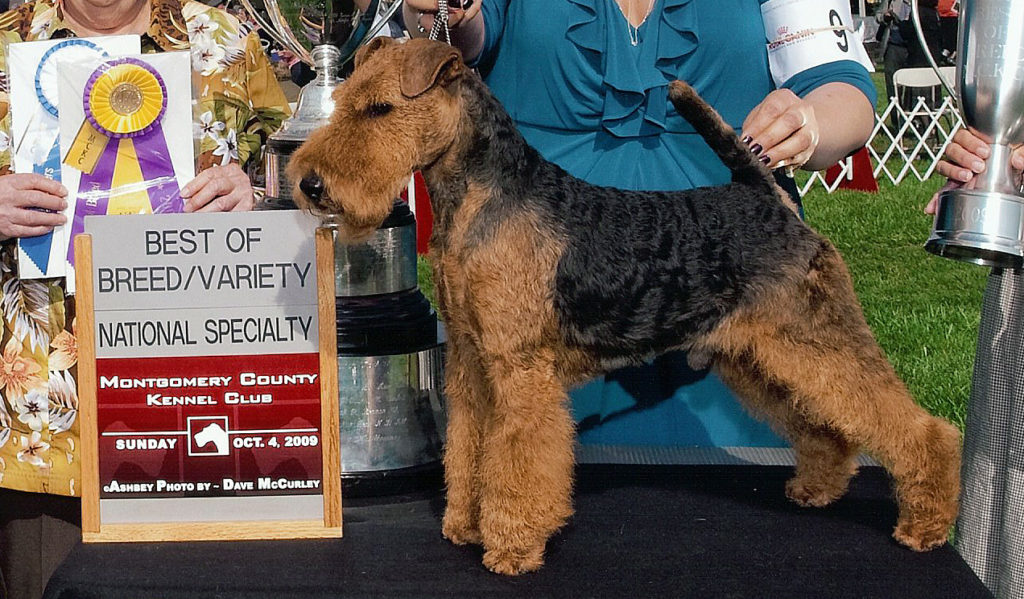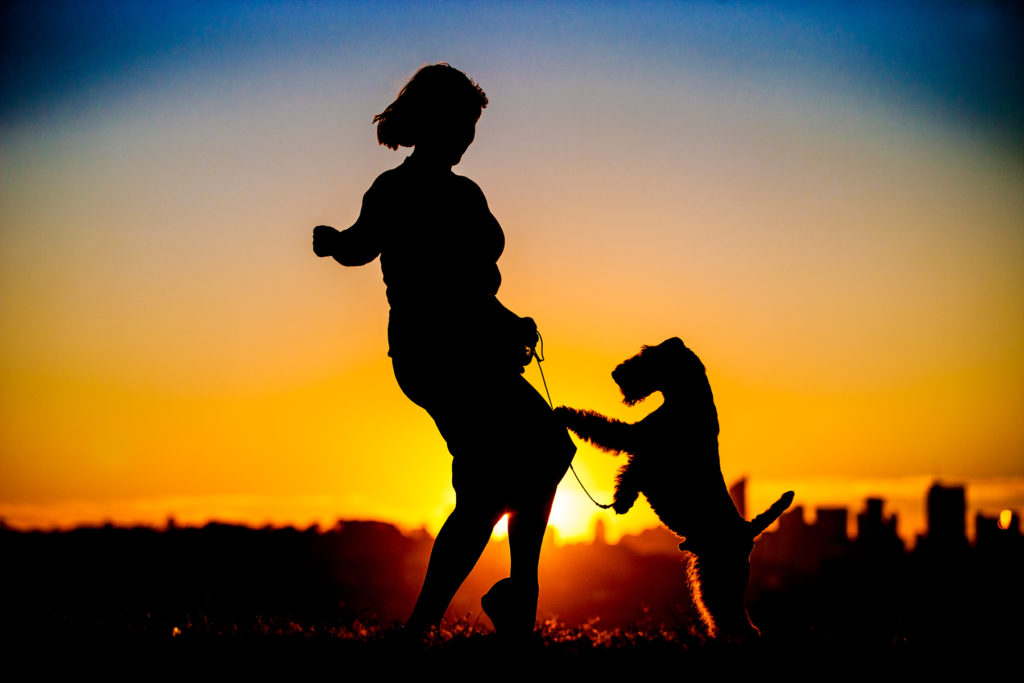 25 Group FIRST Wins
Plus wins at Westminster Kennel Club and WTCA National on Montgomery County KC day!
Parker Wins BEST OF BREED at the WTCA National - Montgomery County KC!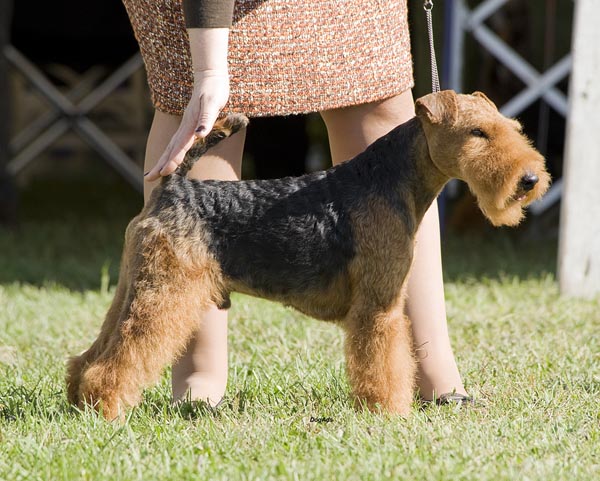 "Best of Breed was my Winner's Dog and Best of Winners (Darwyn's Webslinger, Parker):  I couldn't take my eyes off the Winners Dog.  He is so Welshie.  Great Type.  I liked his proportions and size.  He never let down and certainly had the 'Here I am World, look at me' attitude.  I had a wonderful line-up of welsh, but this Welsh was a stand out for me."
– Ruth Prehn (Ledgerock Welsh Terriers), WTCA National Specialty 2009 Judge's Critique
Some of Parker's AKC wins in the USA
National Specialty BOB Winner
Terrier Group 1st Winner (over 300 Terriers)
Multiple Group Placer
#2 WT in the US when he left in 2010 to come home to Canada
AKC National BOB Winner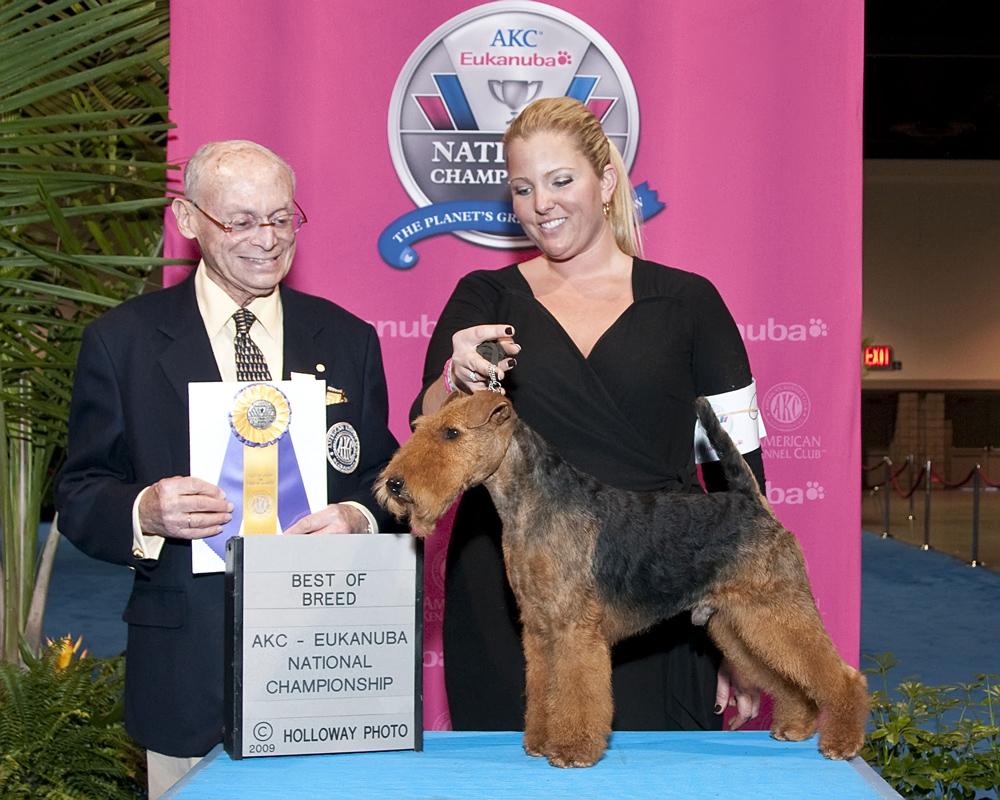 Some of Parker's Wins in Canada
Best in Show Winner!
Multiple Group Winner!
#1 Welsh Terrier in Canada and #8 Terrier (of all terriers shown)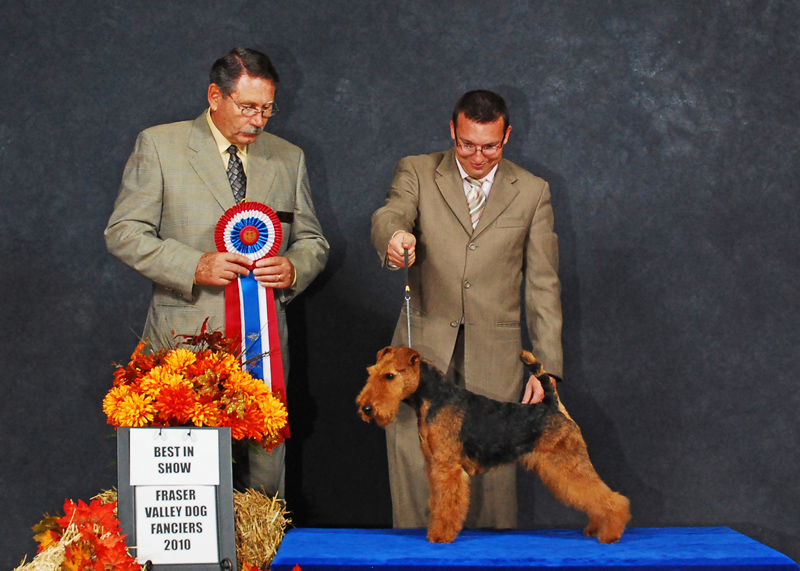 Some of Parker's Wins in Australia!
3 Best in Shows!
10 Terrier Group 1st Wins!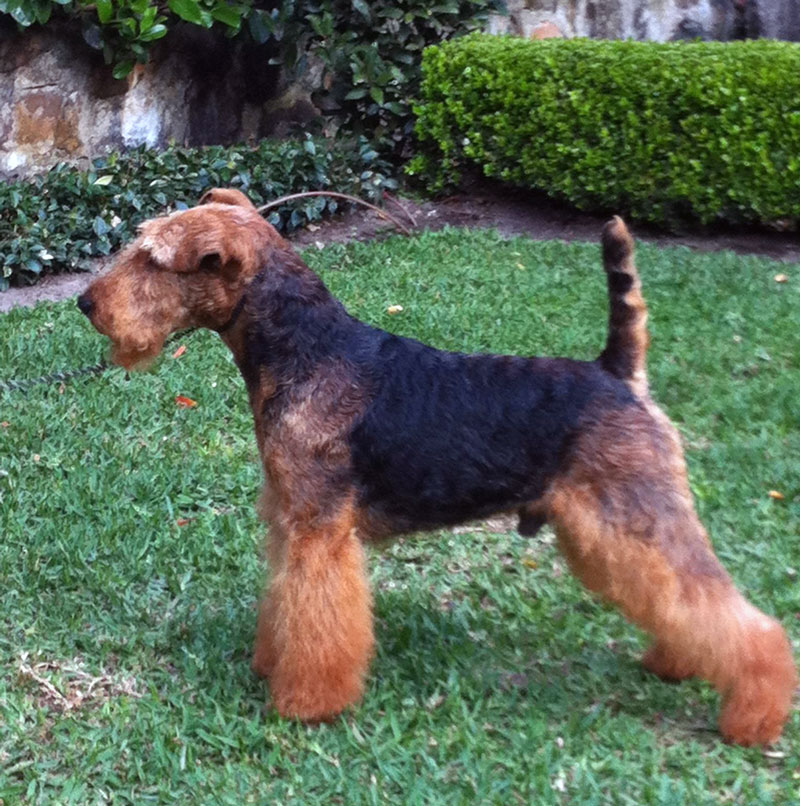 Parker was shown primarily by his co-owner, Sonya, that lives in Sydney, Australia.  This was during 2012 and 2013.  Parker won multiple Terrier Group 1st wins (10!) and 3 (THREE) All Breed Best in Show!  Some wonderful wins under very well respected, long-time, terrier specialists.
Five years later, in 2017, Larisa & Michael traveled to Australia for a 2 month holiday.  Since it was during Easter time, Larisa took the opportunity to go watch the famous SYDNEY ROYAL show, specifically watching the terriers.  While there, Larisa met a few of the terrier judges that had awarded Parker so highly years before.  They were very positive about his quality, soundness, and "full of type".
Parker was a memorable dog in the breed in the show ring, and a loving home companion to Sonya.  It was wonderful for Michael and I to see how happy Parker was at home.
While Sonya was a novice in the show ring (especially compared with her direct competitors that win a lot), clearly she did a lovely job presenting our boy.  If she hadn't, Parker would not have been remembered.  We are very proud of his accomplishments in that beautiful country.
Many judges, judge multiple times a month, and see thousands of dogs.  Only the best are the remembered.  Thank you Sonya for presenting our boy so well!
Some Home Photos of Parker