Sat - May 26, 2012
Today was one of those sad but happy days. We said goodbye to one of our puppies, and welcomed a new couple into the Darwyn family!
Mr. Otis is going to have a wonderful and full and enriched life of joy! Yeah!
Michael and I decided to take the opportunity of such a beautiful day and go for a walk with a couple of
the puppies
. We decided to go to one of our favourite places in the Vancouver area -
Lighthouse Park in West Vancouver
!
I am thrilled with how well these 2 puppies did for their first time on lead! No photos while we were walking (way too much focus on making that a pleasant experience -- in a 4 x 4 fashion on a park trail :) But below are a few photos of us enjoying the sunshine and wonderful views at the end point. A few friendly dogs and people were encountered along the way, and some rock climbers at the end to keep us (and the puppies) occupied while we watched sailboats, kayaks and birds go by - we even saw a BIG cruise ship leave Vancouver on it's way to Alaska, and one of the BC Ferries on it's way to Vancouver Island.
A truly beautiful day - shared with my wonderful husband, and a couple of 9.5 week old very sweet puppies. The girl will be named Sara ... we're not sure about the boy yet, but we do know that we need a name soon!
Enjoy the photos!
Life is good. :)
Lot's of steep cliffs here - so a close eye is kept on both the puppies, and footing of the person taking the photos!
Here's Larisa with both of them.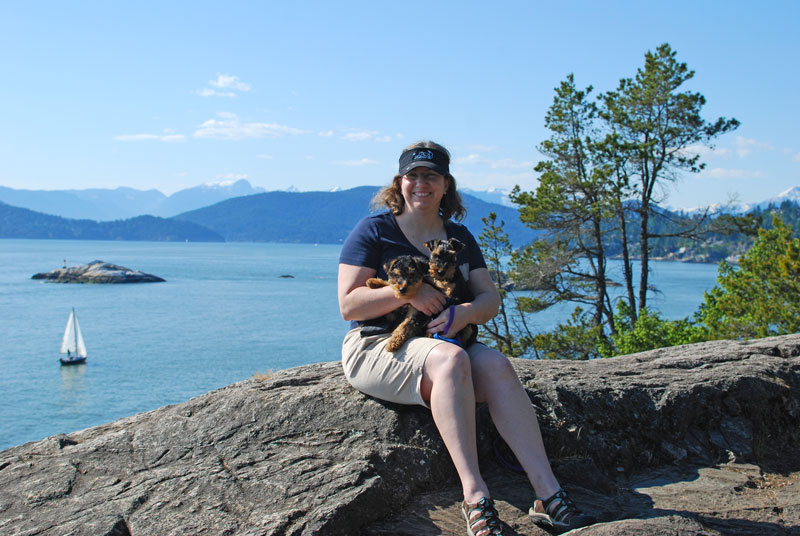 Growing up on one of the gulf islands has made me love Arbutus trees - I always have to take photos when I see them.
Here's Michael now with both of them!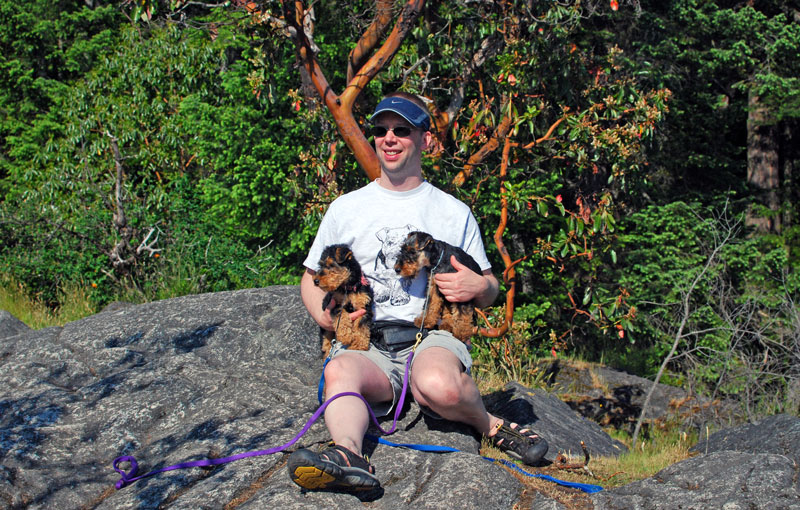 Someone's kite got stuck in the tree on the cliff ... at least the kite is still happy about it!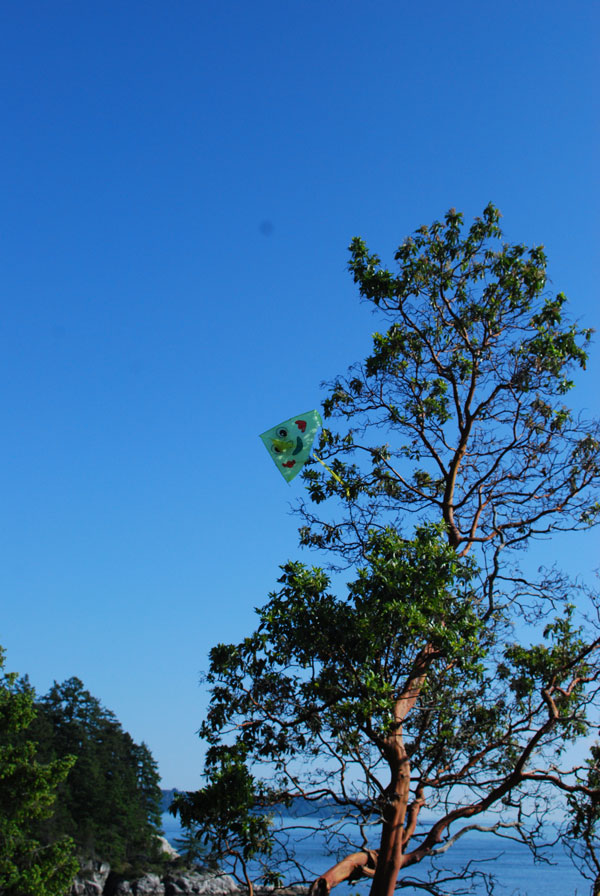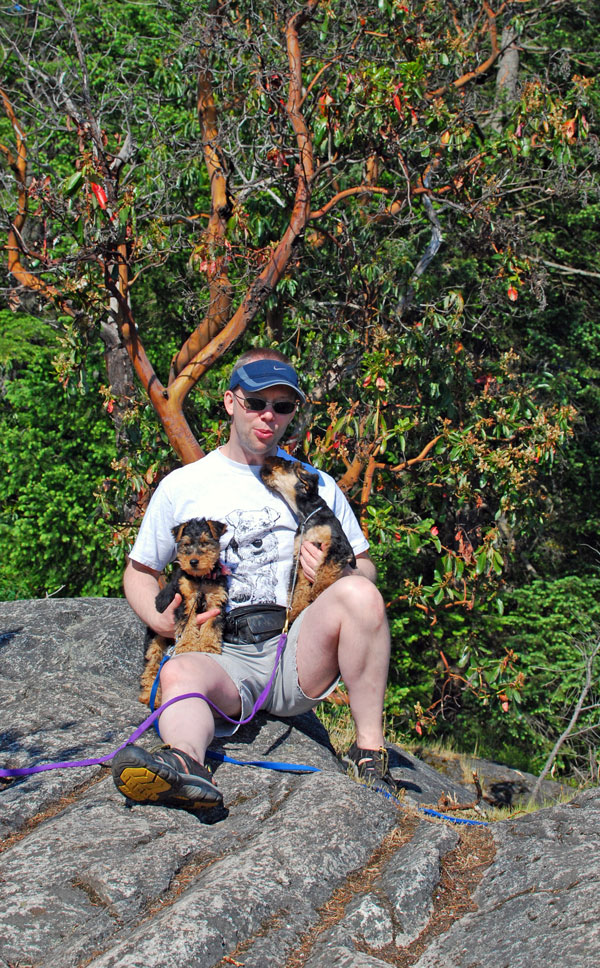 Given how settled the puppies were - I became a bit less anxious and let them just hang out with us.
Sara is just taking it all in.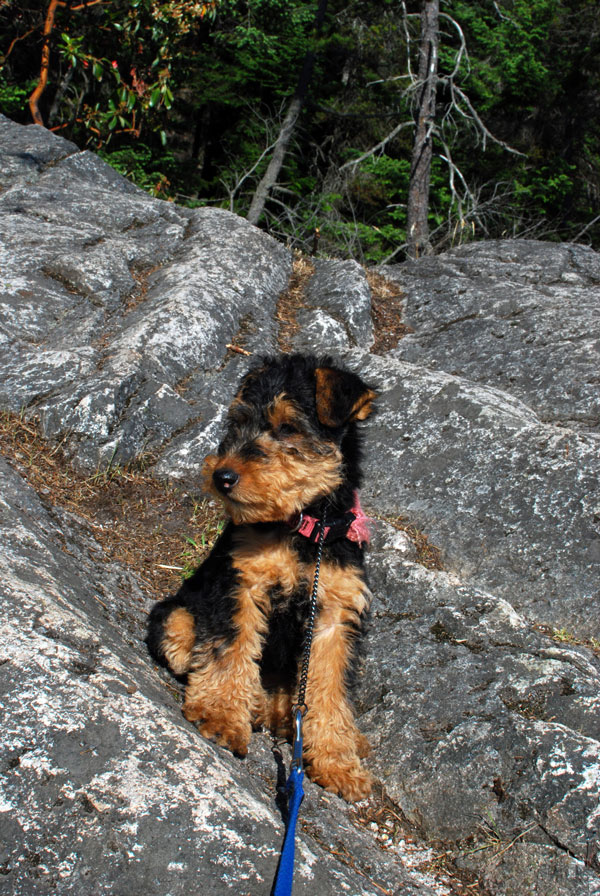 At this point some Rock Climbers started to rappel down the cliff rock face towards the waterline ...
Not sure if this is what Sara is focussed on, or just taking all of the beauty of the area in.
A curious but settled and happy puppy :)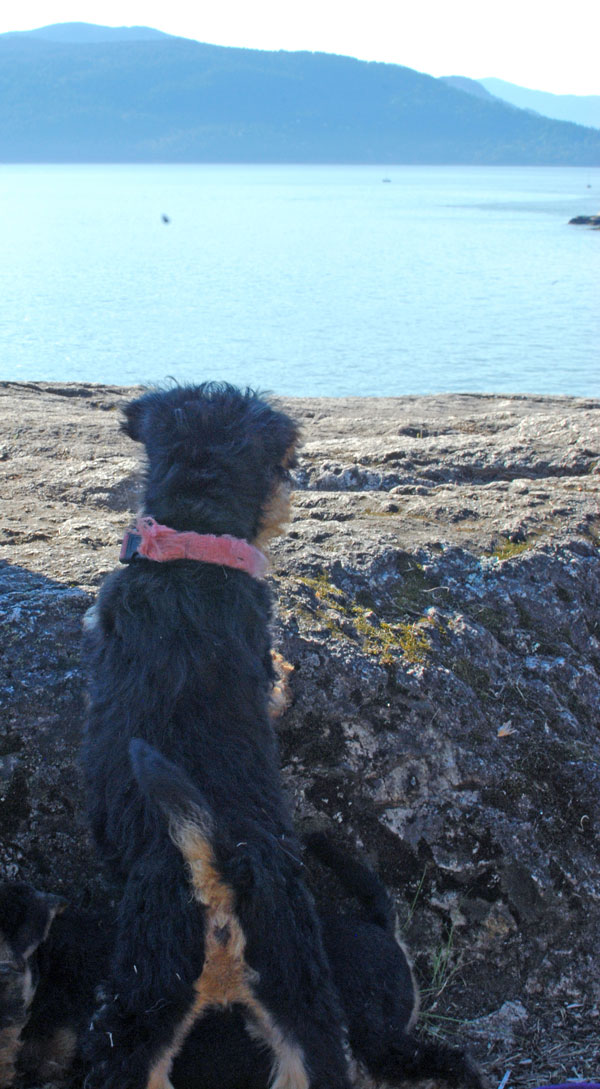 Very settled...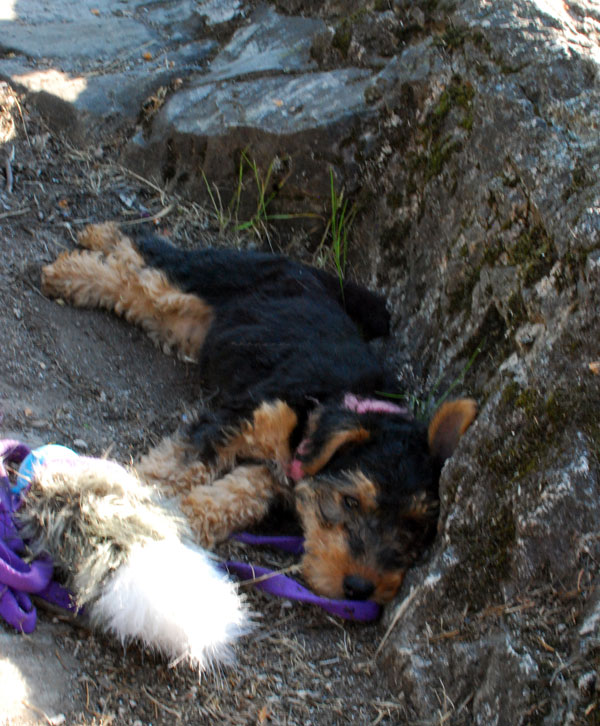 Brother comes to wake her up and play with one of the toys we brought.
We really do need to give him a name!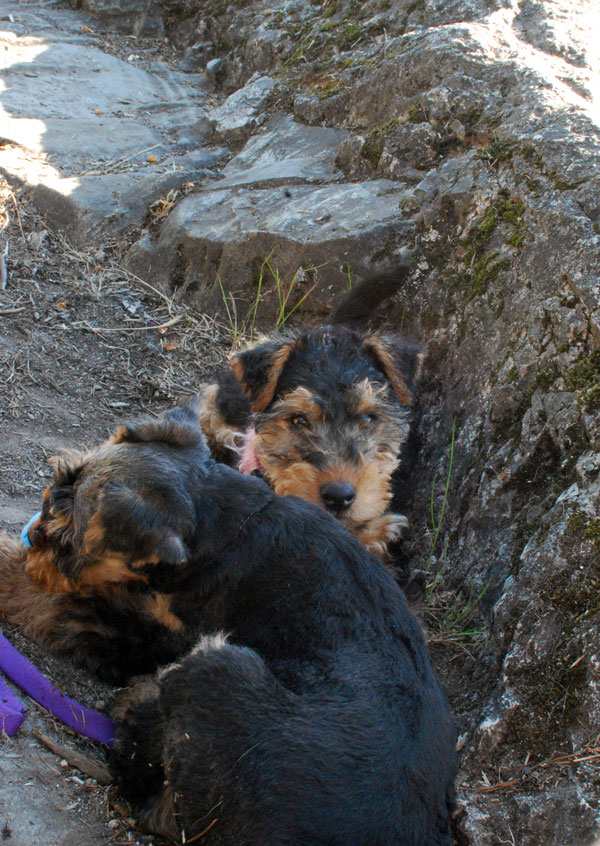 A rare picture of me with one of the puppies!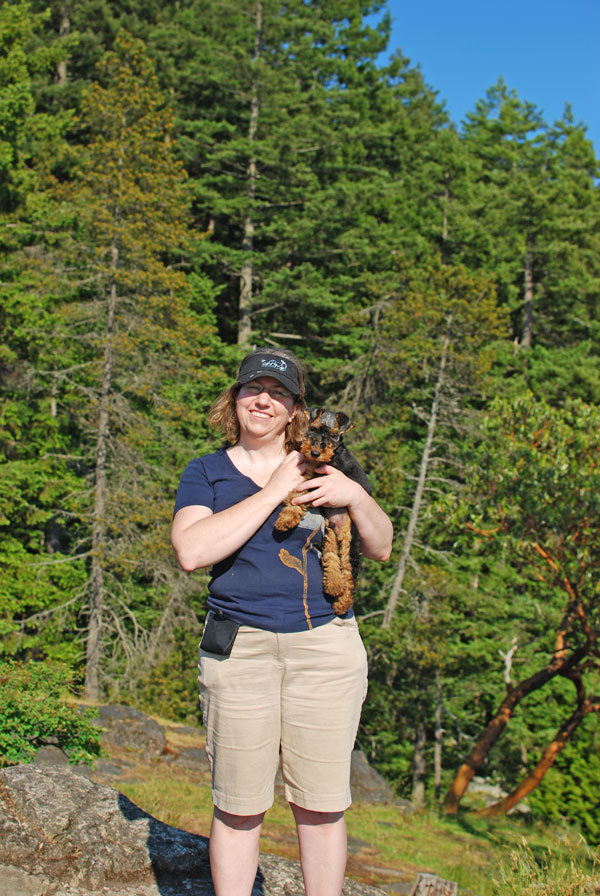 And now Michael with Mr. puppy. :)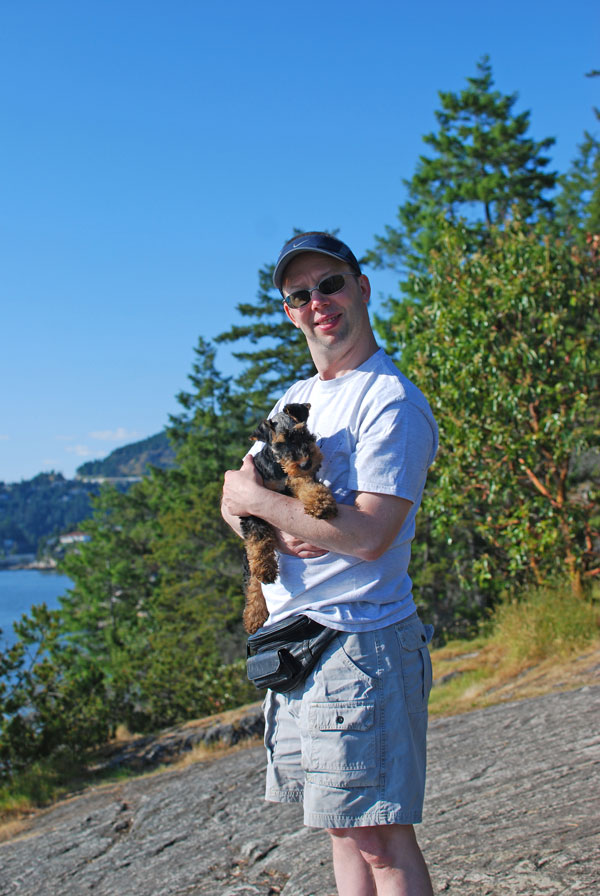 While Sara looked quite content to stay here, she was awesome on lead for the walk back! Up and spirited!
Mr. boy on the other hand was a bit more tired out from all of his playing in the sun on the rocks. :)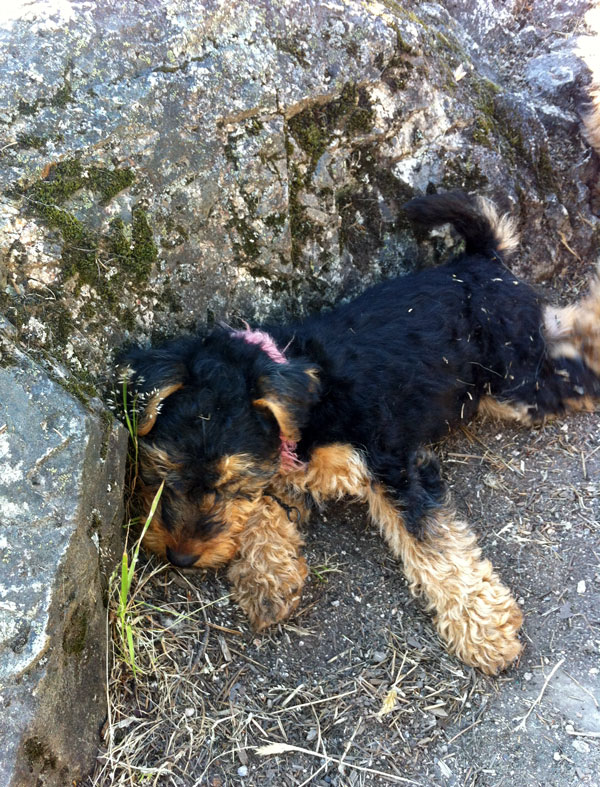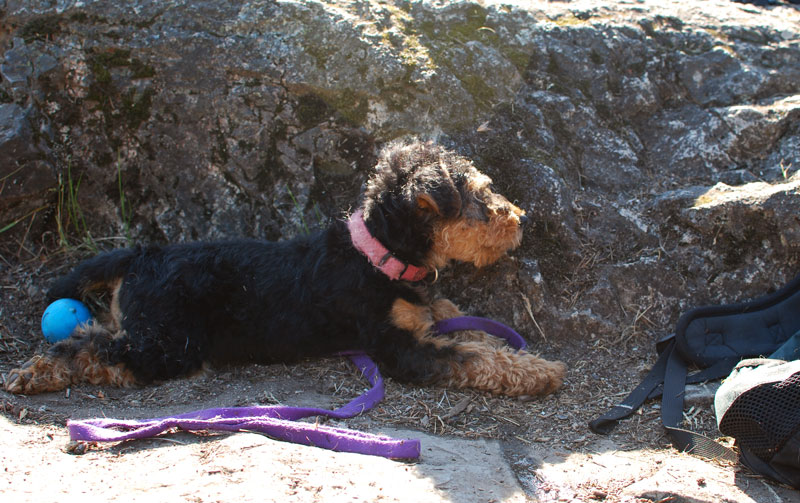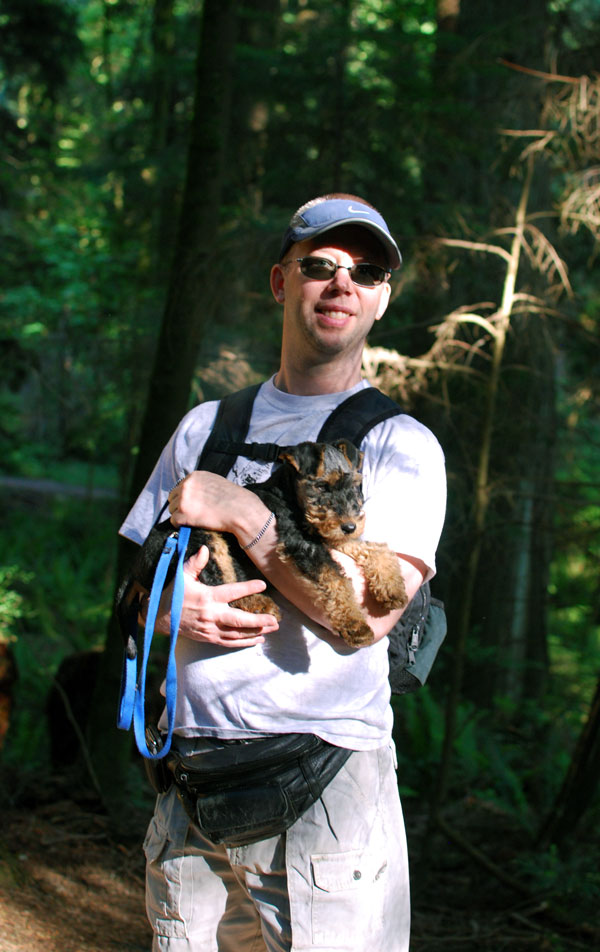 Then we were off back up the trail to go back home! Another 1 hour car ride for home, 2 very tired, but happy puppies (and people). :)
To see more about these puppies click here!