Dora and Joe had 6 puppies!
March 20, 2012
Sire: Joe(Multi BIS/ Best in Specialty Am GCh & Can Ch Darwyn's I'm Not Arguing That)
Dam: Dora (American Champion Darwyn's Dora the Explorer)
** Update: Java and MJ are now all grown up - they came from this litter here ... click on their names to find out a bit more about them now! **When Dora came back from her short US career (Winners Bitch, twice, on Montgomery County Kennel Club - MCKC - 2011 weekend, including the Welsh Terrier Club of America National Specialty), I began to seriously consider who she would be bred to next. There were a couple of dogs owned by others that I was interested in, as well as a couple of mine. Hmmm.....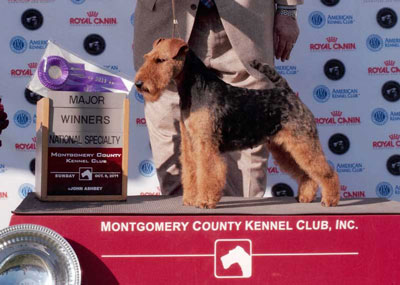 Dora -- Winners Bitch and Award of Merit at Montgomery 2011 (Welsh Terrier Club of America National Specialty)
Dora was just over 2 years old and had produced a very nice litter 6 months before, sired by Monty (Am GCh & Can Ch Darwyn Bruhil's Flying Circus). From that litter, I knew that Dora was very dominant in reproducing her "to die for" gorgeous coat texture and ultra rich color. She also was very dominant in reproducing her very beautiful head (clean, balanced with good length and bone). It helped that both Dora and Monty had short strong backs (Monty was the sire of Dora's first litter) - but profile wise, I would say that Dora was actually quite dominant in that area also. Both Dora and Monty are very balanced and clean movers - and so were their puppies. And, while I am fully aware of the fact that both sides of the genes are involved, when you looked at any of the 5 puppies in Dora's first litter - you immediately knew they were "Dora" puppies. One girl, Jessie (Darwyn Jesterr's Holding Court) was shown at 6 months of age at Montgomery County and the breeder-judge that awarded Dora Winners Bitch and the AOM, also awarded Jessie 1st in her puppy class!
So - Dora was a proven dam, and proven to produce nice puppies. The question now was who to breed her to?
That was pretty easy to answer actually.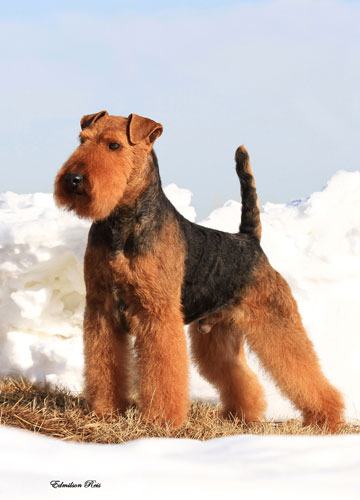 Joe -- Top BIS winning Welsh Terrier in Canadian history


MBIS/MBISS GCh Am & Can Ch Darwyn's I'm Not Arguing That
Our dog Joe, who had recently broken the all-time record for the breed in Canada for the most number of Best in Shows, was a beautiful fit (on paper). Joe had sired a litter for us (bred to Paisa) during 2011 of which a boy was looking very promising .... so, not only did this litter look good on paper, but both were proven producers!
Now to wait until Dora was ready.
Joe had been home for about a month over the Christmas holiday period in 2011 - after a year of campaigning in Canada with Milton Lopes -- where Joe was awarded 65 Group 1st Wins, 12 Best in Shows, 1 Best in Terrier Specialty and finished up the year as the #2 Terrier and #8 Dog among all breeds! Joe was enjoying this down time while Milton enjoyed his break in Brazil visiting family. In early January I said goodbye to Joe once again and sent him off to Milton's in Calgary - so that he could be prepared for his show in New York at Westminster Kennel Club the following month.
It seemed like as soon as I put Joe onto the plane, Dora came into season! DARN! Oh well, there was a show in Portland Oregon 2 weeks later where I was going to (a 7 hour drive away), and Milton (by luck and chance!) was also driving down for (however, his drive was only a mere 18 hours!). I thought that I would take the chance to do the breeding during that time - if she 'took' excellent, if not - then next time. I wasn't panicking.
It turns out that it was the perfect timing! What LUCK! Two months later 6 beautiful puppies were born, 5 boys and 1 girl. Dora was even really good about timing her whelping. She waited until both Michael and I were up, and all of the morning chores were done. Just after we had lunch, Dora had her first puppy. We stayed with her for the next 8 hours until we were sure that the x-ray was correct and that she was finished. Just like her first litter, this one was also naturally whelped with no problems. Yeah!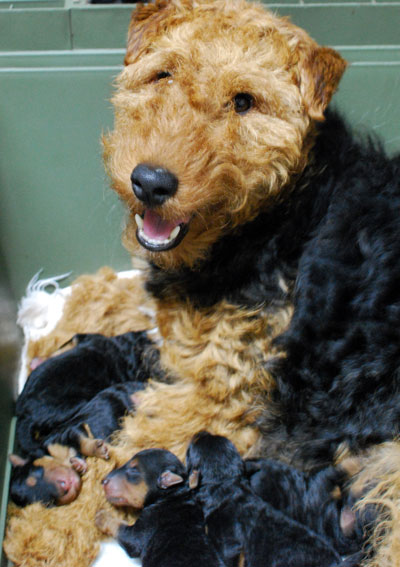 Everyone, and mom, are doing very well.
Stay tuned. I am pretty excited about these puppies. IF a superstar boy is in this litter, he may end up with some really wonderful people that I have gotten to know, and I just might decide to repeat the breeding - hoping for more girls next time. But, we'll see.... As they say, time will tell.
Right now, we are just loving and caring for them as if each and every one of them will be our next Best in Show or Montgomery County/WTCA winner! And, along the way, a number of these puppies will end up in some of the most awesome pet homes possible!
I am very lucky to have a number of truly wonderful people that take great care and love for my puppies that go to companion pet homes.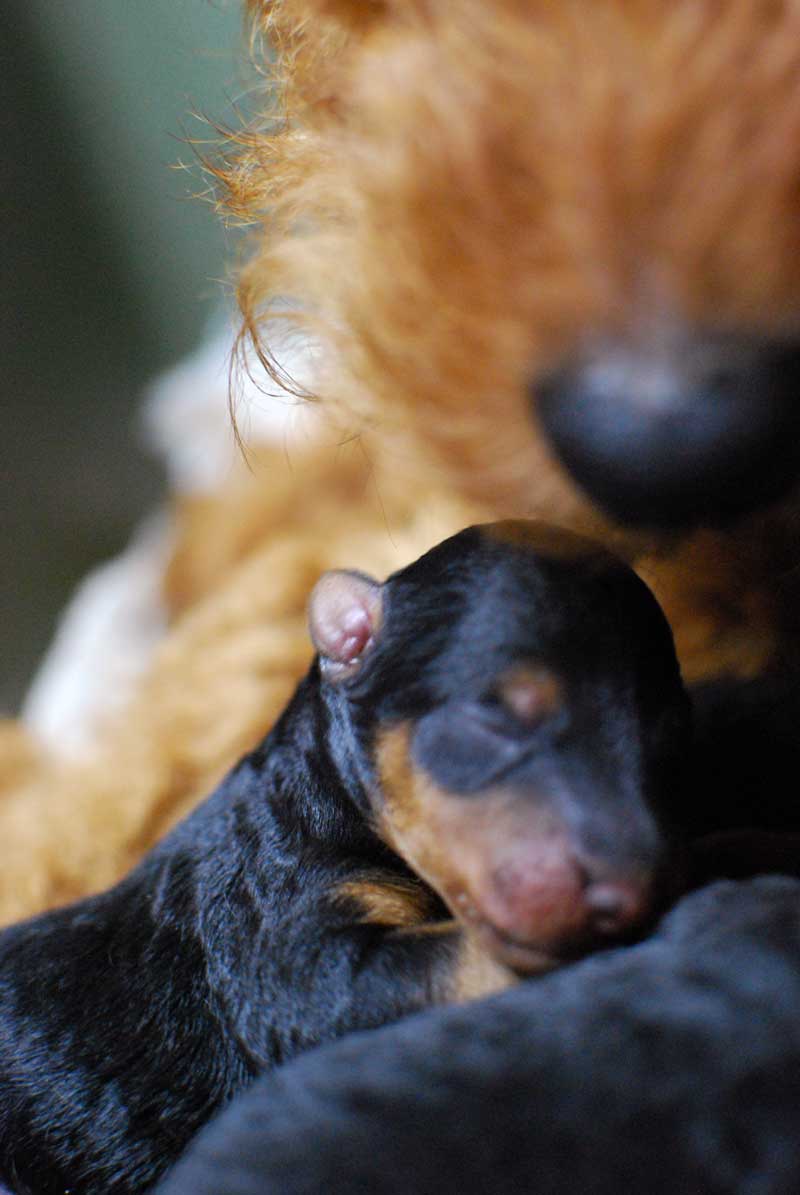 Dora enjoying a moment with her day old puppies. :)


DAY 12 -- EYES HAVE JUST STARTED TO OPEN!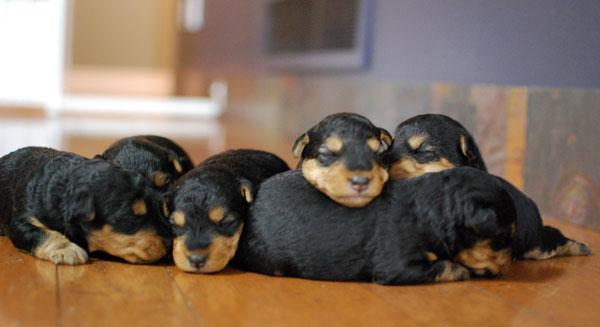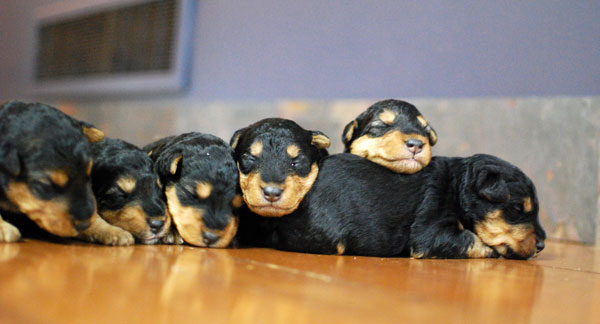 DAY 21 (3 weeks already!)-- First introduction to the outside world and Grass!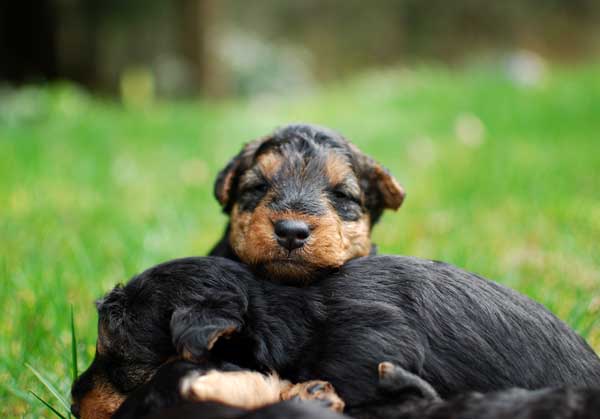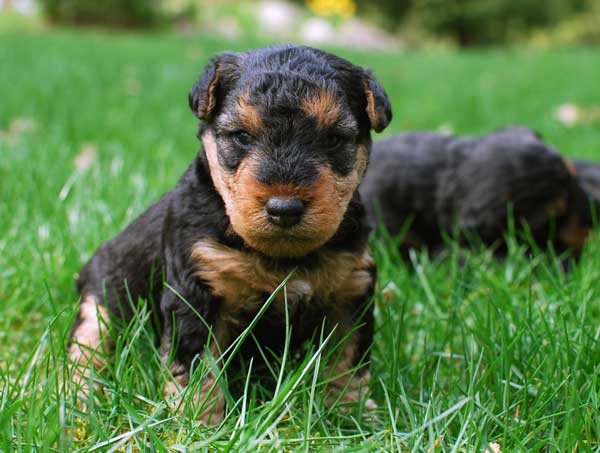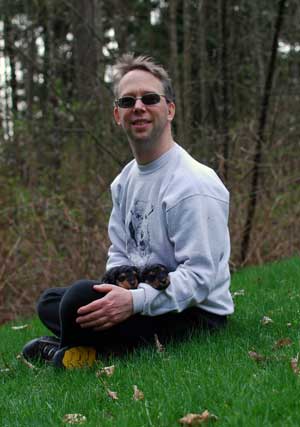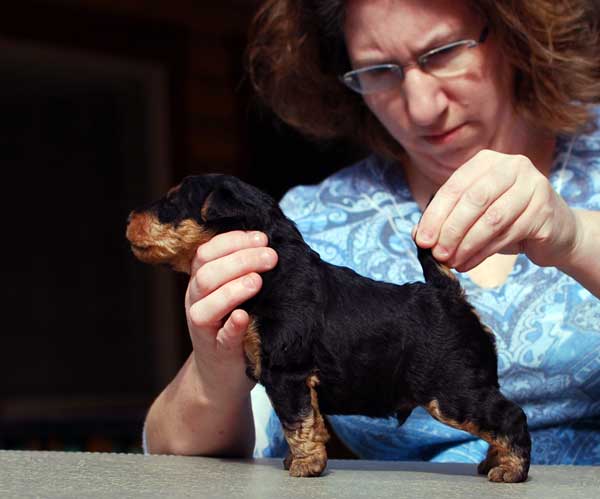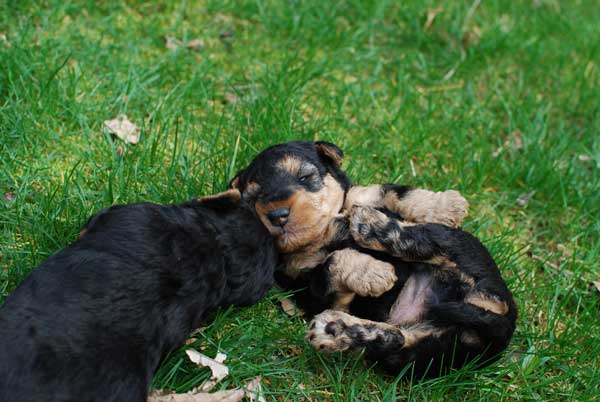 DAY 32 (4.5 weeks)-- Hanging out in the kitchen and dining room area.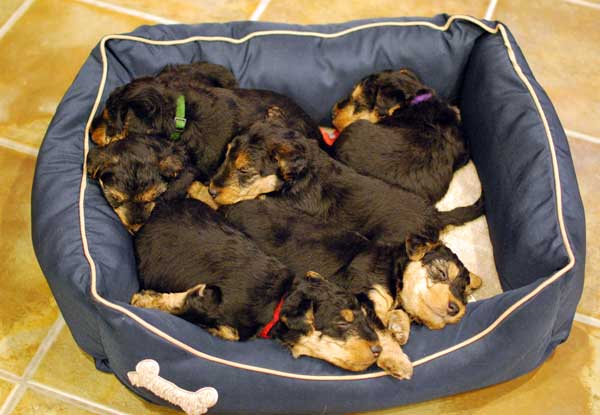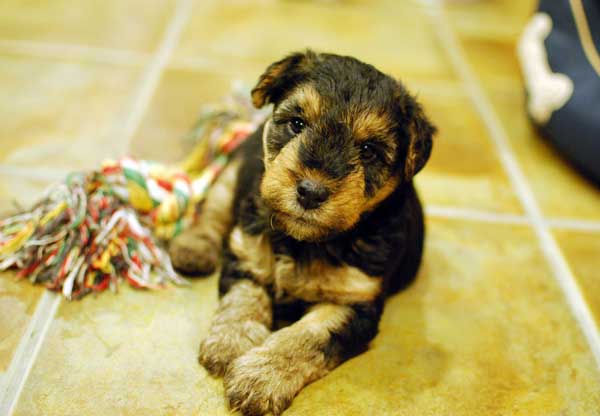 DAY 41 (6 weeks)-- Exploring the front dog yard - and then sleeping in the dining room area.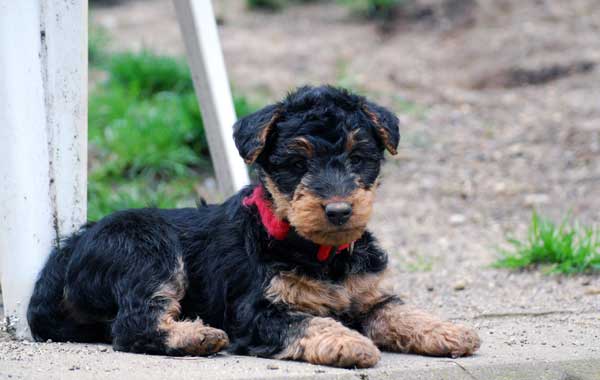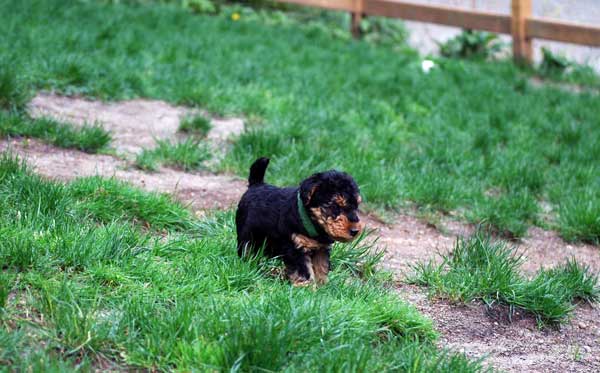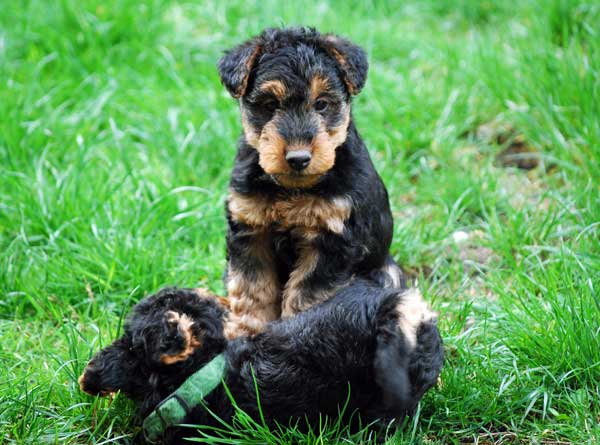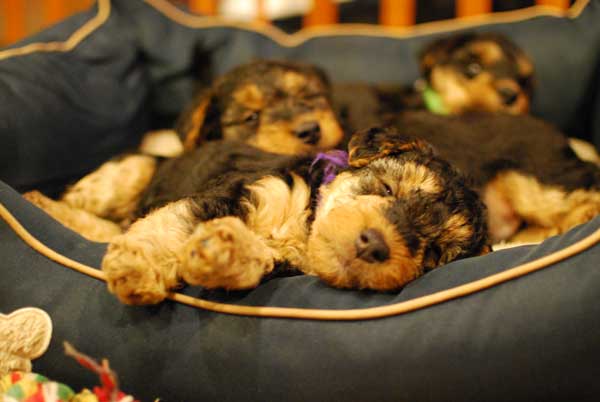 CLICK HERE to view some photos of our adventure at Lighthouse Park with 2 of these puppies at 9.5 weeks of age (end of May 2012)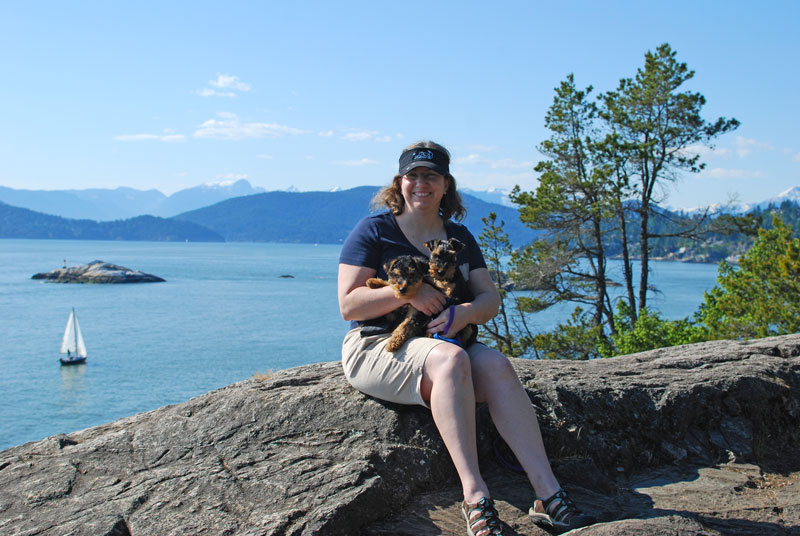 May 29, 2012
2 of the boys have gone to their new homes and are doing very well!
Here is a note I received about Mr. Red Boy - aka OTIS! If you happen to be in Lac Baptiste (Ontario) and see a beautiful looking Welsh Terrier - say "Hi" to Otis for Michael and I!
"As I write this note he is asleep in my lap. He is a wonderful, outgoing, curious pup. His colour is beautiful and he has the cutest little paws I've ever seen. Otis is adjusting very well to his new home and we are smitten! Thank you for bringing this lovely puppy into our family!"
Jun 28, 2012 - 14 weeks old
One of the boys that are growing up at "Darwyn" visited with a 2 year old girl (Gracie) for a wonderful walk by a local river and a "play date" in her backyard!
Click here for the blog post with some video -- Enjoy!