Puppies & Adults currently available:
Please fill out a questionairre if you are interested.

If you fill out a puppy questionnaire, I will keep it on file. If a puppy becomes available, this is where I turn to to seek out the next people to offer a puppy, or young dog, to.SEPT 29, 2017 UPDATE:


We had had a litter born in mid September - all puppies are doing very well and Zora is being a wonderful mom. I haven't yet contacted any prospective puppy owners at this point as I am not sure how many puppies I am going to offer to pet homes to buy. I am expecting another litter to be born in mid October. And, I am getting ready to go to my US National Specialty (Welsh Terrier Club of America) for a week. Once I get home and the second litter is born, I will start to actively contact prospective puppy owners about their interest in my dogs specifically and to see if people want to come out and visit puppies.
Pictures, as usual, have been posted publically on my personal Facebook page.
Adult Female:
In mid to late December (or January if it works out that way) I will have an adult female available to offer to the right home. She is a wonderful girl to live with - great with all people, good with kids, good with some dogs, great walking on a leash, but shouldn't be run off-leash with most other dogs. I do have (older) inquiries for interest in adult dogs, but if those inquiries don't pan out (they are from quite a while ago), I will have this girl available to offer to the right home. A lovely girl in so many ways.
JUNE 16, 2017 UPDATE:
Our last litter was born during the early summer of 2016. We have taken just over a year off of breeding a litter, primarily for personal reasons (we went on a very long overdue holiday overseas to spend time with a friend 'down-under' that has a couple of our dogs). Given how long we were away, we chose not to breed in the previous year as we didn't want to have to kennel/board a really young puppy for that long. It has been many years that I have taken this time away from breeding. While I love raising puppies, it was very nice to spend time with our adult dogs, just enjoying life with them.
Now that the long-planned trip is over, we hope to breed a couple of litters this year. I don't know when. I am now waiting for nature.
You can fill out a questionnaire, but I cannot guarantee a puppy. I don't take deposits, but rely on people that are really interested to stay in touch with me. When I know that I have puppies, or an adult available to offer to a home, that is when I go and review the detailed inquiries.
Thank you for your interest. Thank you for visiting. Thank you for staying in touch.


Our goals and approach: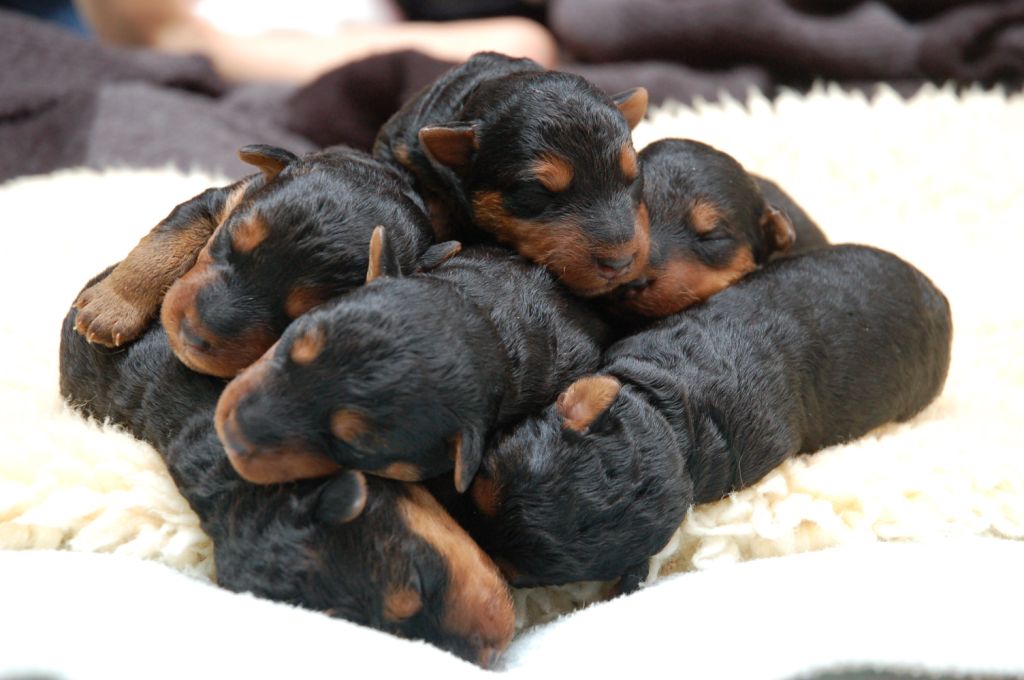 The goal of the DARWYN Welsh Terrier breeding program is to develop a line of Welsh Terriers that will improve the overall health of the breed while conforming to the AKC Breed Standard (and of course CKC breed standard), in both temperament and physical characteristics (conformation). Since our puppies are placed as companions in loving homes, we need to make sure that they will live long, happy and healthy lives.

It is true that no breeder can 100% guarantee the health of any animal but, through careful breeding standards, testing all breeding stock and genetic screening, we make every effort to avoid any problems. Since we are not a "volume kennel" we can be very selective in planning the direction of the DARWYN line and are proud of the puppies we produce.

All DARWYN puppies are sold as companions with a legally binding sales agreement
that clearly states the terms of placement including a SPAY/NEUTER obligation.

Darwyn companion puppies are sold with CKC Limited Registrations. With this registration, these animals are to be spayed/neutered at the appropriate age and may not be shown or bred. This is a stipulation required by most reputable breeders and is necessary to minimize the possibility of improper breeding and to protect the name and reputation of their kennel.

All DARWYN puppies are raised in our home and in a family setting. They are very well socialized and are exposed to every aspect of the "home environment" including noises, other pets, children, visitors, etc... Overall, our puppies are raised with love and we take great pains to ensure the health and well-being of each of our babies. All litters are continually evaluated from their birth until they go to their new homes.

In keeping with the breed standard, tail docking and dew claw removal are performed by a veterinarian at approximately 3 to 5 days old (note - sometimes I will leave tails undocked for the potential of them to go to homes in Europe). Every puppy receives a basic health check, dewormings and their first series of vaccinations (sometimes the second and third as well) by our veterinarian before they leave for their new homes.

Throughout the many years, we have become very experienced in "temperament testing" all of our puppies and have used these results as a basis for placing each pup with the appropriate family. Since we want to ensure the happiness of both the puppies and their new families, we offer assistance by instructing every new owner in the areas of training, grooming and general care of their new family member.

In addition to the care we take in managing our breeding program, we also ensure that ALL of our puppies are placed in an appropriate environment with a new owner that is willing to undertake the responsibility of Welsh Terrier ownership. As part of this process, we require information about your interest in the breed, other animals and children and what your yard and environment is like. An online questionnaire will be coming shortly to help me in this process. The questions help us understand what you are looking for in a dog as well as forcing you to consider some of the aspects of Welsh Terrier ownership that you may not have considered.

Only after evaluations have been completed will the final selections be made by us and our clients. Every effort is made to be fair and to accommodate the needs of our clients.

Visitation of the puppies is permitted and encouraged but by appointment only. Please understand that final number of available puppies CAN NOT be fully known nor can selections be made until after evaluations are performed. Puppies are normally allowed to leave for their new homes at approximately 9 weeks, but occasionally additional evaluation is required and they are not available to go to their new homes until after 12 weeks.

All new owners receive a packet of information specially compiled to assist them in the acclimation of their new pup to its new home. We also provide articles and training guides to the new owner to assist them in their personal "Welsh Terrier Education".

Every new owner is encouraged to keep us informed through emails, letters and pictures about how they and their new family member is doing. We try to include the pictures we receive in the photos & stories section of the website. Feel free also to read what a few of our extended Darwyn Family have said about their "experience"!

As with many breeders, we love to find prospective owners who are interested in exhibiting our dogs whether in obedience, conformation shows, agility, earthdog or other activity.

For these "show prospects", please contact us separately to discuss the additional requirements involved.

Prospective Puppy Owner Questionnaire

As you can tell from the above information, I have a careful and rigorous placement policy. If you wish to acquire one of our puppies, or older dogs, please fill out the questionnaire fully. The answers you provide will help us determine the best possible match between you and the puppies in a current, or future litter. If you have any difficulties with this on-line form, please go to the contact page and email me.

Larisa