About us at Darwyn Welsh Terriers
Hello and thank you for stopping by our virtual dog room!
My name is Larisa Hotchin, and Michael and I live in Mission which is near Vancouver in British Columbia, Canada. I have been formally involved with this breed for over 18 years (since 1998), however, have lived with dogs all of my life.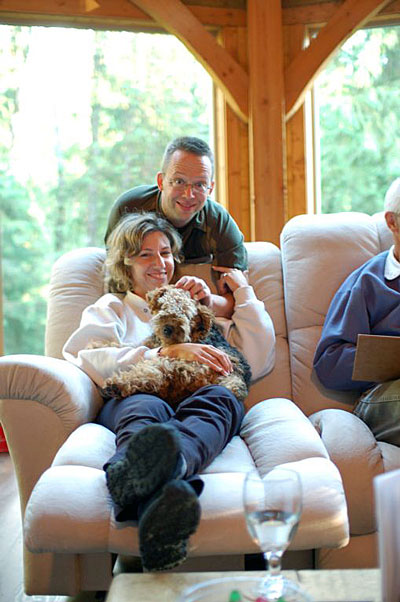 We have a small hobby kennel (more house than kennel really), and we focus on quality Welsh Terriers. Conformation (looks compared to the written breed standard) is very important, and is proven by my success over the years in both number of champions bred, as well as awards my dogs have received -- Best in Shows, Best Puppy in Shows, Group wins in both the US and Canada, and many (US) National Breed Specialty wins. I have also owned, and bred, the #1 Welsh Terrier in both the US and Canada for various years.
I also strongly believe that you should not compromise health and temperament, just for looks. The dogs that I have owned and bred prove that you do not need to. Realistically, the majority of the lives of ALL of our dogs, and puppies born, are spent as companion pets. I try to keep in mind that the reason I got involved in breeding and showing is because I love living with my dogs - that hasn't changed! Some of our dogs are in show coat at home and some aren't (like the picture here of a retired US specialty winner that is in my lap), we love them all the same.
I mention 'excellence' in my website, for me, this goes beyond looks and conformation ... it's the whole package.
Through detailed testing, record keeping, pedigree analysis and discussions with other breeders and pet owners on health forums, as well as DNA tests where available, we strive to produce healthy puppies. Great temperaments come from the combination of genetics as well as upbringing. If you came to our home, you would see that this is done through a home raised environment with lot's of experiences and interactions with people, visitors, other dogs and good guidelines.
As a small hobby kennel, I breed primarily to continue to develop my breeding program, and do not breed "just to have a litter to be sold". And, as you will see throughout my site, we live with our dogs. This means that I do not always have puppies available, and when I do, many times people have been waiting for some time to get one of my puppies, or dogs that I have decided to place. I do know that the people that have waited have told me that they were glad that they did - but I do understand that it is difficult to wait for so long.
I hope that this site gives you a bit of a feel for who we are, our values that guide our breeding, and to see some of our very nice Welsh Terriers that we have shown over the years.
Our dogs are very important to us, and are part of our family - whether they are some of the top show dogs in North America, or pets when they are not in the show ring (which is the majority of their life), or companion pets sold that are living amazing and very enriched lives ... so, the other thing that I hope you can get from our site is a feel for who our dogs are individually, as they are all different and all have very interesting stories ...
... from Becky who competed successfully in England and Canada, who went to her retirement home and went ocean kayaking with her new owner a few times a week ... Dylan who was a top obedience and agility dog (all from clicker training) ... Cyril who had to finish his Canadian Championship twice since his owner (me) couldn't count properly, then went to finish his American Championship on our National Breed Specialty weekend (Montgomery) and now lives a very cozy life - going to dog parks (teaching other dogs how to fetch!) ... Parker who won Best of Breed at our Breed Club National Specialty at Montgomery from the Open Dog class (a really big deal in the show world :-), who now lives a terrific life with his owner in Australia,or the two sisters (both named Megan) whose owners have become very close friends after getting their welsh from me 6 years ago and have gone on twice weekly walks ever since, OR ... OR ... OR... :-)
My plan is to try and keep this site up-to-date. As I get new information, I expect to keep up-to-date on our boys and our girls, our puppies, and owner stories. I still have lot's of content, and links to add ... information about the breed, care, training, grooming, health, show results :-), and just fun stuff!
I have added lot's (hundreds!) of photos to Facebook over the last few years. I am going to try to get back to updating my website more regularly in the future -- also. Please stay tuned!
Again, thank you for stopping by - I hope you come back and please connect with us!
Cheers, Larisa.