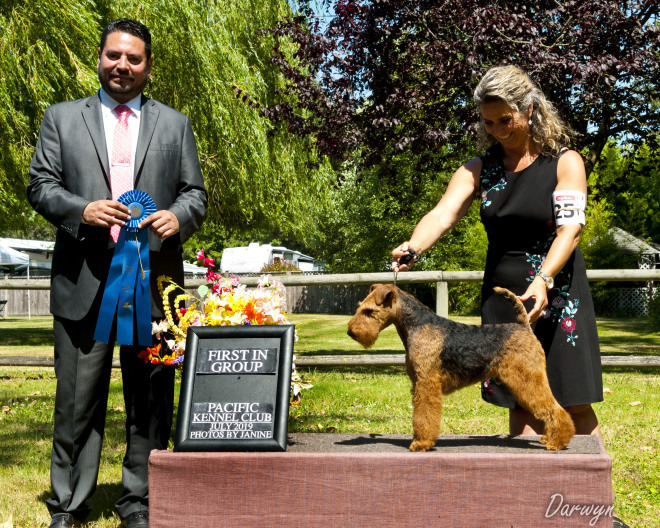 3 group 1st wins & over 20 group placements, earned Robbie the  #1 spot for 2019! 
CKC will have the official tally by spring, but with almost a 200 point lead, we are announcing this now.
Robbie (Grand CH Darwyn's Trail Blazer) is Darwyn's 9th different Welsh Terrier to have the #1 breed ranking, and the 11th year that we have had the #1 Welsh Terrier since we started.
Robbie started out 2019 as a class dog.  This means that he wasn't yet a champion.
Robbie wasn't campaigned with advertising, and was only shown a relatively small amount in Canada.  He's still a young dog, plus we "played" in other dog sport events, did Nose Work training, and showed in Owner-Handling in the US.
Diversified meant that we weren't focused, but we were successful in each of these areas, and they were all enjoyable.  Good times!
In addition to Canada, Robbie also got noticed in the US, and awards, both in the rankings and at the specialties!
AKC – NOHS (National Owner Handler Series), Robbie was America's #3 Owner-Handled Welsh Terrier with multiple group 1st wins and Reserve Best in Shows!
Robbie did well at each of the specialties that he attended.
On the West Coast he attended 2 terrier specialties at the beginning of the year, and placed in both of the big Bred-By Groups that he was shown in (Western Washington and Portland).
Montgomery Weekend!
In the fall, Robbie got on a plane and flew to the other side of the continent.  There he competed in the huge terrier event – Montgomery County KC, and associated shows.
On that important 'Montgomery' weekend, Robbie won the Bred-By class every day he competed, including the US National Breed Specialty!  He also was awarded Reserve Winners Dog at Hatboro (to a 5-point major) under long-time terrier breeder judge, Mareth Kipp.
The highlight of the weekend was when he was awarded a huge 5-point major under terrier-breeder judge, Harold Tatro, with the Best of Winners award!  There were 30 Welsh Terriers entered in the classes that day — where he won from the Bred-By Class!
Much appreciation to the judges that awarded Robbie's quality over the year, and a special thank you to handlers Michelle Yeadon and Jennifer Driessen and their teams for presenting Robbie for me when I couldn't.  I've worked with them since 2013 now, when they presented my top boy 'Java' to #1 Welsh Terrier that year.