BISS American & Canadian CH Darwyn's Dora the Explorer
WTCA National Specialty WB Winner; Dam of 2 significant stud dogs (Java, MJ), Dam of 2 significant brood bitches (Ella, Jessie).  Significant in that all 4 of these have produced top quality winners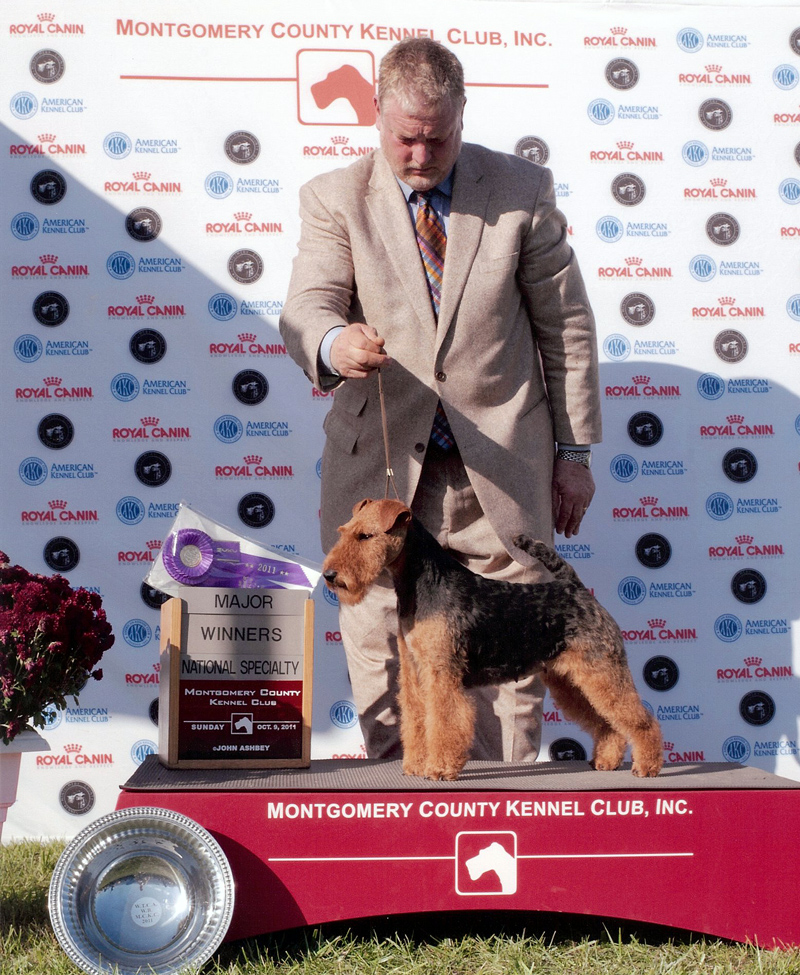 Winners Bitch at the Welsh Terrier Club of America National Specialty (at Montgomery County Kennel Club, MCKC, 2011); 5 point major!
Winners Bitch at Hatboro KC (on Montgomery County Kennel Club, weekend); 5 point major!
Best in Specialty; US Regional Welsh Terrier Specialty
Canadian Championship from wins from multiple Group Placements (from the classes)
In her TWO litters (total), 3 boys were show dogs, all 3 were significant winners, TWO went on to be significant sires in the breed of future winners (Java, MJ, Zorro).
In her TWO litters (total), 2 girls were show dogs, both were significant winners, BOTH went on to be significant dams in the breed of future winners (Ella, Jessie)
Primary Lens Luxation (PLL) DNA – clear/normal;  Degenerative Myelopathhy (DM) DNA – clear/normal;  Thyroid – normal; Hips – Fair; Elbow – normal; Legg-Calve-Perthes – normal; Cardiac – normal;  Patella – normal
Sire

Columbian CH Merlin Embrujo De Brujas

Dam

American & Canadian CH Saredon Chasing Secrets
Dam of 5 Champions – and only had TWO litters! FOUR of these went on to be significant producers.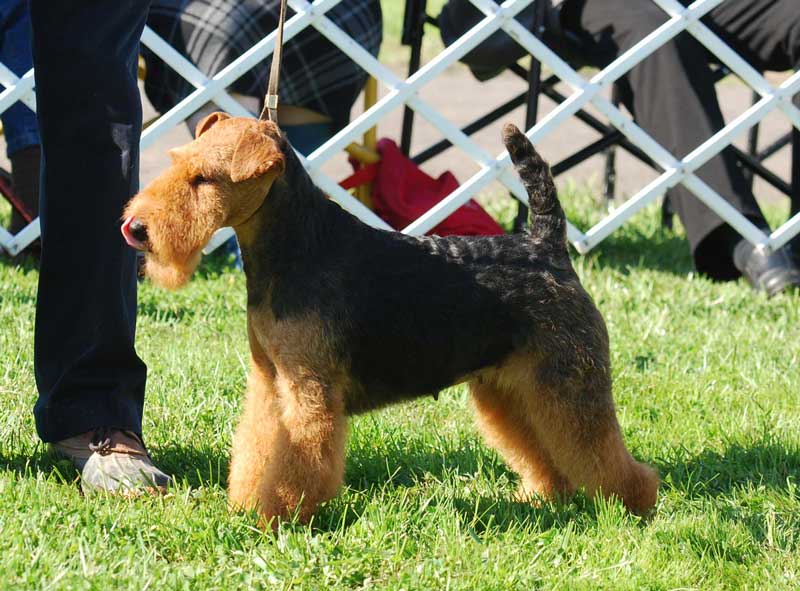 Dora finished both Championships in Top Style!
USA (AKC):
Dora was presented in the US by Wood and Jenny Wornall.  Her first weekend being shown was the Montgomery County Kennel Club Weekend (WTCA National Specialty) in 2011, where she won WINNERS BITCH 2 out of the 4 days for 2 5 point majors.  She was 2  years old at the time.    There were over 60 Welsh Terriers shown at that National Specialty that year.  There were 26 class bitches (non-champion females)!
Interestingly, the two days that Dora lost, another Darwyn bred bitch won Winners Bitch for the other 2 majors.  This was a girl that was born just a few days prior to when Dora was born.  At that same show, we were showing an American Champion male named Monty (Am/Can CH Darwyn Bruhil's Flying Circus), he was the litter brother to the girl that won Winners those other two days.  Monty was awarded SELECT DOG at the US National (WTCA) that year!
A 6 month old daughter of Dora was shown for her first time and was awarded 1st in her class, presented by an owner-handler – Jessie.  Jessie finished her American Championship owner-handled and became the grand-dam to the 2019 WINNERS BITCH at the WTCA National Specialty on Montgomery Day!
We are so very proud, as both owners, but most particularly, as breeders.  So very proud indeed!
2011 was a very good year for Darwyn on Montgomery weekend, and the WTCA National Specialty Day.
Canada:
Dora was awarded her Canadian Championship following multiple Group Placements from the classes.  For some of these wins, she was presented by Connie Krohn.
No top wins beyond her championship?
Dora was never 'specialed'.  This means that she was not shown beyond her championship.  This was because we (Darwyn) were campaigning a couple of dogs, in both the US, and in Canada.  In Canada, our focus was primarily on Joe – BIS American & Canadian CH Darwyn's I'm Not Arguing That (The Top Best in Show Winning Welsh Terrier in Canadian History, and one of Canada's top 10 dogs of all breeds for 2 years in a row).
Dora had 2 litters, of which 5 puppies were either kept or went to show homes.  All 5 did very well.  1 boy was not used at stud (in Brazil).  The other 4 (2 boys, 2 girls) went on to be producers of Welsh Terriers that had top wins (and good producers themselves).
Dora was retired to a wonderful companion pet home when she was 4 years old.  She went to live with someone that had a previous retired show dog from Darwyn, is loved very much, and is still healthy (as at Jan/2020).
Some Photos of Dora home at Darwyn