BIS Am. Silver Grand CH & Can. CH
Darwyn Here for a Good Time
Winner on Multiple Montgomery County KC weekend years, including National Specialty
Owned by Larisa Hotchin (Breeder) & Sonya Cornick (Australia)
Best in Show Winner (Canada); Reserve Best in Show Winner in US!
One of the TOP WELSH in the USA in 2014!
#1 Welsh Terrier in Canada – 2016!
Multiple Group 1st Winner in the US!
Winner of BOS at the National Breed Specialty in the US (WTCA) at Montgomery County KC; 2015!
Winner of Select Dog at the US Breed National Specialty (WTCA) at Montgomery in 2014!
SILVER level GRAND CH in the AKC! One of a very small number of Welsh Terriers to do this. All points towards this are from defeating other Welsh Terriers in the breed level.
BOB from the Open Class in ITALY on the World Dog Show weekend!
Sire of a top winner (Maria) out of the 1 litter that he sired!
Finished both his American & Canadian Championships quickly and in very competitive show line-ups
Primary Lens Luxation (PLL) DNA – clear/normal;  Degenerative Myelopathhy (DM) DNA – clear/normal;  Cardiac – normal;  Patella – normal
Dam

MBIS Am & Can CH Sanherpinc Paisa
49 Group Placements! Two-Thirds of them in the US
Plus wins in Italy, Westminster Kennel Club and multiple Montgomery County KC weekends!
Trooper's Wins on 2 years of Montgomery (WTCA) weekends!
Trooper was shown as a special (champion) on the Montgomery County KC weekends in 2014 & 2015 by handler Ernesto Lara.  Both years he won top awards in the breed.  He won multiple Best Opposite Sex (BOS) and Grand Champion Select Awards (SD).
At the Welsh Terrier Club of America National Specialty, under breeder judge, Mr. RC Williams, Trooper was awarded Best Opposite Sex!  This is a prestigious show, always with a large number of entries in the breed.  We are honored to have received this outstanding award.
On the same weekend, Trooper's daughter, Maria, was awarded Winners Bitch, for a 5-point major (the highest point total available for non-champions), and his grandson, Mickey, was Best Opposite Sex in the National Specialty puppy sweeps.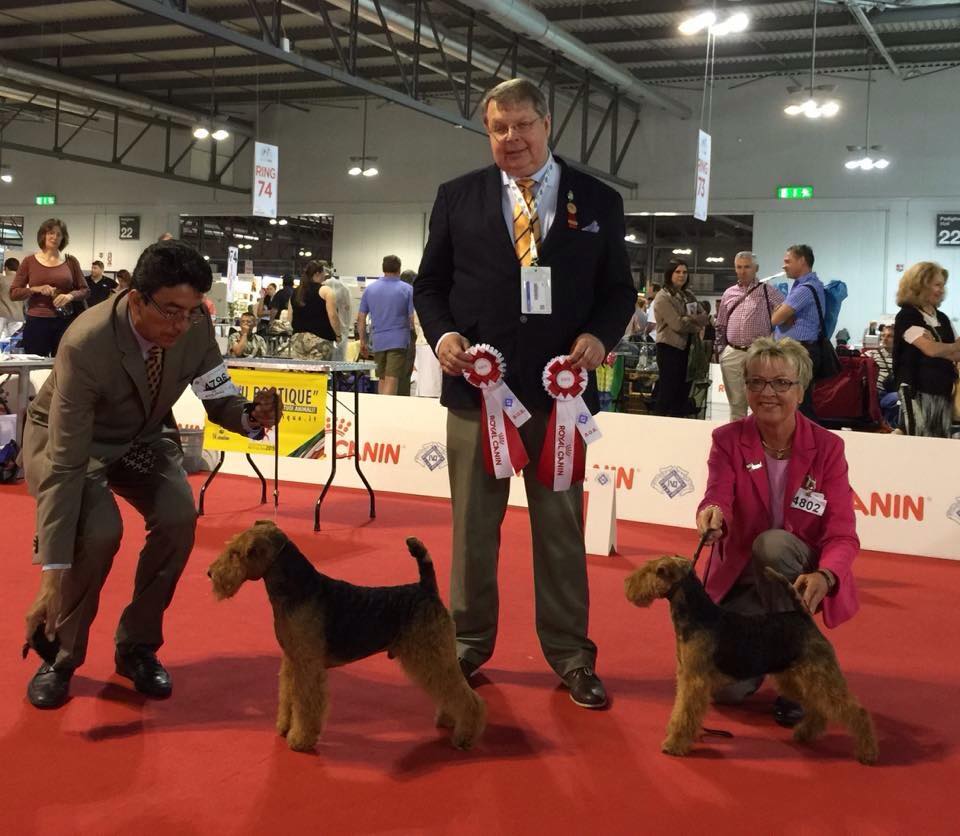 In 2015, Trooper traveled to Milan, Italy, to attend the World Dog Show (WDS).  This annual event moves around to a different FCI country each year (US, Canada and England are not FCI countries).  The WDS is well attended every year by all of the breeds, and it is not unusual for their to be 20,000, or more dogs presented there, representing most countries of the world.  Welsh Terriers are plentiful, and very competitive, in the European Show Rings, so this event is always well attended by our breed.  The event includes 2 shows, one which is a called a club show (specialty for the group, for us, terriers) as well as the actual World Dog Show.  Winning anything on this weekend is considered a very high honor.
At the Club Show on the WDS weekend, Trooper won the Open Class and went on to win BEST OF BREED!  Trooper was presented in the Open Class because he was not a champion in an FCI country (essentially Europe).
Sonya Cornick and I (Trooper was co-owned by the both of us) were very proud of this win.  We are appreciative of his American Handler, Mr. Ernesto Lara, for presenting him in beautiful condition for us.  We thank Judge, Mr. Dan Ericsson, for this award.  Mr. Ericsson is very well known in the world of show dogs.  He is from Sweden, and is well known for his "Raglan" champions of many decades, and is considered a terrier specialist.
Shown above in this photo winning BOS is Inga Hyldahl from Denmark.  A few years later, Inga and her husband traveled to Canada a couple of times and imported 2 Darwyn Welsh of her own – Walter and Elsa.  Both have done very well in Denmark.