BISS American Grand Champion & Can Grand Champion
Darwyn's Special Blend
Canada's #1 Welsh Terrier for 2013 and 2014 & sire of significant Darwyn Welsh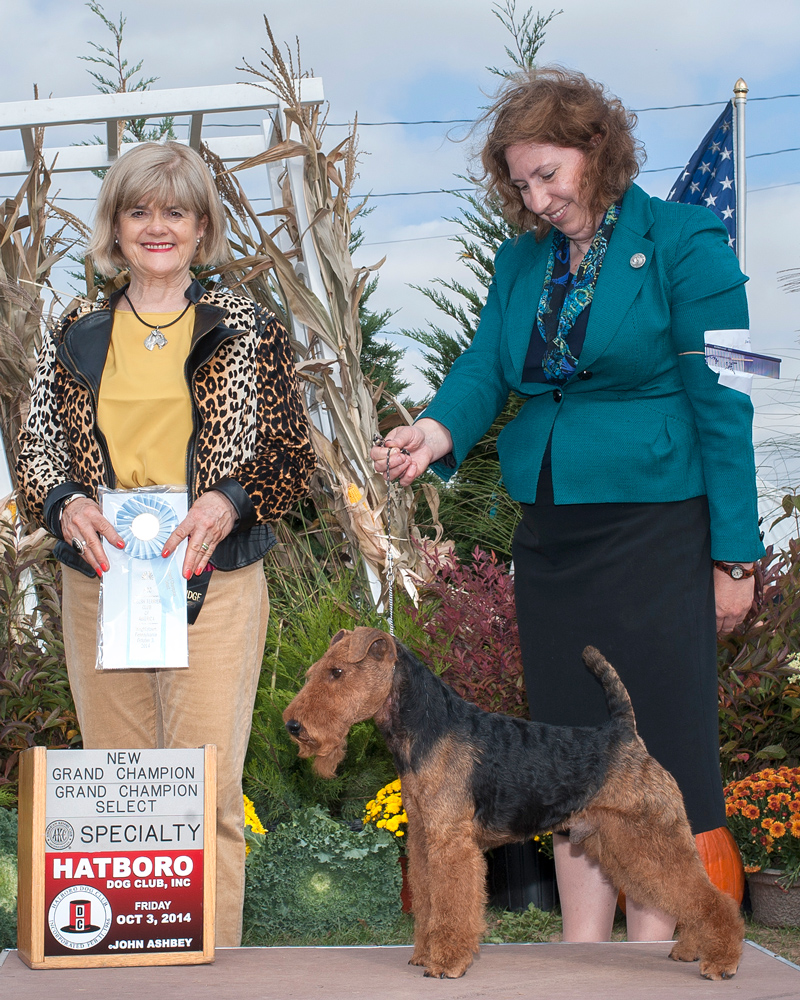 #1 Welsh Terrier in Canada; 2013 & 2014
Multiple Terrier Group 1st Winner – owner handled!
Winners Dog (major) on Montgomery County KC w/e (Devon); to finish his championship. Win under under breeder judge, Mr. RC Williams
Award of Merit at Welsh Terrier Club of America National Specialty (Montgomery day, 2013, under breeder-judge, Mr. Bruce Schwartz)
Best in Specialty; US Regional Welsh Terrier Specialty
AKC majors from the bred-by class (as a puppy)
Multiple BOB wins from the classes over specials competition, to finish his Canadian CH
Multiple Group placements, from the classes, in both the US and Canada
Best Puppy in Show winner
BOS sweeps at WTCA National Specialty at 6 months of age
1st Welsh Terrier Grand Champion in Canada
Sire of a few prominent show winners, out of very limited breeding (Mickey & Zelda to name just two)
Degenerative Myelopathhy (DM) DNA – normal;  Thyroid – normal; Hips – Excellent; Elbow – normal; Legg-Calve-Perthes – normal; Cardiac – normal;  Patella – normal
60 Group Placements – of which EIGHT were Terrier Group Wins!
Plus multiple wins on Montgomery County KC weekends!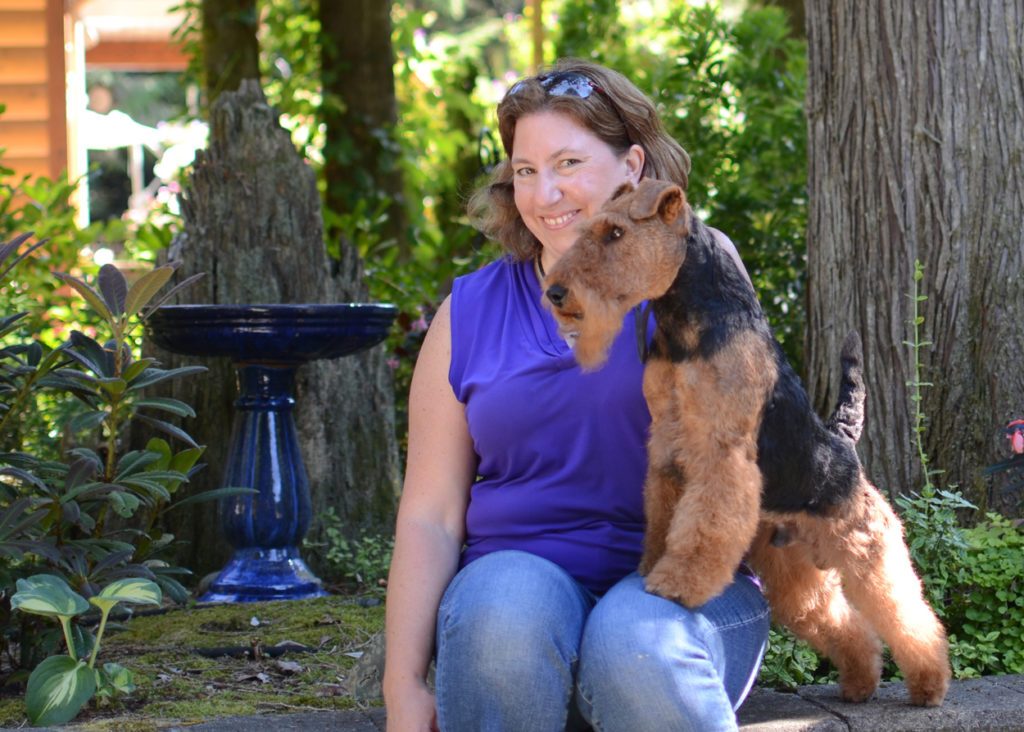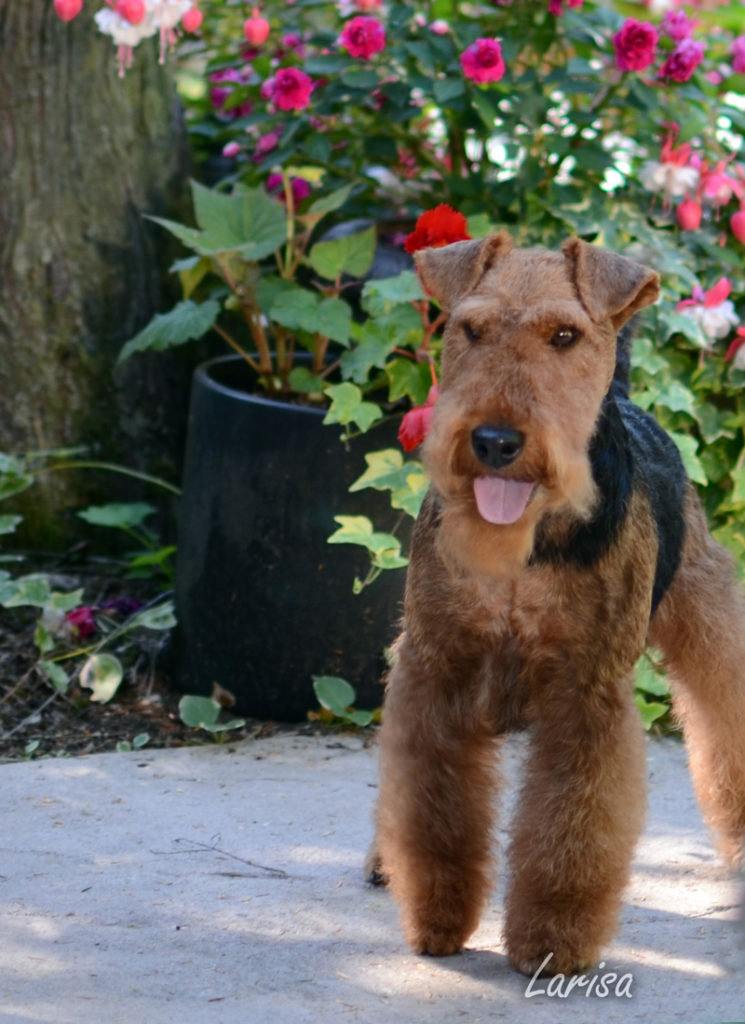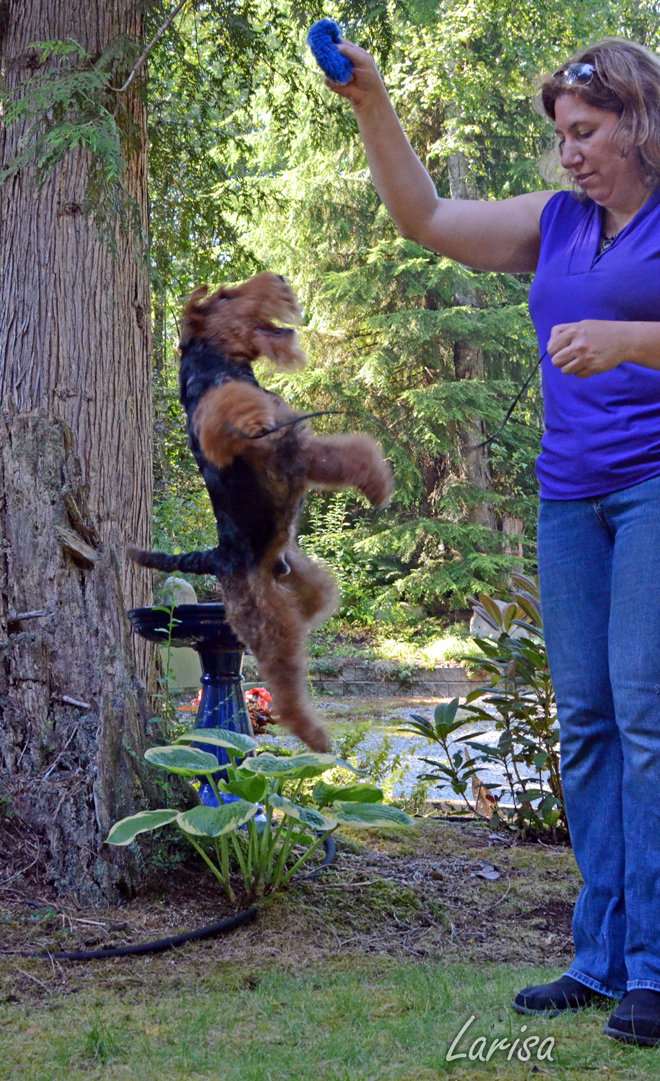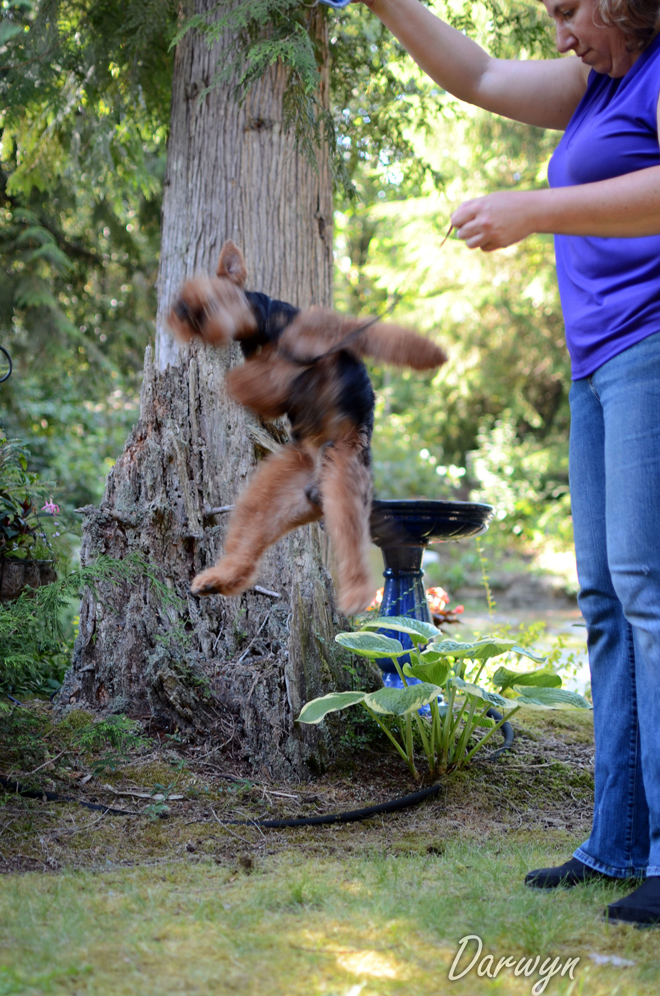 Awards on Multiple Years of Montgomery (WTCA) weekends for Java!
Java attended the Montgomery County Kennel Club (MCKC) weekend of shows for 3 years in a row (flew from the West Coast of Canada to the East Coast of the US) — 2012, 2013, 2014.
Java was recognized for his quality and received awards and wins each year he attended.
He likely would have attended one more year with me, but he broke a front tooth and we made a decision to have it extracted instead of going to a specialist to have it capped.  This would not affect some showing potential, but on the MCKC weekend, you are showing against the best in the world in the breed, and little details can easily be the difference between getting an award vs. just showing to your peers for nice comments!  So, we made the decision to collect his semen to be frozen and he retired and went to live life as a wonderful companion with someone in Alaska that had previously had one of my retired top show dogs.  I did have someone approach me after I announced his retirement, that they would have taken him on, fixed the tooth with a specialist and campaigned him.  Oh well … his career essentially was over once he started to mature properly.  It's OK, Java's son, Mickey, took on the torch for Darwyn and has done some outstanding wins!
2012
Java was just a junior puppy for his first experience at Montgomery.  He won his class multiple times as well as went BEST OPPOSITE SEX in the NATIONAL SPECIALTY SWEEPSTAKES!  This was under the breeder-judge, Kathy Rost (Brynmawr).  Kathy is a long time breeder and has very clear and definite opinions as to what she likes, and doesn't like, in the breed.  We were honored with this award for Java.
Many breeders bring these young puppies to this show, but the vast majority are those breeders that can easily drive there.  It would take me 5 days to drive to Montgomery (each way), so I fly every year.  Most breeders that go a large distance, usually take season show dogs, or at least ones that are close to being mature.  I have taken a Junior Puppy (6 months old) a few times now, and each time have done surprisingly well.  Joe's mom, Mercedes, went to Montgomery her first year at 6 months old also – she helped her (famous) sire, Ben (CH Kirkwood Top Brass) win the competitive Stud Dog class!  That was back in 2003.
There are a bunch of candid photos of me showing Java at Montgomery when he was just 6 months old here – they are the photos of me in the wine colored pant suit.  He looks young because he IS young.  Please keep that in mind.
2013
Java was presented by handler, Doug Belter, for these shows, a well-known terrier man, previously from Canada.  Going into the Montgomery show weekend, Java was presented at the large terrier specialty in Michigan the weekend before.  The day he was shown, he was Best of Winners for a major.
At the Devon Show (day before Montgomery County / MCKC show), Java was again awarded WINNERS DOG, for another major, and to be awarded his American Championship!  As with 2012, this was again under a long time successful Welsh Terrier breeder-judge, this time being Mr. RC Williams (La Sierra).
At the WTCA National Specialty show on Montgomery Day, under another long-time Welsh Terrier breeder-judge, Mr. Bruce Schwartz (Bruhil), Java was awarded an AWARD of MERIT!
We were thrilled with these awards.  Both of these men are very confident in their knowledge of the breed, have history behind them with much success, and are known to 'do what they want' and to only reward dogs that they believe have merit.
Java at this point was still not a 'mature' dog – only being 18 months old.  But, my breeder peers and the judges were able to see through this and we are very happy.
As a breeder, this is the one of the most exciting honors – to have your dog of potential (but one you know isn't quite ready yet) be recognized and appreciated for their quality.  We are very grateful and feel fortunate.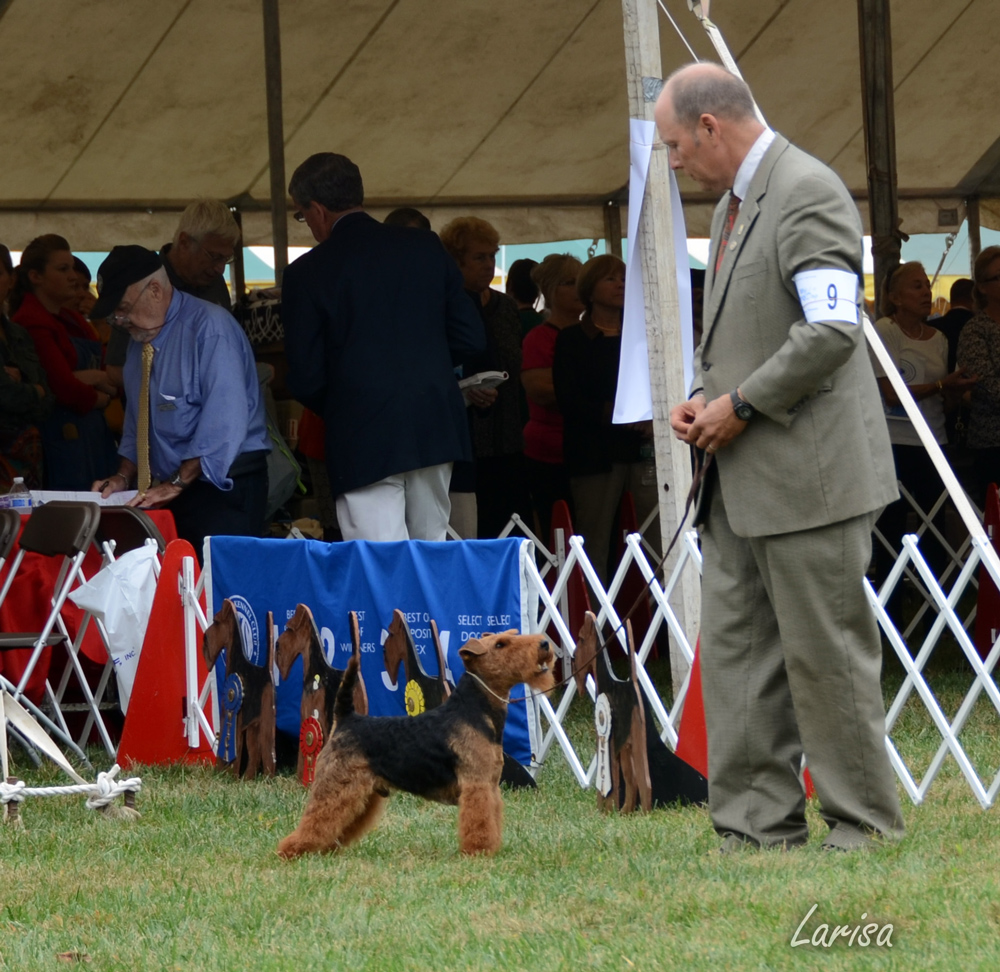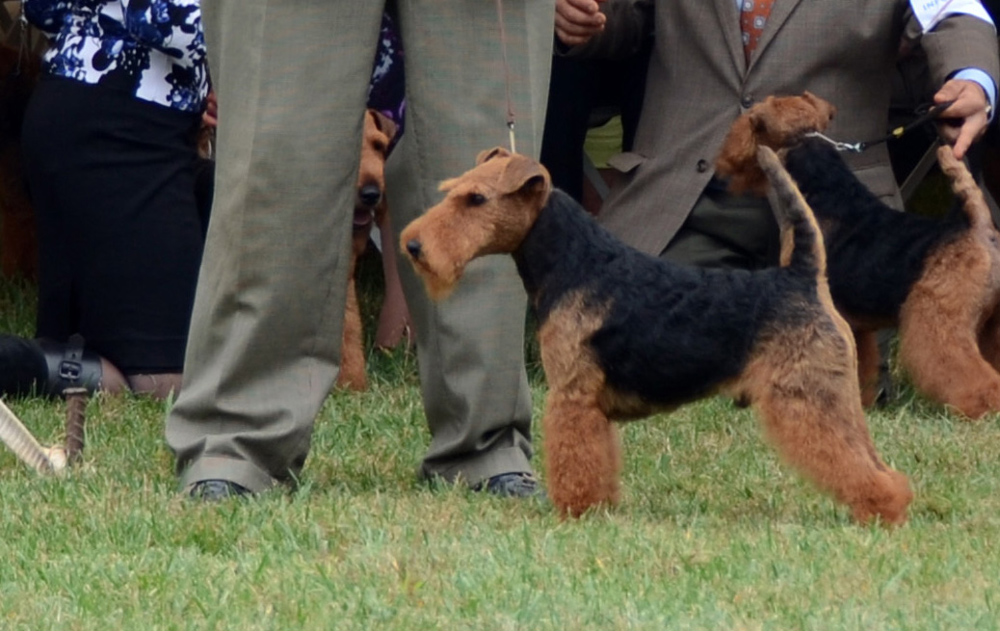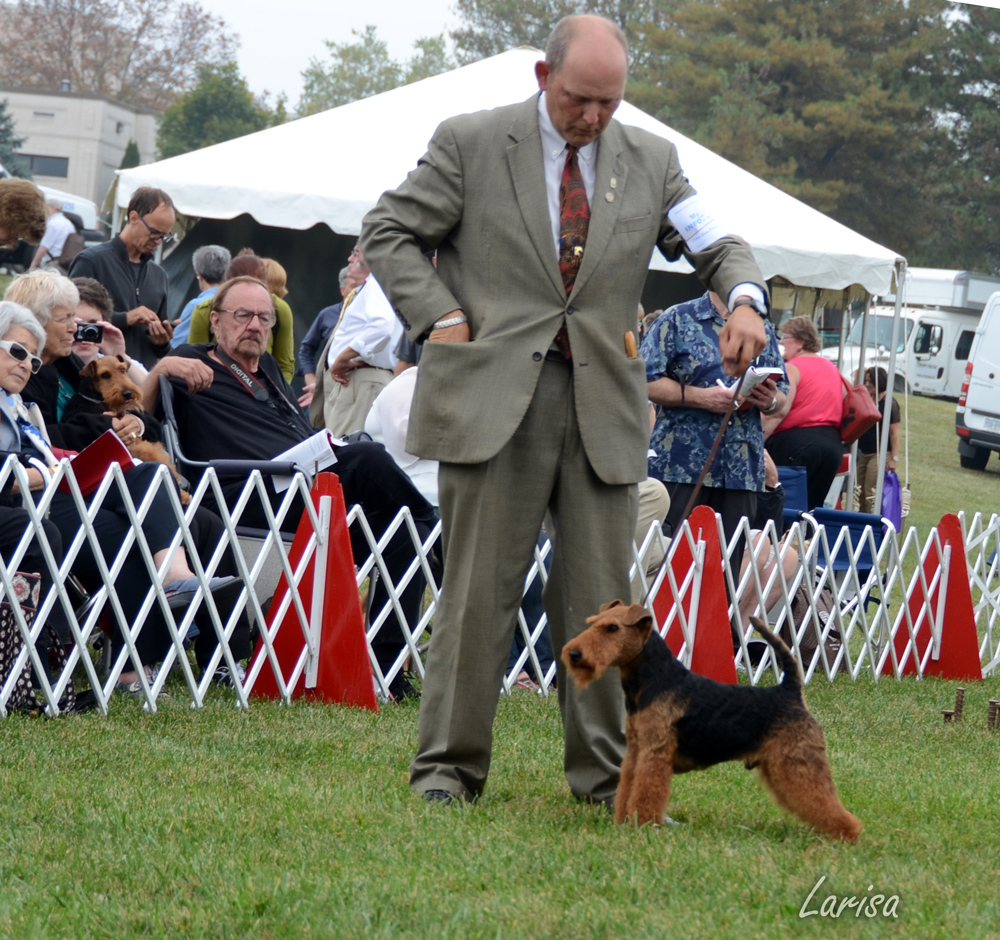 2014
This last year that Java attended the Montgomery shows, I showed Java myself (Larisa Hotchin) as a breeder-owner-handler.  I did this for 2 reasons.  The National Specialty for this particular year was having an additional competition for Owner-Handlers, and we had another male special (champion) with a Professional Terrier Handler (Trooper, Java's 1/2 brother was with Ernesto Lara).  It was a little bit daunting showing Java myself, as there were a few male champions being campaigned that year with top professional handlers.  I must admit, I was comfortable showing the first 3 days, but my nerves got to my on the actual Montgomery Day and I was a wreck!  And, it went down the lead.  My dog that showed beautifully the days before was distracted, likely because I was nervous and he knew it.  But …. such is life!
At the Hatboro show (2 days before the big Montgomery show), Java was awarded SELECT DOG (SD)!  This award finished Java's AKC Grand Championship!  A bitch being campaigned to one of the top US terriers that year was BOB, and Java's half-brother, Trooper, was Best Opposite Sex!  That same day, Maria, a Trooper daughter, was Winners Bitch for a major!  Needless to say, we were OVER THE MOON!  We eventually paired Maria and Java together, and voila …. this combination produced my beautiful Mickey and Zelda.  The judge on this day of Hatboro that awarded us was another breeder-judge, Mrs. Diane Barclay.  Again, as with 2012 and 2013, this breeder has been involved for decades and knows exactly what she likes for a welsh and what she will reward in the ring.
Finally the big day arrived – Montgomery (MCKC).  I was a nervous wreck and couldn't show Java properly.  However, saying that, the judge did award us BEST OWNER HANDLER IN BREED.  This was very special.  This was the reason I took him and showed him myself.  It's a real gamble, there are some good owner-handlers in our breed that do a nice job, and they were also there this year.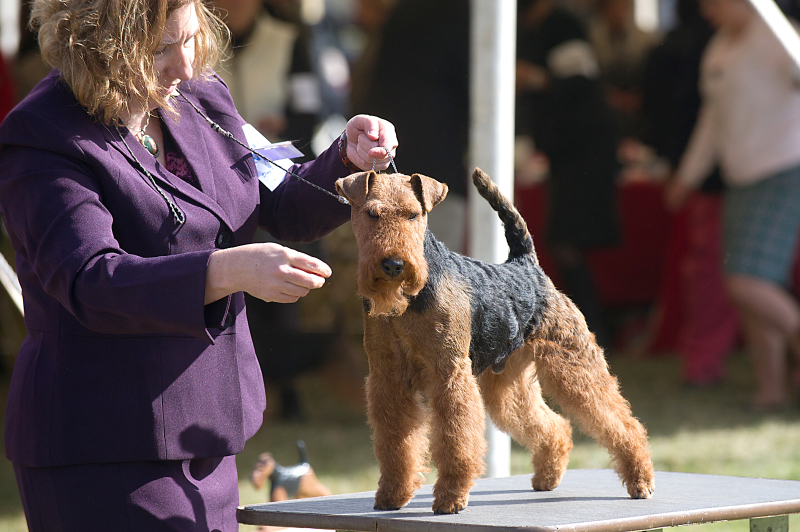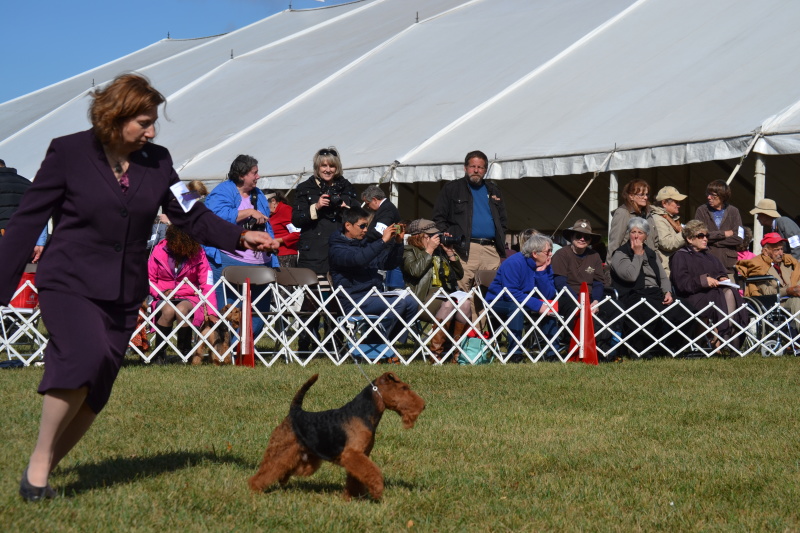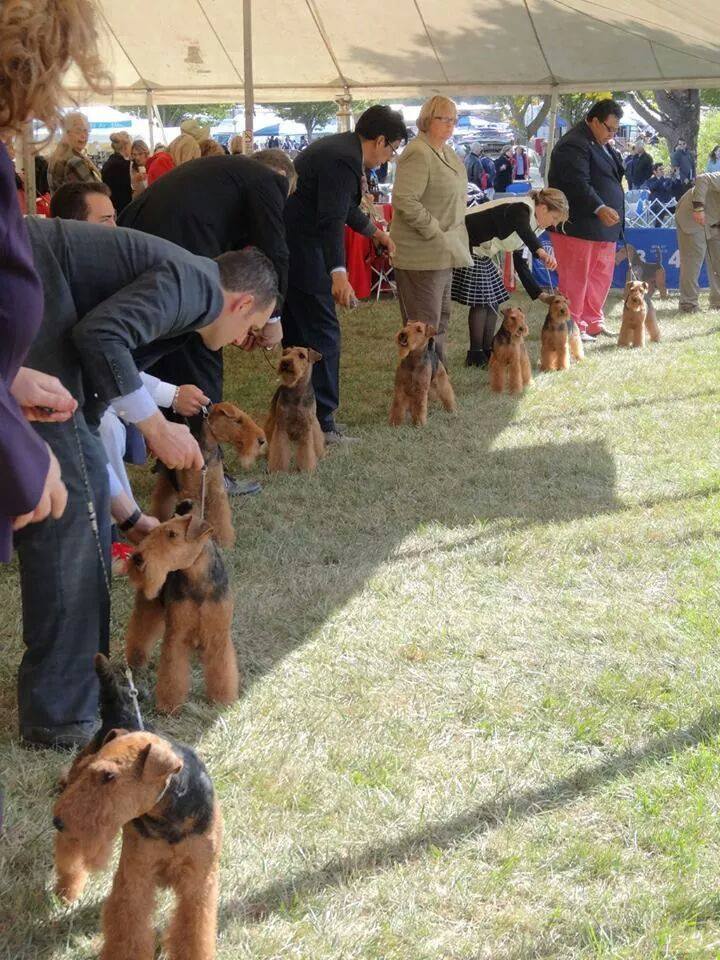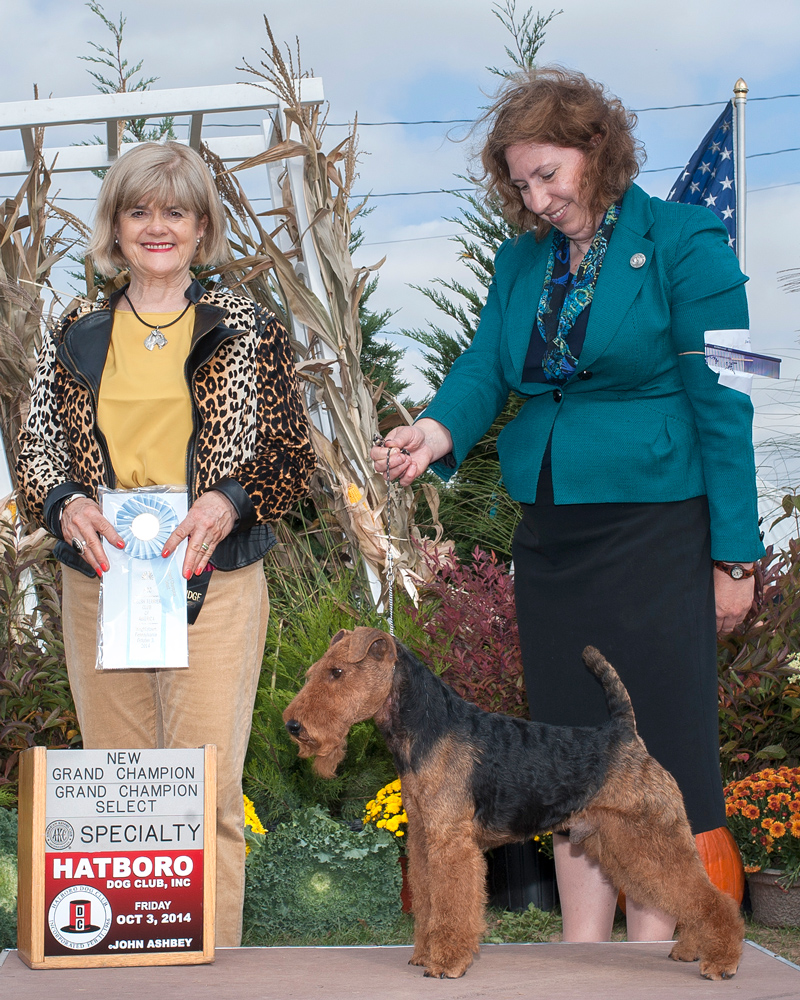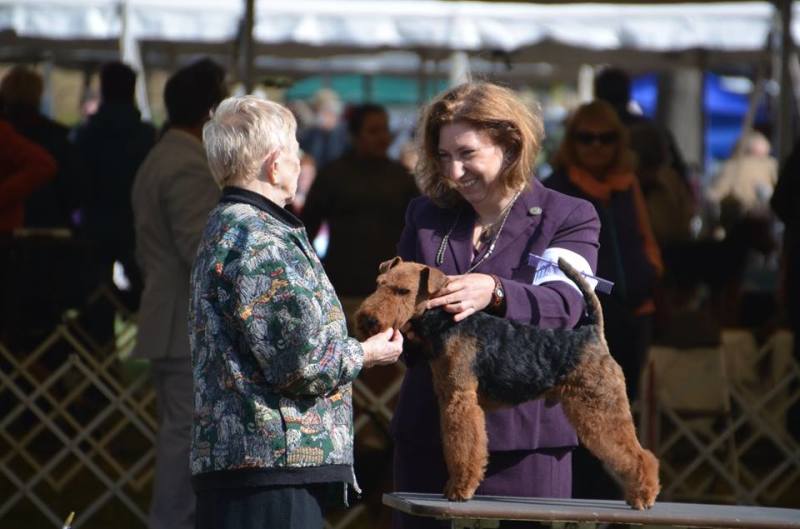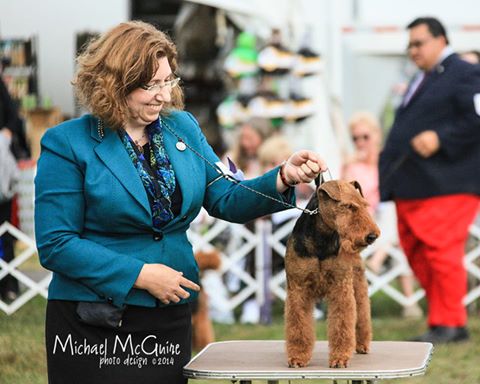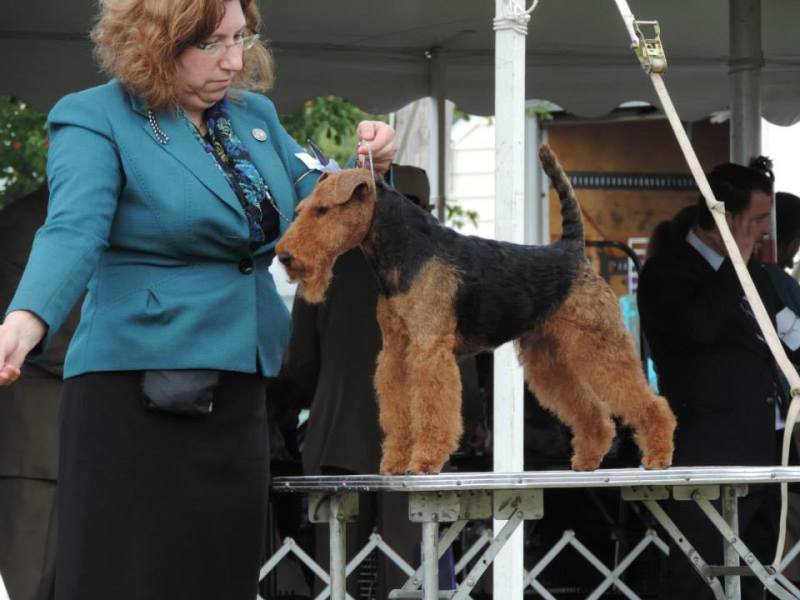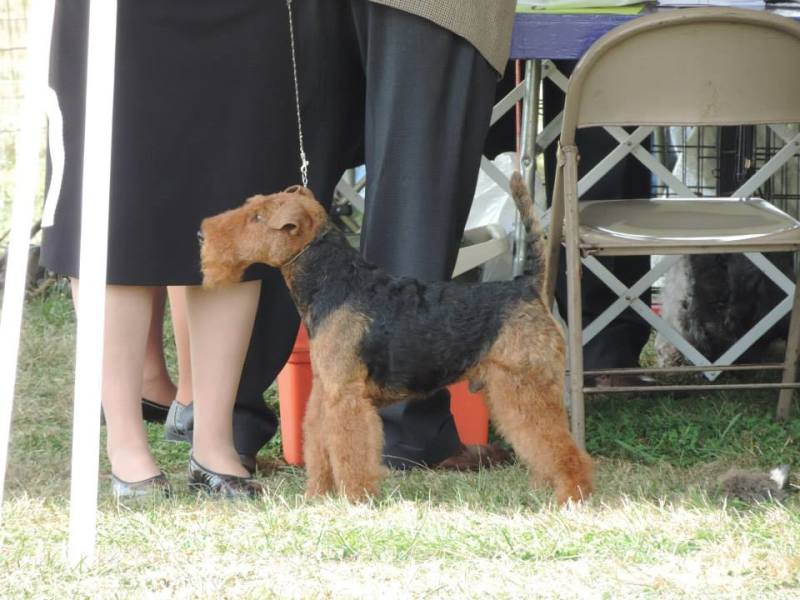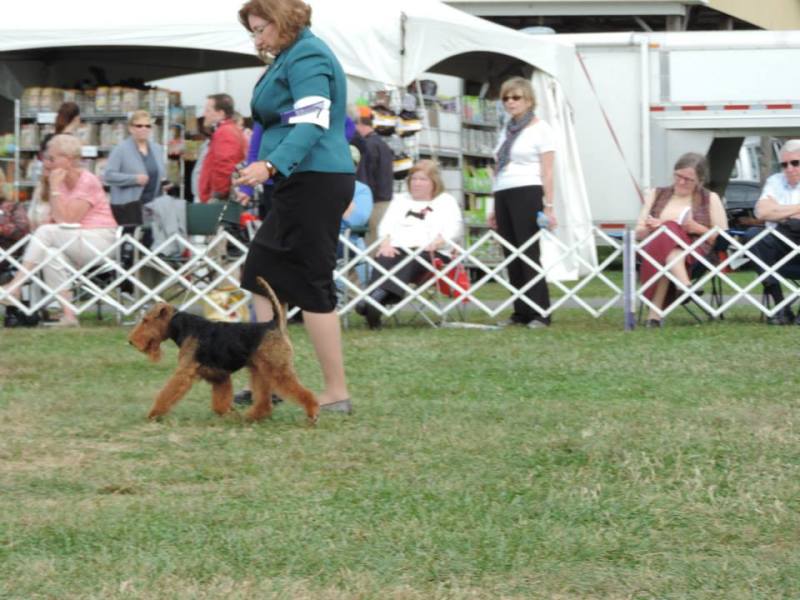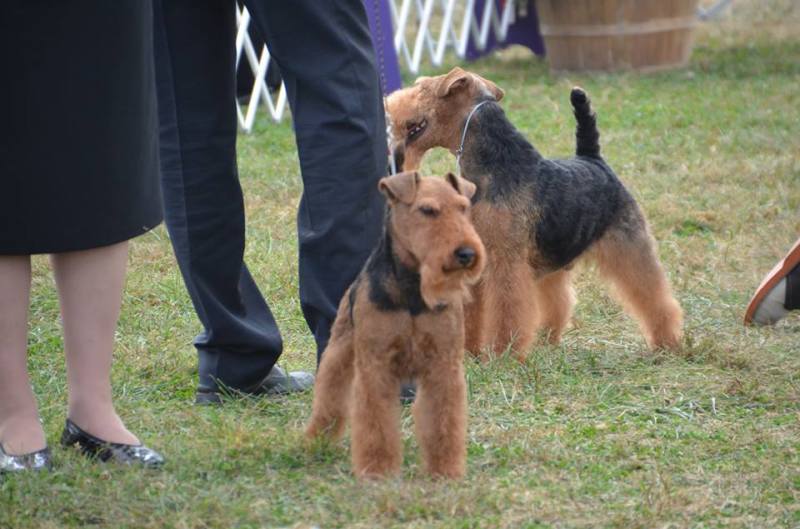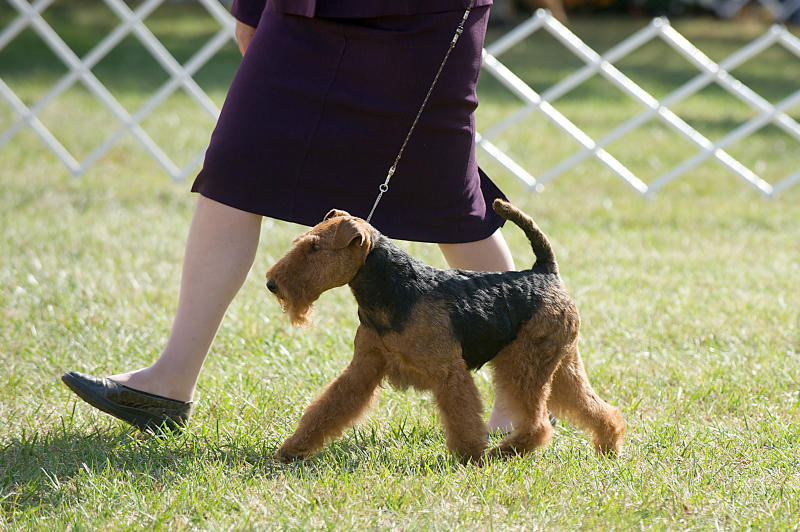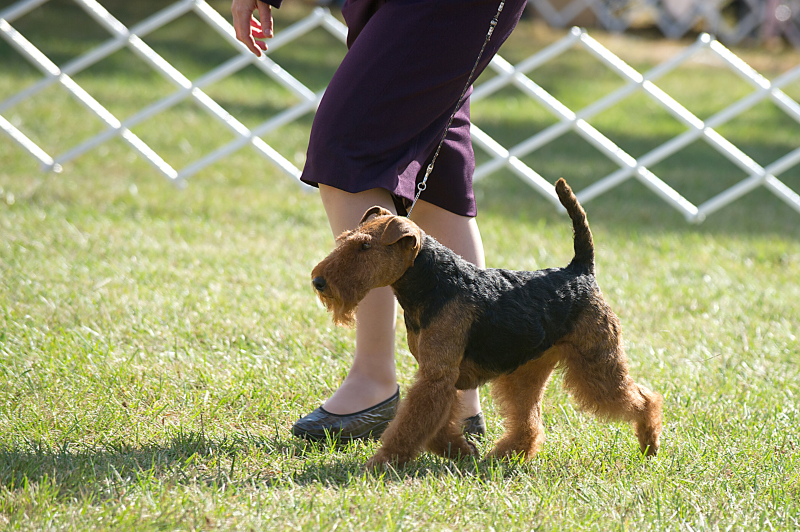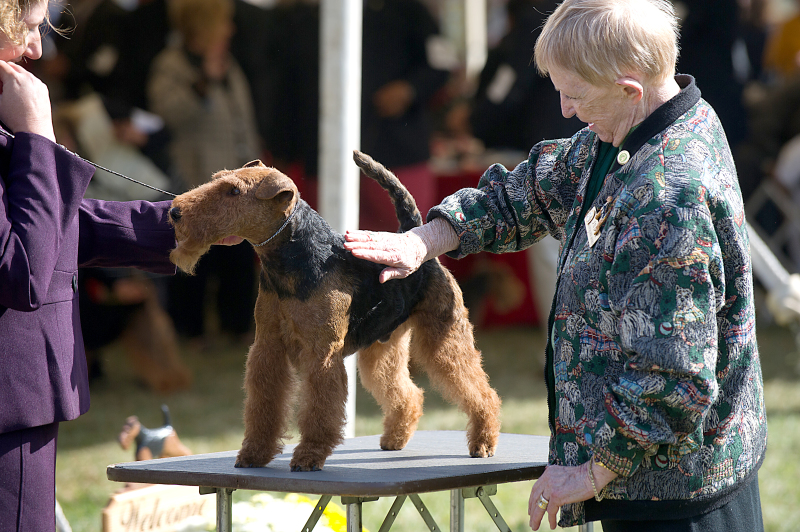 Some of Java's AKC wins in the USA
Java made 3 trips from the West Coast of Canada to the East Coast of the US to attend the Montgomery County set of shows.  Other than this, he was shown a very limited amount in the US, essentially only to finish his AKC Championship.  He made a very positive impression when he was shown!
A few photos of Java being shown in Canada
Java was shown for a couple of years in Canada while he was still a young boy.  I likely should have had his show career after he properly matured, but I got so excited about exhibiting him when he was so well received as a 6 month old puppy at the US National Specialty.  I never officially campaigned him, and I split my focus with him between US shows and Canadian shows, so he likely could have done even better.
Java won a lot of group placements during his 2 year career, 8 Group 1st wins (in very tough competition) and 60 group placements all-together!  Java was Canada's #1 Welsh Terrier for both 2013 and 2014.
He followed in his sire (Joe's) footsteps, of Joe being the top Welsh Terrier for 2011 and 2012.
After Java broke a front tooth, we decided to retire him (even though we had planned on campaigning him that year) and he went to live with a good friend in Alaska, someone who had taken his grandma (KSee) years before as a retired top show dog.  He lives a wonderful life.
Some Photos of Java home at Darwyn