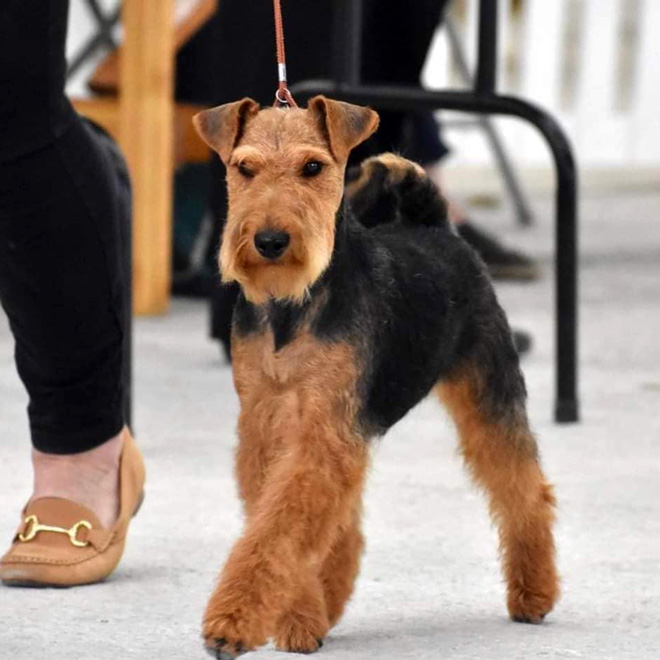 Knowlelion Skys The Limit (Charley) was awarded #1 Welsh Terrier Puppy in the UK for 2021! 
Owned jointly by Alexandra O'Connell and Larisa Hotchin, she was bred by Ms. Rachel Pearce and Mr. David Hughes (England), and Mr. & Mrs. Sinclair (Ireland).
Charley lives with and is loved by my good friend, Alexandra and her family – Letoha Terriers.  They also have Chloe's litter brother, Xander (whom I wrote about in a previous news post).  From Alexandra:
"Miss Charley is the sweetest, snuggliest, and most enjoyable Welsh Terrier that she has ever met." 
This makes me very happy, especially since I have waited a few years for this particular breeding to happen.  Her sire is one of my special dogs that I raised.  Bruce was a very loving, fun, easy to train and sweet boy when he left Canada …. a dog that stole every heart that met him, and has a tail that never stops wagging!  It appears that these wonderful traits were passed down to his beautiful daughter, Charley.
Charley's sire, Bruce,  CH Darwyn Knowlelion Special Brew, was bred by myself here in Canada, and exported to England in 2016.  Bruce's sire, Mickey, is one of Larisa's top dogs (both show dogs and stud dogs, producing winners of significance) – RBIS American Grand CH & Can CH Darwyn's Sorcerer's Apprentice.  Mickey also has that wonderful, fun, enjoyable and super temperament.
An exciting thing is that Bruce was also awarded a top award for 2021 — the TOP STUD DOG AWARD in the UK !
Charley's dam is also a beautiful, and special, girl.  She's UK champion Knowlelion Midnight Sky.
We are all very proud of Charley's awards, as well as being very proud of Alexandra herself.  She has learned the craft of hand-stripping and presentation of the breed, a very specialized art, in order to gain these awards as an owner-handler.
Well done Alexandra and Charley!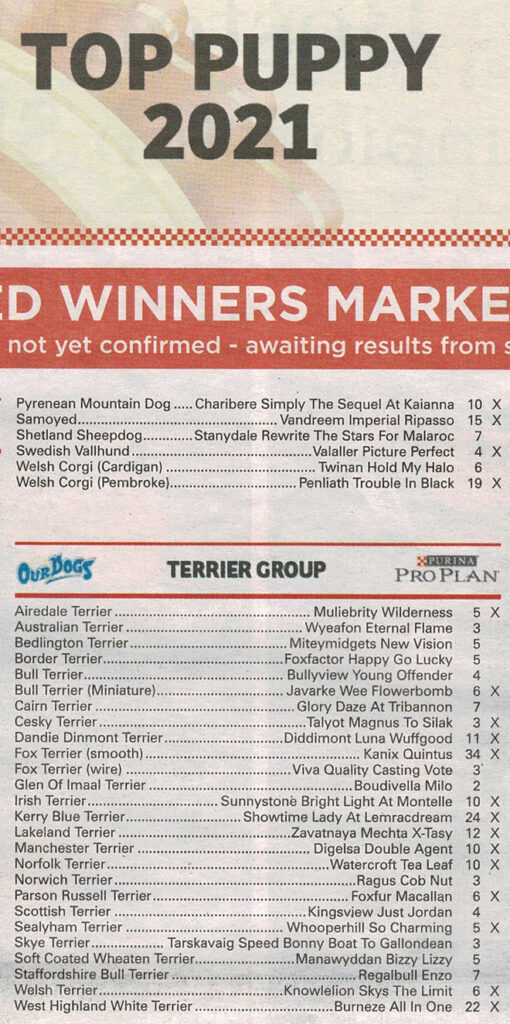 Charley was awarded 2 CC's and a Reserve CC in 2021!
Charley's Championship Certificate, 'CC', awards in the UK are really exciting, for many reasons.
She is conditioned, trained and presented by her owner, Mrs. Alexandra O'Connell.  CCs are hard to get in England, especially for someone new to dog showing.
Why?
In the UK, champions compete directly with the non-champions for the Championship Certificates (CC's).  In the rest of the world, champions compete in a separate champions class.  The UK has very few championship shows, compared with most other countries in the world, and not every championship show offers a CC for the breed (that oddity is for another discussion).  The UK is also much smaller, geographically, than Canada and the US.
SO …
very few opportunities to be awarded a CC,
the small relative distance between most competitors, you compete with almost everyone else, at most shows (large distances keeps many apart for majority of shows in the US and Canada in comparison)
champions that are being campaigned for Top Dog Status, compete with all of the non-champions for these (very limited in supply) CCs
The UK dog show scene, like other parts of the world, have many people that have participated for a long time, know their breeds and how to present them.  My breed, Welsh Terrier, is a specialist breed in that the trim and presentation takes some time to really learn.  People that are new to the breed face a steep learning curve.
I am so very proud of how well Alexandra has done, with both Charley and her boy Xander, with their conditioning, presentation and her willingness to travel throughout the UK to go to the shows.  It's really not easy.  And, Alexandra has definitely put in significant effort on both learning, and attending shows.  One of Charley's CCs came from the show up north in Scotland – given that she lives in  Southern England, this was a pretty significant effort!
I love it that her family is also participating.
Alexandra's youngest daughter, Sophie, is participating in Junior Handling, and doing a great job!
Rebecca, their oldest daughter, saw an opportunity gap in the UK show scene compared with the North American scene, and she started her own professional ring-side candid photography business — In The Ring Photography.  From what I have observed over the last few years, Rebecca has a very good eye for quality, for balance, for composition and she has the much needed artistic flare to capture some beautifully emotional memories.  Some of Rebecca's photos have been used in advertisements from other breeders.
Alexandra recently competed at her very first Crufts experience, and did very well.  Crufts, held in Birmingham England, is one of the worlds largest dog shows with over 16,000 dogs competing in 2022, of which 34 were Welsh Terriers.  Alexendra had 2 that she presented by herself, Xander and Charley.    Charley was in a very strong, and large class of Welsh Terriers and was awarded 2nd by a well-known breeder-judge!
Well done to the Letoha Team!  This is Alexandra's kennel name she will be breeding under.  Keep up the great work, we are very proud.