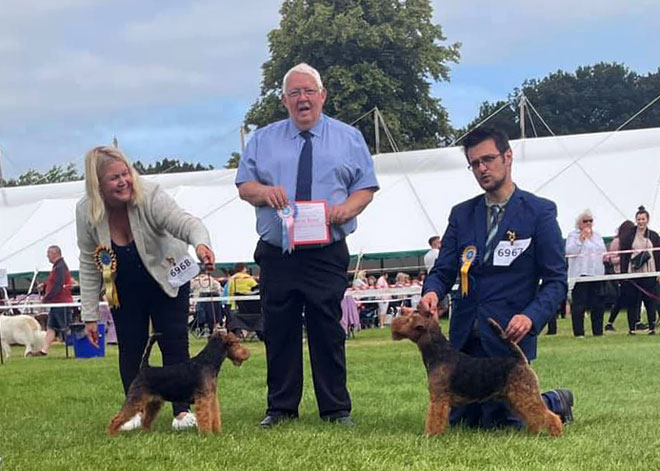 Xander — Darwyn the Best is Yet to Come — was awarded a Championship Certificate (CC) in England during 2021!  He is conditioned and presented by his owner, Mrs. Alexandra O'Connell.  Xander, bred by us here at Darwyn, is a litter brother to Chloe (Grand CH Darwyn's Morningstar), who was Canada's #1 Welsh Terrier for 2021, and a son of Robbie and Zora.  Behind Robbie and Zora are beautiful examples of the breed, with many wins to their names also.
Xander being awarded a CC is really exciting on many levels!  Alexandra also got 2 CCs with our girl, Charley …. but that's in the next post.
CCs are hard to get in England — especially for someone new to dog showing!  Well done!
Why?
In the UK, champions compete directly with the non-champions for the Championship Certificates (the rest of the world, champions compete in a separate champions class).  UK Championship Certificates are referred to as CC's.  In the UK, you need 3 CC's to become a champion.  The UK has very few championship shows, compared with most other countries in the world, and not every championship show offers a CC for the breed.  The UK also is geographically much smaller than Canada and the US.
SO:
very few opportunities to be awarded a CC,
with small geographic distance, you compete with almost everyone all of the time (in the US or Canada, distance keeps many apart for most of the year)
champions that are being campaigned for Top Dog Status, compete with all of the non-champions for these (very limited in supply) CCs
It is common for some breeders to never be awarded a CC in their breeding and showing career (Xander is Alexandra's first show dog).
The UK dog show scene, like other parts of the world, have many people that have participated for a long time, know their breeds and how to present them.  My breed, Welsh Terrier, is a specialist breed in that the trim and presentation takes some time to really learn.  People that are new to the breed face a steep learning curve.
I am so very proud of how well Alexandra has done.  It's not easy.  Xander is her first show dog and her first hand-stripped terrier breed.  She flew over to my home in Canada when he was a 5 month old puppy.  She came to pick him up, and got a mini-crash course education from me in trimming and presentation.  She proved that her learning didn't stop there, but she has continued to learn, and has put in a significant amount of effort to learn details, nuances, asking questions, reading books and constantly trying to improve.  Now that he is 2.5 years old, I feel like she is well on her way with her knowledge.
I love it that her family is also participating.
Alexandra's youngest daughter, Sophie, is participating in Junior Handling, and doing a great job!  Her oldest daughter, Rebecca, started her own professional ring-side candid photography business (In The Ring Photography).  Some of Rebecca's photos have been used in advertisements from other breeders.  They are really beautiful photos, as Rebecca has a good eye for quality, for balance, for composition with the artistic edge.
Alexandra recently competed at her very first Crufts experience, and did very well.  Crufts, held in Birmingham England, is one of the worlds largest dog shows with over 16,000 dogs competing in 2022, of which 34 were Welsh Terriers.  Alexendra had 2 that she presented there, Xander and a girl that I co-own with her, Charley.    More about Charley in the next post.
Well done to the Letoha Team!  This is Alexandra's kennel name she will be breeding under.  Keep up the great work, we are very proud.