Multi BISS American Grand CH & Can CH Darwyn's Sorcerer's Apprentice
Winners and Awards on Multiple Montgomery County KC weekends
Multiple Terrier Group 1st Winner in the US!
Best in Specialty; US Regional Welsh Terrier Specialty (twice)
Finished his Championship on Montgomery weekend (2016); with a Best of Winners and 5-pt major
SELECT DOG Grand CH award at Hatboro on Montgomery weekend (2016)
SELECT DOG Grand CH award at Hatboro (Montgomery weekend) AGAIN in 2019
AWARD of MERIT at the US Breed National Specialty (WTCA); Montgomery in 2019
Select Dog Grand CH Award at the AKC NATIONAL (Orlando, Florida), December 2019
Group 1st in the Bred-By Group at a US Terrier Specialty (as a young dog, handled by his breeder, Larisa)
Reserve Winners Dog at Hatboro (Montgomery weekend, 2015), as a puppy, breeder-owner-handled
Best Opposite Sex (BOS), at the Welsh Terrier Club of America National Specialty; Sweepstakes; 2015
Many top awards in the AKC National Owner Handler Series (NOHS), in very limited showing
Sire of a few prominent show winners, out of very limited breeding (Morgana – WB on Montgomery weekend 2019; Tucker – Best of Winners at Montgomery 2019; Bruce – CC winner, and himself a sire of UK winners; Walter – winner of many awards in Denmark with his owner)
Primary Lens Luxation (PLL) DNA – clear/normal;  Degenerative Myelopathhy (DM) DNA – clear by parentage;  Thyroid – normal; Hips – Excellent; Elbow – normal; Legg-Calve-Perthes – normal; Cardiac – normal;  Patella – normal
19 Group Placements!
Plus wins at Westminster Kennel Club, multiple Montgomery County KC weekends (2015 as a puppy, 2016 when he finished his championship there, and 2019), and top wins in the AKC National Owner Handler Series (NOHS)!
Mickey Wins on 3 years of Montgomery (WTCA) weekends!
Most recently, Mickey was presented on the Montgomery County KC weekend in 2019, where he was awarded the SELECT DOG Grand CH Award at Hatboro and AWARD of MERIT at the National Specialty, of the Welsh Terrier Club of America (WTCA).  He was conditioned and presented by handler Bill McFadden, located in N. California.  Unfortunately, no official win photos were taken this time around (it's a very busy weekend and hard to coordinate sometimes).
At that same show, two of his offspring (from very limited breeding) also won!  Morgana was Winners Bitch (WB) 3 out of the 4 days and Reserve Winners at the National Specialty to finish her American Championship.  Also, a young boy recently sired by Mickey, Tucker (Snoward's Tuff Enuff, bred by Ann Bark), was Winners Dog and Best of Winners at the National Specialty!
The breed was very well attended in both numbers, quality and presentation.  All of these wins were significant.
In 2016, Mickey was presented at the Montgomery weekend shows by a handler from PA – Ernesto Lara.  At those shows, Mickey won Winners Dog and Best of Winners the first day of the shows (his 4th major, to finish his championship), and was moved up to the champion class.  From there, he was awarded the SELECT DOG Grand Ch award under Terrier expert, Mr. Todd Clyde.
In 2015, Mickey was presented as a 12 month old puppy, by his breeder-owner-handler, Larisa Hotchin.  He was very well received!  Breeders commented on him.  Handlers approached us to discuss him, and judges liked him.  He was young, so wins were expected.  Getting the Reserve Winners Dog award (which is the 2nd best non-champion dog) was absolutely thrilling!  At the WTCA National Specialty on Montgomery day, he was awarded Best Opposite Sex in the Sweepstakes competition.
On this same weekend in 2015, Mickey's dam, Maria, was awarded Winners Bitch (WB) and his grandsire (her sire), Trooper, was awarded Best Opposite Sex in the regular classes for the National Specialty!  A very exciting weekend indeed, especially to debut this young boy to the fancy and to my peers.
This is a very prestigious show weekend for terriers.  In particular, the Welsh Terrier breed.  There is always with a large number of entries in the breed.  We are honored to have received these outstanding awards.
Mickey was Select Dog (SD) Grand CH Award at Westminster Kennel Club!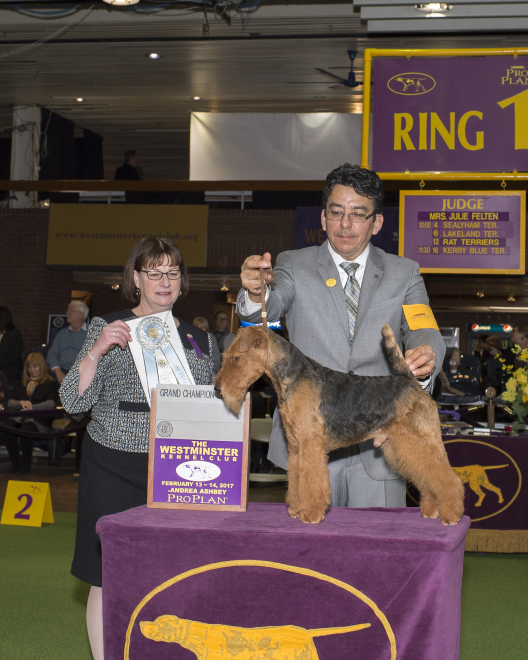 A few photos of Mickey being shown in Canada
Mickey was shown very few times in Canada.  In that time he finished his championship, received multiple group placements, along with a Terrier Group 1st win, and finished off the year (2017) as the #2 Welsh Terrier in Canada.  The top Welsh Terrier that year was also from Darwyn, a girl named Zora.  Mickey and Zora had puppies together that year and 2 of those off-spring (Walter and Morgana) ended up being well recognized in their show career.