Canadian CH Darwyn's Avant Garde
Performance Titles:  Novice Sprinter (NS); Chase Ability (CA); AKC FastCAT (BCAT); Open Barn Hunt (RATO)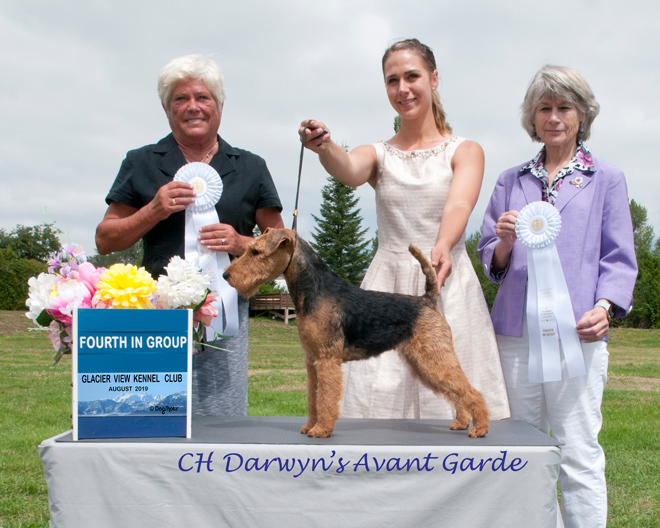 Multiple Group Placer from the classes
Top speed of 38 km/hr in the timed Sprinter event (100 meter dash)
Pointed in the US towards her AKC championship
Degenerative Myelopathy (DM) DNA – normal;  OFA Eye Certification (2 years old) – normal; Patella – normal; Cardiac – normal; Full Dentition
Sire

American CH La Sierra's Leading Contender
38 km/hr in the one hundred meter Canadian "Sprinter" event!
Welsh Terriers love to chase things, and they are fast!  They truly enjoy doing this and you see it every day, whether this is fetching a ball, running in a yard, or playing 'chase-me' around the coffee table.
There are now official events that are built on the foundation of traditional sight-hound lure coursing, but are available for any breed.  These events are now so popular that it can be difficult to get into a local event now.  Both the CKC and AKC offer events.
Ava has participated in all of these events, and has multiple titles in both Canada and the US.
Sprinter; Canada's timed 100-meter dash;
Chase Ability; Canada's 600 meter run (300 meters for small dogs);
FastCAT; AKC's (US) timed 100-yard dash, 1st title is BCAT;
Coursing Ability; AKC's (US) 600-yard run
In Canada, Ava ran 38 km/hour in the Sprinter event!  That is 9.7 seconds to do the 100 meter dash!
It might only be a plastic bag that these guys are chasing in these events, but they are crazy fast when their prey drive kicks in.  We can't do this with everyone, but for the dogs that live with us, we try to get them involved in things they enjoy, and do things that help enrich their life, beyond the basics of love, care and attention.  These events are fun for both the dogs and humans involved.





Ava's Litter Sister -- FILLY

CH Darwyn's Flying Filly (RATS,NS,CA,TD-CH, SDO, CGN, V-B)
Filly, like Ava, is a good looking Welsh Terrier that finished her Championship, as well as participates in performance activities.  Ava's owners primary training focus outside of regular life, is Nose Work, Barn Hunt and now Agility.  Ava's hunting and jumping abilities are really outstanding, and it's nice that her owners have a sense of humour, and patience, in living with her.  Filly also has a real zest for life, but in general tends to be a bit slower than Ava (which works well for her owners).  Filly has proven to be very biddable and loves doing stuff with, and for, her owners.  In doing so, she's earned a high level CKC-Versatiity Award (Bronze level), and this comes from participating in Lure Coursing Events, Barn Hunt, Scent Detection, Trick Dog (Champion Level!), Conformation Champion and the Canine Good Neighbour Test.
Way to go girls!
Click here to read, and see, more about Ava's litter sister Filly.