Canadian Grand CH Darwyn's Morningstar
Performance Titles:  Scent Detection Novice (SDN); Novice Sprinter (NS); Chase Ability (CA); Barn Hunt Instinct (RATI)
Canada's #1 Welsh Terrier – 2021
Owned by Larisa Hotchin (Breeder) & Sonya Cornick (Australia)
Multiple Group 1st Winner!
Canada's #1 Welsh Terrier for 2021!
Both sire and dam are past #1 Welsh Terriers and Multiple Group Winners!
Healthy, health tested and titles in multiple performance events (Nose Work, Chase, Barn Hunt)
PLL DNA – clear/normal;  DM DNA – clear/normal;  Cardiac – normal;  Patella – normal; Thyroid – normal; OFA Hips – Good; OFA Eyes – normal OFA + normal gonioscopy exam;
OFA CHIC Certified
Sire

GCH Darwyn's Trail Blazer (Robbie)

Dam

Am and Can CH Zora Darwyn vom Granitfelsen
11 Group Placements in limited showing!
Includes 3 Group 1st Wins!
Chloe is Canada's #1 Welsh Terrier - 2021!
Chloe started out in July 2021 at her first conformation show, and ended the year as Canada's #1 Welsh Terrier!
She attended 7 weekends of shows and was awarded 11 group placements, including 3 Terrier Group First wins!
Chloe is Darwyn's 13th different Welsh Terrier to hold the honor of Canada's Top Welsh Terrier over the years.  Both her sire and dam are Group Winners and are past Top Welsh Terriers in the nation.
During 2022, we are hoping that Chloe will have puppies at home in Canada.  We hope to get her to some AKC shows.  And, at some point she will start the process of emigrating to Australia to be with her new owner, Sonya Cornick.  Sonya, who is Parker's owner, is very excited to see her join her family, and get involved in some showing again.  While she is awaiting her big trip, I might get her into the ring again in Canada.  Chloe's a fun dog in the ring and the judges appreciate her quality.









































































Chloe is titled in Scent Detection and Barn Hunt
Chloe is one of Canada's first CKC Scent Detection Titled Welsh Terriers.  She and her sire, Robbie, obtained their SDN titles in July 2021.
I first discovered Nose Work Training when Chloe's sire, Robbie, was less than a year old.  Since then, I have trained a number of our Welsh Terriers in this sport, and encouraged a number of our companion (and show) owners, to try this.  This is definitely something that Welsh Terriers excel at, and they prove time and again, to love problem solving using their scenting abilities.
It's an enjoyable activity, that is focused on what the dogs get significant pleasure in doing.  What I love about it is that the dogs love it, and it is easy to practice with minimal equipment and space needs.   The most important thing is to find a great trainer – this isn't simply hiding cookies in the couch and telling the dogs to go "find it"!
My trainer, Brenda Cox, is NACSW certified and competes at the Elite level with multiple dogs of her own.
Click here for CKC Scent Detection
Chloe is titled in Sprinter and Chase Ability
Chloe's top speed in "Sprinter" was 9.7 seconds to run 100 yards – this is 37 km/hr!
The Sprinter Test in Canada is a 100 meter, timed, event with the dog running after a lure on a string.  In the US, this event is 100 yards and it is called FastCAT.  Chase Ability is a 600 meter event, also with the dog chasing a lure on a string pulled by a motor.  To get more details on these events, please click here.
When a Sprinter or a Chase Ability Test is within a couple of hour driving distance, and I am not at a conformation dog show, I try to enter a couple of dogs, as I know how much they enjoy this activity.  In Western Canada, these events are few and far between and they fill up fast (we are talking within minutes of the events opening up for entries).  I have been lucky and have gotten Chloe entered in a few events and she LOVES them!
Chloe has both her Novice Sprinter Title and Chase Ability Title – NS and CA.
These dogs not only LOVE it, but they are fast!  This is why they need to learn to wait, when you open a door, or else, they could be gone in a blink of an eye, and it would be very hard to catch them.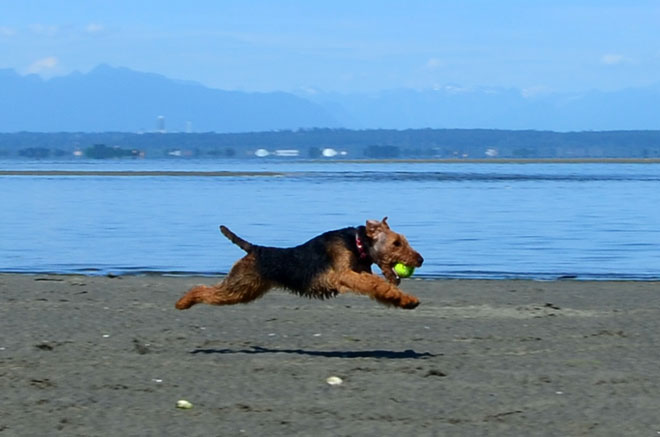 Some of Chloe's Certificates