Parker:
Best in Show & Best in Specialty Show ...
Am & Can & Australian CH Darwyn's Webslinger
Sire:
BIS Am GCh Bayleigh Shaireab's Super Hero
Dam:
Darwyn's Carpe Diem
Click here for Parker's Pedigree
Click here for Parker's public OFFA DNA and Health Tests:
HIPS (Good); PLL DNA (carrier); Patella (Normal); Cardiac/Heart (Normal); Elbows (Normal); Full Dentition; Thyroid (Normal); Leg-Calve-Perthes (Normal)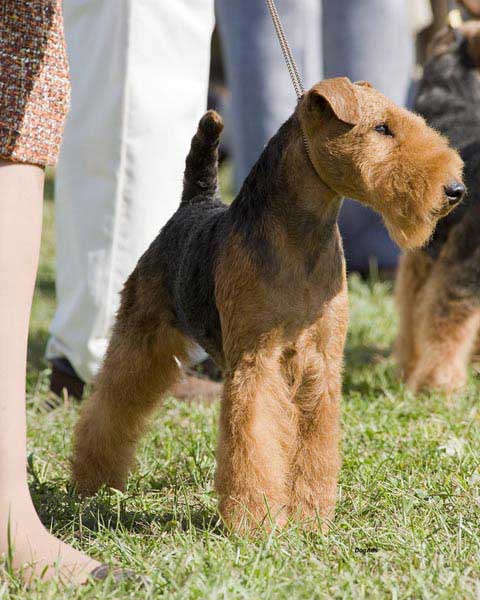 Parker (CH Darwyn's Webslinger)

at Montgomery KC (WTCA) 2009

He is so Welshie!
Judges critique after winning BOB at Montgomery!
The following Judges Critique from the Welsh Terrier Club of America National Specialty (2009) on Montgomery Kennel Club day sums it up. I might be a bit biased :-), but, I must admit, I agree with it, and I live with him on a day to day basis.
October 4, 2009
Montgomery County Kennel Club
Welsh Terrier Club of America National Specialty
Judge: Ruth Prehn (Breeder Judge: Ledgerock Welsh Terrriers)
Winners Dog: Darwyn's Webslinger (Parker)
This dog had a great head with a small dark eye set under the brow, a flat skull with good fill and a strong foreface without being overdone. He has good gone and strong drive with good reach. His coat and furnishings are hard and crisp. He has proper bend of stifle and well let down hocks.

Best of Breed was my Winners Dog and Best of Winners!
I couldn't take my eyes off the Winners Dog. He is so Welshie. Great type. I liked his proportions and size. He never let down and certainly had the "Here I am World, look at me" attitude. I had a wonderful line up of Welsh, but this Welsh was a stand out for me!
Parker's US Show Career! Limited, but, he might come back :-)
Parker was 11 months old when he went to live with Wood and Jenny Wornall and Andrew Peel. Our initial plan was to bring him home after Montgomery County KC. Then he WON THE BREED from the Open Dog Class! We decided to keep showing him and pick him up after Eukanuba in December ... then he WON THE BREED again! So, then we decided that (for sure this time!) he would stay until Westminster Kennel Club, and then to come home and enjoy some home life, and grow up a bit more. As always, Wood, Jenny and Andrew do a superb job conditioning and presenting their dogs, and we are grateful that they took Parker as one of their top terriers for the time they had him.
Those few months in the US were absolutely amazing!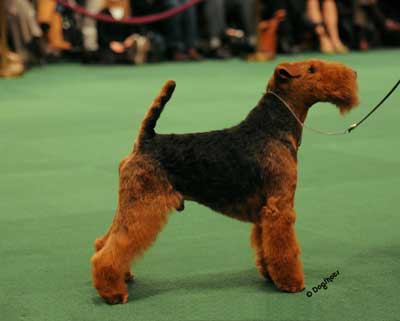 Parker (CH Darwyn's Webslinger)

at Westminster Kennel Club
WD /BW /Best of Breed at Montgomery County Kennel Club (Oct 4, 2009) (Welsh Terrier Club of America National Specialty)
Best of Breed at Eukanuba (AKC National) Long Beach California (Dec/09)
Many group placements
Group FIRST at a 300+ strong Terrier Group (Portland, Jan/10).
Westminster Kennel Club - Award of Merit (Feb/10
#2 Welsh Terrier when he left the US show rings
Back in Canada for 2010...
A BIS, #8 Terrier in Canada (#1 Welsh Terrier) in just 6 months!
He came home in March 2010 to live as part of our family again, thinking that he will be shown here a few times during 2010, but no serious campaign ... he went to his first Canadian show in April ....
... and as you'll see with the results below,
he's doing VERY well!
I handled him for his first weekend back (my first time back in the ring in about a year!) - and he got his first Canadian Group placement and first set of points towards his Canadian Championship! WOO HOO! :-)
I maintained his coat and condition - and All-Breed Professional Handler, Aaron Andriash, took him as his #1 Terrier. Aaron was was very excited about this prospect - but given Parker's show record wondered, and wondered if he could do him justice. The results and candid photos (and many comments that I get from ringside supporters!) show that Aaron and Parker made a BEAUTIFUL TEAM in the ring!
Parker and Aaron attended
11 show weekends
: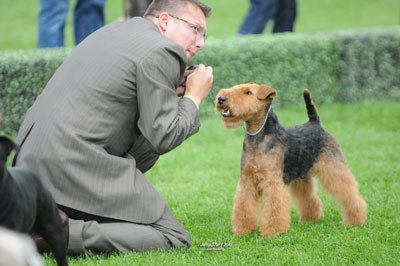 Parker (Am/Can CH Darwyn's Webslinger)

and Aaron Andriash
Photo byLisa Wysminity
Best in Show!
8 GROUP 1st WINS!
11 Group 2nds wins!
For 2011, he is enjoying life at home, and so far has sired a few very promissing litters (so there just might be some young 'Parkers' out there in the future!. He may come back out to the show ring one day, but right now he is enjoying life at home while we are watching the successes of other Darwyn Welsh Terriers in the show ring. But, he only just turning 3 (summer 2011), so there is lot's of time left!
And, here are some of his Canadian Show pictures! (or click here for the whole album)
Personality at home...
Parker is a sound dog - in both mind and structure. He is a wonderful dog to live with ... definitely 'game' as most welsh are, loves to play with the girls, and get's excited if others are playing and he isn't playing with them, but when he is out and about, he very quickly settles down on the couch, a pet bed or by the fireplace.
Below are a couple of pictures (below) taken a few weeks after he came home. A friend came up for a week to breed his American Champion bitch to him, and we did a bit of sightseeing around Vancouver. The photo below was one of the places we went - Vancouver's famous Stanley Park. Parker was SUPER interested in the sea birds at the bottom of the sea wall (just out of view of the photo)!
He is still a young dog, lot's of years ahead of him, and just enjoying life ... a bit of this, a bit of that!
Parker as a puppy!
He LOVED playing tug-of-war with his half-brother,
JOE
, who was just a week younger than he was .... most of the time it was Parker that found a toy, encouraged Joe to play with him, and then just like a typical "big brother", he would tease him and run away with the toy! Michael and I had many hours of joy watching this, and sometimes playing along! But, when I would settle in for the evening to read a book - the first one in my lap would be Parker (soon followed by Joe) - but always Parker first ... and he was determined to be there for the duration! As he has gotten older, Parker seems to be just as content to be on the floor at your feet, or on the couch beside you ... that's fine with me :-)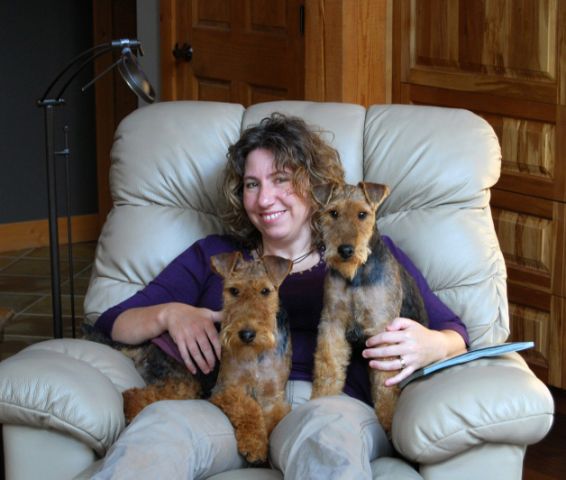 Larisa trying to read but Parker and Joe get into the lap!
SNOW - Oh my!
Where we live in Southern BC Canada, we don't usually get very much snow ... 2009 was very different ... the pictures below are of Michael and Larisa Hotchin exploring the front and back yard of our property ... with the 5 month old puppy dog boys (Parker and Joe) ... everyone had a blast! However, I must admit, I'm hoping for less snow for future winters! :-)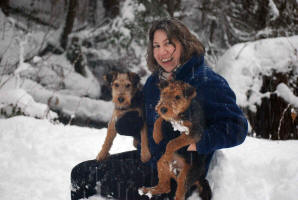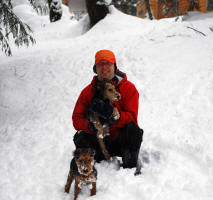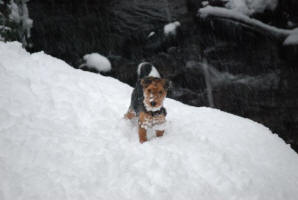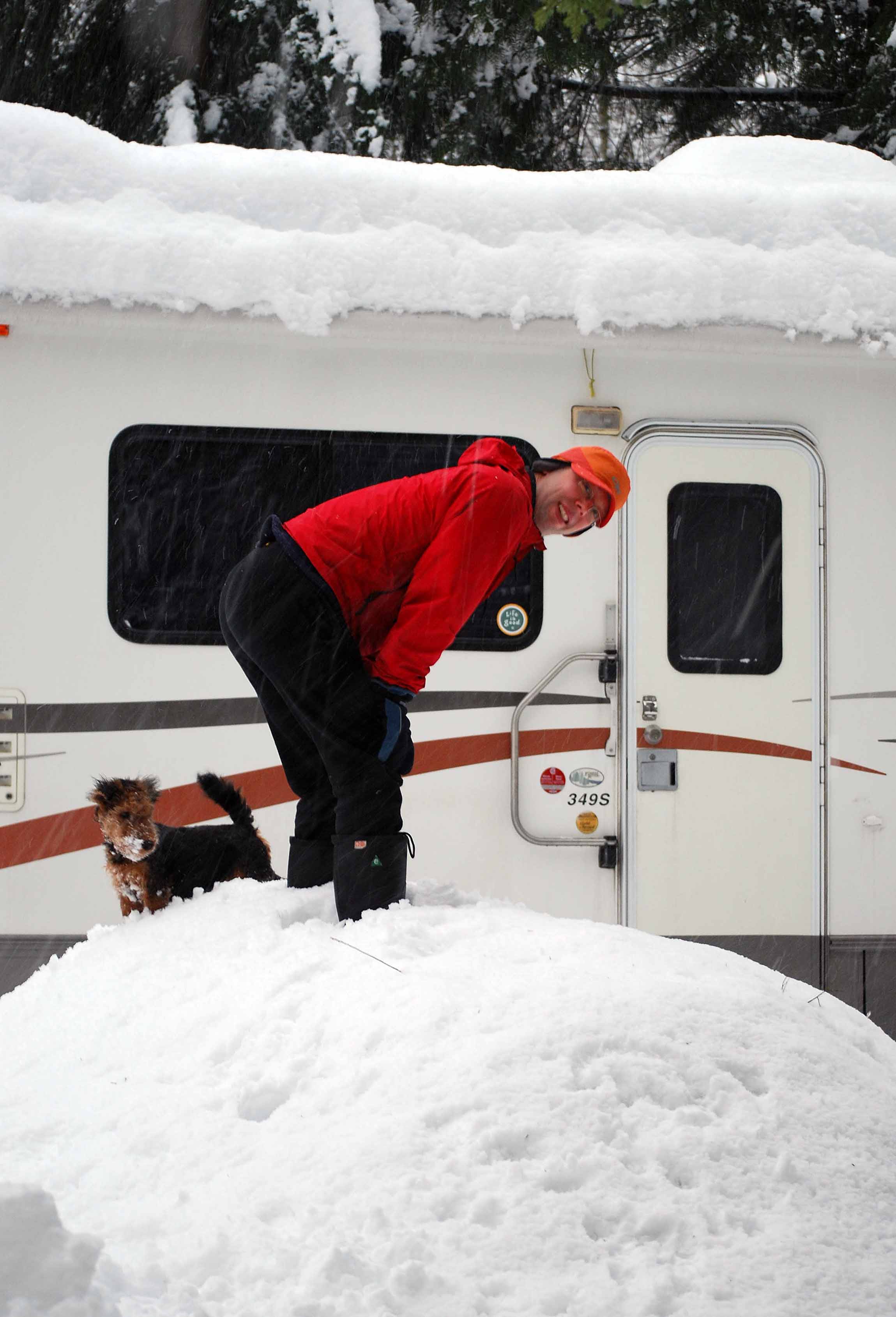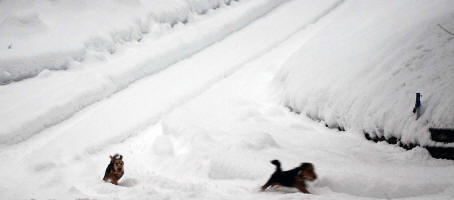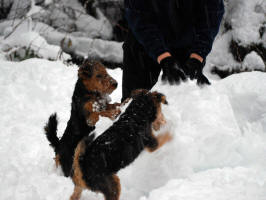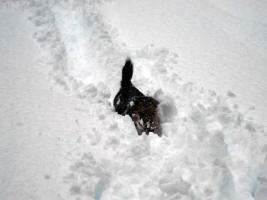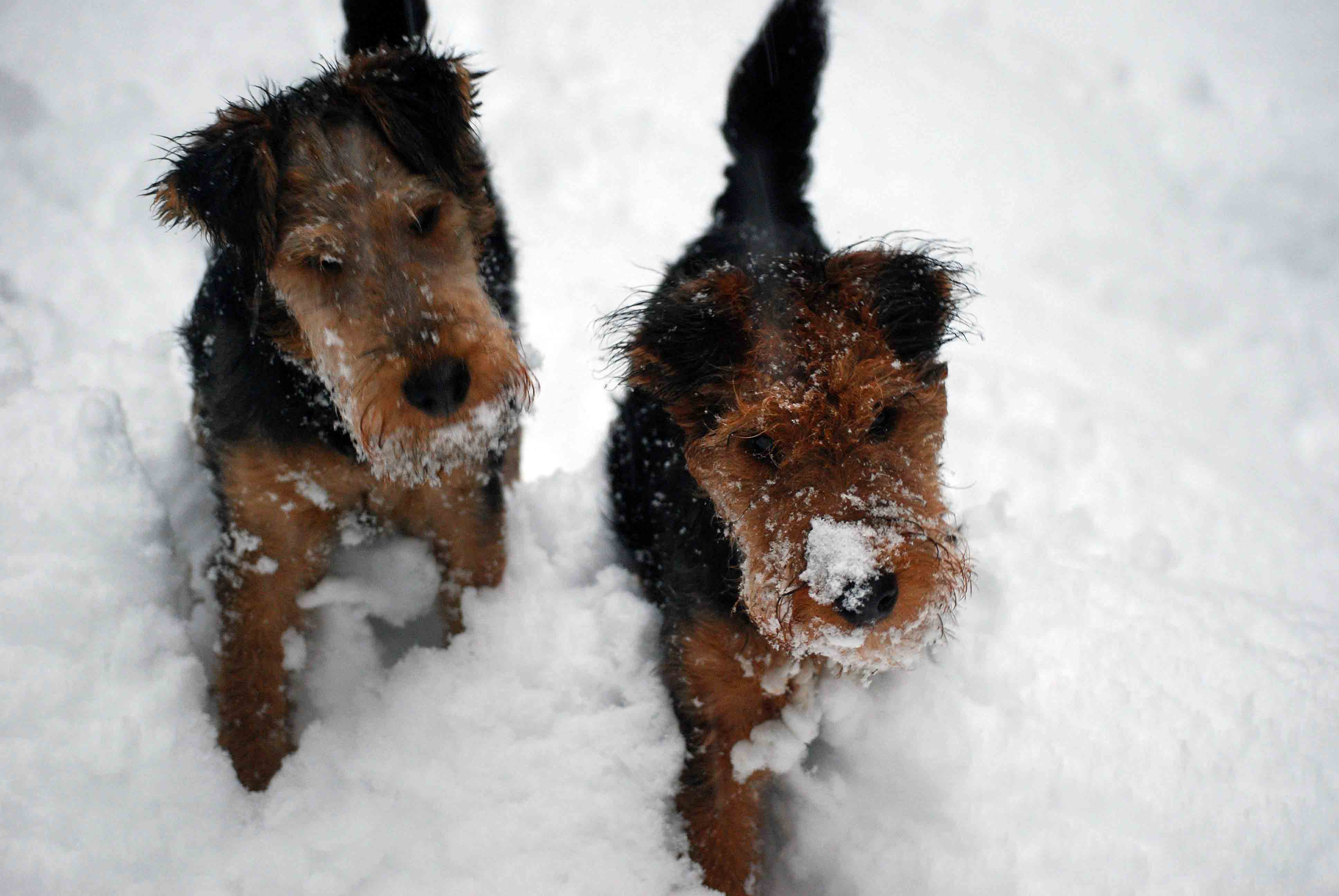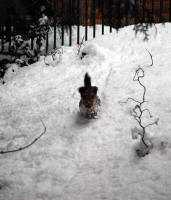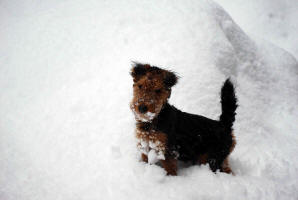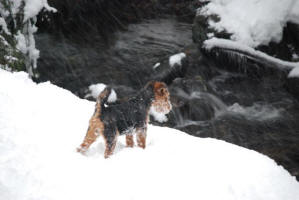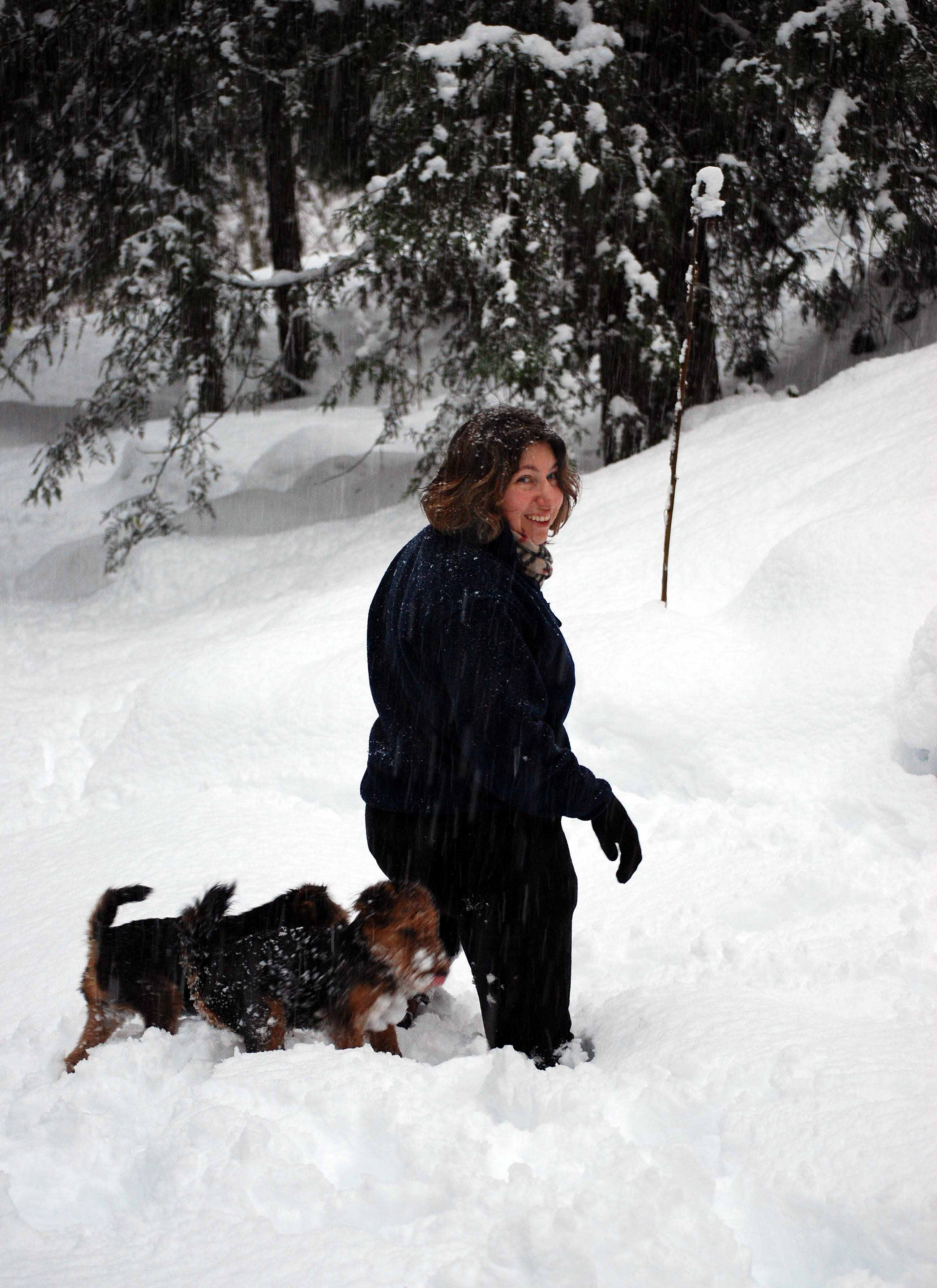 Back to the begining ... Parker starts his show career! (April 2009)
At his first US show, Northern California Terrier Association, Parker won 2 majors from the 6-9 month old puppy dog class! Michael and I had driven down to that show in Sacramento California, from our home in Canada, with the primary objective to watch our girl that we co-own (
BIS Am/Can Ch Sanherpinc Paisa
), and thought that we would also bring down our 2 young puppy boys (Parker and Joe) to show my friend Bruce Schwartz and our handler, Wood & Jenny Wornall. Since the boys were in a semi-decent show coat, I thought that I would also enter them - if anything for ring practice! Well ... that was great ring practice ... and a fantastic weekend! Paisa, expertly conditioned and handled as always by Wood Wornall, won the breed (in pretty stiff competition) and got a group placement every day ... and BEST IN SHOW on the last day (beating Sadie, the #1 dog all-breeds!) .... Puppy dog Joe won the breed sweepstakes and bred-by-exhibitor class (Parker wasn't entered in these classes), and won a Group 2 in the Bred-By-Exhibitor Group ... and Parker won winners dog - for 2 MAJORS! (note: Majors need many dogs to compete against, are very hard to find, and harder to win!).
Michael and I were thrilled! OK ... more than thrilled! For a weekend where we were looking for comments (hopefully nice :-) and to be able to watch our girl ... we couldn't believe that we ended up driving home with a new silver tea set that we won (for Best in Show) a bred-by group 2 and 2 MAJORS! Not only that, but our handler, Wood Wornall was very enthusiastic about Parker (and
Athena
- who came along for the ride), and Joe! We decided that Parker would end up going to Wood & Jenny's a few months later to be conditioned for our breed club National Specialty at Montgomery.
Montgomery 2009 was the first Montgomery that I missed since I started showing and breeding dogs (11 years now) ... however, when I learned that it was the first Montgomery that my handler Wood Wornall has missed in over 35 years I started to not feel as down. We both had great excuses ... Woody had recently had both of his knees replaced and couldn't fly across the country and for me, Paisa (BIS Am/Can Ch. Sanherpinc Paisa) had been bred and was expecting puppies on Montgomery day! Jenny Wornall took charge of the dogs in their group that were going and had great help - Andrew Peel as always, and Jenny's sister Ashley. While Montgomery Day is really the primary show - it's the Breed Club's primary National Specialty, where club members vote for the judge 2 years in advance, the other 3 days associated with the show weekend are also very important shows (usually majors are available, and many of the same dogs compete each day). The first few days a 1/2 brother to Parker won winners dog for the dog major, and 2 of the days, Parker's sire (Am Ch. Baleigh Shaireab's Superhero - Spyder) won Best of Breed! Parker came close ... he was Reserve Winners dog. A friend sent me some pictures - and while Parker was Reserve - he looked stunning! No matter the result on those days, I know that I was very proud to be Parker's breeder/owner!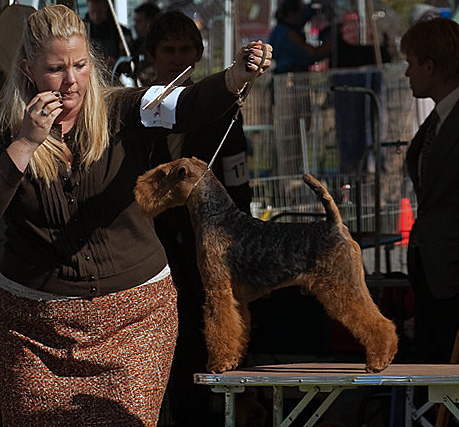 Parker with handler Jenny Wornall on Montgomery 2009 Weekend (Hatboro, photo courtesy of Eileen Lurker)
Paisa, who was due on Montgomery Day ended up having her puppies a few days early ... I toyed with the idea of flying out so that I could actually be there on Montgomery Day ... Michael, my dear husband, graciously offered to take care of the dogs and puppies and stay home ... in the end of the day I decided to stay home and take care of my young puppies ... while it's an important show with all of my friends and fellow breeders there, my young puppies at home were more important.
On Montgomery Day (given that BC, Canada is 3 hours earlier than Pennsylvania) I woke up to many emails and phone messages telling me that Parker won Best of Breed from the Open Dog Class! This was a really tough win with many beautiful dogs and bitches in the ring, all presented superbly! I was so overwhelmed by this that I didn't even take in the news fully, until later, that his half-sister,
Athena
, won Winners Bitch! From everyone that I heard from that day, and the days following from spectators, friends, other competitors, owners of competing dogs - and the judge ... that Jenny Wornall and Andrew Peel had Parker that day in immaculate condition and presented him beautifully! In my opinion, this team (Wood Wornall, Jenny Wornall & Andrew Peel) always do an amazing job - with whatever breed they present ... the dogs clearly enjoy being with them and they always have them in beautiful condition! I am very thankful to my friend Bruce who introduced me to Woody and his team, and of course, I am very thankful to Woody and his team for doing such a marvelous job!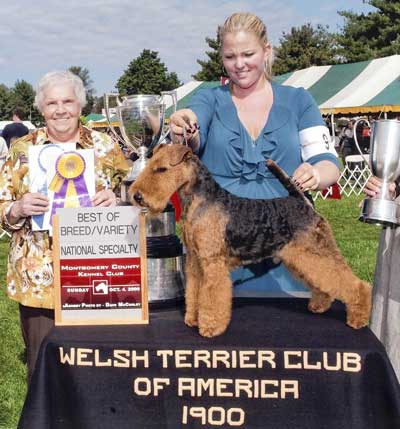 Click here to go to the Welsh Terrier Club of America Specialty Results for Parker!
CLICK HERE TO SEE PARKER IN AUSTRALIA!