BARN HUNT EVENTS
The
Barn Hunt Sport
can be done by any dog, and is loved by most dogs. Barn Hunt is a sport that is fundamentally based on the traditional roles of many breeds in ridding farms, barns, crop storage areas, and homes of destructive vermin. It offers the opportunity to test and develop the working traits of dogs in a safe and fun setting. It also is a team sport as it requires the handler to identify when the dog finds the hide (hidden well beneath the hay away from human senses).
I had heard about the Barn Hunt Sport for a number of years, but I was always busy when it was happening. In the summer of 2017, there was a trial about an hour away from me, and I had no shows that weekend and no baby puppies, so I decided to jump right in. Yes - I entered the 4 trials on that 2 day weekend, with 3 of my dogs. No practice. Just entered the trial and hoped for the best!
Part of me thought - "how hard could this be - we have hard core terriers, a buried rat - how could I not identify when the dog finds the rat????". Well .... it is a learned skill for the team - team which includes both the dog and the handler. For those 3 Welsh Terriers, 2 of them Champions and Best in Show Winners, I did get some qualifying runs that weekend, but I also learned that this team sport has many supportive and encouraging people there, and I also learned that if your dog pees in the search area they are immediately out (Joe -- darn!!!!), I learned that while the dogs know how to find the rats, it isn't as easy as it looks for us to identify when they do. And I learned to smile with humility (which isn't a hard skill - there is more losing than winning in the conformation world ... I just wasn't expecting that here in Barn Hunt!). However, I persevered, and that year I put Barn Hunt titles on a couple of my dogs (Instinct and Novice Titles). I even got some qualifying runs that first weekend! Most importantly, I learned that this is a team sport, and that some of the teams that are doing this, are pretty awe-inpiring to watch them.
So, that was my introduction to the sport ... jumping right into the deep end, not doing great the first day, but coming home with a smile on both my face and my dogs having had a fun day playing in the hay. I'll be back!
Here are some photos* of our Welsh Terriers playing in the Barn Hunt sport in both Canada and the US:
*Photos by:
Susan Gottselig (WT's Indie and Nacho); Peggy McCallum (WT Rowan); Laurie Harding (WT Filly); Lisa Patton (WT Chanté); Larisa Hotchin
(various welsh terriers)


Susan's girl "Indie" shown in the above photos is not only a Masters B titled dog, but also has her Bronze Level title in "Crazy 8's" in Barn Hunt. Indie was the 2nd dog in Alberta to get the Master Barn Hunt Title and the first Group 4 (Terrier) to get this level!
A bit more....
A couple of owners of my dogs had discovered the sport a couple of years before I tried it, and were well on their way to the top level (Masters), which is actually very hard to do. To watch a Barn Hunt "Masters Level Team" play at the game is just amazing to watch. It's mesmerizing. At the lower levels, we know how many "rats" there are hidden in the hay bales (all safe in terrier resistant tubes of course, so no one gets hurt), and you have to do a few things also to qualify (tunnels, jump on hay bales, and do all of this within the allotted time). However, at the Masters Level, they have no idea how many rats are hidden. That's right - they don't know how many they are looking for! There could be none, or as many as 8. Plus the tunnel at the Masters Level is much trickier, and since rats aren't hidden in tunnels, they are likely seen (by the dogs) as simply a distraction from their job of finding the rats. Anyways, it's just amazing to watch.
I mentioned that this is a team sport - it truly is. While the dogs are looking for the rat(s) that are hidden, the handlers job is to figure out when they have found it. Odd .... wouldn't it be obvious when the dog finds it? It turns out that it is not obvious when the dogs find them. You, as your dogs handler, need to learn how to read them and figure out when they have identified that there is one hidden there. They know it's there, but you need to know that they know and call it properly.
This is a good fun sport. It is natural for the dogs to use their keen sense of smell. It is good to develop the team work with your dog, which in turn helps to strengthen the bond that you have with your dog. It is great exercise for them - both physical and mental, and any dog can do it.
*
CKC (Canadian Kennel Club) recognizes titles from The Barn Hunt Association. Click here for more details.
*
Some information from the AKC (American Kennel Club) about Barn Hunt
* Thoughts from Darwyn Welsh Terrier owners on their experience:
It was quite the introduction to the teamwork aspect of dog sports. My first foray into this world was very welcoming and supportive. Just loved how it was so natural to the dog and very calming.
Owner: LJ Patton, S. California, USA, 2019; Welsh Terrier "Chanté" (American CH Darwyn's Enchanté; CGC, RATN, Trick Dog Excellent/Performer - TKP, CHIC)
It's hard for a terrier to have more fun than a Barn Hunt Day.
Owner: Peggy McCallum, Canada, 2016
Filly gained so much confidence jumping from hay bale to hay bale. She can't wait to run and bounce her way through the barn.
Owner: Laurie Harding, BC, Canada, 2019; Welsh Terrier "Filly" (Darwyn's Flying Filly, CA, NS)
We played a bit with barn hunt when Rowan was learning about *rats*. I love watching when the little instinct fire lights up in them and they get to do what they are bred to do! It satisfies something in their DNA! We're concentrating on Earthdog for a while, since the behaviours for barn hunt are so different for Earthdog, and we find that dogs who do both don't do as well in either. Ro is rocking the dens right now, and we'll save Barn Hunt for later!
Owner: Peggy McCallum, Alberta, Canada, 2019 (owner of a number of terriers over the decades, Airedales and 2 Welsh Terriers. Current Welsh Terrier is Rowan - Darwyn Gwyddon, titles are: SE, SD-A, TEAM1 and ETD. Senior Earthdog CKC, Advanced Scent Detection from SDDA, TEAM from Fenzi Dog Sports Academy and Expert Trick Dog)
Barn Hunt is very welcoming and supportive - and can be done by all dogs, not just terriers. At my first attempt, a number of people approached me and asked me if I would like some tips. They proceeded to give me very specific and excellent advice, even though we eventually were competing for placements against each other, not just qualifying runs. This is something that I have observed at every event that I have attended since. For the dogs, they clearly find it interesting and engaging. They excel at the sport. However, it is a team sport as I was surprised that when the dogs find the prize (the hidden rat buried in the straw that we cannot see), they typically don't go crazy. You need to learn to read your dog. This is good for us too. I have since not followed up with much Barn Hunt recently, only because I have focused more of my time outside of conformation shows and raising puppies, on Nose Work. For me, showing in conformation shows (actively in 2 different countries) is a huge committment, so are raising puppies well. So, I have limited time. I have also been trying other sports in the last couple of years - Chase Ability, FastCAT, Sprinter. There are only just so many weekends available. I am very glad that I did this Barn Hunt sport and put titles on a couple of dogs. I will do Barn Hunt again, but need a weekend when I have time.

Overall, Barn Hunt is a great sport for those that can get to a trial or practice site. I highly recommend it. It can be done by conformation champions, or companion pets. It can be done by young dogs and older ones. It's really wonderful to do more with your dog - the dogs love it!
Breeder / Owner: Larisa Hotchin (Darwyn Welsh Terrier Breeder); 2019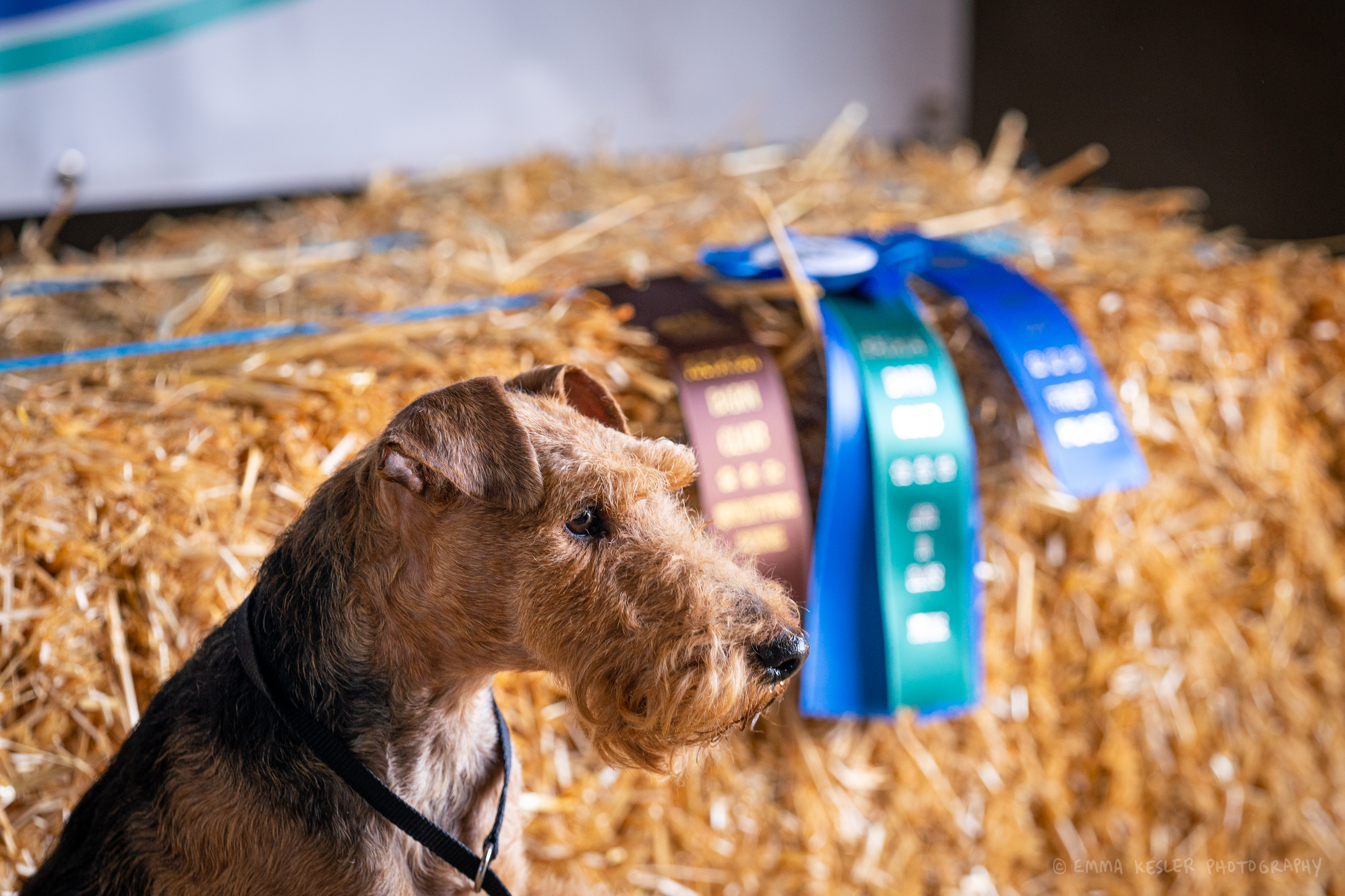 Welsh Terrier "Filly" (Darwyn's Flying Filly; CA, NS) at her first Barn Hunt Trial with owner, Laurie.