Welcome to the Darwyn family photo album for our extended family ...
We have been very lucky to have many wonderful people as owners of one of our puppies or retired show dogs - a number of whom have become good friends over the years (both with us, and some great friendships have developed between owners). There are some really great photos and stories already here, and many more to come!
Meet some of the puppies! Some are many years beyond puppyhood!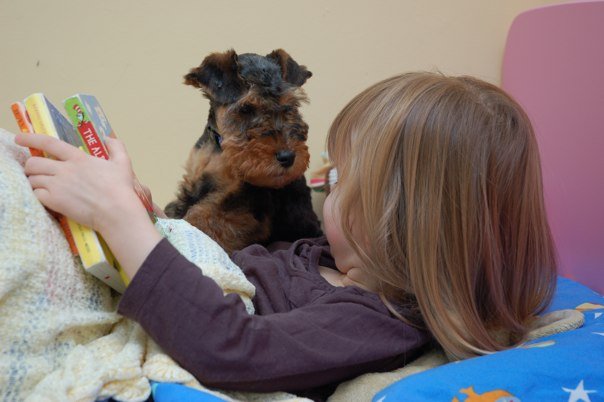 Meet
Grover!
He has an awesome web developer as a dad - so of course he is featured on their
family website! Check it out!
An, a couple of other puppies that also went to their new families in November 2009:
| | |
| --- | --- |
| | |
| Pepper (enjoying one of the stuffies from his new puppy package!) | Axel - a future agility excellent dog! (knew sit very well on day 2 in his new home!) |
Perhaps you might want to consider an older or retired show dog?
We have been very fortunate to meet, and be referred to, great families that now have some of our retired show dogs. Since we don't tend to keep many dogs ourselves (our dogs live in our home as part of our family), sometimes we place an older one so that they can live life as the only dog, or with one other dog in the household. We are forever grateful to the wonderful families that have opened their homes, and hearts, to these guys. Based on the stories that I get and conversations that I have with them, when we do a 'match' - these dogs clearly are in families that are grateful for them also ... win-win-win! :-)
Here are some of their stories - click on the picture, or the name below.
Cyril adopted his new family in Dec/08 at 5 years of age.
Becky went to her new life in Jan/05 at 5.5 years of age,
owner, Kate wrote a note for her page in Nov/09 - she's now a therapy dog!
Haley joined her new family in Nov/09 at 5 years of age - and took minutes to settle in and enjoy the laps and cuddles and daily walks!
Tessa - from my first litter and my first home-bred champion, retires with a great couple and reunites for walks with 2 of her daughters! What a small world!
Sadie - went to go and live with our Mom and Dad in Nova Scotia when she was 6 (and even met a lobster face to face!)
More to come - stay tuned! Bentley, Megan&Megan (sisters), Lily...
LOTS more to come ... stay tuned!
Enjoy!