Welcome to the Darwyn family photo album!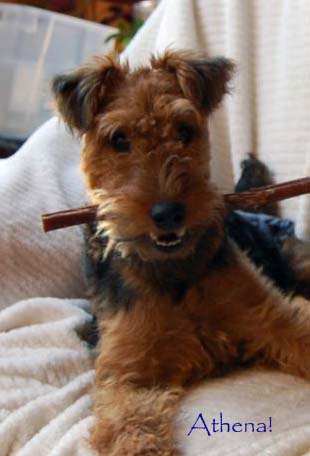 Here are some of the
dogs that we have lived with
, and a selection of photos and stories that I have received from owners. I have lot's more to put up, but some are already here - check back!
I have also made a special section for those that are doing performance events with their dogs (agility, obedience, Rally-O, Earthdog). While there are relatively few Welsh Terriers that do these official performance events, whenever I talk with these owners, and watch their dogs (in Canada and elsewhere in the world), both sure do look like they have a lot of fun doing it! While I personally focus on conformation showing, I am proud to have the performance area of the "dog sport" represented, and have a page of information on Peggy and Dylan's accomplishments. It takes a lot of work and dedication, but it clearly is very rewarding. It's really neat to see these two in action, and I hope that you will visit their page! Keep in mind - if you decide to take on this challenge, it is something that you need to spend time at and work on ... just like conformation showing and show trimming ... it takes time and practice to do it well, but when you have a dog in top form (in any of these activities), boy do they look good, you work as a team and you can feel so proud - no matter what the result!
So - this is the section where it's best to get yourself a cup of coffee (or soda), sit back and prepare for a lot fun and wonderful photos, videos and stories! Be prepared for a lot of cuteness and in the performance area, a lot of "wow"!