... good children come from great parents that in turn are fantastic dog owners!
When I first got involved in the breed, it was recommended to me by a few long time breeders to NOT place Welsh Terriers with families with young children.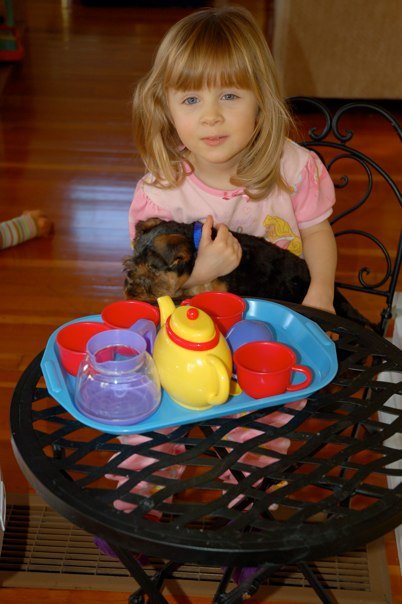 Grover and Tyler enjoying tea time!
Over the decade (plus) that I have been seriously involved in the breed (showing, breeding and placing dogs), I have come to appreciate that good judgment is critical in placing dogs of this breed (as with any breed), but more importantly that many hard line rules (like Welsh Terriers with toddlers) are not needed. I have successfully placed a number of dogs over the years with families with young children. However, I have also turned down many families with young children also (and families without children!) ... For me, I find that you just get a feel for the energy level of the child, the method of education and type of guidance provided by the parents. Through my years of experience, I can tell if it is a home that one of these guys will work out, or ... not. The latter is a critical consideration ... because in certain environments, this breed can get very strong minded, can play very rough, and without the appropriate guidance, can become a dog that is out of control (plays too rough, children and adults can be nipped and can become aggressive towards other dogs). So - no hard line rule for me, but that doesn't mean that all families with young children can have one of my puppies ... only very special ones.
When I first met Martin, Melissa and their 2 year old - I instantly knew that they would be in the "yes - they can have one of my dogs" category! When one of my 6 month old rambunctious puppy dogs (Joe or Parker, not sure which one now), and my older girls first greeted Tyler by jumping up on her, and she wasn't phased (and neither were the parents), I was shocked ... in delight. These guys (dogs) have energy and if they want to greet you, they will! After a number of visits, the question wasn't "were they going to have a dog or puppy from me", it was "when and which one"!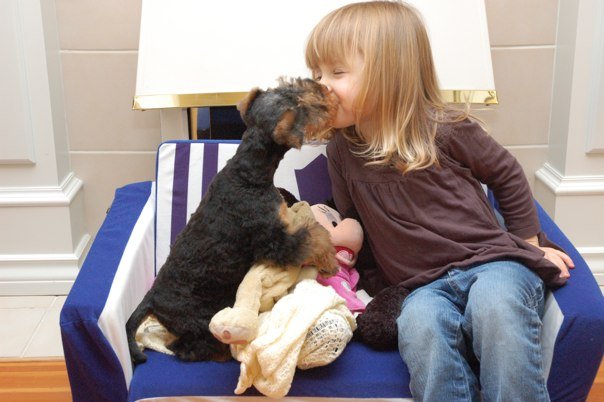 At the end of November 2009, Grover, a Paisa puppy boy dog, has become the latest addition to their family and so far things are working out very well!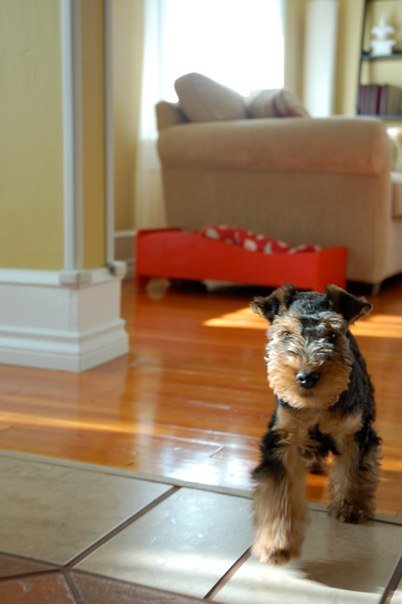 I'm sure that over the years we will have more stories to put in here, for now there is the 'day 3' story (below). Martin (Grover's new dad) is an awesome Web Developer, designer and photographer (he designed this website, check out the bottom right hand corner if you need any help - big or small!). So, Grover already has lot's of airtime on the family website.
Check it out by clicking here!
And, of course also check out these 'oh so cute' 8 week old puppy photos of Grover before he left our home! What a great little guy!
Day 3 and all is going well!
Written by Martin (Grover's new dad)

Howdy! We're onto Day 3 now and Grover's doing great! We usually get him down to bed at 11 and he sleeps until around 6. And after that potty break he sleeps until Tyler wakes up, which has been around 8:30 lately. That's just too early! Though it's extra exciting for Tyler cause she has a Grover to wake her up every morning and after every nap. He has also claimed Tyler's Toronto Maple Leafs couch as his official puppy bed. It's where he takes his chew toys to and also likes to nap if he isn't in his crate. We've had 2 pee accidents in the house and the rest have all been outside. We took him over to my families house yesterday and he was running around TONS with my nephew having a blast. So far he's a great little puppy. He loves a good snuggle and will gladly sleep on your lap. He also REALLY enjoys his big yard getting to chase Tyler around and also visit with the other puppies that come up to the fences. His best friend right now is the German Shepherd next door. They haven't played in the same yard yet, though definitely will soon.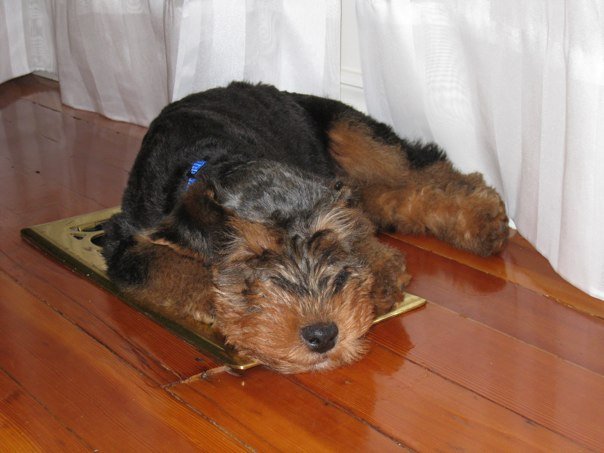 Back to Paisa's puppies page. AND...
Don't forget to check out Grover's new home and family photo album!
Photos courtesy of Martin Blumenfield