Zora:
BIS Canadian & American Champion
Zora Darwyn vom Granitfelsen
RATI, RATN (Barn Hunt Titles)
Owner: Larisa Hotchin and Regina Schmid
Breeder: Regina Schmid (Germany)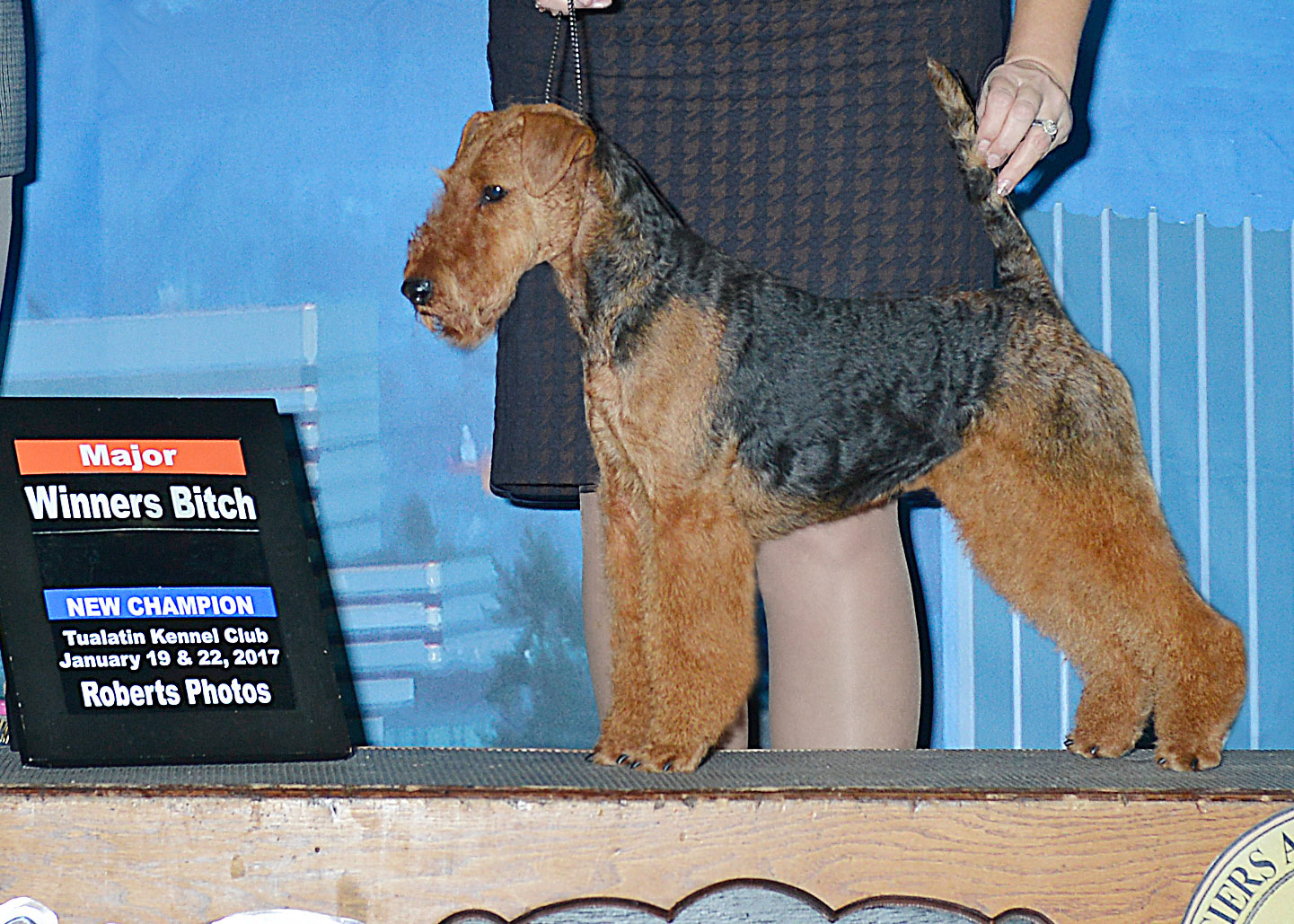 Pictured below being awarded her 3rd major to finish her American Championship (Jan 2017)
Trim & Conditioned by owner, Larisa Hotchin

---
Achieved her American championship with 3 majors, including a major at a US Terrier Specialty, awarded by a Welsh Terrier breeder-judge (Betsy Dale)
Finished her Canadian championship title with all group placements (presented beautifully by Connie Krohn)
Zora was Canada's #1 Welsh Terrier for 2017 and one of Canada's top terriers overall
Health tested; PLL (DNA) - clear; DM (DNA) - clear; cardiac - normal; patella - normal (click here for her public OFFA health certificates)
Dam of Morgana (Multiple Best Puppy in Group Winner)
Dam of Walter, being shown in Denmark by Inga Hyldahl, in just a few short months already some impressive wins under terrier specialists.
Sire - MJ (a Joe and Dora son, Java's litter brother): Multi Champion Darwyn's Mighty Joe Young
Bred by Regina and Xaver Schmid (Germany); or click here for Regina's Facebook page
Below are 3 groups of photos showing a bit of Zora's life with Michael and Larisa in Canada.
Here are some fun photos of Zora at home around our house here at Darywn - when she first arrived at just under 6 months old to just over 2 years old.
---
Below is Zora playing in the snow with 7 month old Welsh Terrier girl (Chanté) in the "big snowstorm" of 2016/2017!
---
Below are some photos showing Zora playing with 5 month old puppy Chanté (not her pup) at a local river beach with Michael and Larisa (and a couple of other outings that we brought our camera).
---
Here is a photo of Zora when she was just over a year old, being awarded one of her first majors in the US (owner-handled by Larisa Hotchin), under breeder-judge, Mrs. Betsy Dale: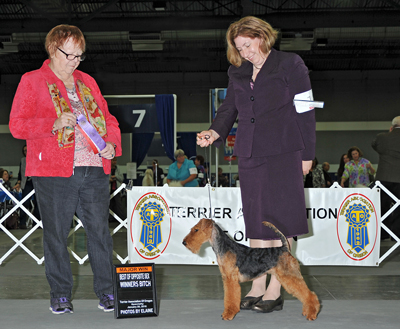 ---