Zora:
Best in Show (BIS) Canadian & American Champion
Zora Darwyn vom Granitfelsen
RATI, RATN (Barn Hunt Titles); CA (Chase Ability Title)
Owner: Larisa Hotchin and Regina Schmid
Breeder: Regina Schmid (Germany)
Dam of
Morgana
and Walter (Denmark)
VIDEO -
Watch Zora achieve her CHASE ABILITY (Lure Coursing) Title in this 600 meter (2000 feet) run.
She nails it!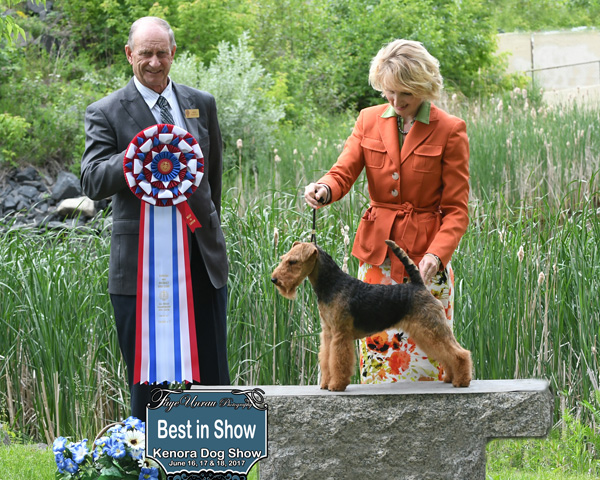 Zora's Best in Show win (June 2017)
Presented by Connie Krohn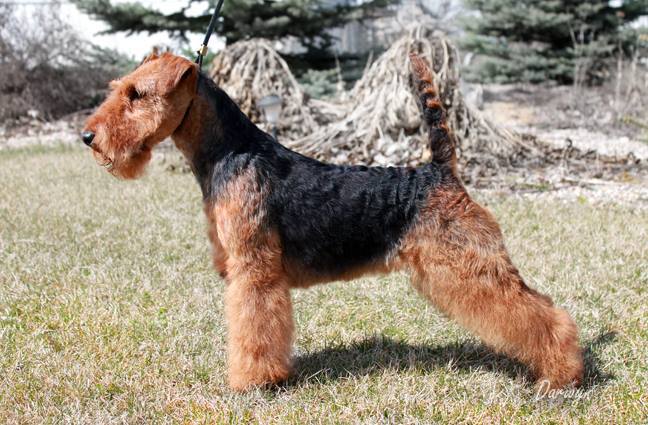 Zora!
Conditioned by Connie Krohn

---
Best in Show winner and absolutely wonderful to live with
Achieved her American championship with 3 majors, including a major at a US Terrier Specialty, awarded by a Welsh Terrier breeder-judge (Betsy Dale)
Finished her Canadian championship title with all group placements (presented beautifully by Connie Krohn)
Zora was Canada's #1 Welsh Terrier for 2017 and one of Canada's top terriers
Health tested; PLL (DNA) - clear; DM (DNA) - clear; cardiac - normal; patella - normal (click here for her public OFFA health certificates)
Dam of Morgana (Canadian Champion and Multiple Best Puppy in Group Winner)
Dam of Walter, being shown in Denmark by Inga Hyldahl, in just a few short months already some impressive wins under terrier specialists.
Sire - MJ (a Joe and Dora son, Java's litter brother): Multi Champion Darwyn's Mighty Joe Young
Bred by Regina and Xaver Schmid (Germany); or click here for Regina's Facebook page
First weekend trying CHASE ABILITY event and Zora nails it with 4 qualifying runs and a new title!
Below are 3 groups of photos showing a bit of Zora's life with Darwyn in Canada.
Here are some fun photos of Zora at home around our house here at Darywn - when she first arrived at just under 6 months old to just over 2 years old.
---
Below is Zora playing in the snow with 7 month old Welsh Terrier girl (Chanté) in the "big snowstorm" of 2016/2017!
---
Below are some photos showing Zora playing with 5 month old puppy Chanté (not her pup) at a local river beach with Michael and Larisa (and a couple of other outings that we brought our camera).
---
Here is a photo of Zora when she was just over a year old, being awarded one of her first majors in the US (owner-handled by Larisa Hotchin), under breeder-judge, Mrs. Betsy Dale: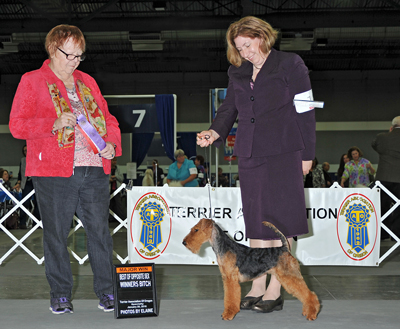 ---