Walter:
Danish Champion Darwyn's Walter the Viking
We are very proud of Walter's achievements with his owner, Inga Hyldahl. Inga trims and presents Walter in beautiful condition. There are many wonderful written critiques from the shows in Denmark that he has attended. Many of the accomplishments below were at Terrier Specialties and the judges were well regarded terrier breeders. Some of these include:
Best Baby Puppy in Show Winner shortly after he arrived in Denmark
Best Puppy in Show Winner at 6 months of age
Multiple Group Placer at Terrier Specialties in Denmark as a young dog (multiple BIS 3 placements)
Multiple BOB winner
Copenhagen Winner (2018)
Copenhagen Winner (2019)
Awarded his Danish Championship shortly after turning 2 years of age (minimum age required to be a Danish Champion)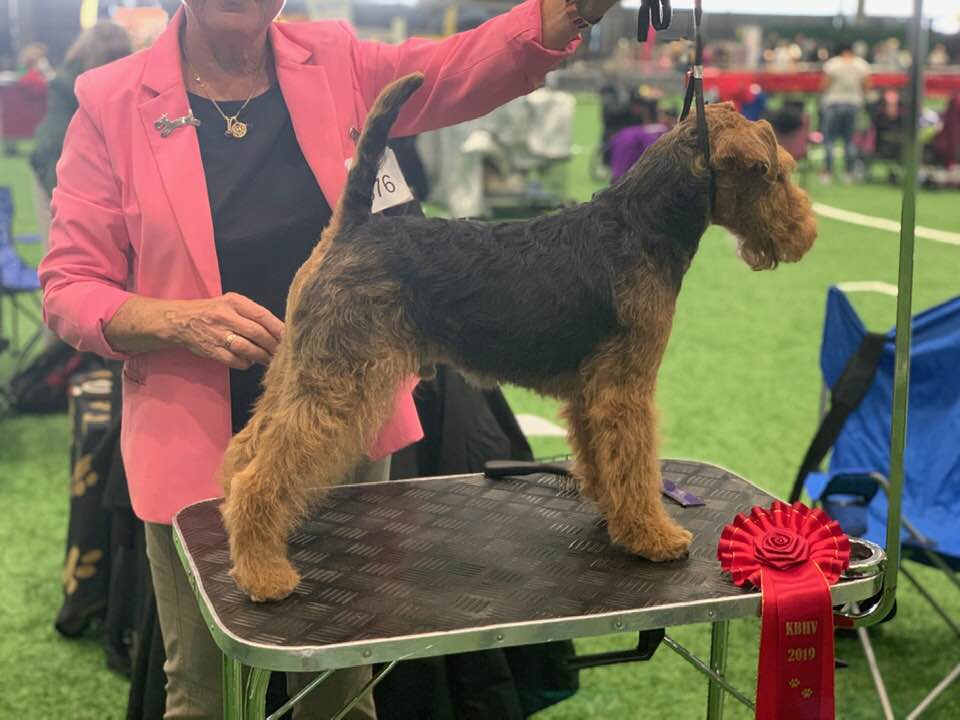 Walter at 2 years of age when he was awarded the qualifying win to be a Danish Champion and the Copenhagen Winner 2019
Presented by his owner, Inga Hyldahl
Sire:
MBISS Am.GCH and Can.CH Darwyn's Sorcerer's Apprentice (aka "Mickey")
Dam:
BIS Can.Am. CH Zora Darwyn vom Granitfelsen (aka "Zora")
Owner: Inga Hyldahl (Denmark, kennel name Danwelsh) and Larisa Hotchin (breeder of Walter)
Breeder: Larisa Hotchin and Regina Schmid
Walter was bred and raised as a puppy in Canada with Larisa and Michael Hotchin. He went to live with his new owners, Inga and Jacob Hyldahl in Denmark in early 2018 when he was just over 5 months old. Inga has been breeding and showing Welsh Terriers for a long time, her kennel name is "Danwelsh". In 2012, the #1 Terrier in Denmark was one that she bred and showed, CH Danwelsh Charming Charlie.
PLL DNA Tested (Primary Lens Luxation): Clear/Normal
DM DNA Tested (Degenerative Myelopathy): Clear/Normal
Click here for the DNA results:
Walter's litter sister is
Morgana - American and Canadian CH Darwyn's Morgana le Fay
(WB on Montgomery Weekend 2019, and RWB at the US National Specialty of the WTCA)
Some photos of Walter's show wins with Inga Hyldahl:
Showing is a passion for Inga and Jacob, and they have some very close friends that they share this with. Here they are with Felix and Frida's owner, Karin (on the left), and Jacob and Inga (with Walter and Theo) on the right. Both Felix and Frida are champions, bred by Inga (kennel name - Danwelsh). Theo and Walter trade-off on who gets BOB under different judges - some days it goes to Walter and some days it goes to Inga's home-bred boy, Theo. Both are quality boys.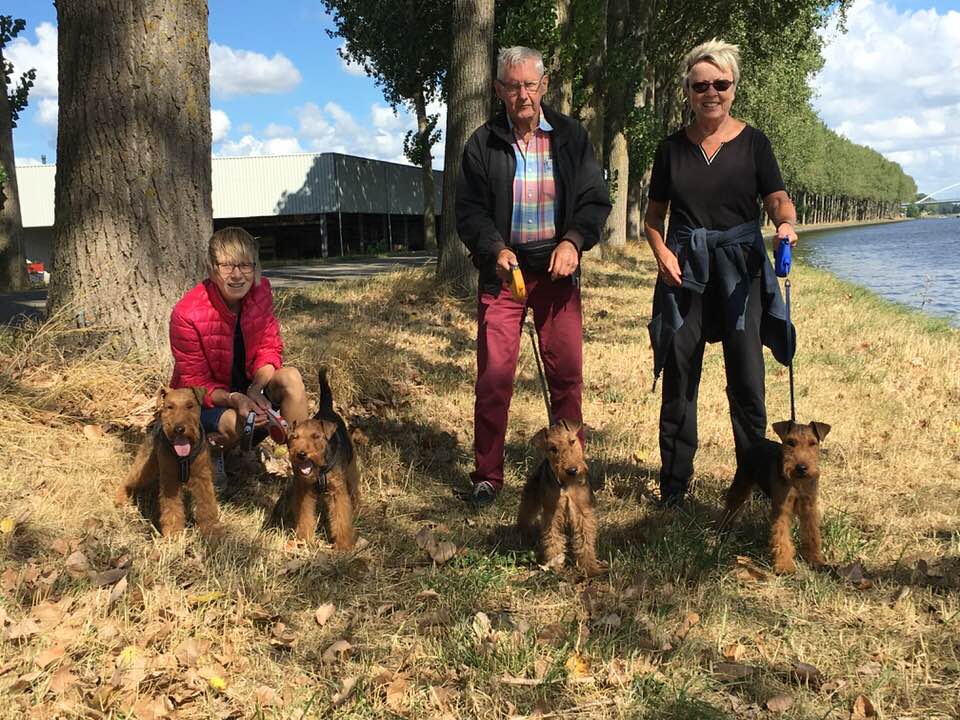 When Walter first arrived in Denmark at just over 5 months old: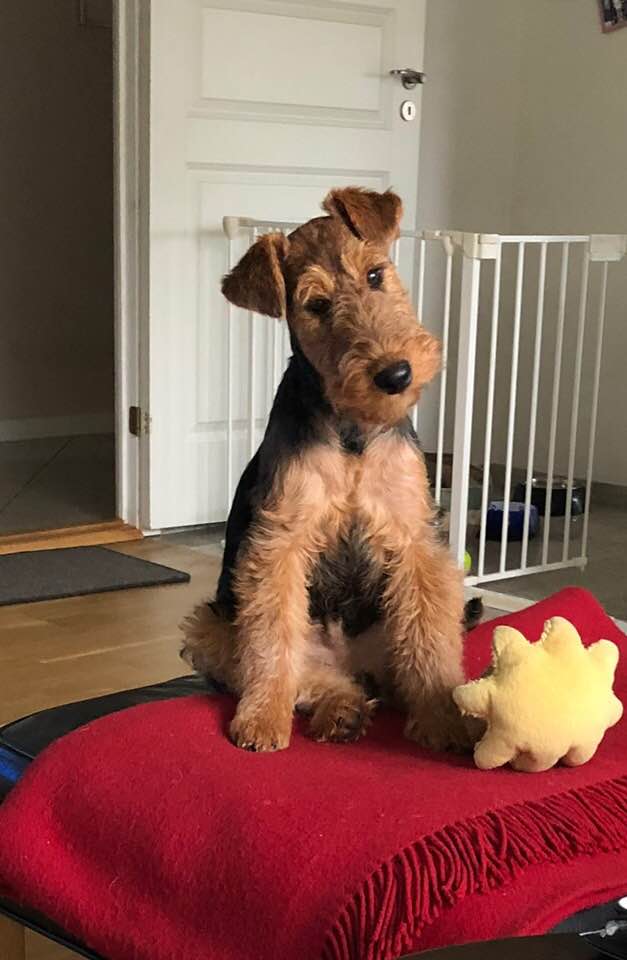 Walter standing nicely for Larisa on the table during Inga and Jacob's visit to our home in Canada: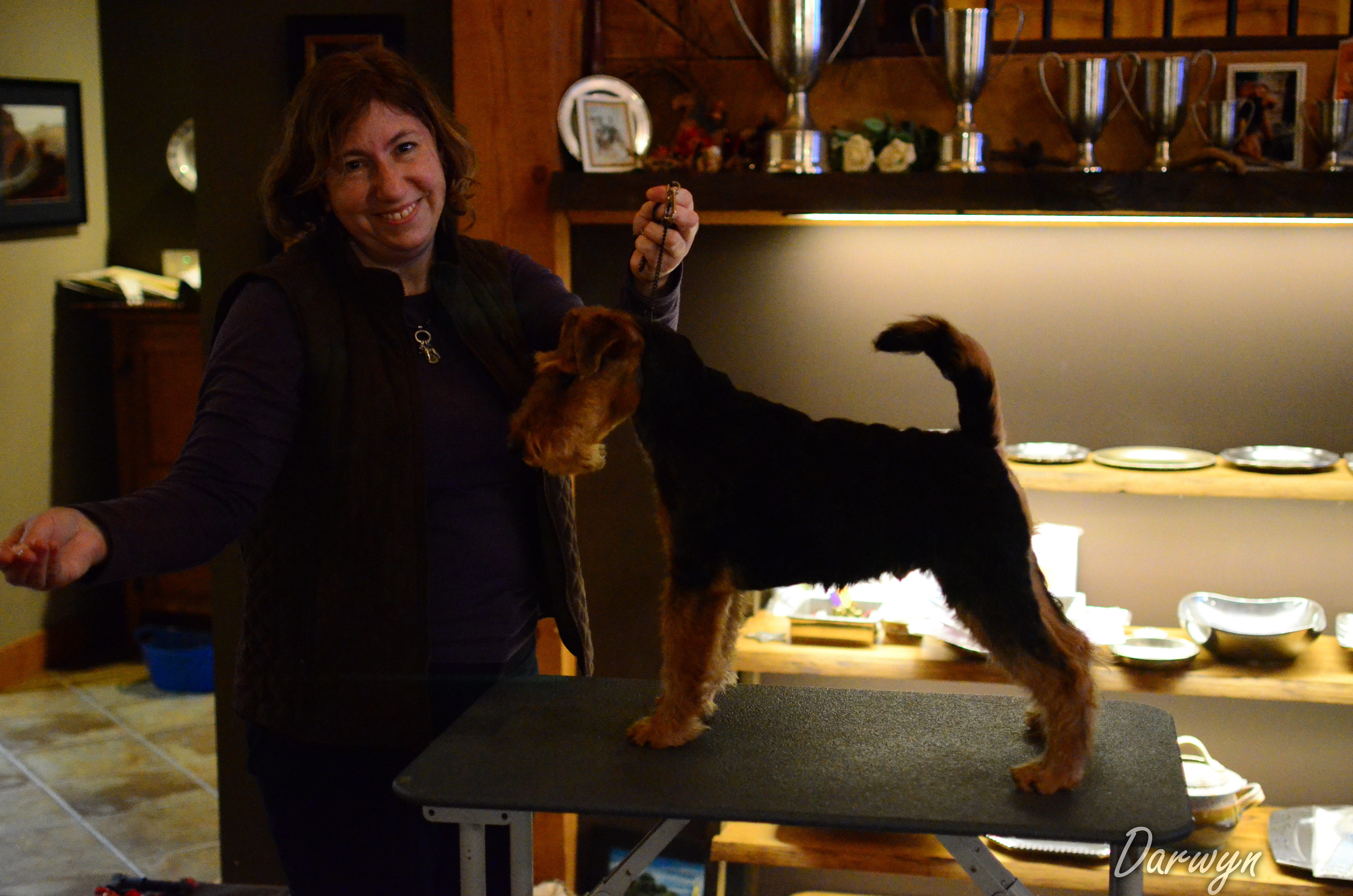 Below are some cute photos of Walter and his littermates when he was a young puppy growing up here at Darwyn in Canada:
It may have rained during that visit of Jacob and Inga's when they visited in January 2018 to pick up Walter, but we all still had a very good time.