Mickey:
MBISS Am Grand CH & Can CH Darwyn's Sorcerer's Apprentice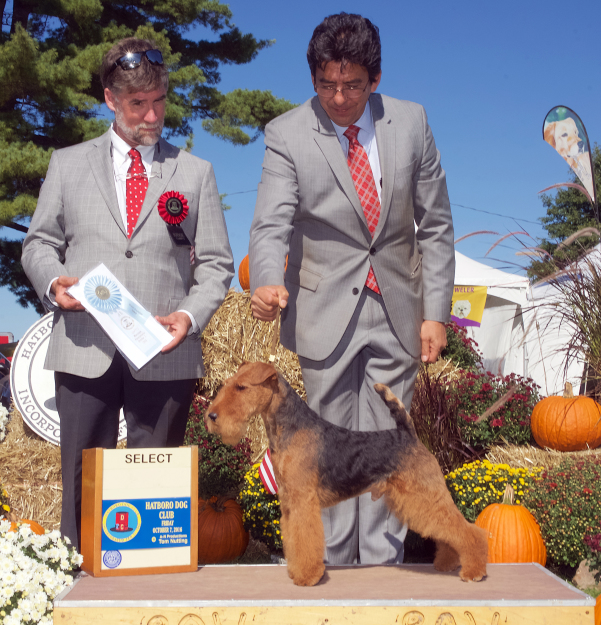 Grand CH Select Dog - WTCA Specialty; Hatboro Dog Club; October 2016
Judge: Mr. Todd Clyde (terrier specialist)
Handled by: Ernesto Lara
Multiple Group Winner (US)
Best in Specialty, US Regional Welsh Terrier Specialty (twice!)
Best of Winners at Hatboro I (Montgomery weekend; 2016); 5 pt major, to finish (4 majors, all at US Terrier Specialties)
Select Dog at Hatboro II (Montgomery weekend; 2016), as a move-up, for a 5 point GCh major!
Group 1st (US) - Bred By; as a young dog just starting out
Multiple Best Puppy in Group Winner
BOB over specials and Group Placer (as a puppy)
RWD at Hatboro (Montgomery weekend, 2015, as a puppy, breeder-owner-handled)

Best Opposite Sex, sweeps, at the Welsh Terrier Club of America National Specialty
(Montgomery County Kennel Club)
DNA Tests: PLL - Clear / Normal; DM - Clear / Normal
Mickey is now conditioned and presented by Ernesto Lara and his team (located in PA, US).
Sire:
Am.Can.GCh Darwyn's Special Blend
(Java)
Dam:
Am.Can.CH Darwyn's Santa Maria
(Maria)
Click here for Mickey's pedigree
Tested OFFA: (OFA #WT-PLL250/3M-PI); click here for the public database
:
Patella (normal); cardiac/heart (normal); PLL DNA - normal / clear; DM DNA - normal (parentage are normal); Dentition (full / normal)
Hey Mickey!
At the time of writing, just under 2.5 years old, Mickey is considered a young male when it comes to showing. However, he has clearly demonstrated that he is one of the exciting new dogs the breed has seen for a while.
As a puppy, he was recognized in both Canada and the US, whether it was with his breeder-owner, Larisa Hotchin, or someone else holding the lead. He's a natural! And, he gets it honestly - his sire, dam, grandsire, grandam, great-grandsire (and more), were ALL top show dogs, and quality dog, with good breed type.
In Canada, with very limited showing (a few weekends at most), he finished his Canadian Championship title, won puppy groups, gained group placements from the classes, and defeated ranked (and BIS, and BISS winner) champions.
In the US, he finished his AKC Championship title with 4 majors, all garnered at terrier specialties, weekends of, and including WTCA (US National Breed Club) specialties. He won (twice) BOB at a regional Welsh Terrier breed specialty, was BOSweeps at the US National Specialty as a puppy and was awarded Group 1st in a huge and competitve Bred-By group at a big terrier specialty! This was extremely exciting for his breeder-owner (who usually trims her dogs, but doesn't always go into the ring herself!).
The awards and ribbons aside, it made me feel very special that other Welsh Terrier breeders have come over to see him and admire him when I brought him to Montgomery in 2015 as a puppy. I had more than a few tell me that he could "grow up" at their home if I wanted that. I feel very honoured. And, now that he is maturing, the wonderful remarks (private and public) from so many people that I respect, is incredible He is a very special boy, with very special breeding, and it pleases me to see that even at such a young age, others are noticing him also. What was the most fun was a very well known and respected terrier breeder judge awarding him (at his first show as a puppy), and then jokingly tell me that he could easily take him home, if his other dogs at home would allow it. That was the biggest compliment that any breeder can get!
We absolutely love Mickey. We have loved living with him, and now we are enjoying showing him so that the fancy can see him also.
A few fun photos from home with Michael and Larisa: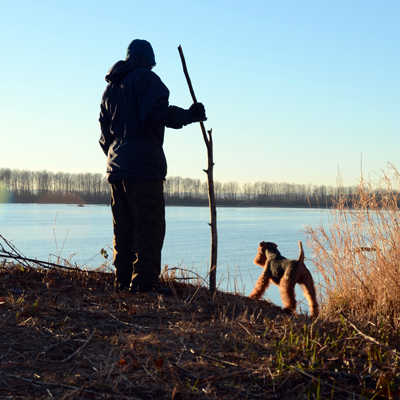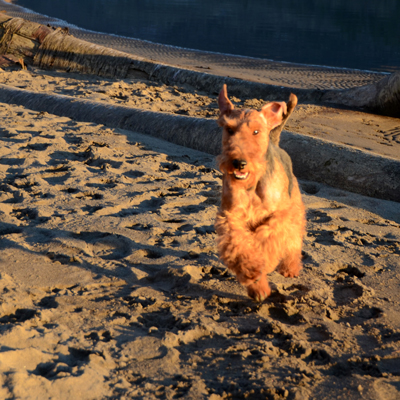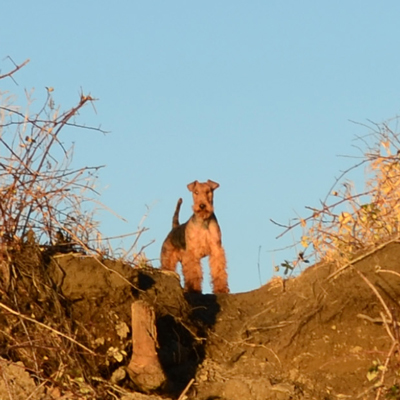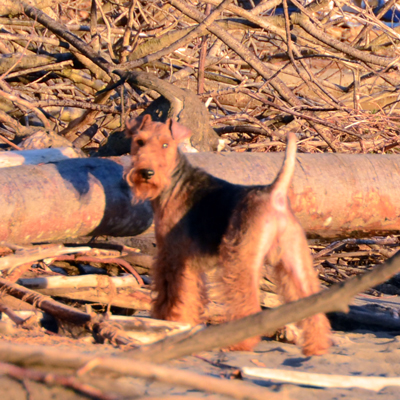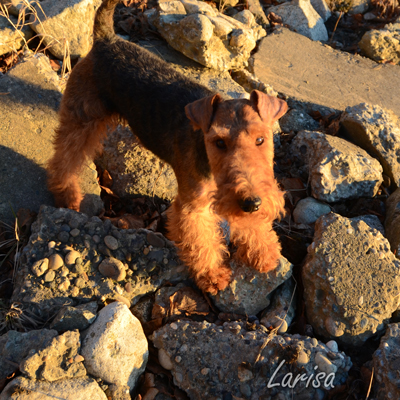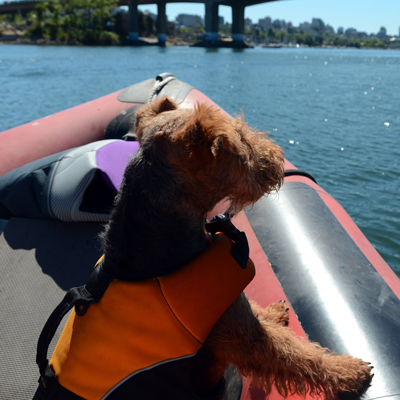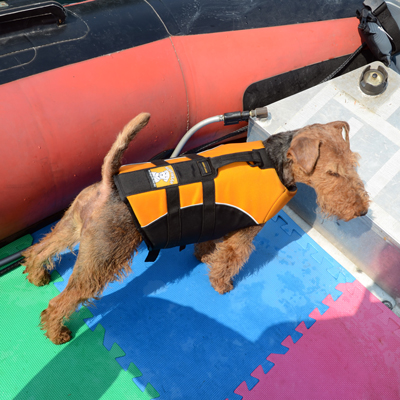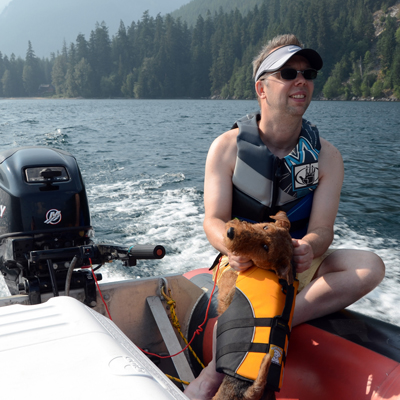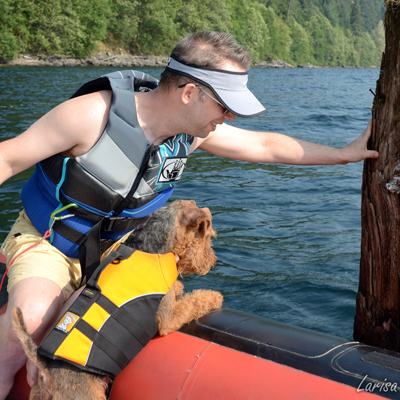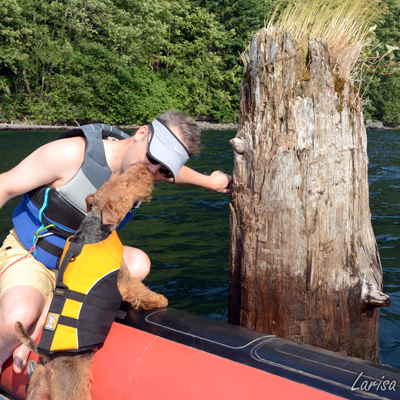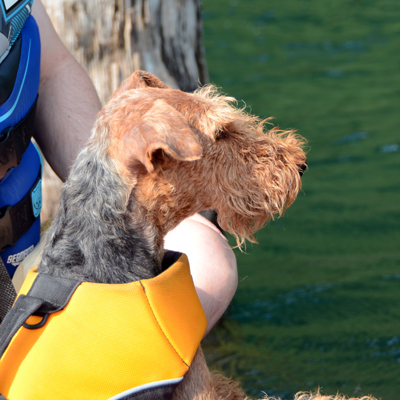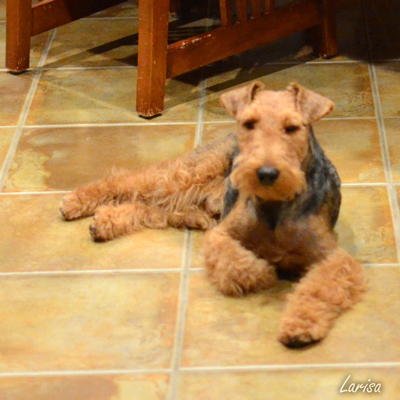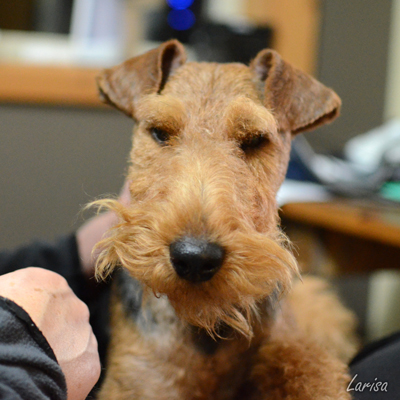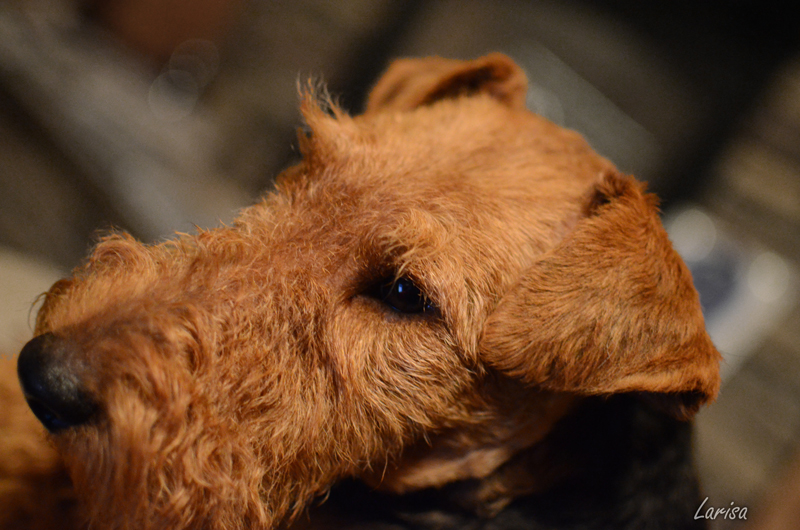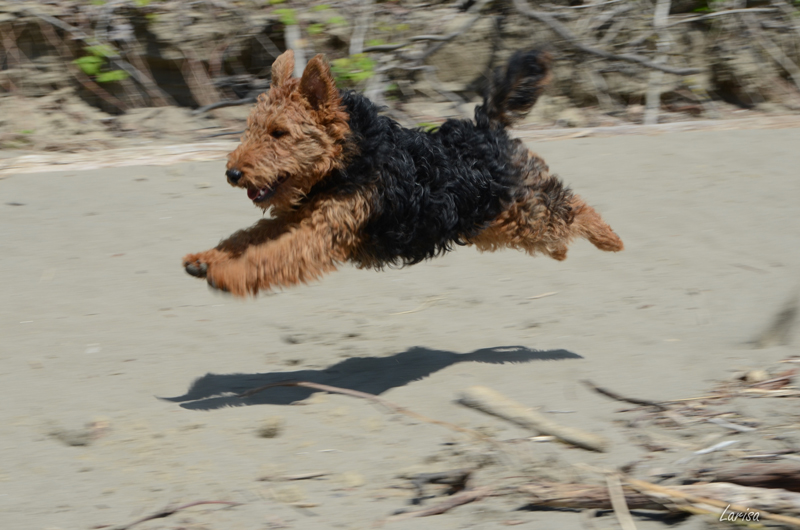 Mickey's Breeding:
Mickey comes from a very special breeding. I did this mating (
Java
and
Maria
) primarily to get a quality girl, for my good friend, Sonya Cornick in Sydney Australia, to be her foundation bitch as well as a good show dog. We did the mating and then crossed our fingers. We lucked out in more ways than one! There were two girls in the litter, and both girls are proving to be top quality. I did this breeding for Sonya, so I allowed her to chose which one she wanted - and Zuzu went to Australia to live a wonderful life with her when she was 10 months old (summer 2015). Zuzu -- Australian CH Darwyn's Kazuri at Wentworth, is being very well received in the show ring, as well in her new home with Sonya. I'll try to do a page for Zuzu one day as she is beautiful to look at and lovely to live with. I am very happy that I could provide this special girl to Sonya. I had no plans on keeping a boy from this litter, but .... when one comes along as good as Mickey appears to be, well ....... well, he is still here. :)
Here are some of my favorite photos of Mickey - in the show ring, and at home from when he was a puppy.
Enjoy and stay tuned for more adventures of Mickey!
A few show photos of Mickey as a puppy: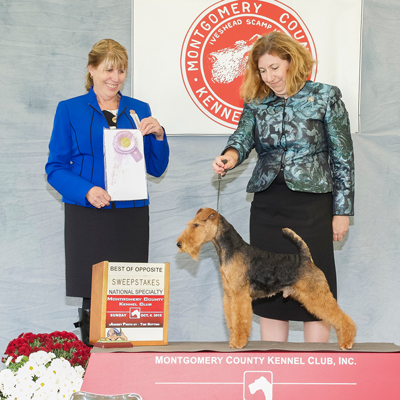 Mickey (Canadian CH Darwyn's Sorcerer's Apprentice)


Best Opposite Sex (sweeps): Welsh Terrier Club of America National Specialty
Montgomery County Kennel Club (PA, USA); October 2015

Judge: Janet Fox-Stephens (breeder-judge; pictured)
Handled by: Larisa Hotchin (breeder, owner)

Age: 12 months old in photo above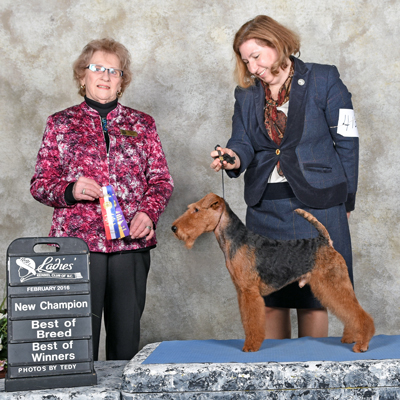 Mickey (Canadian CH Darwyn's Sorcerer's Apprentice)


New Canadian Champion

Judge: Geraldine Taylor (breeder-judge; pictured)
Handled by: Larisa Hotchin

Age: 15 months old in photo above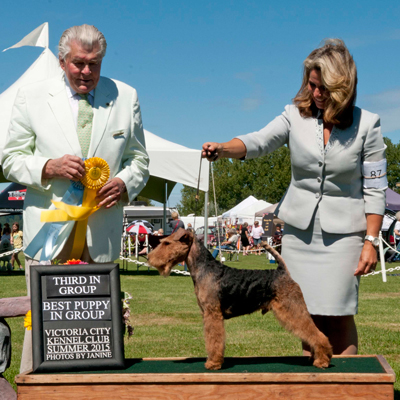 Mickey (Canadian CH Darwyn's Sorcerer's Apprentice)


Best of Breed (over special!) + Group 3 + Best Puppy in Group

Judge: Dr. Richard Meen (terrier breeder-judge; pictured)
Handled by: Michelle Yeadon

Age: 10 months old in photo above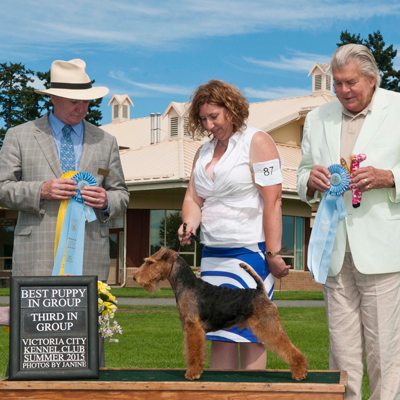 Mickey (Canadian CH Darwyn's Sorcerer's Apprentice)


Best of Breed (over special!) + Group 3 + Best Puppy in Group

Judge: Dr. John Reeve-Newson (terrier breeder-judge; pictured)
Handled by: Larisa Hotchin

Age: 10 months old in photo above
---
A few candid photos of Mickey in the show ring: