Darwyn Welsh Terriers
Joe:
BISS MBIS Grand CH BRONZE (AKC) & Can CH
Darwyn's I'm Not Arguing That

#1 Welsh Terrier (2011, 2012 Canada)
#7 dog among All-Breeds shown! (2012, Canada)
#10 dog among All-Breeds shown! (2011, Canada)

29 All-Breed Best in Shows (and 1 in the US!)

Top Winning Welsh Terrier in Canadian History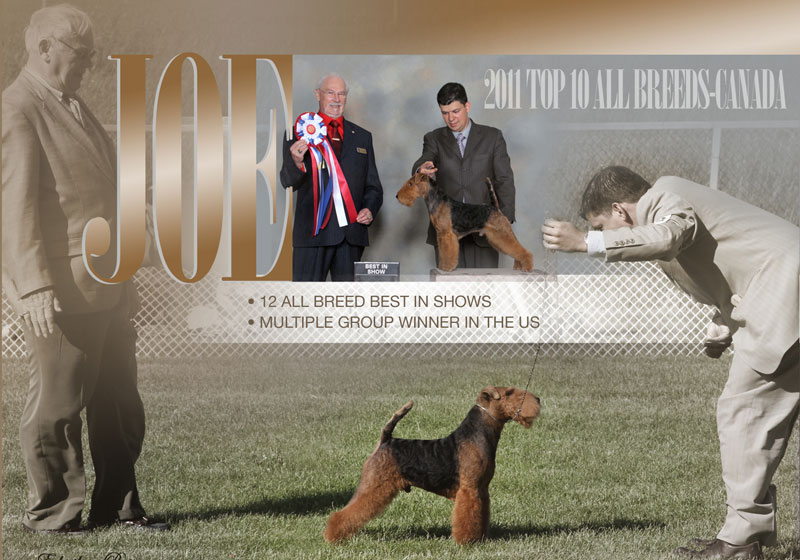 2011/12 Canadian Shows!

Sire:
BIS Am Ch Bayleigh Shaireab's Super Hero
Dam:
Am/ Can Ch. Darwyn Class at a Glance
Click here for Joe's Pedigree
Tested OFA - Click here
Handled in Canada/US (2011/12): Milton Lopes
Handled in the US (2010): Wood & Jenny Wornall and Andrew Peel
Joe is an amazing Welsh Terrier - and dog in general.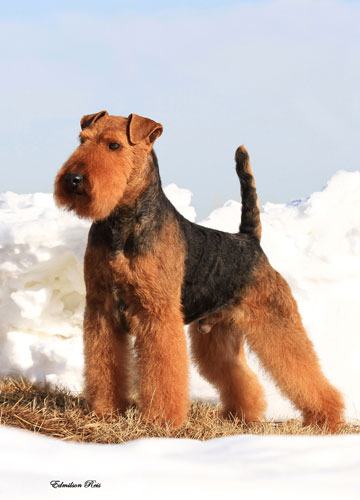 AmGCh & Can Ch. Darwyn's I'm Not Arguing That (Joe!)


(photo by Edmilson Reis March 2012)
Fast Facts:
29 All-Breed Best in Shows (1 of these in the US!)
Top Winning Welsh Terrier in Canadian History
3 Best in Show Terrier Specialty Wins
#1 Terrier in Canada (2012)
Welsh Terrier Club of America Specialty BOB Winner (2010, Devon Dog Show Association, and Group 2nd over 1000 terriers!)

Group Win or placement EVERY weekend;

conditioned and presented in in Canada by Milton Lopes with close to 100 career Group Wins!
6 Group Wins in California for close to 5000 top dog points (2010)
3 BOB wins on Eukanuba/AKC Invitational weekend (2010), and 3 group placements!
N. California Terrier Specialty Weekend (2010), BOB over MBIS specials to finish championship!
Michelle Billings awarded Group 2nd in California from the classes (2010)
2 AKC majors, owner-breeder handled (as a puppy), defeating specials (2009)
N. California Terrier Specialty - Group 2nd, Bred-By Exhibitor Group! (2009)
Great Western - Best of Winners! (California, 2009)
Best Puppy in Show, 7 mths old
WOW ! ! !
Also, I have uploaded a couple of videos to YouTube of Joe at the dog show:
and in Canada:
And a few photos from the Westminster Kennel Club 2011 with Milton Lopes
Now ... a bit about Joe!

First of all, he's UNDENIABLE in BREED TYPE (style) and a PERFECT SIZE!

He's almost bang-on 15
inches tall (maybe 15 1/8?) ... from the AKC Standard ...
" Males are about 15 inches at the withers, with an acceptable range between 15 and 15½"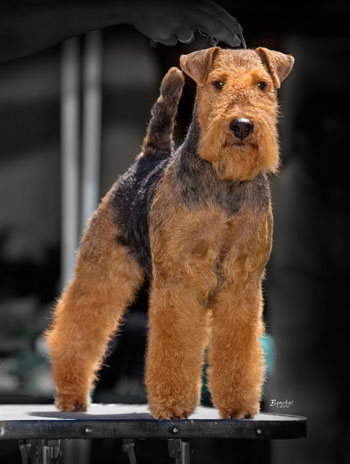 Joe at 20 months old in early 2010 (as an Open Dog)
(photo by Carol Beauchat)
The body is important in our breed - he's got a beautiful COBBY body. Look at him from the front (or down on him from above) and you will see a nice spring of rib without being overdone or barrel chested ... remember, this is a robust breed that needs some substance - dogs that look good in profile, but are 'paper thin' (as adults) are not of correct 'type'.
And, you just have to look at him in profile and watch him move to see that his STRONG (but certainly not short) NECK BLENDS beautifully into a nice SHORT AND STRONG BACK.
His tail is right up on top - always!
His rear is just naturally extended behind, with strength that is hard to miss.
And, finally, but a vey important BREED TYPE POINT is his HEAD and EXPRESSION. His clean but solid brick like head is beautiful! It is not long like a wires, nor thick and course. It's like a brick - a good clean brick!
And, of course, his coat and color are fantastic! That aspect - I've just been very lucky ... all of my show dogs have awesome coats ... it makes show trimming so much easier and great looking when they are just hanging out at home as the pets that they are first in our lives!
Second of all, he is a GREAT show dog - a natural!

He loves to free stack - check out the photo in the header of his page! In fact, he's been free baiting - standing "four-square" with his front right under him and his rear extended behind him - since he was 5 weeks old! I'm not joking about that, it's what he does. And, when he moves out, he does so with confidence, clean lines and great reach and drive. Sometimes he's a bit exuberant - but that's mostly because he is so interested in the world around him ... and as they say, it's much easier to work with an "up" dog than trying to get a non-interested one "up"!
And finally - he's a GREAT dog to live with!
Many people that have met him seem to want a Welsh Terrier - one just like him! And, I can honestly say the statement above - until April/2010 when he left for Wood Wornalls to start his US show campaign, and then was back home in Dec/10 before he went to Milton and Tracy's for his Canadian tour, Joe was our only adult male in the house, so he was always around ... mixed with the various girls and puppies.
Why do people gravitate to him?
Because he has such a happy temperament! He smiles at you, always trying to figure out what he needs to do so that you will give him a treat, a cuddle, or just a pat!
He's terrific with kids and excellent with puppies. He just loves to play and play! However, I must admit, sometimes he wanted to play a bit more than the older girls really wanted to ... but, if Paisa told him 'enough' - well, he could take a hint :-) Now, when he came home in December, he had grown up a bit more (2.5 years old at that point), and while he still wanted to play and was game, he was just as happy to be settled down as well.
HERE ARE SOME OF JOE'S CANADIAN WINS!
More will be written later, and his US photos still need to be added in ...
Below is one of the pictures of Joe's
BACK-TO-BACK GROUP WINS in Carmel California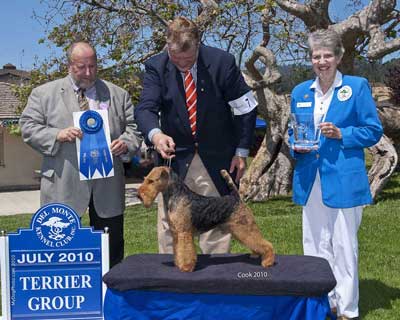 Am GCh & Can Ch. Darwyn's I'm Not Arguing That


Judge: Mr. Ken McDermott
July 17, 2010
(July 17/18 2010) .
.. this followed a weekend of winning BEST OF BREED each day over the #1 Welsh Terrier in the US at Ventura, California
(July 9/10/11, 2010) Note: Joe ended up as the #2 Welsh Terrier in the US in all-breed points.
STAY TUNED - more story and LOT'S more pictures to come!
You can always check out my
BLOG
and search for Joe - there's quite a bit there!