Sadie (previously known as Mercedes) moves in with the parents :-)
Click here for Sadie's background (Am/Can Ch Darwyn Class at a Glance)
From her other page, you will know that she was one of our primary house dogs for a number of years, and she...
- finished both American (AKC) & Canadian (CKC) championship titles,
- was awarded winners bitch (and Award of Merit from the classes) at The Welsh Terrier Club of America National Specialty 2004,

This page is about Sadie at home - specifically her move to her retirement home, with our wonderful retired mother and father!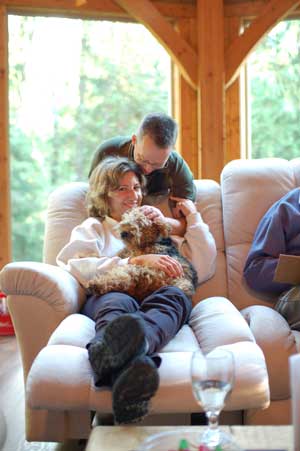 Sadie enjoying cuddles at home the day after
Michael and Larisa's wedding
When Michael and I were married in 2007, his family came to stay with us for a while after the wedding (mother and father from Nova Scotia and brother and wife from Toronto). It was pretty clear then that one of our girls would retire with Mary and Ron (parents) and that Michelle (Adam's wife) would take terrific photos! Both things have happened! Sadie's story is below, and all of the terrific photos were taken over the years by Michelle (click here for more wonderful photos from her!). Expecting that Haley would stay just a little bit longer, I promised that once Sadie had her next littter that she would be spayed and would go to live with them ...
... well, one year later Joe, the singleton from Sadie's litter, stayed here to grow up and Sadie got on the plane to greet her new forever family once again! We said our goodbye's, but knew that she was going to a truly wonderful home - a very caring home with 2 people doting on her, sensible about dogs (and life) AND lot's of space to investigate on lakefront acreage property! They even have friends that are more than happy to take care of her when they go away! She clearly is the centre of attention in their household.
Sadie being the centre of attention (again - day after our wedding) ... as long as she gets someones lap (anyones lap!) ... left with Michael, right with Ron (Michael must have gotten up!) :-)
Below (at the bottom) - all THREE of them are crashed!!!! I know it was a big few days for Michael and Ron, but what did Sadie do to make her so tired? I think she was just enjoying life and Ron (and Mary) knew a new family member was going to join their lives one day!
From what I understand, it sounds like it only took Sadie about 5 minutes to settle in to her new life with Ron and Mary :-)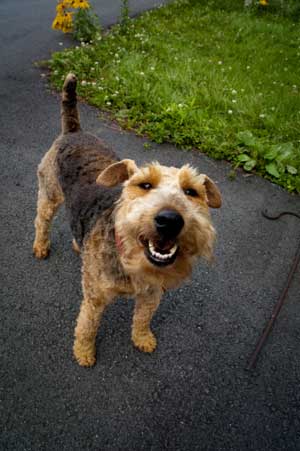 Sadie greeting Adam & Michelle when they came to
visit (in Nova Scotia)
We miss her, but every time we are on the phone with them, she is in one of their laps, and there are plenty of stories ... about walks, explorations and discoveries about new critters (squirrels, learning that porcupines have quills - note, we do not have porcupines in BC that she would have met, and even that once in a while live lobsters are brought home for dinner!). Ron and Mary have also informed us that while Sadie loves to exploring, in the summertime she is very happy to take over the passenger seat in their property golf cart and guard it until the garden errands are done!
| | |
| --- | --- |
| | |
| Just a couple of interesting photos of daily life for Sadie now! Retirement ... very stressful, eh?! | |
And, as you will see in the pictures, her favorite place of all, just as it was at our home, is in a lap getting belly rubs! :-)
We love you Sadie! NOTE FROM US .... keep an eye on Ron and Mary for us ... remind Ron that he doesn't have to move ALL of the rocks in Nova Scotia, and perhaps try to learn some of those relaxation techniques of Tai Chi that Mary does, since I know that life is SO stressful these days! :-)