Haley - Darwyn's Carpe Diem
Dam of Parker & Athena, Winners Dog (and BOB) and Winners Bitch from the Welsh Terrier Club of America Nat'l Specialty at Montgomery.
Sire:
Am Ch. Bruhil's Seven Come Eleven
Dam:
Am/Can Ch Saredon Mistress Nora
Click here for Haley's Pedigree
Tested OFA (OFA #1379783): Hips (good); Patella (normal); cardiac/heart (normal); Thyroid (normal)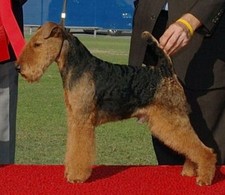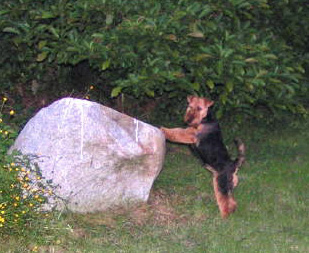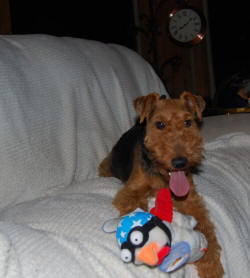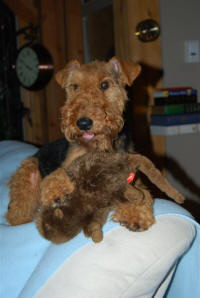 OK ... Haley is not a champion, but I am confident that she is the quality of one (her first show she attended she went Best Puppy in Match!). For Haley, it was just one of those things that just never happened (because of me, not her). As you'll read below, she sure has done a lot for the Darwyn line of Welsh Terriers ... specifically, she is the mother of
Parker
(Am Ch. Darwyn's Webslinger), and
Athena
(Am Ch. Darwyn's Heroic Endeavour) - both won winners at
Montgomery in 2009, The National Specialty for the Welsh Terrier Club of America
!
Back to Haley ...
Haley's dam is my foundation bitch Honey (Am/Can Ch. Saredon Mistress Nora) - and her sire is a dog that Bruce Schwartz finished in the US from the bred-by exhibitor class - Slurpee (born on 7/11 day and month ...
Am Ch. Bruhil's Seven Come Eleven
) :-) A beautiful dog, with a pedigree that I liked very much ... his sire is the same sire as my imported bitch K-See's sire ... and his dam Carsey was a wonderful Welsh Terrier - one of those select few that you remember! Haley herself is very nice - very red furnishings and black as coal jacket, beautiful head and expression, square cobby body, tail right up 'on top' and always happy and 'up'!
But, she was just born at a time in my life that early on it wasn't conducive for me to show a young dog (I separated and divorced from my first husband shortly after she was born). In those early days, I focused on the mature dogs for the show ring. When Haley was older, I put in the effort, and the 10 to 12 weeks of preparation time, to put her into a show coat ... a few times! However, each time, something important in my life (or her life) happened ... a trip to St. Lucia once, getting married another time, and the last time I made a last minute decision to breed her to Spydy, which resulted in
Parker
being born!.
With a busy 2009 in the show ring (
Parker
, Joe, Paisa &
Athena
), after
Haley whelped puppies in Sep/09
, I decided that she would retire and not have to share attention anymore. So, at 5 years of age, and 2 American National Specialty Winners and American Champions as offspring (from 2 different litters), and a new healthy litter whelped and doing well (
sire, Merlin, is a Billy son from South America ... Paisa's sire
), she has gone to her new home, and has a life of 100% household attention for herself! While we miss her dearly (she was/is very special - she flew across the country one Christmas with Michael & I as we went for a 3 week vacation to spend time with family), we know that she is loved very much ... her new family are friends with the couple that have
Becky
and had been talking with me about getting a Welsh Terrier for over 2 years! They deserve her, and she deserves them.
Haley is definitely going to be one spoiled dog (as if she wasn't here!), and I am sure that I'll be getting more pictures and stories about her in the future - and will try to post some here so stay tuned ...
click here to see her in part II to her new life
! :-)