Mercedes & Bentley
Mercedes:
Am & Can Ch Darwyn Class at a Glance
Bentley:
Am & Can Ch Darwyn Pure Inspiration
Sire:
Am Ch Kirkwood Top Brass
Dam:
Am/Can Ch Saredon Mistress Nora
Click here for Mercedes Pedigree and Bentley's Pedigree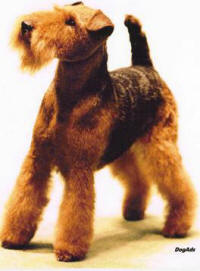 For my foundation bitch's second litter (Honey), I thought that I would try something a bit different ... perhaps import some frozen semen from the US. Sounds simple, doesn't it?
I had now been to the
Welsh Terrier Club of America
National Specialty, at
Montgomery County
in Pennsylvania, a few times by this time and had watched many of the dogs and puppies shown and talked with a number of people. For this second litter, I wanted to go to a quality, older, dog (conformation, health and temperament). I was torn between 2 of the top producers in the breed - Billy and Ben ... both seemed like quality choices. For this litter I chose to go to a dog named Ben, Ch. Kirkwood Top Brass. Ben was still alive, but older and on the East Coast of the US and his co-owner had frozen semen available from when he was younger. I discovered a reproduction vet in my general area that was highly recommended,
Dr. van der Ende
, and I worked with her to do the required testing that was needed to be done. Four healthy puppies were born!

Two of these puppies went on to finish both their American and Canadian Championships, be Group Winners and had the honor of winning at Welsh Terrier Specialties in the US! Mercedes was only specialed in Canada for one show weekend, and was awarded a few group placements, and Bentley finished his Canadian Championship with a Group 1 win (owner handled!). Not only were they well received in the show ring, but I was also happy about their wonderful temperaments - game and showy, but settled and really enjoyable to live with.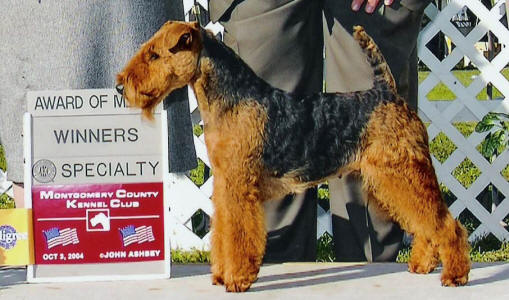 Mercedes - Am & Can Ch Darwyn Class at a Glance
(Winners Bitch at WTCA, Montgomery County Kennel Club, 2004)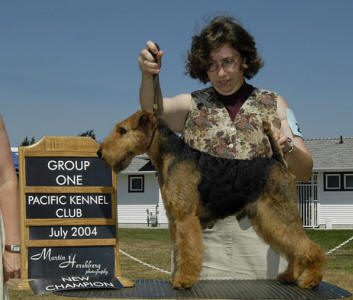 Bentley - Am & Can Ch Darwyn's Pure Inspiration
Group Winner (from the classes), 2004
While I did much of my own handling and show conditioning for most of the points for both of these Welsh Terriers, I do need to thank a few people for their support and assistance. I am very pleased that
Wood Wornall
of California was very positive about Mercedes and he and his team, Jenny Wornall and Andrew Peel, took her into their care for a few months, conditioned and presented her for the
Montgomery 2004 shows
. A bit closer to home, I also want to thank
David and Pat Gignac
for presenting Bentley at a few shows, both Canadian and American, including the 2005
Washington State Welsh Terrier Specialty
, where he went winners for the points available, while at that show I handled my specials bitch, K-See - Am/Can Ch. Saredon Chasing Secrets.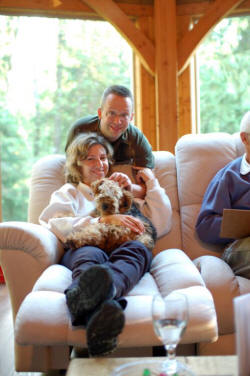 So - that was
my second litter AND my first attempt at using frozen semen, AND my first home-bred dual American and Canadian Champions!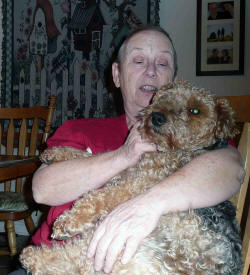 As with my first litter, I continued to learn that there was still much more to learn! And, years later, I am still learning and discovering new things! This litter also gave me a false level of confidence about how easy (
NOT!
) breeding using frozen semen is. Over the next few years I discovered the costly, and frustrating, truth that in fact it is very easy to
not
get any puppies at all, even after much testing and science applied! I also learned just how critical timing is and just as people say ... not every girl is the same!
Bentley retired at the end of 2005 to a terrific young and active couple.
Mercedes (now just Sadie) was going to stay with us, but after my new mother and father fell in love with her (and Haley specifically), we decided that she would retire at the end of 2008 after Joe was born. Sadie went to live on the other side of Canada, in Nova Scotia. She lives on lakefront acreage property, has 2 wonderful people doting on her ... and friends that are more than happy to take care of her when they go away. You really can't ask for a better life! She clearly is the centre of attention in their household. Every time we are on the phone with them, she is in one of their laps, and there are plenty of stories ... about walks, explorations and discoveries about new critters (squirrels, learning that porcupines have quills, and even that once in a while live lobsters are brought home for dinner!). My family have also discovered that while she enjoys running around and exploring, in the summertime she is very happy to take over the passenger seat in their property golf cart and guard it until the garden errands are done! But, her favorite place of all, just as it was at our home, is in a lap getting belly rubs! :-)
Click here to see Sadie in her retirement home!