What a small world - after years living far apart, reuniting with her offspring and making new friends!
Tessa - CH Darwyn's Dangerous Liaison
Mar 19, 2001 - Oct 25, 2016
I got many wonderful updates over the years, about Tessa going hiking or just being a wonderful dog loved by her owners. They made contact with those in Victoria that had Tessa "kids". At the end of October 2016, when Tessa was just over 15.5 years of age, I got the news that every breeder dreads. Tessa was clearly very much loved by her owners:

"She was a beautiful dog right to her last breath - no grey to speak of, very youthful looking and, with the exception of her recent decline and discomfort, a pretty happy dog. She quite enjoyed being an only dog and ruling the roost. We loved her to bits and are both feeling a lot of grief with her passing."


In 2001 my first litter was born, and Tessa went on (with her brother) to be my first home-bred champions (click here to read about that experience!). I was very happy, from many perspectives - my first litter, whelped naturally and successfully, my first home-bred champions, and some very nice dogs born.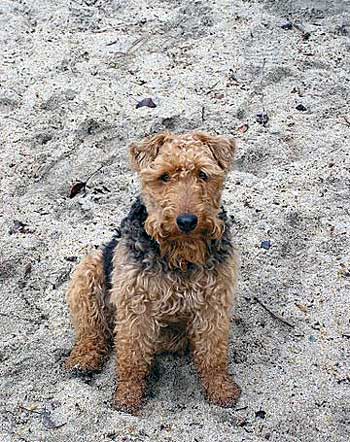 Tessa also become a good mom a couple of years later, and produced an American Champion (Sophie - Am Ch. Darwyn's Sparkle Plenty), and an Obedience and Agility Champion Dylan (click here to see more about Dylan!) In the litter that Sophie and Dylan were born was also a couple of other very special Welsh Terriers (they are all special, but 2 owners, and Dylans's owner, and I have stayed in very close contact over the years, since 2003). In addition to Dylan, there are 2 sisters that live in Victoria (and of course participate in that area's Welshie Walk group), and they have become such good friends that they have gone for a walks together most weeks for years now. The really neat thing about them is that they are both named Megan! I've got lots of great photos of those girls enjoying their time together so in time will be putting a page together about them, and of course my dear friends Jane,John with Lily - while Lily is not immediately related to The Megans, Jane & John got Lily from me about the same time - and all of these owners have become very close (it's so nice!). More about them later - back to the star of this page, Tessa! :-)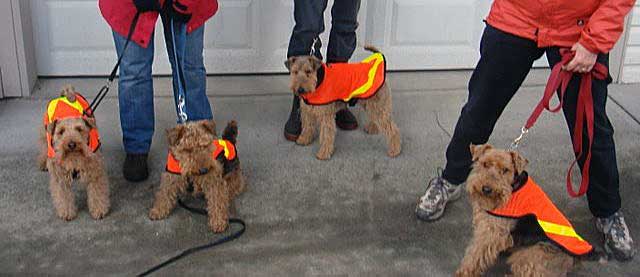 Tessa (above on the right) enjoying a walk with her 2 daughters, Megan and Megan (on the left), and close relative Lily (at the back). :-)
At the begining of 2005 when my life's path took a significant change, and I decided to 'go it alone'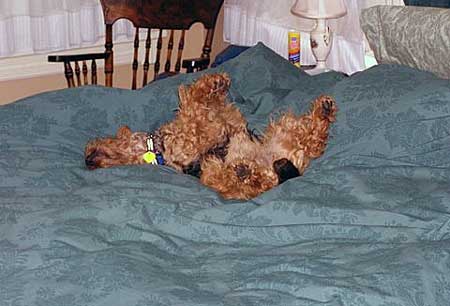 from my first marriage of 15 years, I also decided that I needed to see which of my dogs I should consider retiring. Tessa was just coming up to 4 years of age, and I decided that given that I had 2 other 1/2 sisters (same dam, one of my foundation bitches, Honey),
Mercedes
and
Haley
, that if the right home came along, that I would see if they would be interested. A family that I had met the previous summer were thrilled when I called with the news! It wasn't long after that call that they made the 10+ hour drive down to my home from an area of British Columbia that I absolutely love - Nelson! Being previously Airedale owners, they had some ideas as to what to expect, but I understand that they have come to love the 'smaller package' that Welsh Terriers are in. We have stayed in touch over the years and when I was informed that they were moving to Victoria, I immediately (well, after people agreed to share their information) informed the owners of Tessa's offspring, and as I suspected, they were thrilled with Tessa's upcoming move and welcomed them to Victoria! Since then, they all continue to get together every once in a while for a walk, and as a treat for me, even all come out to see Michael and I when I am showing my dogs in their area (and we all have a blast re-connecting!). I get the impression that Tessa is slowing down a bit now, and not going on quite as long hikes as she used to, but from all accounts, she sure is living a great life - and that makes me very happy.
Below is a short note that Tessa's owners wrote in December 2009 for me to include on her page:
Retirement isn't all bad :-)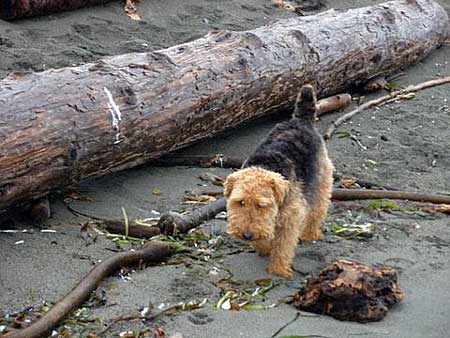 Tessa has been part of our lives for almost 5 years now, and it is hard to imagine life without her. She came to live with us when she was 4 years old and retired from her professional life. . Larisa has a gift for matching her dogs with just the right owners. It was her suggestion that Tessa would be right for us and vice versa, and she was spot on about that. Tessa settled in with us virtually overnight and has happily adjusted to her new life.
Her retirement days are filled with walks, playing with her collection of balls and stuffies, and lolling about on the furniture. Since our recent move she has added beachcombing and going for walks with her relatives to her list of favourite things.
She is a great joy to us and we are very grateful for Larisa's insight in matching us up.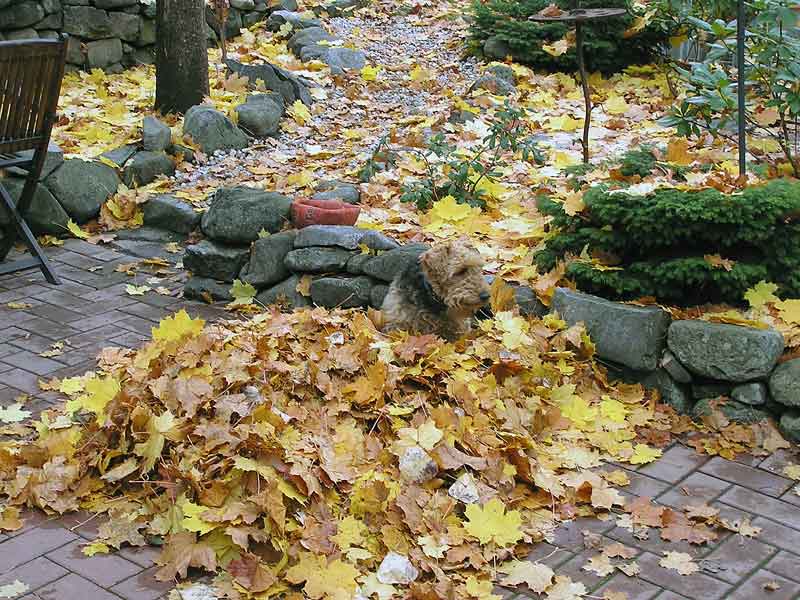 Thank you so much for giving Tessa, my first puppy ever born, a really terrific home! We love you and I thank you from the bottom of my heart!