Meet my first home-bred Welsh Terrier Champions!
Littermates - Rusty and Tessa ... born in 2001, both champions 17 months later, mostly owner handled!
Rusty:
Ch Darwyn Mister Debonaire
Tessa:
Ch Darwyn's Dangerous Liaison (Mar 19, 2001 -- Oct 25, 2016)
Sire:
Felstead Flash Indicator
Dam:
Am/Can Ch Saredon Mistress Nora
Click here to see Tessa in her new home years after she retired.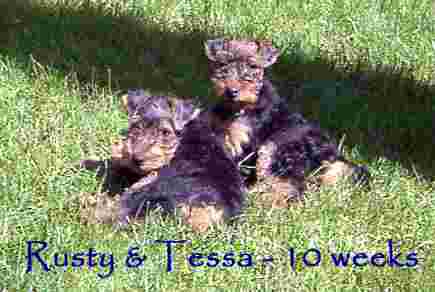 When my foundation bitch Honey (Am/Can Ch. Saredon Mistress Nora) was three years old, she whelped her first litter (and my first litter!) ... 5 healthy puppies were born.
I didn't realize it then, but 2 of those puppies would go on to be my first home bred champions!
I learned a lot from that litter. First of all that there was so much more to learn ... and I can say that years later I am still learning -- books, DVDs, other breeders, seminars that I attend and my
reproduction vet specialist - Dr. van der Ende
(B.Sc).
I was fortunate to have had the opportunity to have that litter evaluated by
Pat Hastings
and her late husband when the puppies were approximately 8 weeks old. Pat didn't comment on type, but focused on temperament and structure. The objective and consistent process was fascinating and I can safely say that the main comments made that day essentially describe the adult dogs that they grew into (at least for the puppies that I kept). I try to replicate that objective evaluation process each time that I have a litter, and try my best to objectively evaluate each puppies structure and temperament in a new environment, around new people. It's definitely not the only time that I evaluate puppies, that's done on a daily and on-going basis. But what I learned in that evaluation session has proven invaluable to me and I think that it was one of the reasons that, years later, I confidently kept another boy that I bred, Parker (Am Ch. Darwyn's Webslinger) who won Best of Breed at the Welsh Terrier Club of America National Specialty at Montgomery 2009.
So - that was my first litter ... and my first home-bred champions. The adults that those puppies turned into weren't group winning dogs, but they were of quality (conformation wise), great to live with, and provided me with a structured approach to what I wanted to do with my breeding program going forward. And, given that I primarily owner-handled them, they gave me more practice on my show trimming!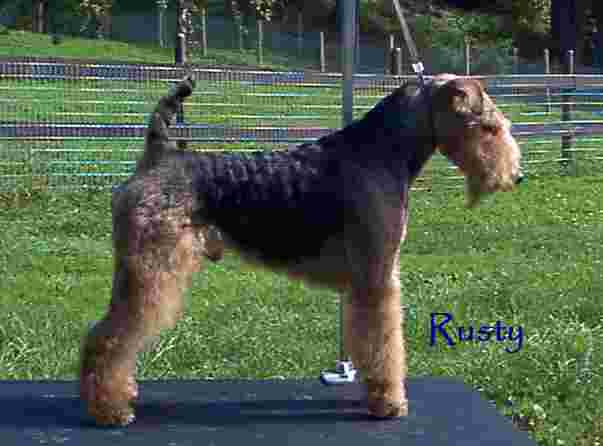 Rusty and Tessa both retired early in 2004 and went to live their new lives - Rusty in the US and Tessa in beautiful Nelson BC (eventually moving to beautiful Victoria, meeting up with 2 of Tessa's daughters, and becoming friends with their owners ... just like a nice extended family all around!)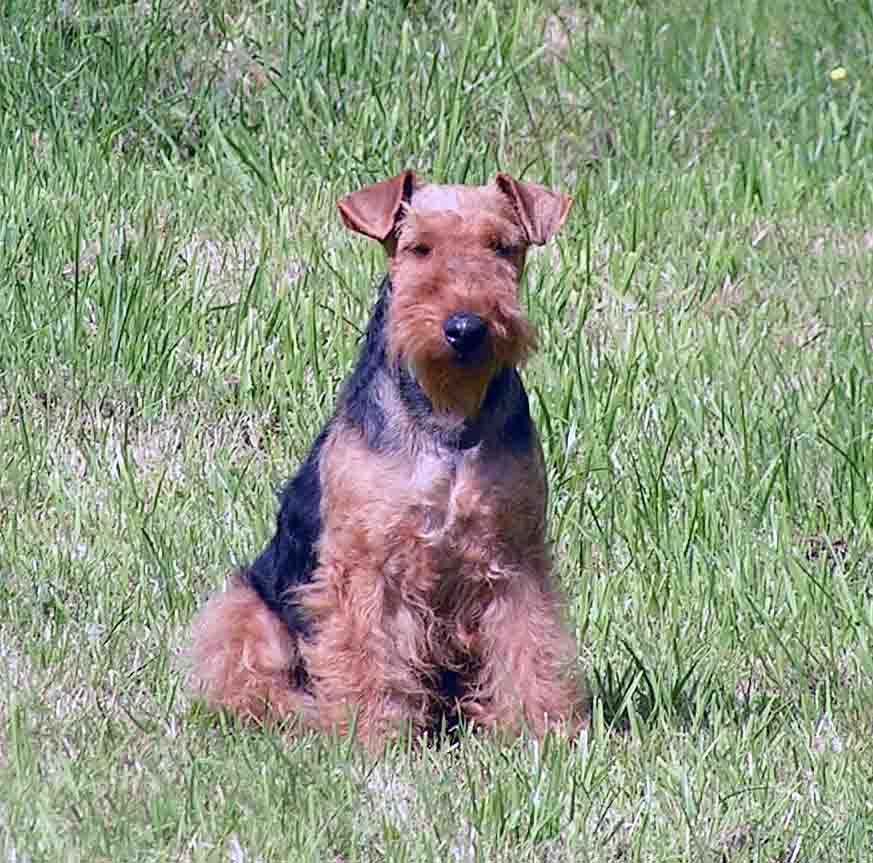 Click here to see Tessa in her new home years after she retired.