Noodles had 5 puppy girls!
December 28, 2013
Sire:
Java
(
BPIS Can GCh & Am Grand CH Darwyn's Special Blend
)
Dam:
Noodles
(
Can Ch & Hungary JCh Matranensis Nitro Noodle
)
Noodles was born in Hungary, bred by Peter Annus and arrived in Canada in late 2012. She finished her Canadian Championship during the summer of 2013 as well as got some points in the US towards her AKC championship. Noodles has proven to be an excellent and natural mother. She whelped her puppies naturally and easily. She keeps her puppies well fed, very clean and giving them appropriate guidelines that mothers need to give them as well as playing with them. A breeders delight! To read more about
Noodles, click here
.
We decided for Noodles first litter, to breed her to one of the "rising stars" at Darwyn. We are very excited about our boy Java (a Joe and Dora son), who has received plenty of awards and admiration from the fancy in his own right. We look forward to Java siring future litters. To read more about
Java, click here
.
5 healthy, happy and very energetic (so far .... 6 weeks old at the time of writing this) puppy girls were born. Given that we don't need 5 more girls here, we will be placing a number of these into great companion pet homes and by the looks of it, and knowing how wonderful both parents are with people, they will be making some people very happy.
PUPPY VIDEOS:
Below are a few fun videos of the puppies.
5 week old puppies (playing in dining room):
Part 1 - click here
(not available on mobile devices - since we used our own music)
Part 2 - click here
(if you want to see it on a mobile device, since this version has no music,
click here
)
6.5 week old puppies (exploring the outside world for the first time):
Version 1 - With Music
(not available on mobile devices, or in Germany, since we used our own music)
Version 2 - No Music
(available everywhere)
PUPPY PHOTOS:
10 days old...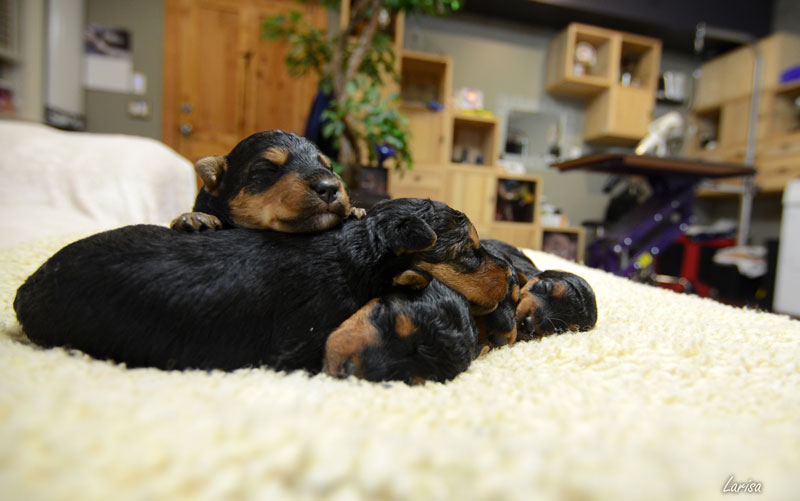 5 weeks old...