NOODLES:
Can CH & Hungary JCh Matranensis Nitro Noodle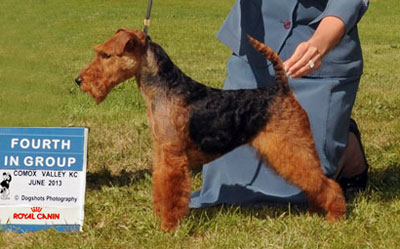 Noodles: June 2013
Group Judge: Mrs. Doreen Marsh
Presented by: Michelle Yeadon
Sire
: MBIS
International and Italy CH Greenfield Super Hero
(
Roger lives with Cunnings WT in Italy
)
Dam
: Hungary CH
Matranensis Eager Beaver
(
note: go to "our welshies", then E-litter, then more pictures
)
Click here for Noodles Pedigree
Click here for Noodles public OFFA DNA and Health Tests:
PLL DNA (clear/normal); DM DNA (clear/normal); Patella (Normal); Cardiac/Heart (Normal); Thyroid (Normal); HIPS (Good); Elbows (Normal); Full Dentition
Noodles made the long trip from Hungary to Canada to live with Michael and I (Larisa Hotchin), when she was just over 1 year old. I offered to her breeder,
Peter Annus
, to maintain him as a co-owner of Noodles while she is being shown in North America and has puppies. I thought it would be much more fun to enjoy Noodles show ring successes together, and it certainly has been! Eventually when one of Noodles puppies goes to live with Peter and his family in Hungary, Peter and I will both be listed as breeders on that puppy, and I will be able to share in that enjoyment from afar also. Noodles has been in North America at the time of this writing for just over a year and our partnership has worked out well. Life truly is much more enjoyable when you can share with like-minded friends. This partnership is a perfect example of that.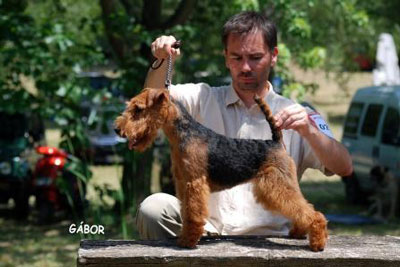 Noodles as a puppy with her breeder, Peter Annus, in Hungary
I showed an interest in Noodles for a few reasons.
First of all - she is a beautifully
square
girl, with
good angles
,
lovely welshie head
(yet definitely feminine), and a
coat and color "to die for"
.... in fact, if you didn't know it, you would think that it was artificially dyed! Her red is a very deep and rich red - almost mahogany in color, and the black is a deep and rich black with some lovely deep red mixed in a few hairs just a the base of the tail. Color and texture are only 2 aspects of the whole dog, but she is most definitely "welsh terrier" in looks and would never be mistaken for a Lakeland or a Wire Fox (2 close cousins of the welshie).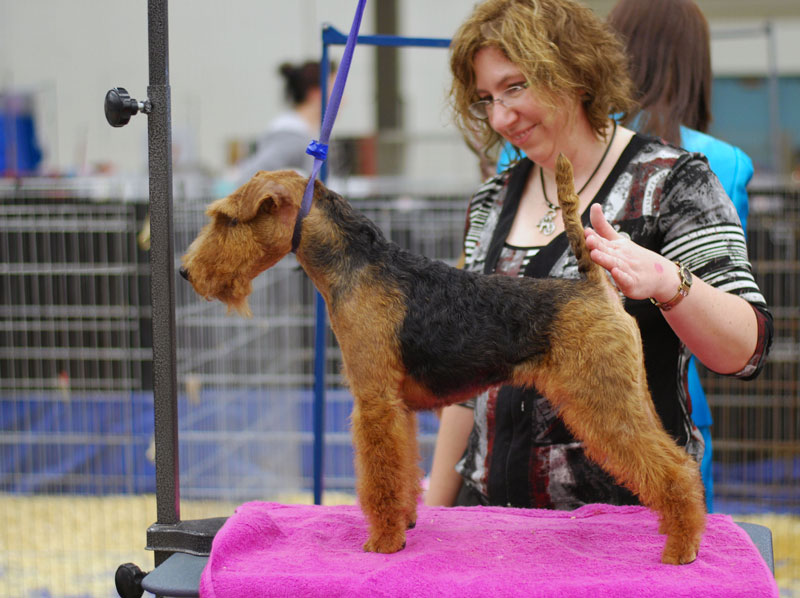 Noodles with Larisa a couple of months after arriving in Canada.
Photo taken in Jan 2013 where Noodles received her first US point!
The other thing is that she has some really lovely dogs in her pedigree, dogs that are not well accessible today.
Noodles dam is a lovely example of the breed herself, and has behind her 2 kennels that I have very high respect for: New Husken and High Flyer
(both are very successful kennels located in The Netherlands)
Noodles sire "
Roger
" lives in Italy with a very well-respected breeder (Cunnings)
and is a beautiful example of the breed (International, and Italian CH and Multi Best in Show Winner). Roger was bred by well-known and highly respected terrier man
Mr. Peter Green
.
Roger, in particular, interested me behind Noodles because
his sire, the famous dog CH Merthyr's Super Man, a dog born in the 1970's, was brought back into modern pedigrees by Mr. Peter Green, with the use of frozen semen -- a bit of technology and science and a little bit of luck!
Below are a couple of old photos of the famous Ch. Merthyr's Super Man (born 1977); Noodles Grandsire.


Many thanks to Maureen Gallucci for these photos, who proudly owns Noodles uncle Leo - Am CH Greenfield Super Treasure. Leo is the brother to Noodle's sire, Leo also was a top show winner - including an Award of Merit at Westminster!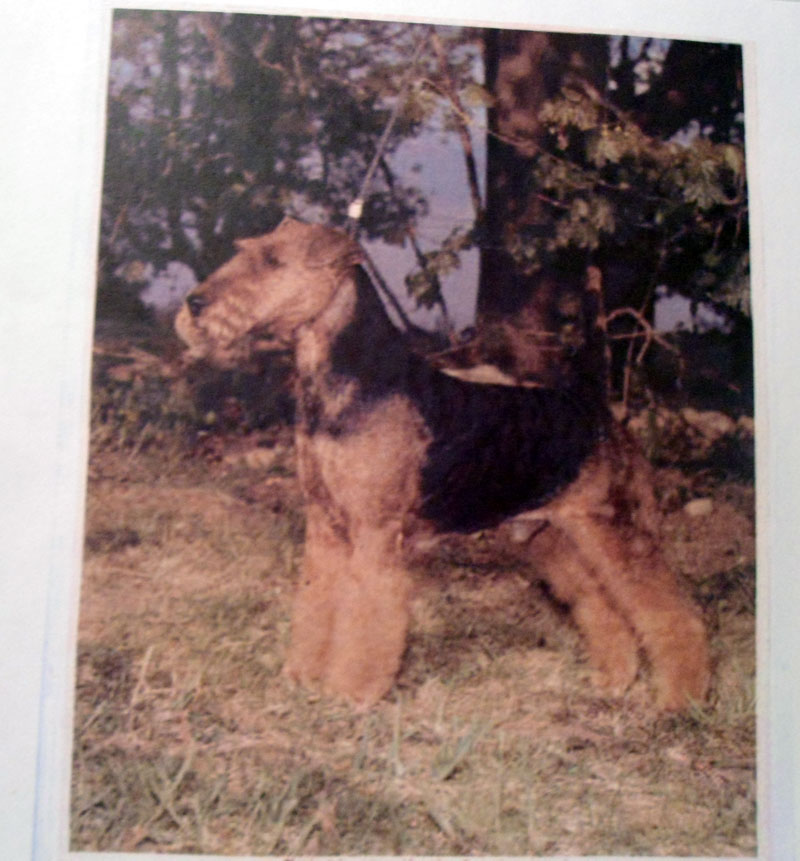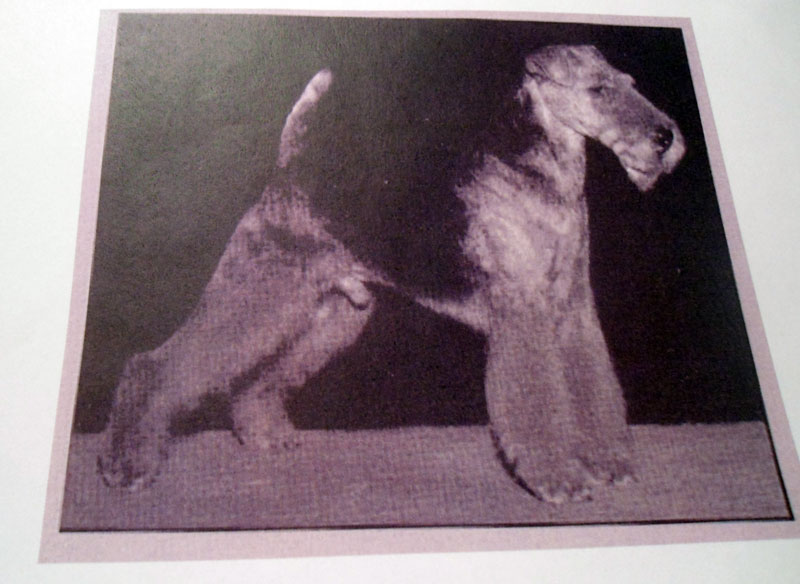 Breeding and exhibiting is not only about improving on what you have -- while trying to match the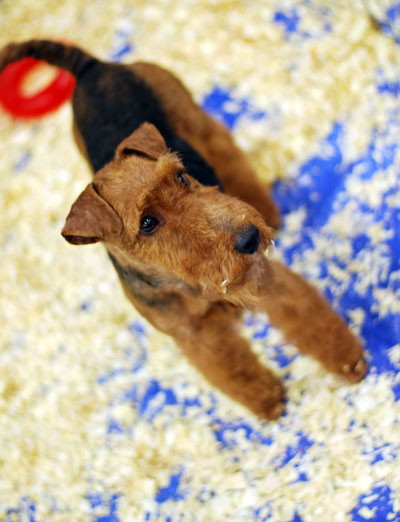 written breed standard as best as possible.
It is also extremely important to preserve the breed - looks and character. Older genes and dogs of the past are not always better, but really good, proven, older genes are. Modern pedigrees have a lot of value, but don't always hit the nail on the head in preserving the true essence of breed type. Mixing a bit of the old with a bit of the modern, is what I think bringing the older "Merthyr's Super Man" genes back to play to be very interesting! Noodles has some top quality and very "welshie" dogs behind her and we look forward to combining her pedigree with some of the bit more modern welsh that have made up "Darwyn" over the years.
Noodles might have a very old pedigree behind her, but she is very much a young girl at heart. See the pictures below for example!Show Ring:
Noodles finished her
Canadian Championship (click here)
over the summer of 2013. I groomed her and Michelle Yeadon presented her in the ring for me. At one show she received a
group placement from the classes
and she received her finishing points from a long-time terrier breeder US judge,
Mr. Jon Cole
.
The comments that we received along the way was that she was not of modern type, but was unmistakable as a quality Welsh Terrier - size, shape, coat, color (!!!), head. Noodles picked up a few points in the US the couple of times she went south of the border.
At home:
Noodles isn't one that we can have with other girl welshies, but she plays with our boys just fine.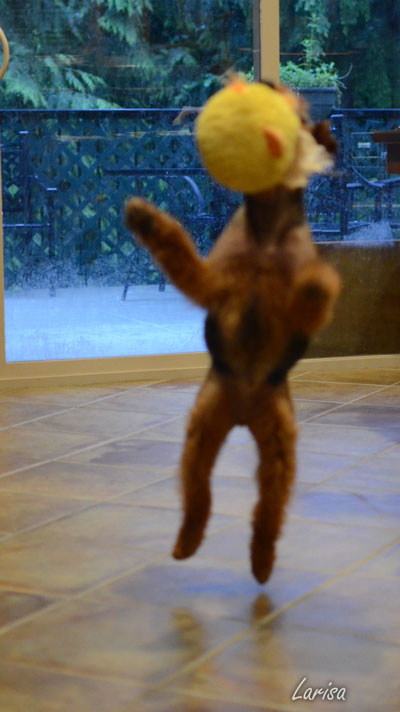 But, Noodles is happiest when she is alone with us.
Noodles favorite thing in this world are TOYS! Just a hint of picking up a toy for her and you can see her whole body light up in delight! She smiles, she wags her tail and she dances!
Which toy? Any toy! Any ball! Any squeaky! Any dead squeaky!
Noodles just loves to play with her toys. She'll fling her toys herself. But, she's thrilled if you will fling them with her.
When we take her to play ball - in our secret off-leash ball count, she gets super excited! She chases after the ball as if she can't wait to get it! She'll brings it back with a huge smile on her face. Michael and I let her run around, keeping the ball in her mouth for a bit, before we throw it again. Then the chase sequence happens all over again. We know just how much she enjoys having her prize in her mouth, so we don't take it away right away. When she is done, she goes to the nearest corner of the ball field, finds the pile of leaves and buries her toy in them and rolls around with her prize -- always with a huge smile - and a non-stop wagging tail. Some pictures are below, as well as the picture in the header of her page here.
Just a few photos capturing Noodles fun spirit playing with Michael and I and one of the boys here.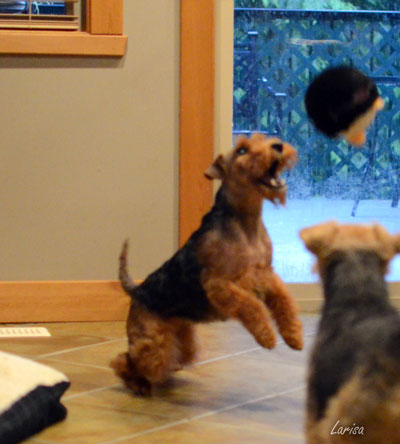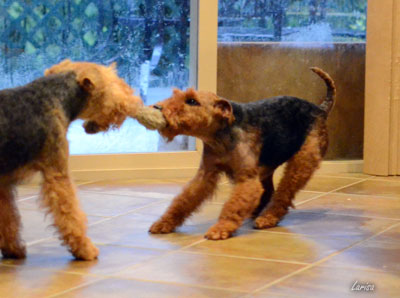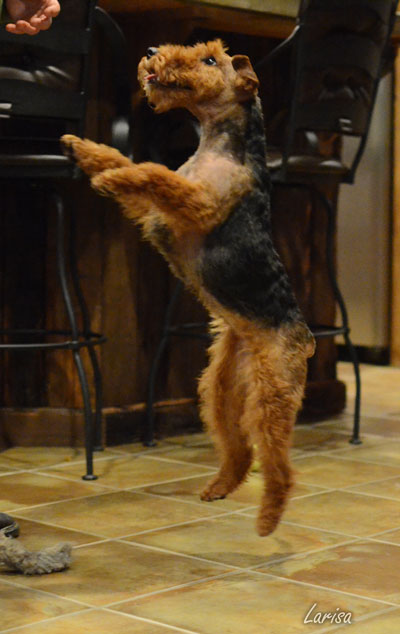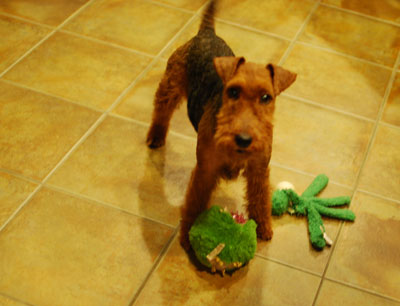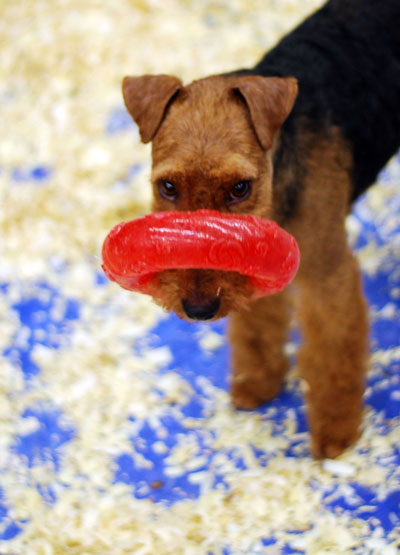 Noodles as a mom!
Noodles had her first litter born at the end of December 2013.
Java
was the sire of this healthy litter of 5 girls. I've posted a bunch of photos on Facebook and when I get a chance, I will update the puppy pages here on my website (below, I've included 3 of the photos of her puppies that I took). So far we have had a few visitors over and each time Noodles has proven to be wonderful around these new people here that were spending time with HER puppies. She was very good, including the family that visited with the 4 year old child. Michael and I were not exactly sure what to expect (you never know until they have puppies and visitors come), but we were very proud of how she was. Noodles was just being herself - in fact, it almost seemed like she was happy that there were more people around that could throw toys for her to fetch! Whaever was going through her mind, she certainly brought smiles to all of us in the room.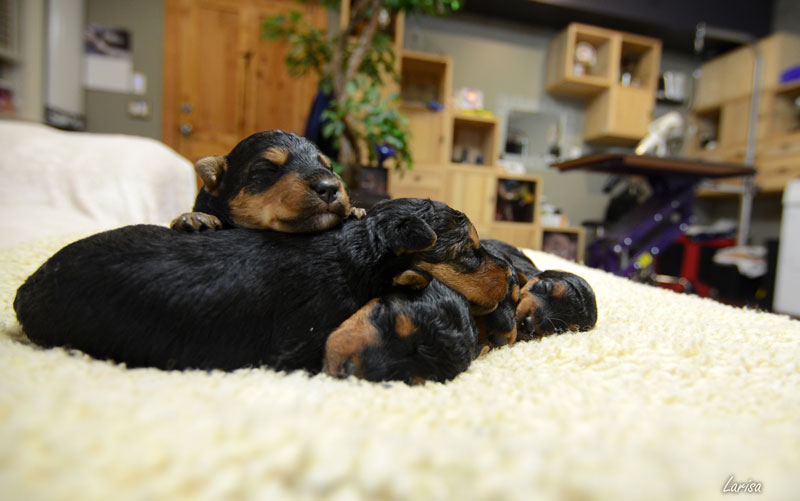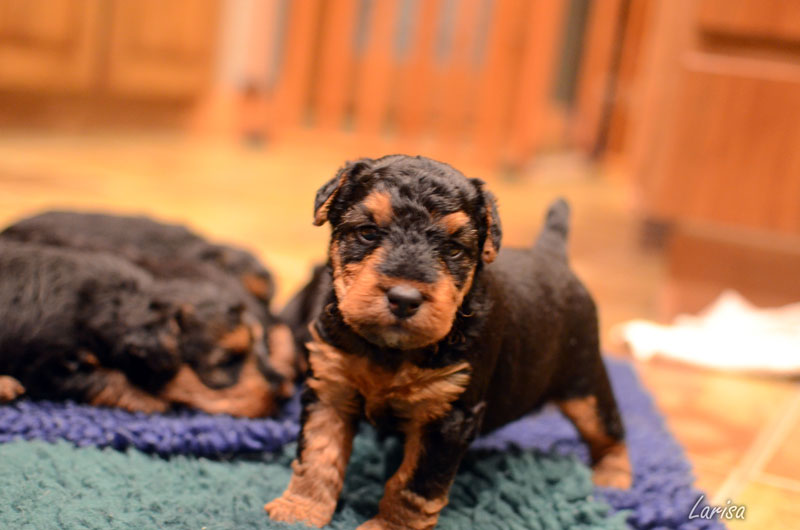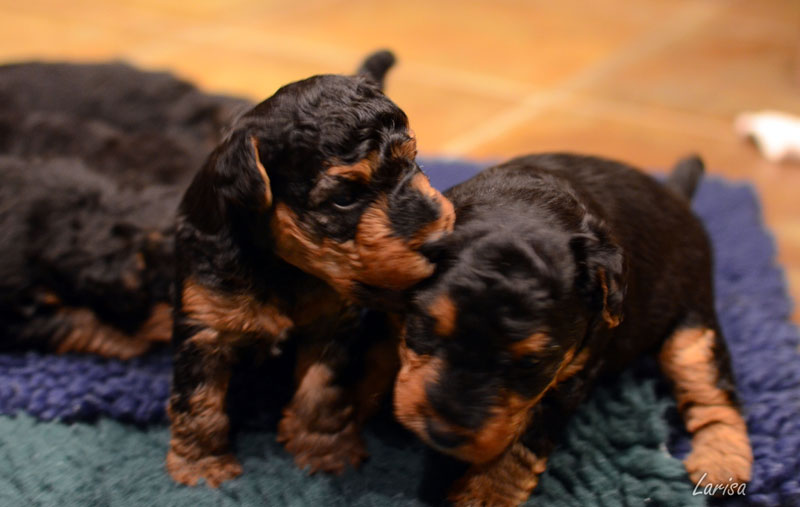 VIDEOS
: Below are a couple of videos that we took in our dining room of the puppies when they were 5 weeks old.
Part 1 - click here
(not avail on mobile devices since we used our own music)
Part 2 - click here
(or if you want to see it on a mobile device, since it has no music,
click here for that version
)
So .... that's our Noodles!
She'd be much better in the show ring if there just weren't other welshie girls around, and only you there with her, and a ball, or a toy, or treat .... At home, she is truly happiest when she has some type of toy -- and even happier if she has someone there to play with her.
She makes you smile by looking at her - her own smile is infectious.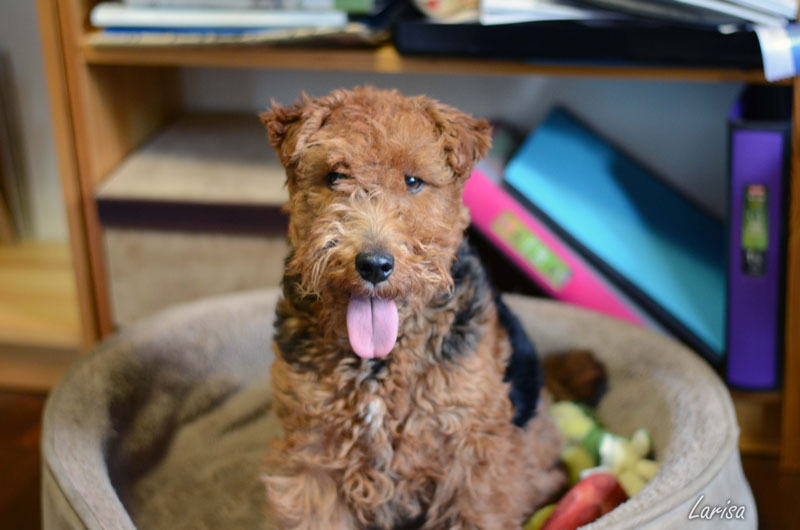 Noodles is also a
very true, instinctual and swift hunter
. Let's just say that I would not want to be a rat, or mouse, or fox, or badger anywhere that Noodles was off-leash. Her fun-loving personality, I know, would turn into prey-driven terrier, in a millisecond.
When the day eventually comes that Michael and I will look for a forever retirement home for Noodles, we won't have any concerns at all about there being children involved. She has proven that she is wonderful around kids. However, we will look for one where she would be either the only dog, or the other dog to not be a female.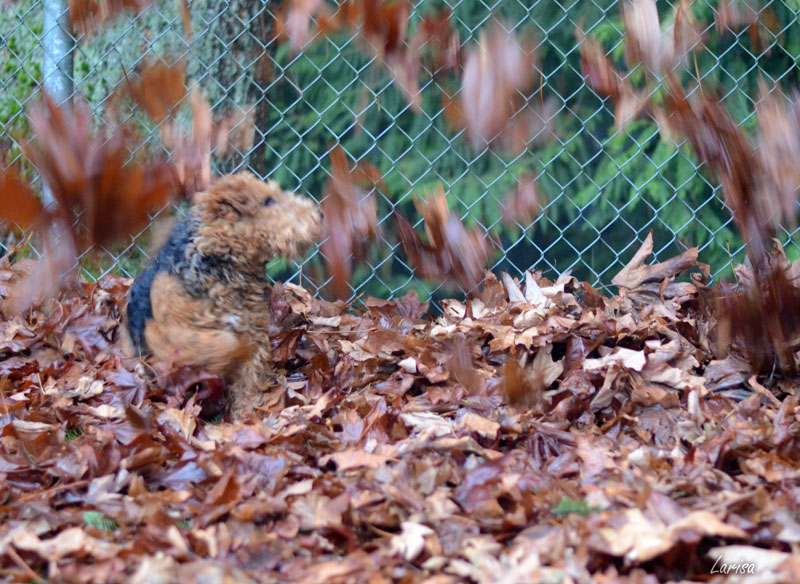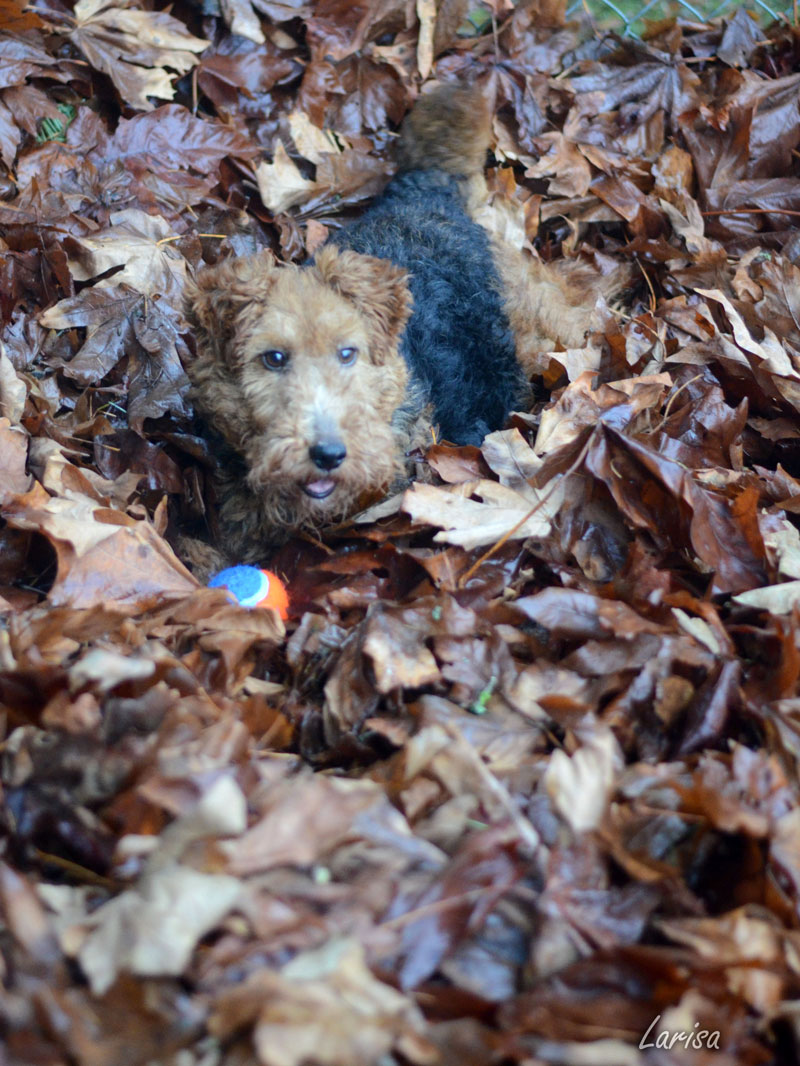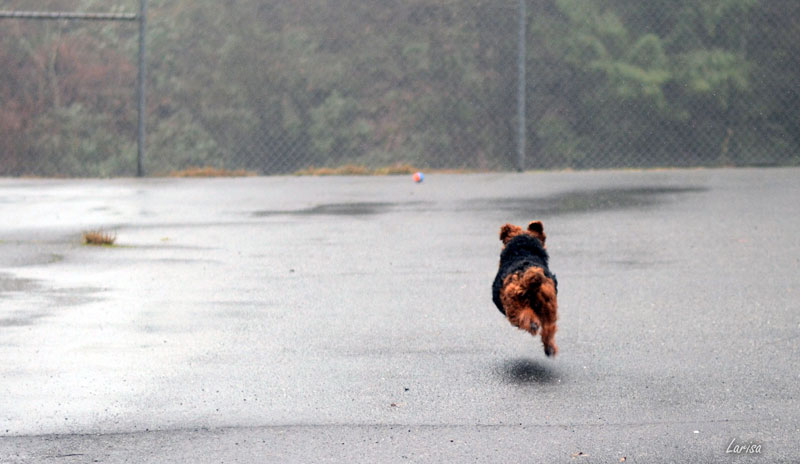 Noodles doing what she loves best - playing with a ball or a toy!