Haley had 3 boys!
September 26, 2009
Sire: Merlin (Co. Ve. Ec. Pe. INT LAT VAyC Champion Merlin Embrujo De Brujas)
Dam: Haley (Darwyn's Carpe Diem)
This was Haley's last litter and I decided to take the opportunity to breed her to a dog named Merlin. Merlin was born and raised in Columbia, South America. During 2009 he lived with my breeder-friends, Keith & Sharon of Bayleigh-Shaireab's Welsh Terriers, located in Tennessee and Atlanta Georgia. I had first seen Merlin at our breed club National Specialty at Montgomery County in 2002, really liked him and loved his pedigree. He also is the sire of my multi Best in Show girl that I co-own, Paisa. So while Merlin certainly couldn't be considered "local" to me, he really was just a direct flight away between Atlanta and Seattle - and Seattle is only a 3 hour drive away for me. So, I jumped on this opportunity and am very glad that I did!
Since Joe was my only male dog at home, and we had the time and space, it was agreed that Merlin would live with us for the month of August. While he was here, he sired 2 very nice litters - one with Haley and one with K-See. 9 year old Merlin was a great dog to live with - he loved his toys, but was not a 'toy defluffer' like K-See is! And, we found that he was terrific with people and children. He always looked so happy, smiled and had lots of energy to race around the yard! He also was not a digger :-) I knew that I made the right choice!
Haley gave birth to 3 healthy boys on September 26, 2009 - 1 day before her official due date. We were prepared, excited and ready! I'll be filling in the gaps of some pictures - but for now, I'll jump to their 8-week photos!
Pepper and Axel have new homes (and their own web pages :-)
Click on their names to see pictures of them and read about how they are doing - Pepper is a young jet setter and Axel (through clicker training and experienced trainers) is already doing well with his obedience training (watch out agility ring in a couple of years time)!
Name ideas anyone?
2 of the 3 boys (Pepper and Axel) have gone to their new homes, and both families are excited about them having their own page ... I've got lot's of pictures to put up here, and will try to do that in the next day or so. The "blue boy collar" is going to grow up here (at least for a few more months ... but likely more) ... and for some reason, I just haven't been thinking about names ... so that is something that we need to do (puppy-puppy) just won't cut it for much longer! Stay tuned, and if you have any ideas, please forward them to me! :-)
8 weeks! Vet check & 1st vaccines ... 3 great puppies!
Here are a few pictures from 8 weeks old: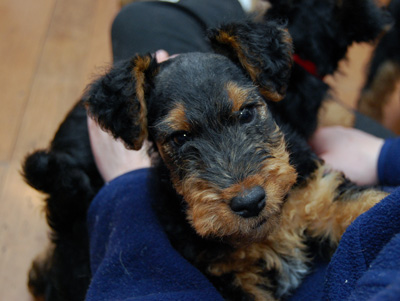 Haley's puppy boys at 8 weeks of age. Here's Frodo!


Darwyn's Ringbearer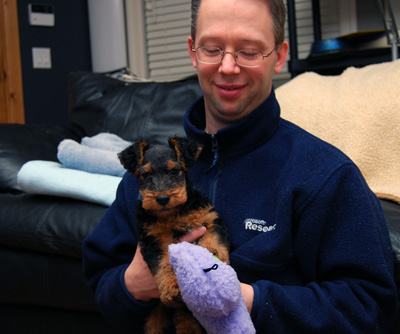 Frodo with Michael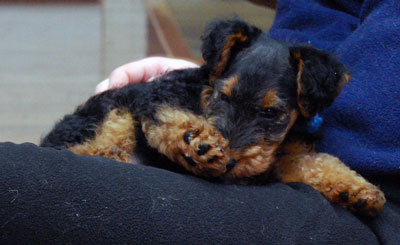 Frodo in one of his few quiet moments that evening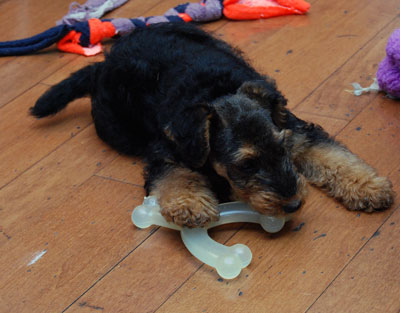 Pepper quietly chewing on his bone while the other two play!