Axel started his clicker training with his new family on day 2 ...
... HE LOVES it, and is SO smart!
Axel is in the performance section as this is what his family does, and does very well! In fact Suzanne teaches agility at a Vancouver based agility club, and she and David attend many events. I'll put a link to their dog club up when it is available. While it will be a few years until Axel is old enough to really "burn up" those agility and flyball rings, I know that he is already getting a flavor of what is to come. From the notes that I have seen, and watched him as a puppy, I know that he is going to be a really fun dog to both live, and work, with.
I am so proud already and I cannot wait to come out and watch in the future - I feel just like what a soccer mom must feel like! :-)
I'll start with a bit of information about his new family waiting patiently for a puppy from me - and then a bit about Axel. I am sure that there will be much added to this section over the years!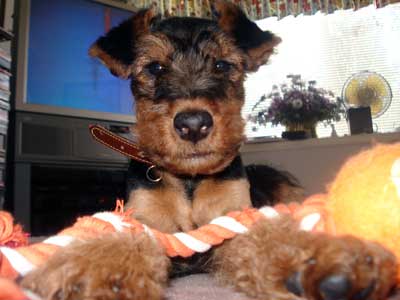 Here's Axel! At his new home enjoying his ball-rope toy!
In the middle of 2008, Suzanne, David and Bill contacted me about a potential puppy. After finding out that they really understand terrier training (teaches at a local Dog Agility Club -
click here to see some agility photos of their dog Genie!
) and have had multiple terriers in the past, we invited them out to our home to meet "the gang". Both
Haley
and
Mercedes
were expecting to have puppies in August, and I was very happy to expect to place a puppy with this family. I already had one family that I had made a commitment to, but typically with 2 litters one would expect more than 1 puppy available to place. Given that their terrier mix was a girl, we decided that a boy would be preferential ... so we were all hoping for a boy to be born! Suzanne and her family loved my welsh terriers, and said that they would have been very happy with a puppy from either of the two girls. When August came around - Haley had 2 boy puppies and Mercedes had 1 boy puppy. I had already committed one of the puppies and Suzanne and family came back (the hour+ drive each way) multiple times to see the puppies and us, only to find out that we ended up deciding to keep both of the boys (
Parker
and
Joe
- both who went on to be champions and Parker won Best of Breed at the Welsh Terrier Club of America National Specialty at Montgomery 2009). While I had not offered to part with her, Suzanne told me that while they were originally looking for a puppy, if I was interested in placing
Athena
, they would take her in a heartbeat! Unfortunately, I wasn't. So ... while they had started the discussion with me 4 - 5 months previously, I did not have a puppy, or dog, that I could place with them (even though I really wanted to!).
On to 2009.... we knew that we were going to breed a couple of litters in 2009, as it turned out (and the stars aligned as I like to say) we ended up having 3 litters born in the fall. I told Suzanne and David that after I make my picks of these litters, they could evaluate them all for temperament and structure and pick their puppy! (Note: this is not something that I normally do, however, I got to know Suzanne fairly well over the year and she and her family are definitely qualified to evaluate puppies and dogs temperament and structure for future agility event work). After a few visits, and a very thorough review of the puppies available, Axel (Darwyn's Burning Rubber), a
Haley puppy boy,
was chosen to start off his new life with them ... 17 months after they first contacted me! I have to say that it seemed like it was not an easy choice, as all of the puppies in these three litters had very good temperaments (confident, outgoing, not shy, not overly aggressive), all had good basic structure (no obvious issues that would impede performance event work in the future, and of course, all looked very typy (looked like welsh should look like :-)
I have a few pictures that I have posted here from his first week of being in his new home. I expect that many more will come over the years. And, I have a couple of short notes about Axel from his new family. From what I understand, Axel is being clicker trained at home, that he learned a good solid SIT on day TWO! After day 4 is starting to learn down. He plays fantastic with his buddy Genie at home, enjoys meeting other dogs and people and has enjoyed going to watch David play soccer! Given that I gave him a haircut before he left my home, and it is around the freezing mark where we (he) lives when he first left, he enjoyed wearing the little jacket that Suzanne, Bill and David outfitted him in! I don't yet have pictures of that, but I'm sure that I will!
Stay tuned to find out more about what Axel does in the future - and if you think that you might possibly be interested in agility or flyball in the future, I'll try to put up a few links here so that you can get some more information!
A couple of pictures of Axel when he first arrived in his new home!
Notes from Axels New Family!
FIRST NIGHT WAS A SUCCESS!
Thought I would let you know that Axel had a good night - slept from 11:00 to 6:00 am. He has been playing and is now snoozing on the fur blanket you gave him on top of his dog bed. He has been helping himself to all the toys in Genie's toy box and they have both been sharing the rabbit you sent along with him!
We are going to head to soccer in about an hour so as it is pouring rain, he will "borrow" one of Genie's raincoats and then we will head out to buy him his very own later today!

You and Michael have been great. Will send pics as soon as we get organized.

Training has started - and is going very well!
Axel has certainly been busy visiting David at work (at the Pet Store )so that everyone can ooh and ahh over him. He spent today at yet another soccer game and then went for a walk/run with Genie at the park. His favorite activity is leaf chasing.
David will start puppy classes with him in January but I think he will be ahead of his class as he learned sit on his first day and is now working on down (we are using clicker training methods). He has great recall which will come in very useful in when he first learns some agility work - probably not til the spring when he can start with the very basics. He definitely has the drive and shows great speed when racing around the back yard with his sister Genie.
Talk to you soon..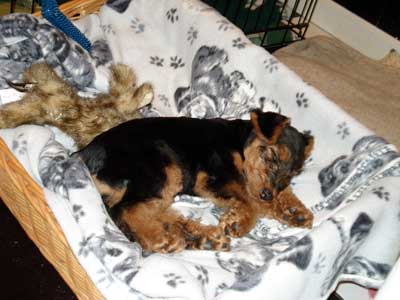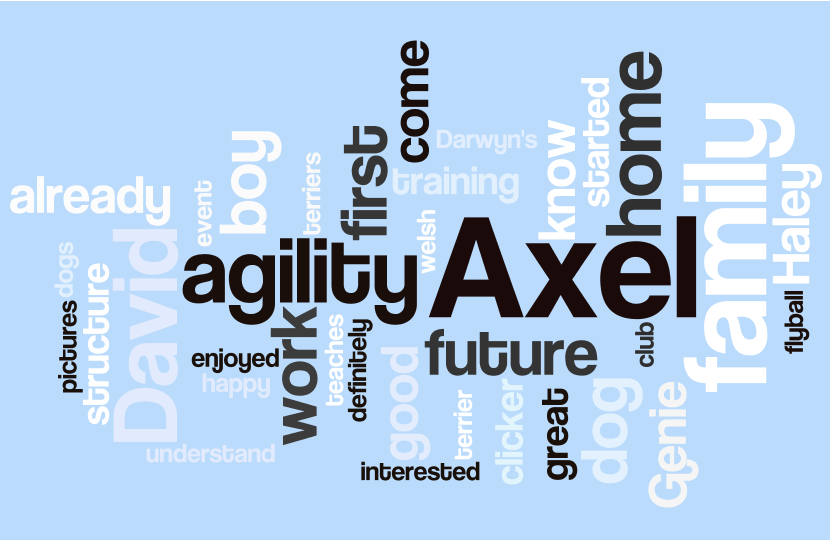 www.wordle.net
Click here to see Axel's brothers - Pepper and Frodo!