Meet Pepper!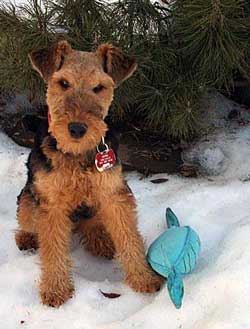 Pepper at 5 months of age
... life has a weird way of bringing people together multiple times, and when the time is right, you will know it!
Life is really interesting, especially when you consider how large the world is and how many people are in it! Sometimes you cross paths with the same people multiple times. For me this happened in 2009 when I got a call from the folks that eventually became Peppers new family. I can say that I am so glad that I did. I am pretty sure that I have gained not only a new and wonderful puppy owner, but a new set of friends as well - perhaps a few (her friend that has an Airedale Terrier is a pretty special person as well). I'm glad that I've had the opportunity to meet them!
Years ago, when I was still relatively new at showing and breeding Welsh Terriers, I travelled to the summer show in Calgary (Alberta Kennel Club show, one of the largest outdoor shows in Canada). I cannot remember who I was showing that year - but it was likely one of my two foundation bitches (Honey or K-See). Margaret and John came by my set-up and spent some time talking with me about the breed. I didn't have any puppies then, and didn't expect any in the near future (what else is new!), so I referred them to another breeder that was also passionate about her dogs. They adopted an older dog, Freddie, and were very happy for many years.
Unfortunately, as life does this, one year progresses to the next and since dogs don't live as long as we do, they eventually had to say goodbye to their dear friend. That breeder is no longer breeding, so through some searching, Margaret and John contacted me again to find out if I was still involved with the breed. When they found out that I was, they were practically on the next plane out here to meet Michael and I and to see our dogs (we didn't have any puppies at the time, and given that I don't like to disappoint, I could not commit to anything in the near future - again!)
After their wonderful previous experience of adopting an older dog, and after meeting our adult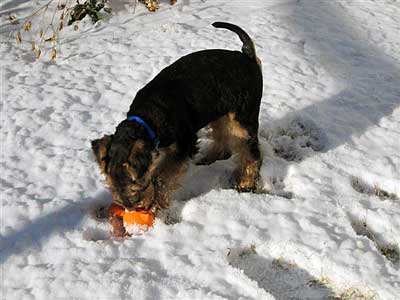 Pepper experiencing his first feel of snow
dogs (
Joe
, Paisa,
Haley
and
KSee
were at home at the time), they told us that no matter how long it took us to decide, or what that decision was, they were willing to wait to get of our dogs. From the pictures they provided about Freddie and discussion about his life with them, I knew that these were very special people, and that we would gladly place a dog with them. In the following months, we ended up having 3 litters (
Haley
,
Paisa
and
K-See
), and 13 puppies ... Margaret and John, at this time thinking that they would want an older dog flew back again to visit their friends, us, and take the opportunity to see the puppies. Well, I could tell that while they said that they would like an older dog that a puppy just might pique their interest :-) After about a month, and another visit to their friend (who by the way has one of the best mannered/trained Airedale Terriers that I have met in a long time) we chatted about a puppy - and Pepper, at 9 weeks of age, flew home to his new life with these wonderful people.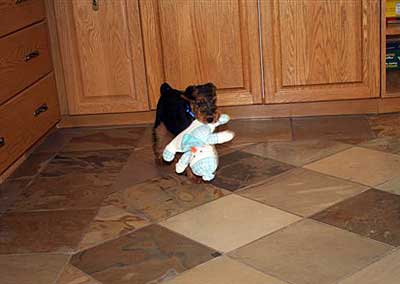 I KNOW that I will be getting updates in the future and lots more pictures to post. So, stay tuned and come back every once in a while for an update.
Marg provided me with a few notes after arriving home with Pepper - these are below.
Also, I don't have time now, but I have some great photos that I took at our home before he left, visiting with their friends Airedale ... first time he saw a dog of another breed and took it completely in stride (except, the very loud, and deep, woof, made him think twice at first for visiting - but after that, he was just fine) ... so those pictures will get posted sometime in the future - stay tuned!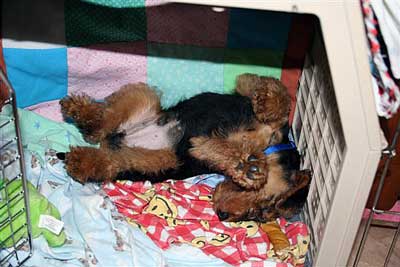 For Haley's litter pictures that Pepper came from, click here, or to see Peppers mom, Haley, click here.
We're home! What a great traveler!
"Just wanted to let you know that Pepper is a wonderful traveler! He slept like a baby on the plane. One lady said to me "He is so good - have you given him something to quiet him down?" I said "No - he's just a good puppy!".
He didn't have an accident in the travel /carry-on crate! The luggage was taking so long, and he was a bit restless so I took him out to a quiet boulevard (had a bit of fresh snow!!) and he pee'd about 20 sec after he got out of the crate. He's such a good boy!
He ate a good supper when we got him home and then he's pee'd and pooped after supper - all outside!! He is so good. He doesn't seem to mind the little bit of snow we have.
He's now having a sleep! Will keep you up to date and send photos!
Cheers, Marg and John"
What about this name?
"Darwyn's Debonair Capsicum.
We thought it was good - debonair meaning self-assured, having pleasant manners, sauve, cheerful ... He's still sleeping! You sure sent a wonderful puppy package with him! Thanks so much for everything! "
First night went very well!

"Our first night went very well. Pepper slept from 10PM -1:30 AM and then I heard him, so took him out for a pee. He had a little play but was settled again by 2 AM and slept until almost 6. For the first night in a different house, and without any brothers - I think that's wonderful!
He's had his breakfast, done his thing outside, we've played and now he's napping! He's too cute, and a very loving little guy. We love him. Thank you!"
Second & third nights, vet visit and JUST LIKE MOM and DAD!...
"
Pepper had a great night - sleeping from 10PM - 5 AM, straight through. He's a smart little puppy....

...The vet visit went well this morning. Dr. thought he was a lovely puppy.
He's doing so well with the house training. No accidents so far, but I watch him pretty closely and take him out when he gets a bit restless.
The little fenced area we've set up is great for him to play in when I can't watch him 100%. Other times we let him out to run in the kitchen area. I'm registering him in puppy socialization classes, and take him for the first time next Thursday. Should be fun, as it's for puppies only up to 20 weeks.
He really likes the stuffed pony you sent home with him - it's nearly as big as he is! He goes after the tail, so it might not be there long.
I remember the new owners of Haley saying that when she gets up, she stretches out - first one back leg, and then the other - just like in yoga. This morning I noticed Pepper doing the same thing. Guess he gets it from his mother! and he definitely lies sometimes with his back legs in the frog-like position - from his dad!! Genetics is amazing, eh! It's interesting.
Until next time . . . Marg."
Puppy Socialization Classes - woo hoo!
(Larisa: A very good thing for puppies to do - thank you Marg and John for doing this!)
"Last night we took Pepper to his first puppy socialization class. He did so well. There were about 25 puppies there – all under 20 weeks of age – of all shapes and sizes. He was cautious at first, but wasn't intimidated by the larger puppies. Sometimes he was more interested in the people than the puppies, but that's all good. He really played himself out because driving home he was sound asleep before we were 2 blocks down the road."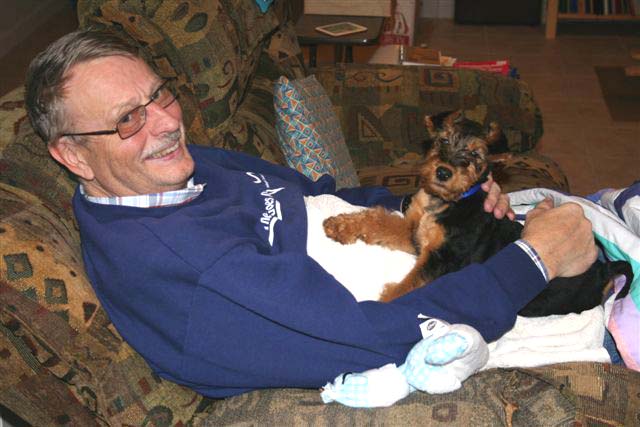 Pepper and John enjoying the evening
Just over 5 months old and the adult teeth came in recently ... lot's of chewing going on!
(Larisa: This latest message came when Pepper was just over 5 months old. While it would seem like the adult teeth are mostly in, the mouth is still growing and the signs of lots of chewing still suggests that it's still a bit uncomfortable. I always have lot's of toys around, and 'bully sticks' for the puppies to chew on - especially at this stage!)
"Hi. We're having spring-like weather here in Calgary, and we're all enjoying it. Pepper sure loves to play outside, but we don't leave him there unsupervised as he still chews/eats everything in sight! We did his first clippering a few days ago, and he was very good. He's growing into such a wonderful little dog. We have so much fun with him."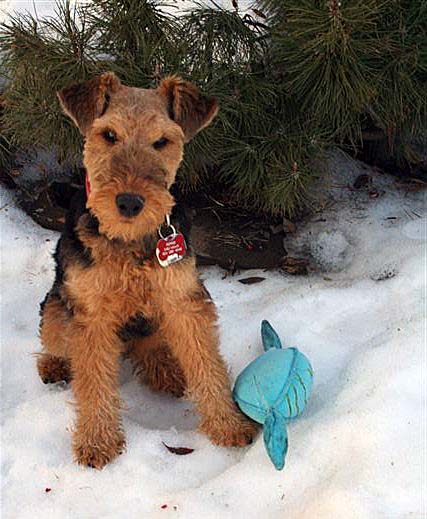 Pepper enjoying a sunny late winter day (5 mths old)
Until next time ... go and give your dogs a big hug! :-) Larisa.