Athena (Addie)
Am Ch Darwyn's Heroic Endeavour
Winners Bitch Montgomery; 2009 (5 point major!);
(Welsh Terrier Club of America National Specialty)
Reserve Winners Bitch - Hatboro; 2009
(WTCA designated specialty)
Multiple Group Placer; 2010
(#1 was her half-brother, Parker; #2 was another Darwyn Welsh Terrier, Monty!)

Sire:
Am & Can Ch Darwyn Secret Rendezvous
Dam:
Darwyn's Carpe Diem
Click here for Athena's Pedigree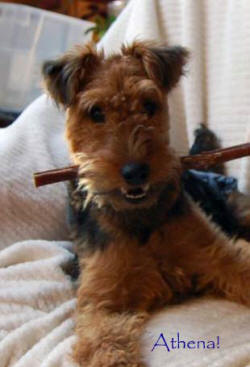 Tested OFA (OFA #1381029): Patella (normal); cardiac/heart (normal); Thyroid (normal)
Athena is one of those dogs that gets your attention - over and over again ... and if dogs smiled, one would say that she was always smiling and laughing! She just makes you feel good by looking at her.
When Athena was a couple of years old, she had a short, but very exciting (and successful), show career!
As a youngster, she seemed to have boundless energy. Michael and I used to joke that it seemed like she was always on a 'sugar high'! The weird thing is that when she was alone with us in one of our cozy rooms (great room to read or the media room to watch a movie for example), she settled right down and seemed perfectly happy to take her spot in one of our laps. However, when she was with the other dogs, she continually tried to get them to play with her - or play chasing them ... and when people first come over, you would really think that she had built in bouncing balls! It was at that point that I knew that when she would be retired (from the show ring and whelping box) that I would try to find her a home of her own.
Athena finished her American Championship in style (5 point major with Winners Bitch at the Welsh Terrier Club of America National Specialty, on Montgomery County Day in 2009). She then went on to be shown in Canada during 2010 with multiple group placements -- and ended up the year as the #3 Welsh Terrier in Canada! By the way, 2 other Darwyn Welsh Terriers were #1 and #2 that year (Parker and Monty!). :) After being retired from the show ring (I was showing a couple of other dogs, and only so many of my dogs can be specialed at any given time!), she had a wonderful litter of 6 beautiful puppies, of which 2 ended up in show homes (and one - Mr. O'Henry) ended up in a high end obedience home! Venus and Charles are going to take her wonderful spirit and good looks onto the next generation .... at that point, given that I had found an absolutely wonderful pet home for Athena to live in, I decided to retire her fully.
She did it all - and then some! She was a wonderful show dog, she represented Darwyn very well at my US club's National Specialty on Montgomery weekend, she got her Championship, she got group placements in Canada, she had a terrific litter producing beautiful, sound and healthy puppies and now she is making someone very special very happy (who in turn is making Athena - who is now known as Addie, very happy). My "up-up-up" girl is bringing many smles into peoples lives with her smiles!
Michael and I are very happy.
A short aside...
When Athena was 18 months old, she was "this close" to becoming an agility dog - and likely an agility dog excellent! A family that lives an hour away came over to talk about the breed and a future puppy. They are experienced terrier owners, as well as have taught Dog Agility for many years. I didn't have any puppies to place at the time - I only had
Parker
and
Joe
- and had decided to grow both of them up, to see how they would be as adults as they were both lovely puppy dogs. Well, this family was so taken with both
Parker
and Athena (and Athena's leaping abilities, eagerness and happy attitude specifically) that if I was willing to part with her (which would also mean that she would have to be spayed, and not shown in conformation) that they would have taken her in a heart-beat! I had to think about this very seriously. There was just something about Athena that I really loved. She has some awesome Welshie qualities ... beautiful head & expression (Welshie without being Doggie ... even though 'doggie' bitches do win in the show ring at times), blend of neck into great top-line, balanced, tail right up on top, amazing red and black coat color & texture, and a really happy and naturally outgoing attitude! She was also my only female that I had to carry on the line from her mom
Haley
, and the Grandma (my foundation)
Honey
, as well as a grand-daughter to my really special bitch
K-See
(another import from Saredon). But, it was also this last attribute (her non-stop attitude) that made me stop and wonder if I should place her in this wonderful agility home. Hmmmm......
But, her other Welshie qualities, and knowing that
K-See
was getting older (not sure if she would actually have puppies again),
Mercedes
(Joe's mom) recently was spayed and left to go live with Michael's Mom & Dad on the other side of the country, I wasn't yet a co-owner of
Paisa
(that happened the following month) ... and I really wasn't sure how I was going to breed
Haley
next ... these factors made me stop and think. And, if I decided to place
Parker
(he was still a puppy) and keep Athena, they would have taken him in a heartbeat! I had to take time to think about all of this. I ended up deciding to keep both, and this family decided that no matter when I had puppies, now that they met us and our dogs, seen how they are raised, that they would wait for one from me. And, I am so happy that they will soon (Dec/09)be getting a half-brother to Parker and Athena (a Haley son) - who sire is Paisa's sire! Knowing the pedigrees behind all of these dogs, and seeing just how much energy and happy outgoing attitude Merlin (sire of Haley's puppies) had at 9 years of age when he was here, I am confident that they will have an agility extraordinaire on their hands - especially since they know how to train a terrier! :-)
Before Athena started her show career in late 2009, she was a 'rough and tumble' gal at home, bouncing in and out of laps, playing with puppies, racing around the yard, playing tug-of-war with any dog that was around ... and pestering her mom
Haley
(sometimes you'd see the look on Haley's face and knew that she was simply being a good mom and putting up with her daughters antics!).
Athena as a youngster playing with her 1/2 brothers when they were young puppies!
Athena starts her show career!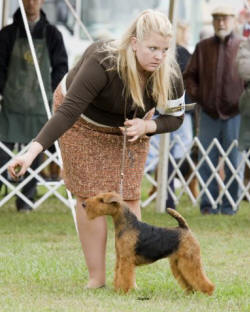 When Michael and I drove our RV down to the Northern California Terrier Association shows in April 2009, with the expectation of showing our puppy dog boys (
Parker
and
Joe
) to our US Handler team (Wood & Jenny Wornall), we brought Athena and her mom Haley along for the ride. Woody was very positive about all of the dogs and we decided to leave Athena with him.
Athena travelled from California with our Handler, Jenny Wornall and Andrew Peel (unfortunately for the first time in 35+ years, Woody had to sit this show out due to recent surgery) to attend the Welsh Terrier Club of America National Specialty at Montgomery County and associated shows of Hatboro and Devon. This set of shows, at the time (2009) was still the largest gathering of Welsh Terriers anywhere in the world.
Athena was awarded
Reserve Winners Bitch
at the Hatboro Dog Show, and then WINNERS BITCH for a 5 POINT MAJOR at the Welsh Terrier Club of America National Specialty on Montgomery County day (2009)!
On Montgomery Day - given my focus on what happened with
Parker
, I initially missed understanding that Athena also was awarded Winners at our specialty! To say that Michael and I were thrilled is a huge understatement! She ended up finishing her American Championship with 2 more majors in Arizona.
She's a beautiful girl, and very 'welshie', but more than this, I am very thankful to Woody and his team for doing such a marvelous job ... for encouraging me to leave her with them, conditioning her beautifully, and presenting her as well as they always do.
She arrived back in Canada in 2010 and attended a few shows in Central/Eastern Canada with handler Doug Belter. After 3 weekends of being shown, picking up many group placements, she came home, retired from the show ring and as at the date of writing this, she was the #3 Welsh Terrier in Canada for 2010! 2 other Darwyn Welsh Terriers were #1 and #2 in the breed rankings, one being her half-brother,
Parker
!
When Athena came home, she was definetely a bit more mature, both in body and mind. She was still the very happy girl that she was when she left - she just wasn't quite "as much" in her demanding energy level. In fact, while she ran around playing in the front yard with Donny (an 8 month old puppy dog), she did just as much laying in the sun relaxing with him also. So ... if Athena can grow up and settle down with other dogs, well, any welsh can!
And, again, she now lives a most wondeful pet life and is now known as ADDIE. We are all happy.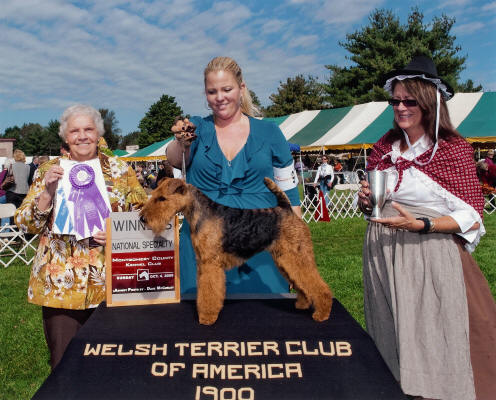 Am Ch Darwyn's Heroic Endeavour (Athena) with handler Jenny Wornall and Welsh Terrier Breeder Judge, Ruth Prehn, Ledgerock Welsh Terriers
(Winners Bitch at Montgomery 2009)

In the Welsh Terrier Club of America Nov/09 newsletter (The Welsh Wag), Ruth Prehn, our breed judge, wrote the following about Athena in her judges critique:
" Winners Bitch: This lovely Welsh showed herself as if she owned the ring! She has a clean strong head without being doggie. Plenty of fill and a flat clean skull. She moved out well with plenty of confidence. This win came from a very strong bitch group."
I always knew that there were things that I liked about this young welsh (if I could just harness her energy and enthusiasm!) ... it brought tears to my eyes to read such a nice write-up about her from one of our few breeder-judges. Thank you Ruth for these wonderful awards!
Click here to go to the Welsh Terrier Club of America Specialty Results for Athena!