Cyril goes from finishing his Championship Titles at US specialties, and #2 Welsh Terrier in Canada, to be 'King of the Lap' and 'Educator of Fetching' at the local dog park!

If you want to see Cyril's background, than please click here. Cyril's life Part I & II!
Scroll down (or click here) to see what Paul & Heidi have to say!
From Cyril's other
page
, you will know that he was our primary house dog for a number of years, started and finished his show career during 2008, and he...
- finished both his American (AKC) & Canadian (CKC) championship titles,
- #2 Welsh Terrier in Canada,
- awarded Group 4, Bred by Exhibitor Group, at
Great Western Terrier Association
in S. California,
- awarded Winners Dog (and Best of Winners) multiple times over Montgomery weekend (Hatboro & Devon) - the Welsh Terrier Club of America National Specialty weekend!
- awarded "best of" Winners Dog, from the
Welsh Terrier Club of America
annual awards
And, of course a few show pictures and pictures of him hanging out with us at home. :-)
This page is dedicated to Cyril in his retirement home! And, I am certain that you will agree that retirement for him is pretty darn good! :-)
Phase III of Cyril's life began at the end of 2008!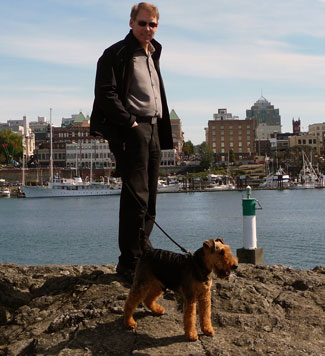 Cyril and Paul enjoying a sunny day.
When we first met Paul, Heidi and their son Brandon in early 2008, we knew right away that they would be great owners. They were researching the breed, after sharing their home with a couple of terrific Miniature Schnauzers. Unfortunately we did not have any puppies to place. We instantly felt a connection with them - wonderful people, solid values, educated and well researched, very considerate, appreciative and very grounded. They also seemed to truly enjoy the dogs - whether it was Mercedes cuddling with Brandon ... or
Athena
,
Parker
and
Joe
tearing around with 'energy to spare'!
Mercedes
clearly made a true connection with Brandon - however, she was already promised to go and retire to live with Michael's parents. For some reason, Cyril just crawled into Pauls lap, and into their hearts on that first visit (similar to what happened with
Becky and Kate
)! We weren't yet at a point where we wanted to find Cyril a new home - but when that time came, Paul & Heidi were the first that we asked. So, at the end of 2008 we said our 'good-byes' and opened our hearts to welcome a new family into our lives.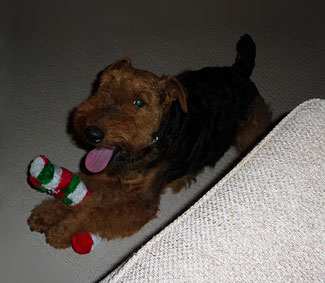 It didn't take long for Cyril to become part of his new family - he initially went on a trial basis, but I believe that they decided on day 1 that he was staying! He is now the centre of their attention, has a great extended family of his own (from children to grandparents taking care of him), and lot's of walk and lap time! I have also learned that they have been enjoying going to a local dog park, and that Cyril is even trying to teach other dogs how to fetch balls!
We will always love this big happy guy and are so happy that Heidi and Paul have come into our lives - and Cyril's life specifically.
Below are a few of the terrific pictures of him clearly enjoying his new life, and a short note from Paull & Heidi.
How an older Welsh Terrier fills the perfect spot in a new empty nest!
Written by Paul & Heidi, November 2009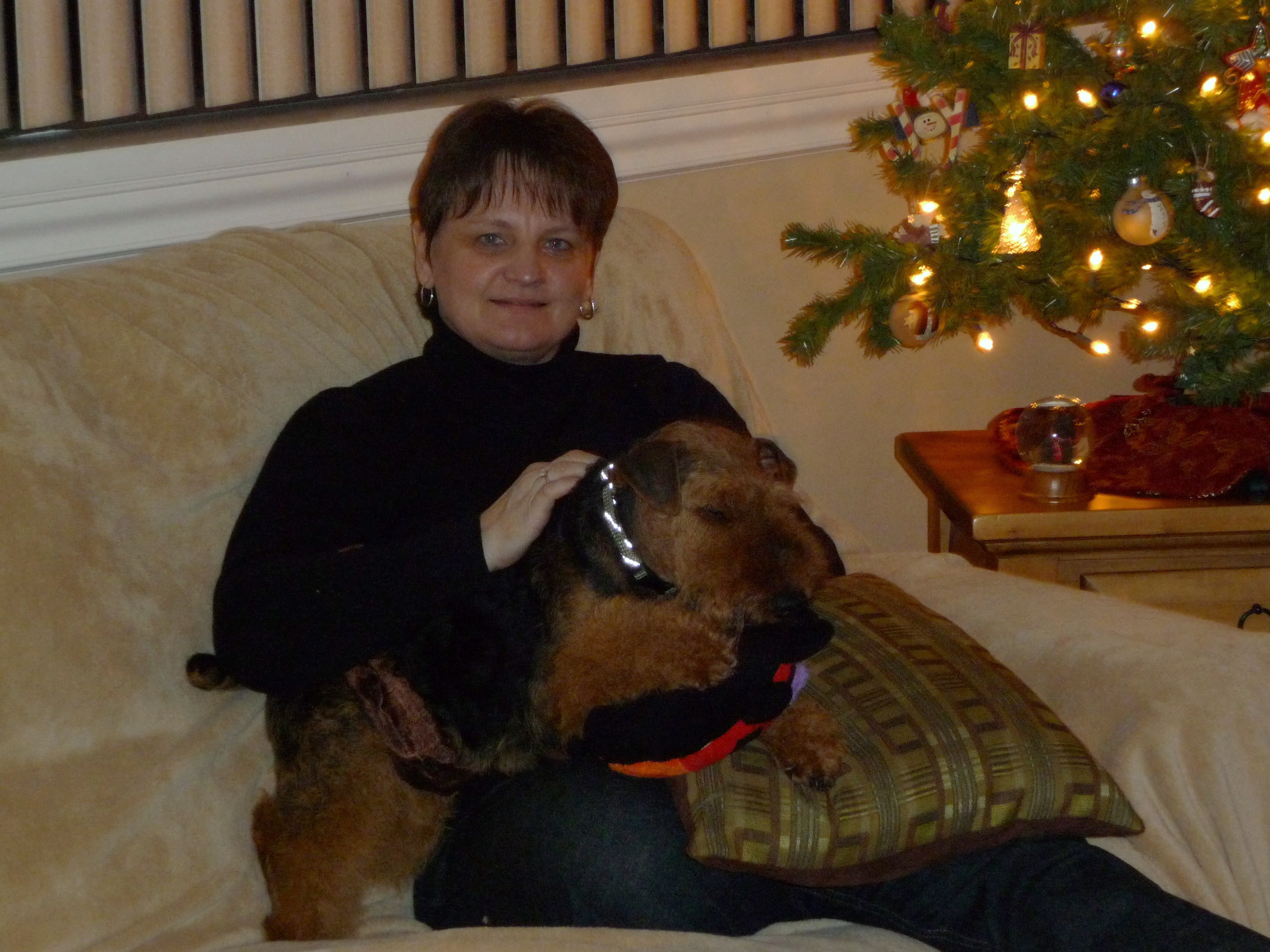 Cyril and Heidi enjoying Christmas season.
From the moment we met Cyril, Paul and I knew he was a treasure. Although we met at Larisa and Michael's home to discuss the future adoption of a puppy, Cyril and Paul bonded instantly. I remember when I asked what Larisa's plans were for Cyril in the future she said that at some point she might consider placing him with the right family. Well that was it, Paul raised his hand and said "I'm in". I remember Larisa being a little surprised because after all we were there to discuss puppies. At that moment I knew we had made the right choice. We waited patiently (sometimes not so patiently) for Larisa to make her decision and have been thankful to her ever since.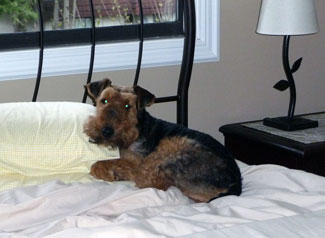 Paul and I are empty nesters and Cyril has filled that emptiness "big time". He truly is a big happy guy who enjoys his three walks a day around the trails in our neighborhood, the dog park playing with the other dogs and he loves his naps, especially on someones lap!
He doesn't bark much and on our walks people are amazed at how while we are chatting he just stands there patiently waiting to continue our walk. He really is a little gentleman. Paul is truly his favorite person on earth and when 6:00 p.m. rolls around he waits with great anticipation for Paul's return from work. I do have to say though that Cyril and I also have our special time in the morning when after breakfast he jumps on the bed and snuggles with me for awhile.
We look forward to many happy adventures with Cyril. Perhaps we will join in on the
Welshie Walks
- we love Victoria!
Paul and Heidi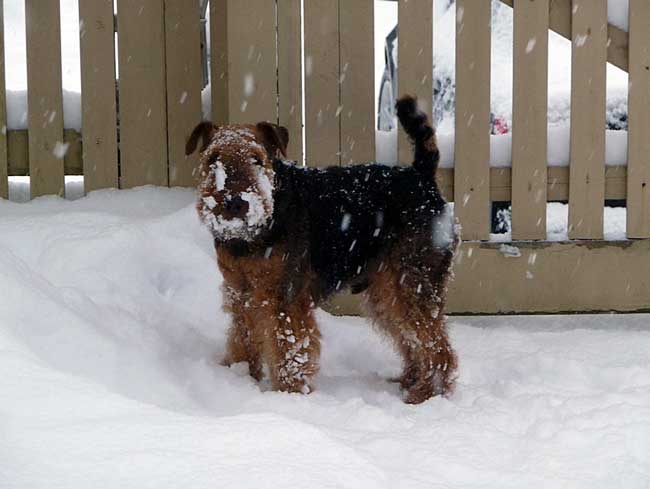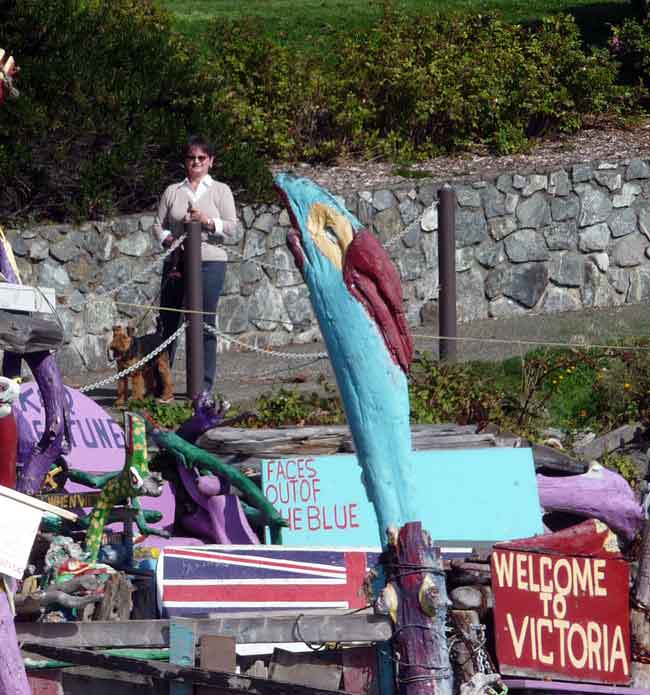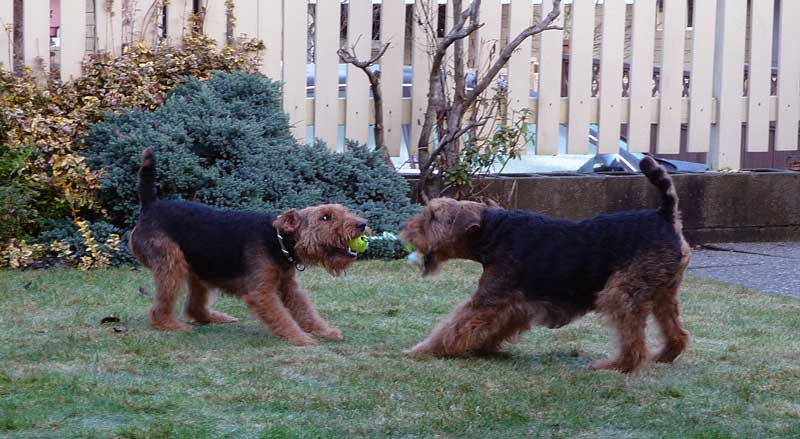 The above is a time period when Paul & Heidi took care of
Haley
for a while when we went away on a trip ... clearly Cyril enjoyed the visit!
I'm sure that more pictures will come over the years, and I'll do my best to get some posted here on his page. Stay tuned!
I also wanted to mention that Heidi & Paul really wanted to keep Cyril looking like a proper Welsh Terrier, so decided to take him to a terrier friend that lives closer than I do, and she does a terrific job (as you can see in the photos). If you have a hard coated terrier, live in the Surrey, BC area and would like to connect with a groomer that tries hard to keep breeds looking like they are supposed to, than please connect with
Cyndy. Click here to go to her website.