DORA:
BISS Am.Can. CH Darwyn's Dora the Explorer
Dora is the dam of: Java, Zorro, Ella, MJ, Jessie
Dora's Sire:
Foreign (multiple country) Ch. Merlin Embrujo De Brujas (Merlin)
Dora's Dam:
Am & Can Ch Saredon Chasing Secrets (K-See)
Tested OFA ( OFA #WT-84F25F-VPI) : Patella (normal); cardiac/heart (normal); PLL DNA - normal / clear
Click here for Dora's Pedigree
Click here for a short video of Dora playing in the front yard with her 8 month old daughter)
Click here for Dora's "Joe" Puppies born in 2012
A bit about Dora .... Dora's first real set of dog shows was when she was 2 years old, in Pennsylvania, at the Welsh Terrier Club of America National Specialty weekend in October 2011 ....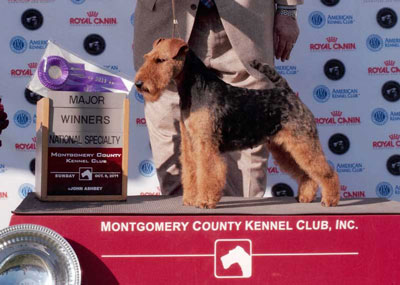 Awarded Winners Bitch twice on that weekend including the National Specialty day for two 5-point majors!!
She had been "in the ring", I think, twice before - but there was no competition and it was only for warm up for the Montgomery weekend when there were over 60 Welsh Terriers entered.


WOW!

Wood & Jenny Wornall (now known as Jenny Rangel) conditioned and handled Dora. After getting 10 points on Montgomery weekend, she finished her US championship a few weeks later.
We brought Dora home at that point since we had a "special" in the rings in both the US and Canada being shown and doing very well (Monty in the US and Joe in Canada), Dora came home. Being away at the handler in California for 6 months didn't phase her one bit - she obviously did well there, but she also loves to be back home! She - like her brother Donny (Am Ch Darwyn's Mad Men) is a very easy going dog around the house - game and fun, but so easy to hang out and relax.
Back to the Montgomery show where Dora won....
On Montgomery day there were 26 class bitches (non-champion girls) entered with only 2 being absent on the day.
The first class of girls in was the 6 to 9 month old puppies and Dora's daughter (Jessie - Darwyn Jesterr's Holding Court) was also entered and out of the 5 puppy girls - the judge pointed to Jessie!!! I was THRILLED! Jessie is co-owned by Jane Erdman, and myself (Larisa Hotchin),and Jane conditioned and handled Jessie herself. They looked amazing together! I was so proud.
When Dora's class came in she truly looked awesome! and very competitive, I was so proud just to watch her. It was a very tough class. Monty's sister that I bred (Am Ch Darwyn Esmeralda in Sanherpinc) was also in this class (she had won one of the 4 days already), was handled by RC and also looked stunning. But today's judge, the 2nd of the weekend to do this, pointed to Dora for 1st! It was my dream come true to watch both Dora and her daughter Jessie compete "head-to-head" at our National Specialty in the Winners Bitch line-up. I was very caught up in watching the two together - Dora heading up the line for the Open Bitch class and Jessie bringing up the tail-gate for the puppy bitch class! (As an aside, I still cannot believe that Dora's furnishings were able to get into condition after giving birth to 5 wonderful puppies 6 months earlier!). When the judge pointed to Dora for the Winners Bitch award, and 5 point major, I was beside myself. Such exhilaration!! After the specials (champions) came in (about 20 of them) and various awards provided, not only did Monty (GCh Am & Can Ch Darwyn Bruhil's Flying Circus) get awarded SELECT DOG, but DORA was awarded an AWARD OF MERIT in addition to WINNERS BITCH!
WOW - WOW - WOW!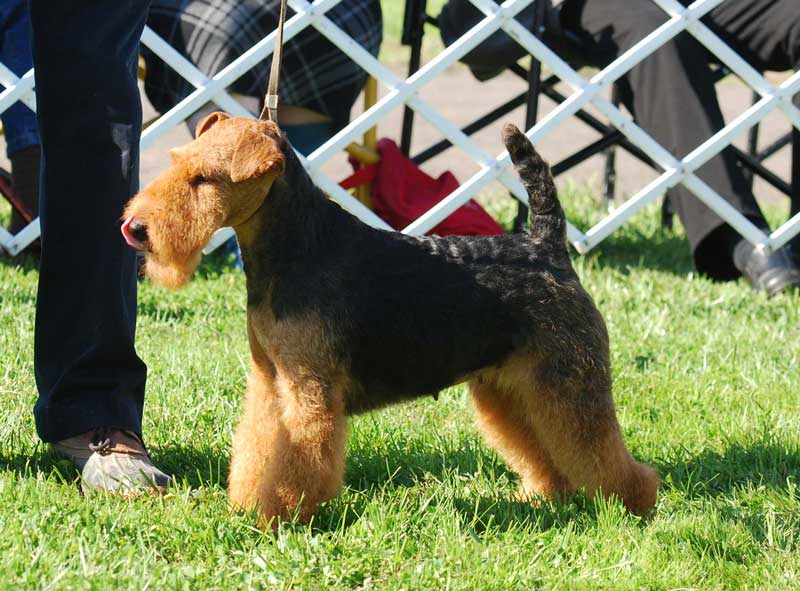 Now, a little bit about Dora....
* First of all, she is the perfect size for a bitch - large enough to be competitive in the specials ring, but not so large that she rivals the boys, and is certainly not "doggy" in any way.
* has a wonderful and clean head with correct length and a lovely expression.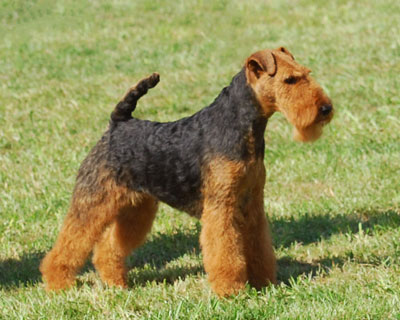 * jacket and furnishings look "painted on" - black and tan come in all shades of color, her shades just happen to be very rich and dark!
* a lovely blend of neck into shoulders and a nice short, level and strong back.
* excellent bone and body without being coarse (or fine)
* tail is always up on top, showing off her calm confidence as well as her alertness.
* and she moves nice and clean and balanced.
Dora truly was beautiful to watch over the Montgomery weekend shows. The fact that 2 out of the 4 judges "found her", was just like the icing on the cake(both are terrier breeder judges - Connie Clark of Wire Fox fame from California and Carole Beattie of Wire and Welsh Terrier "Sunspryte" fame of Florida).
I have to admit, that I also expressed a lot of pride in the fact that one of the other 2 days went to another bitch bred by me / Darwyn (but owned by Mary, Pam, Judy and Santigo now). So, 3 out of the 4 days of Montgomery 2011 bitch awards went to Darwyn bred girls -- WOW!!!!!!!!!!
DORA was finally shown in Canada! And, did very well - yeah!
After having had 2 wonderful and healthy (and beautiful) litters, in the middle of 2013 when she was 4 years old, I finally decided to put Dora back into show coat and bring her back out to the show ring ... this time in her home country, Canada. Yes, Dora started out in the US, did very well indeed, then had some puppies (some gorgeous puppies!). Connie Krohn (all-breed professional handler in Canada, known also as a breeder of top quality Miniature Schnauzers) presented her at the shows associated with the Red River Terrier Specialty in August 2013. That weekend, Dora won multiple BOB wins over specials, and multiple group placements from the classes! This show was in mid August in Manitoba. Top terriers from all over Canada supported this show, including a number of multi BIS winners, US breed specialty winners, Crufts BOB winner and the #1 dog amongst all breeds in Canada (a Westi known as JD)! Tough competition! Dora herself is a US BISS winner and Montgomery WB winner, but I was not expecting this depth of top competition at this set of shows when we entered her. A very proud weekend indeed.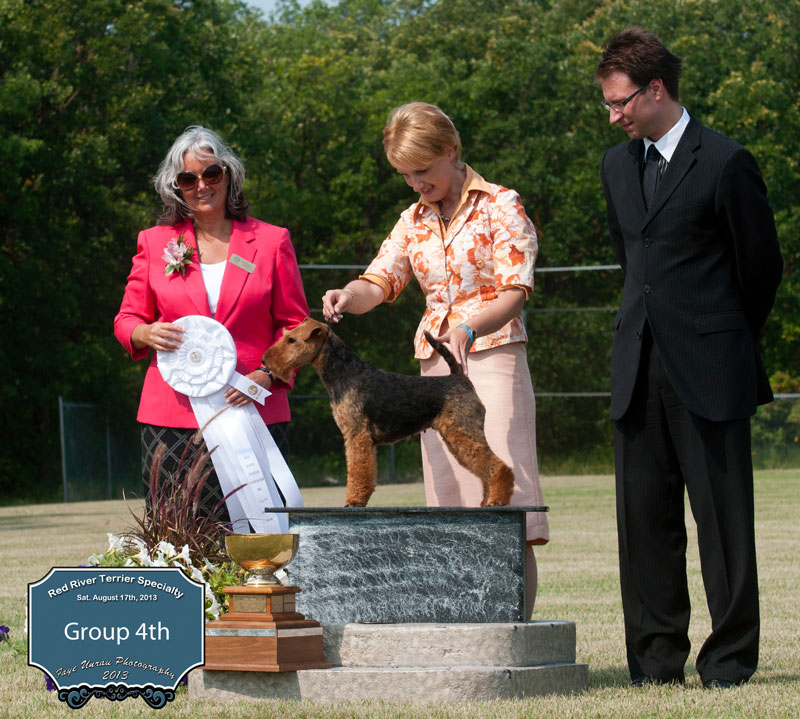 Here is just one of the placements for Dora at this weekends show (Group 4 from the classes)
Judge: Michelle Scott
Handler: Connie Krohn
Now, a bit about why Dora was just such a special puppy to us....
First of all, K-See is her mom. K-See was one that I had imported from England from Judy Averis of Saredon (read all about K-See at her link), she was a multi group winner and she was my first Montgomery weekend winning welsh terrier (2003) and the late (and famous) Anne Rogers Clark gave her (with me/Larisa handling!) a 'major' win at Great Western with some other "greats" in the winners bitch line-up (including the famous Mr. Peter Green). K-See was very special. Not only in the show ring, but also a super fun dog to live with and a really awesome dam. In fact, K-See was the dam of 2 previous Welsh Terrier Club of America specialty winners, one being a Best of Breed winner (2005) and another being a dog that was Winners Dog (twice!) on Montgomery weekend in 2008. After she produced this first litter of high quality welsh, I ran into a series of bad luck. I tried to breed her using imported frozen semen once and imported fresh chilled once and another time trying a transervical breeding (with me spending over a week and a half away in the US) - each producing no pregnancy. This breeding that produced 4 beautiful puppies of which Donny and Dora went onto to a show career, was my last chance. A male dog was flown up from the South Eastern US to breed to her (K-See) - 4 wonderful puppies was the result!
Michael and I spent round the clock time with that litter of puppies for their first four weeks to make sure that they were all right as they were just so important to me, and they all grew up to be strong and healthy and wonderful examples of the Welsh Terrier breed. One of them, obviously, is DORA!!
More coming soon!
There will be more to the "Dora" story for sure. Jessie is maturing beautifully. Her other daughter and son, growing up at Darwyn are looking very nice and on March 20, 2012, Dora gave birth to 6 wonderful puppies sired by JOE (the top winning Welsh Terrier in Canadian history as well as one of the top Welsh Terriers in the US for 2010!).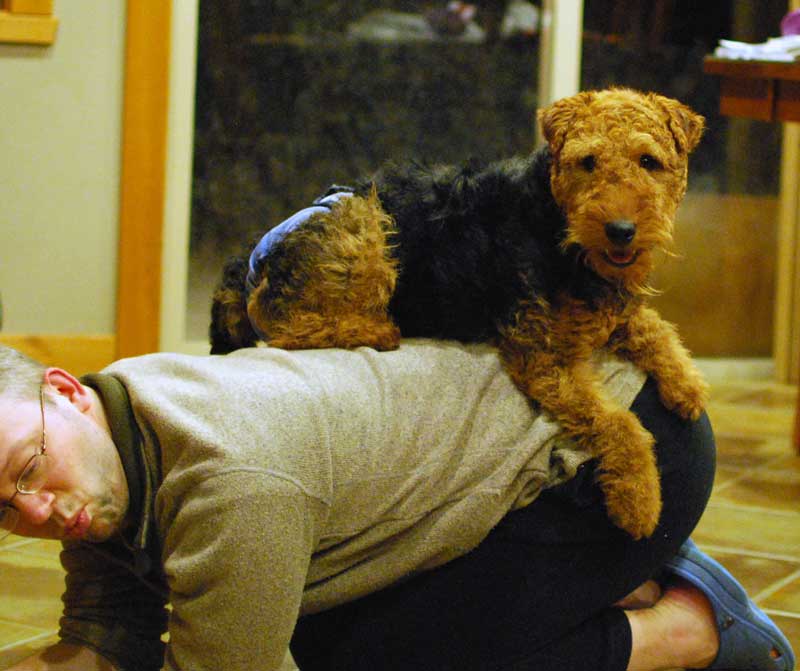 Dora's favorite spot (if she can get it) is to be on Michael's back. If not, she'll settle for being "up" anywhere (chair, back of couch, anywhere that is up!). :)