Stevie - Am Ch. Darwyn's Whole Lotta Trouble
Sire:
Am & Can Ch Shaireab's Sam I Am
Dam:
Am & Can Ch Saredon Mistress Nora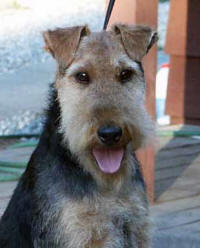 During 2005, Am/Can Ch. Shaireab's Sam I Am lived at Darwyn Welsh Terriers for about 6 months. I was just recently divorced and wanted a show dog that I could have some fun with in the ring (my guys were immature at the time, or retired/clippered) and Keith and Sharon and I were friends. Sam had been living at another breeders kennel so instead of going back to Keith and Sharons, he came to Canada! I didn't bother transferring ownership at the time, I just spent the time with him to get him back into show condition, train him and take him to some shows. He ended up being the #1 Welsh Terrier in Canada that year! While he was here he also sired 2 litters, one litter bred to
Mercedes
and one to Honey. Stevie was the pick bitch from Honey's litter. The other puppies went to awesome pet homes.
Stevie is a beautiful girl and if she happened to have been born at a different time in my life, she probably would have been one that I would have kept and "specialed" (finished her championship and then spent some time in the show ring showing her as a champion). She had a nice structure, beautiful head and expression ... and just like her mom, she was a born show girl!
By the time that Stevie was close to a year old, I decided that I just did not have an extra spot for her in my life at that time, and would not be able to give her the attention that she needed and deserved. My desire was to keep my numbers down, and not be one of those 'breeder-collectors', especially since I was single and had a career in senior management for one of the largest banks in the world. This meant that hard choices had to be made - even if it meant that I would place very good quality dogs. While I would have liked to have kept Stevie, I also had a few other really nice girls - and 2 others that I kept were half-sisters to Stevie, all three were daughters from my foundation bitch Honey (
Mercedes
and
Haley
). K-See, who was a Group Winner and also finished her Championship over Montgomery weekend (the year before Mercedes did), was also in her 'prime' at that time. So, while I would have liked to have kept Stevie ... at that time, I really had too many nice girls ... problems that breeders wish to have! :-)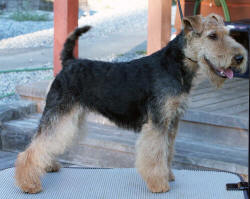 I toyed with the idea of placing Stevie in a great pet home, but Sharon Abmeyer and Keith Bailey, of Shaireab's-Bayleigh, who really liked Stevie's mother, and owned her sire, really wanted her. They promised that after Stevie finished her American Championship and had a couple of litters that they would find a great companion home for her. So, off to Atlanta Georgia she went, she finished her American Championship in a few shows, is now retired. Stevie now lives in a great home and shares life with a terrific Smooth Fox Terrier. She even started to explore Agility Classes!
One of Stevie's puppies was sold to a lovely young couple in Quebec, Canada ... this couple provided some pictures to a website that features a different dog each day, and their Stevie daughter (Sophie) was one of them!
Click here to see Sophie!