Zelda:
American & Canadian CH Darwyn's Twilight Princess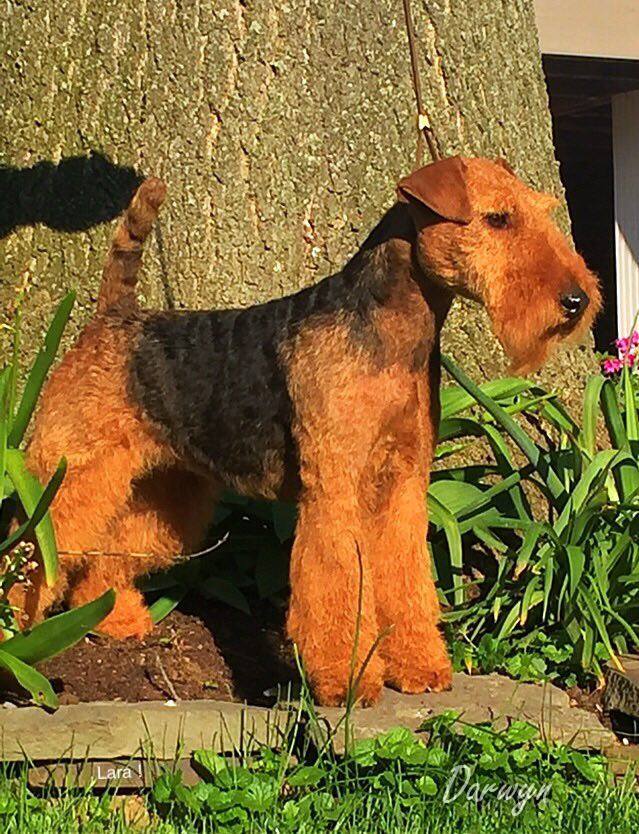 Pictured below shortly after her American Championship at 1.5 years old
Conditioned by Ernesto Lara (PA, US)
Owner/Breeder: Larisa Hotchin
---
5 majors in the US to finish her AKC Championship
Winners and Best Opposite - Washington State Welsh Terrier Breed Specialty (for a major); Jan 2016
Winners and Best Opposite - Garden State All Terrier Specialty (Bucks County Weekend); for her 5th major! May 2016
Group placement from the classes to finish her Canadian championship!
litter sister, is Zuzu in Sydney Australia, who has done very well (Australian CH, "in-show" awards, etc.)
litter brother, is Mickey, Multiple Group Winner in the US, finished on Montgomery weekend (a WTCA specialty), BISS winner, Am. and Can. Champion, etc.
PLL DNA tested - clear/normal
Sire:
BISS Am. Grand CH and Can. GCh Darwyn's Special Blend (Java)
Dam:
Am. Grand CH and Can. CH Darwyn's Santa Maria (Maria)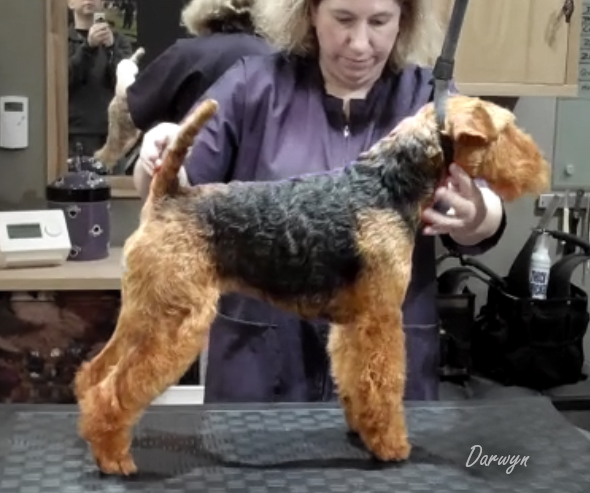 Zelda - American CH Darwyn's Twilight Princess


Pictured at 1.5 years of age, at home with Larisa Hotchin, prior to a grooming training session
Click here for Zelda's Pedigree
Tested OFFA: (WT-PLL114/4F-VPI); click here for the public database
:
Patella (normal); cardiac/heart (normal); PLL DNA - normal / clear; DM DNA - normal (parents both tested normal); Dentition (full / normal)
Below are some photos taken at the Harrisburg, Pennsylvania show (April 2016), provided by Aneta Styczek and Claire Alasio. Larisa Hotchin handled Zelda in the bred-by class that weekend.
Here are some fun photos of Zelda with us, Michael and Larisa:
VIDEO!
Here is a fun video that we took of Zelda playing with a crow in our front yard. Yes - a crow!

At first the crow was on the other side of the fence, and Zelda was clearly play bowing to it and wanting to play. The crow looked like it was taunting her. Then the crow went into the yard with her! Afterwards the crow came to see us and then went back into the yard with her to play some more. The crow even shared some pizza crust with her. This went on for over an hour, or more. We got some of this on video - when the crow was in the yard with Zelda and with us. We also got some of the begining when they had a fence inbetween, but havent' downloaded that video yet. We had so much fun watching these guys.
Click the link below for the video:
https://www.youtube.com/watch?v=oLeJU0LRqyQ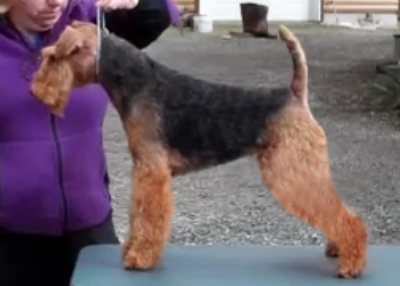 Zelda - Am. CH Darwyn's Twilight Princess


Many thanks to judges for her 5 majors (all 5 are terrier breeder judges!):

Loraine Boutwell (Washington State Welsh Terrier Specialty and All Terrier Club of Western Washington)
Kathi Brown
Robert Paust
Billie Kellogg Kneale (Garden State All Terrier; Bucks County Weekend)
Peggy Beisel-McIlwaine
Here is a short video of me, Larisa, practicing with Zelda in our driveway:
https://www.youtube.com/watch?v=Rgm0cNG14CI