ELLA:
Can CH Darwyn You Make My Heart Sing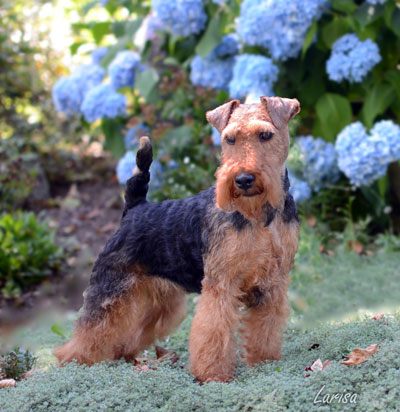 Ella -Can Ch Darwyn You Make My Heart Sing
*2 years old in this photo
*Taken at home of breeder/owner
Key Show Results:
Reserve Best in Show!
Multiple Group Wins!
Group wins from the classes!
Only shown 4 weekends
Presented by Mr. Doug Belter
Overview:
cobby short back
super black and rich red color
excellent textured hair
beautiful and clean and very "welshie" head and expression
short and strong back
lovely clean shoulders and lay-in to topline
perfect size for a girl
Sire: American Grand Champion and Can Ch. Darwyn Bruhil's Flying Circus (Monty)
Dam: American & Canadian CH Darwyn's Dora the Explorer (Dora)
Click here for Ella's Pedigree

PLL (Primary Lens Luxation) DNA: Clear/Normal
(Based on 1st generation parentage testing: both sire and dam are DNA tested and both are clear/normal, info available at
www.offa.org
)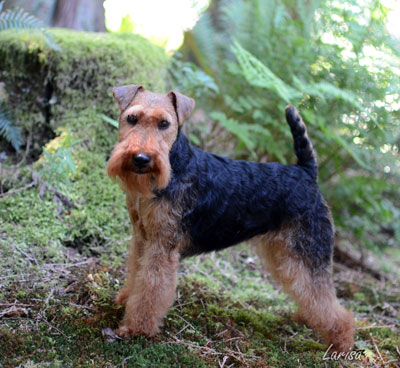 Photo taken of Ella at Larisa & Michael's property 1 week after she retired from the show ring, the day before she went to live with her new family.

A bit about Ella and her challenging puppyhood:
Ella came from a litter of 5 -- 4 girls and 1 boy. The boy always seemed like a stand-out to me (and he certainly turned out to be ...
Zorro
finished his championship in Canada with a Group Win, was RWD on Montgomery weekend and then went to Brazil and with Claudio handling him, has earned many top awards -
to read more about Zorro, click here
).
The other 4 girls in the litter all seemed very nice. A breeder back east in the US had run into some bad luck in the recent past, and after contacting me about a show puppy, I agreed to sell her the pick bitch in the litter, which I would co-own with her, but would live with her. Very few breeders will do this, but this breeder had gone through some serious health issues, had some bad luck with her dogs recently and had always done so much to do it "all on her own" that the situation just spoke to me (it's nice to help out other good people). Since she was on the other side of the continent from me and travel wasn't available, we took a lot of videos and photos to help her choose. She chose a girl that eventually became known as Jessie (American Champion Darwyn Jesterr's Holding Court). There was a website (Jesterr's Welsh Terriers) that used to have a lot of details about sister Jessie, unforunately, that website no longer is available.
Shortly after Jessie left for her new home, I decided to get the other puppies (2 girls left and the one boy) to my neighbors house next door for week long rotations. This would allow the puppies to be exposed to a really busy household. They have big and small breed dogs there, a few cats and 4 active kids between the ages of 4 and teenagers .... a much busier house than ours! I had done this in the past and it had worked well as my friend is very knowledgeable in dogs as she breeds and shows as well.
However, an accident happened .... during playtime outside, one of the big Bernese Mountain Dogs accidentally stepped on Ella and her leg was broken.
A splint was used but we decided not to make Ella dopey - but just to keep her settled with us. It is very hard to keep an active welsh terrier puppy settled, and between the rainy season happening and being active, that splint was changed many times over the next few months. You'd never know by how much spunk and life Ella had that she had a broken leg at all. She ran around dragging that leg in a splint whenever she possibly could!
And, that is where the next problem came.
When Ella went in for her 16 month old vaccine booster, as usual, I had the vet check the patellas. It turned out that the patella had healed in the wrong spot from the original break. You could not tell with her general walking. The vet advised us to seriously consider doing preventative surgery to correct this. Welsh Terriers love to run fast and turn very tight corners chasing each other. The likelyhood was that at some point, since it had healed in the wrong spot, that she would need to come in for emergency surgery at some point. We could not bear this idea happening so we chose to do the preventative surgery - which itself was very serious - moving the patella to the correct spot and shortening the tendon that had stretched over time to accommodate it. Once the surgery was done, a splint was put in place and Ella -- again -- became the only dog allowed on our main floor and be with us the whole time.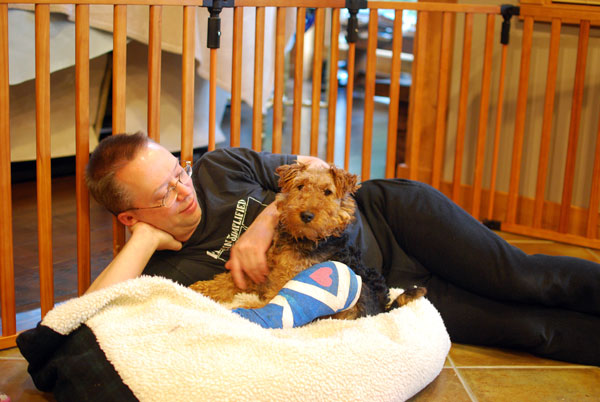 Then the next accident happened. 2 weeks after surgery Ella greeted us by jumping up to see us and then collapsed. I rushed her to the vet. Her steel pin in the bone had bent and we were at square one again. This time she was going in for emergency orthopedic surgery, and this time a big screw was used to hold it all in place! Here she is above after this last surgery, sporting her plaster, in the kitchen with Michael. We decided that we just needed to keep this active girl quiet - for 2 to 3 more months. Very hard indeed, but time past and she healed perfectly.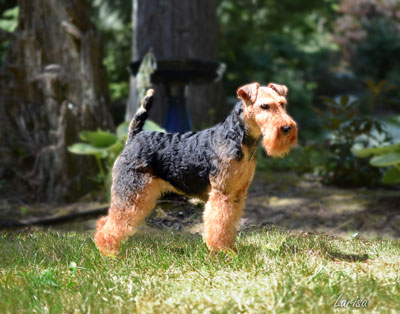 Ella makes it to the show ring!
I never thought that this special girl would ever see a show ring.
Ella's sister, Jessie, was off doing the show thing. She wasn't shown much, but she was shown whever her co-owner was able to (within the easter US states). In December 2013, Jessie was awarded her American Championship -- she completed her requirements under stiff competition from competition with well-known professional handlers, and Jessie was owner-handled (by her co-owner, Jane Erdman) for all of the points and majors required! Michael and I are very proud of Jane's accomplishments.
Ella eventually healed and started to walk perfectly normal. We couldn't notice and she didn't seem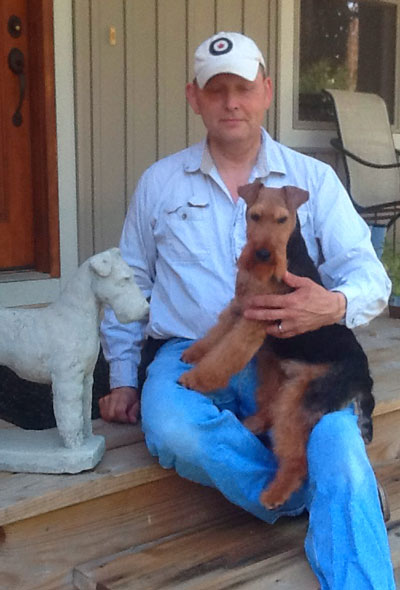 to notice anymore. I started to put her up on the grooming table for a few minutes at a time and started to get her into show condition. A terrier handler from the East (Doug Belter) was at a show local to me in the Vancouver area and I brought Ella over to show him. I told him that I might look at finishing her championship and what did he think -- well, he took her home with him from that show and when I got her back a few months later, she had gone to 4 weekends of shows, was BOB a few times over another welsh terrier bitch in the east that was also being shown, and Ella was awarded 3 Group 1st wins and a Reserve Best in Show!
I had so many compliments from people that had seen her in the ring (albeit she wasn't out very long!). I briefly thought about starting her out in the US shows, but decided that the championship from her home country would be enough for her. There are so few points available in the US and it might take a year or so to find enough competition for points available. I just didn't want to put Ella through that after everything she had gone through.
While Jessie was technically the pick of the litter (and herself is very beautiful), Ella, from day 1, always caught my eye. Ella is very cobby, super black and rich red color, excellent textured hair, beautiful and clean and very "welshie" head and expression, short and strong back and perfect size for a girl.
When she suffered that first broken leg, I just never thought she would ever see the inside of a show ring. When we chose to do the preventative orthopedic surgery, I definitely didn't think she would ever make it to the show ring. But, she just looked at me and looked so pretty - I secretly hoped she would. I thought that judges would like her and I thought that she would represent Darwyn very well.
I am so proud of this girl. So much heart and strength!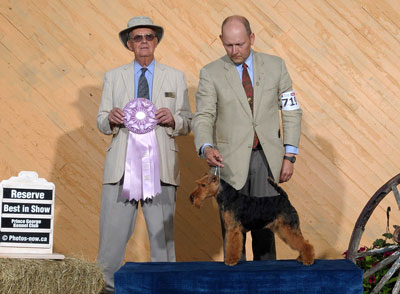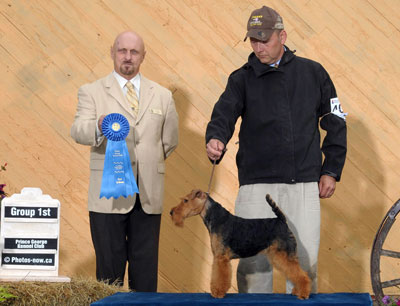 Many thanks to the following judges who awarded Ella a group placement, or higher award:
Thomas Alexander (G1)
Donald Fitzsimmons (G1, RBIS)
Jacqueline Rusby (G1)
Mary White (G3)
Ole Nielsen (G4)
After the show ring for Ella:
I made a decision early on that if Ella ever saw the inside of a show ring that I would never campaign her - no matter how much the judges liked her. I just felt that she had dealt with so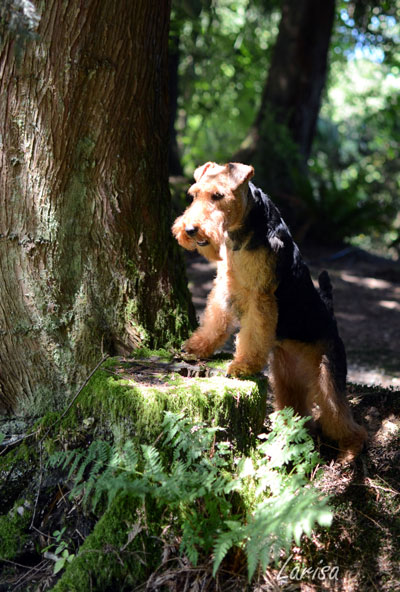 much in her life that she deserved a life of someone's one-on-one pet, and not the need to be on the grooming table every few days.
A week after Ella finished her championship (and in style she did that!), she went to go and live with her new family! Her "family" live close to us, have a wonderful and caring outlook on life, have a lovely young child and are just really great people. They understand the challenges that Ella went through as a youngster, and Ella is now best buddies with their young child.
A few photos of Ella with her family:
Ella will eventually come back here and have puppies of her own, but you can be rest assured that she lives a most beautiful life with a family that just adores her. The biggest challenge is that she is really not great with other new dogs when she first meets them (understandable from what she went through) and likes the childs stuffy toys better than her own toys.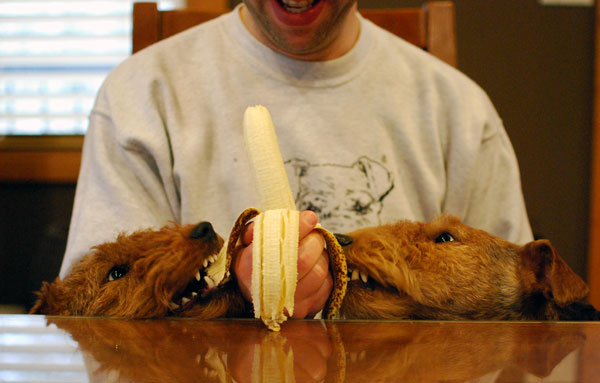 Ella is good with dogs that she knows well - here she is (on the left) trying to share a banana with Michael and Trooper (on the right).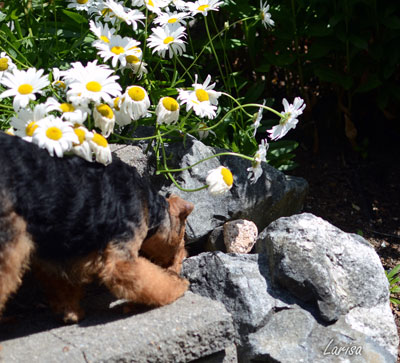 She's all terrier - that's for sure! Here she is looking for a critter in our flower bed.