Gracie:
Canadian CH Darwyn's Say Goodnight Gracie
Her championship included a Group 2nd win from the classes
Dam of 2 American and Canadian Champions from the 1 litter she had (Maria and Indie)
PLL clear/normal
Sire:
MBIS MBISS Am. Can. Australian CH Darwyn's Webslinger (Parker)
Dam: American CH and Therapy Dog Sanherpinc Nora Charles (Charley)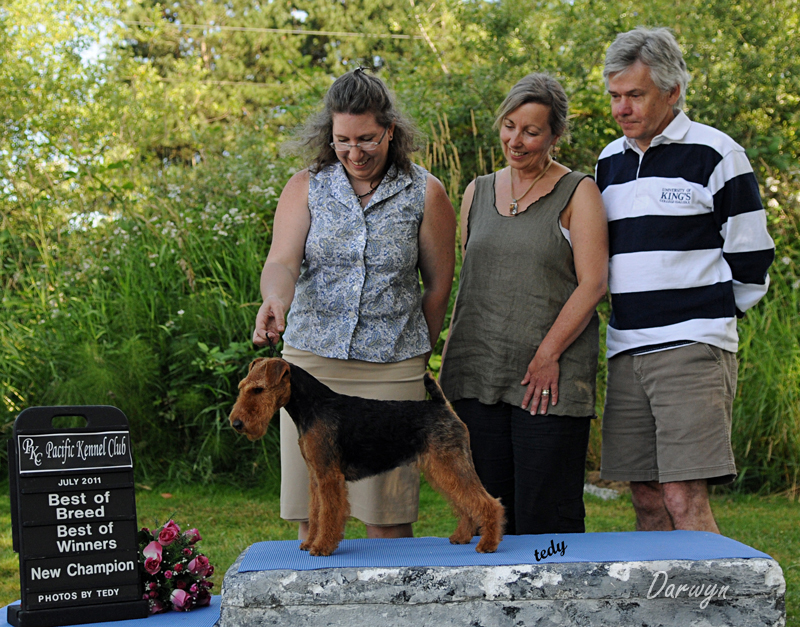 Gracie - CH Darwyn's Say Goodnight Gracie


Gracie is pictured here finishing her championship, with co-owners Larisa, Sheryl and Greg.

Bred by Jerry and Ann Nickell (Oklahoma); known for Therapy Dog *extraordinaire* Charley and President of Therapy Dog Organization H.A.L.O.

Gracie lives with and is loved by Sheryl and Greg. Unfortunately, since Sheryl hosts a popular radio show on weekend mornings, she did not get to see Gracie in the show ring. On this particular day, they left as soon as the radio show was done, and missed seeing her girl be awarded a Group 2nd from the classes - which provided the final points for Gracie's championship! While they missed the win and the judge, we were able to get a photo taken with them with their special girl.
Click here for Gracie's Pedigree
Tested OFFA: (WT-PLL114/4F-VPI); click here for the public database
:
Patella (normal); cardiac/heart (normal); PLL DNA - normal / clear; DM DNA - normal; Dentition (full / normal)
Here are some fun photos of Gracie:
VIDEO!
Here is a fun video that we took of Gracie when she was 2 years old playing with one of our 14 week old puppy boys (Java). I have included 2 versions below, one with and one without music added. Some countries do not show the video with music added.
2 year old Gracie plays with 14 week old pup (not directly related to Gracie): With Music
https://www.youtube.com/watch?v=MoKPM8dPh34
2 year old Gracie plays with 14 week old pup (not directly related to Gracie): Without Music
https://www.youtube.com/watch?v=sybDKF1uchk
Gracie's Breeder:
Gracie was bred by my friends, Jerry and Ann Nickell, in Oklahoma City, Oklahoma. They owned Paisa's litter sister, Charley, and finished the American (AKC) Championship on her. Following that experience, they decided they still wanted to be involved in dog sports, but not to campaign in the show ring. Charley absolutely loved people and loved attention from people, so they started to look into volunteering as a registered Therapy Dog (Charley is now an AKC titled Therapy Dog Distinguished Welsh Terrier!). Jerry eventually ended up working with some terrific people and helped to start an organization in Oklahoma called
H.A.L.O. (Human Animal Link of Oklahoma), which he was President of until late 2015 (click here for H.A.L.O's website).
Or, click here for H.A.L.O's Facebook page.
Since then, Charley and Jerry have volunteered almost 2,000 hours in Therapy Dog efforts (as at Mar 7, 2016), is still active, and will likely get their boy Jem involved as well one day. Jerry has done multiple radio and TV show segments on this topic, and become a significant ambassador for helping others learn and get involved. Jerry has been nominated for an AKC A.C.E. award 5 times now for Therapy Dog of the Year! In 2015, Charley was awarded and "Honorable Mention" from the AKC A.C.E. awards.
Click here to learn more about the AKC A.C.E. awards.
Short note from Jerry:
"
I have attached one picture of Charley with her friend Erick at the library (to the right). The reading program is such an important part of her work. Charley's nominations for the AKC A.C.E. Award as "Therapy Dog of the Year" now total five straight years. She finished "Honorable Mention" last year.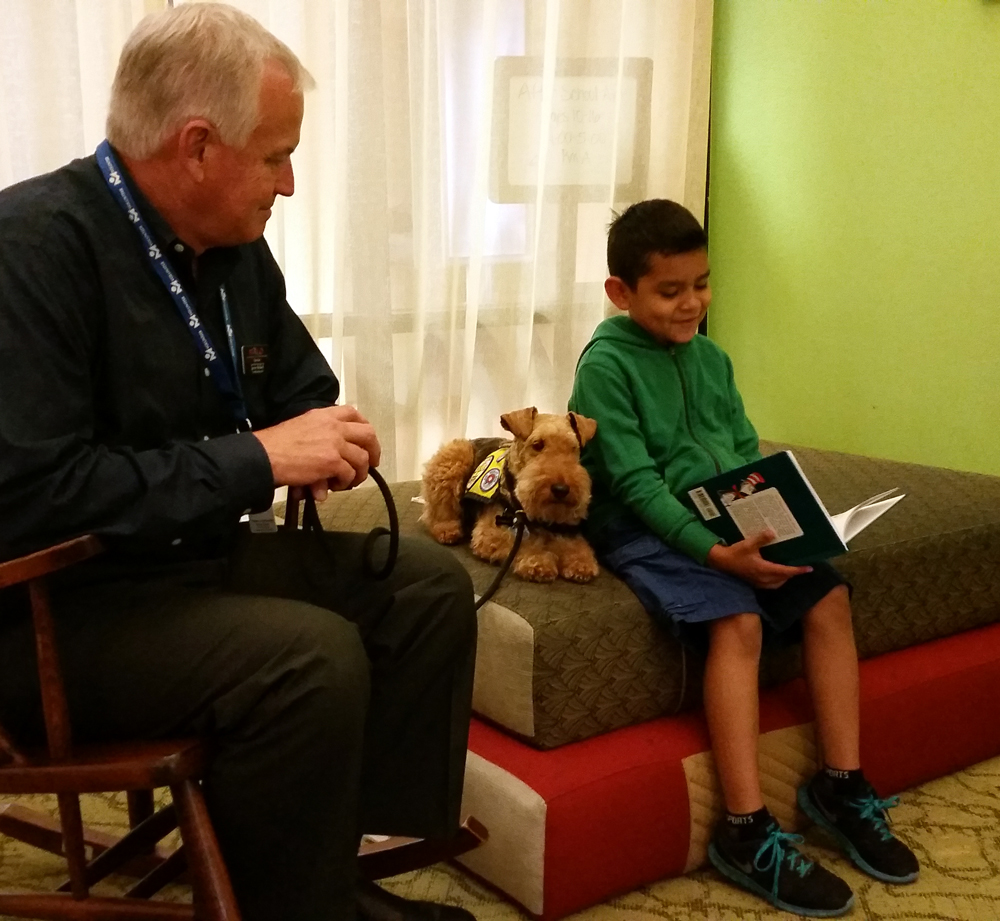 Welsh terriers, as in the show ring, generate so much excitement when they enter a facility. People want to be near Charley and she thrives on the interaction with her new buddies. Whether it is the hospital, library, assisted living center, or airport she is never out of her element as long as she has people around that want to be near her. She is now coming up on 2000 visits. We hit the jackpot several years ago when we became friends with you, Michael, and Santiago and became members of the welsh terrier world. Thanks for helping to make so many great things possible
!
And Charley and Jem are both doing great. You would never know Charley tore her ACL the way she is moving now. It is so much fun to watch the two of them play and chase squirrels together. Jem is such a treasure for us. He keeps both of us entertained all the time watching his antics. Watching him bounce across the yard or posing with one front foot in the air he is a perfect example of finding fun in every moment. He has a great disposition. He thinks every human is his best friend. We are so glad we bred Charley to your boy Parker.
"
Jerry and Ann also decided that they wanted to breed a litter with their AKC champion and therapy dog titled girl, Charley. Since I had Charley's sister, Paisa, at our home (a multi Best in Show winner and #1 Welsh Terrier in both the US and Canada), we got to know each other better. They decided to breed their special girl to my US Breed Specialty, and Best in Show winner, boy, Parker. Jerry flew up to Canada stayed at our home, and I got to know Charley better, he got to know Parker better, and the deed was done! The actual birthing was a very difficult time (the stars aligned in the wrong way for everything - including serious weather issues).
Click here to read more about it, and see a few photos, on the blog post that I wrote
.
In the end of the day, 5 beautiful and wonderful natured Welsh Terriers came into this world. I went to Oklahoma for a weekend to visit with Jerry, Ann, Charley and her puppies when they were 8 weeks old. Really beautiful pups and Scout came home with me. Jerry and Ann have kept a boy they call Jem. Gracie came up to Vancouver to live with, and to be loved by Sheryl and Greg (and I co-owned her with them). Scout is a wonderful girl that now lives on beautiful Vancouver Island. Atticus lives in Vancouver. And another girl went to a wonderful couple in Houston. Gracie went on to be a mother herself and in her 1 litter produced some beautiful puppies, 2 of which became American and Canadian Champions.
Gracie's owner:
Sheryl and Greg are very special and loving people. They have owned dogs all of their lives and have tried a few different breeds. When I first met Sheryl, she had a Cairn Terrier and a Greyhound. Sheryl is a well-known (and very much loved!) radio host of a weekend morning show in Canada (BC region) called North by Northwest. Sheryl had done a segment once about conformation showing and breeding, and with her interest in terriers, she came over for a visit one day to our home. Monty was just a young puppy at that time, perhaps 6 or 7 months old (?), and she fell in love with him. Given that she had an elderly male Cairn Terrier, I suggested that if she was serious about a Welsh Terrier, that it would be easiest to get a female. Unfortunately, I did not have any, and none in the near future. When Jerry and Ann had their litter born with 3 girls, I approached them to see if Sheryl and I could buy one. Sheryl flew down to Oklahoma, met Jerry and Ann, learned much about Therapy Dog, and came home with puppy Gracie.
Over the next couple of years, I worked with Sheryl to do the coat conditioning required on Gracie, and we showed her to her championship title. Following that, Gracie had one litter born, whelped and raised at my home, however, we were very happy with how involved Sheryl and Greg were with the puppies. They came out weekly for visits and play time. When it came time to placing the puppies, one of the boys ended up going home with them - George. George has become one of their favorite dogs ever! George's sisters Indie and Maria went on to become Canadian and American champions. Indie is now getting involved in dog sports (agility and rally-o) with her owner, Susan Gottselig. And, Maria went on to finish her US championship at the Welsh Terrier Club of America Specialty on Montgomery Weekend and then Select Bitch at The Westminster Kennel Club!
Gracie is now retired and lives the luxury life any loved pet can dream about with Sheryl, Greg and her boy George. It was a wonderful experience for all of us. Sheryl and Greg really enjoyed the whole process, they have 2 beautiful dogs to live with, and I learned just how demanding being an on-air personality with a Radio Station can be! Sheryl is an amazing person, and there is a reason that everyone that listens to her radio station loves her. She is a wonderful person, very caring, very compassionate, understanding, interested in life, and researches everything. I am happy that we are friends, and honored that she chose the Welsh Terrier and has a couple of my dogs!
Below are some links to Sheryl's on-air show - CBC (British Columbia) North by Northwest:


Click here for a podcast that Sheryl recorded in 2012. It includes an interesting interview with Dr. Stanley Coren, a UBC professor and well-known writer of a few dog related books
The podcast is about 34mb. You might want to right-click, and 'Save Target As...', and then play it from your computer.
The interview with Dr. Stanley Coren starts at 24 minutes into the podcast (specifically 24.46 minutes in).