Cola: Ch Darwyn It's the Real Thing
* Best Puppy in Show Winner
* Group Winner
(photos in header were taken at a summer show when Cola was 8 months old)
Sire: BIS/BISS Am & Can Ch Darwyn's Webslinger (Parker)
Dam: Multi Best in Show Am & Can Ch Sanherpinc Paisa (Paisa)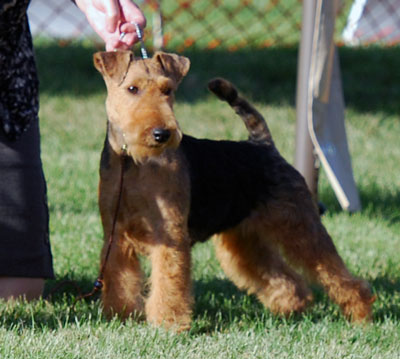 Cola at 8 months of age in the Best Puppy in Show line-up! Aug/11
Tested OFA (OFA #PLL132/0F-PI) : Patella (normal); cardiac/heart (normal); PLL DNA - normal / clear
Click here for Cola's Pedigree
Cola is not only a wonderful show dog, but is one of those girls that you LOVE to snuggle with (and loves to snuggle with you!). Full of kisses - just like her moma
Paisa
!
Cola was born in Paisa's second litter after she retired from the show ring. I decided to breed Paisa to
one of my Best in Show dogs, Parker
. Parker is, of course, my boy that won
Best of Breed at Montgomery
under breeder-judge Ms. Ruth Prehn in 2009.
Cola is a slightly smaller girl than I am used to, however, I am told by a number of people that have been in the breed for many more decades than I have (I've been involved seriously since 1999), that this is fairly common. I believe that since most of my dogs have a lot of 'english' stock behind them, I have not run into this before now. However, they say, no dog is absolutely perfect. While Cola is a slightly smaller overall package, the package she is in is very well proportioned, beautiful to look at, balanced with a very welshie head and expression. The show photos here and in the header were taken when she was 8 months old - you can see her lovely neck into shoulders, short but strong back, tail up on top and balanced movement. This is combined with a wonderful showy yet happy attitude, standing her ground!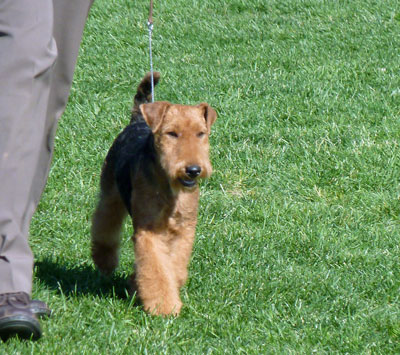 However, after witnessing many welsh terriers at Montgomery 2011 being "super-sized" (yikes - yes, the term mini Airedale was heard around the ring by spectators and my dog Monty who is bang on 15 inches looked small! Keeping in mind that the standard calls for a 15 - 15.5 inch dog). So ... with this in mind, Miss Cola will not be seen at Montgomery County KC.
Cola's short but
very

successful show career!

In the summer of 2011, Michael and I decided to do a few RV trips with a few of the dogs ... with the primary focus of exploring some of beautiful BC and the Rockies! So, we decided that if we were going to do that, why not put a couple of our older puppies into a show trim and align our RV exploration with a few dog shows. So, both Cola and her brother Sprite (Ch. Darwyn It's a Natural) were worked into a decent show trim (obviously not a trim of the level required to be competitive at Montgomery), and our primary purpose was to give them some experience and to have some fun!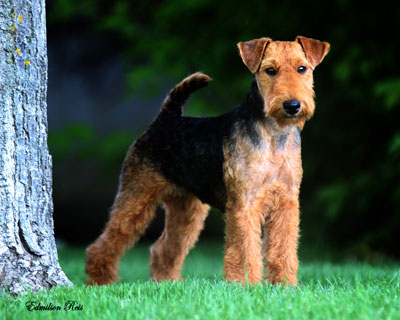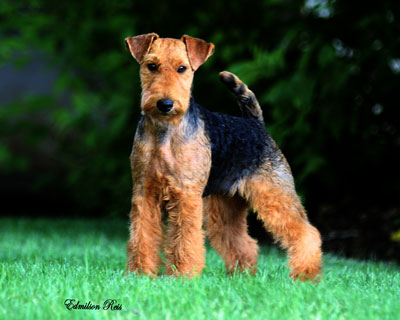 Well - experience was had, 2 championships gained and a whole lot of fun! We also took a couple of younger puppies with us to enjoy and get out for the experience!
First stop was the HUGE Alberta Kennel Club shows at Spruce Meadows! Joe won a few group placements (towards his eventual #10 dog among all breeds in Canada for 2011 !!!) Since Edmilson Reis was up from Brazil, I took this opportunity to have some photos of my young puppy girl Cola! :)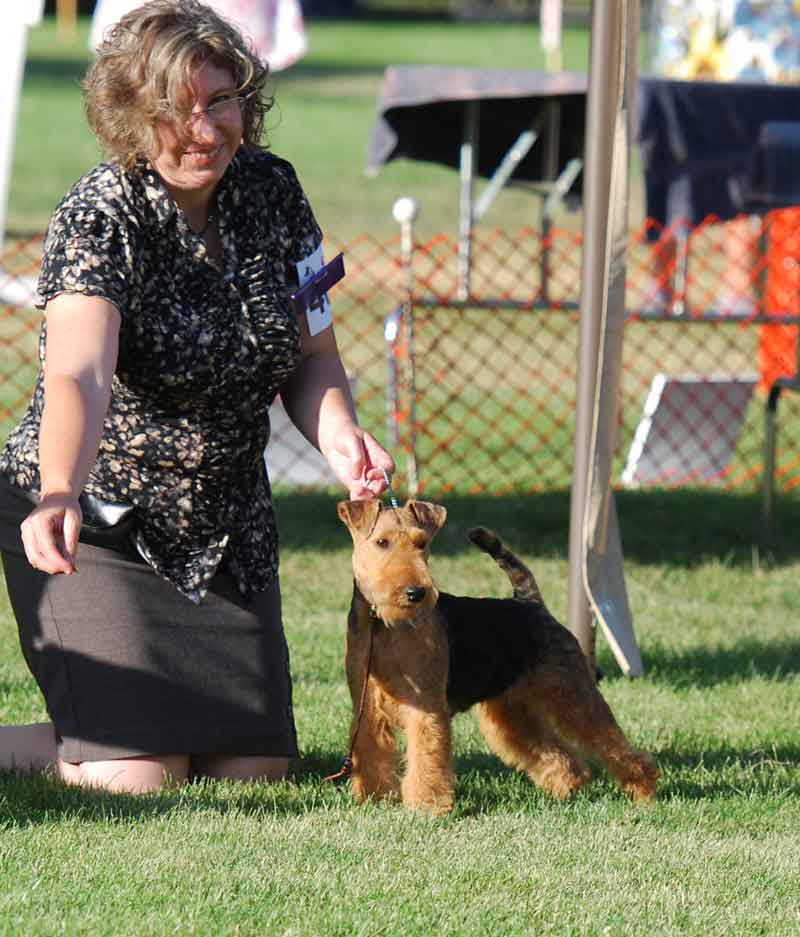 After spending some wonderfully relaxing time at Kananaskis Park (just beside the Rockies) exploring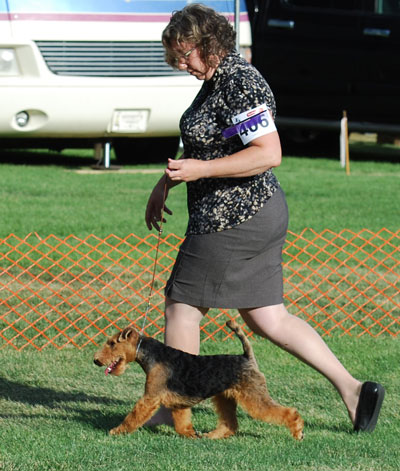 the rivers and trails (and trying to stay away from bears!), we were off to the Castlegar Shows (and exploring spawning Kokanee Salmon!). Since Milton was then on holidays (which meant Joe was also on holidays! :) we did not have to get past Joe to get into the group to play, and play we did! Since Sprite was already finished his championship, I only showed Cola - and she got a GROUP FIRST and 3 Group seconds! Not only that, Cola also was awarded a number of Best Puppy in Group awards and a BEST PUPPY IN SHOW!
The day that Cola finished her championship was under a well respected terrier-breeder judge, Mr. Don Emslie (Annfield Miniature Schnauzers) - who gave her both the Group 1st as well as the Best Puppy in Show! Cola looked and showed awesome that day! While realistically, the other 3 or 4 times she went into the BPIS ring wanting to play with the other dogs. Well - we had fun! After that we got to spend some time in the Cranbrook area (in the Kootenay's of BC) and at the Cranbrook shows (now one of my favorite shows for summertime fun!). Joe was back in the game, so Cola and I only played in the Puppy Group and Puppy Show rings that weekend. That's OK - we got to Watch Mr. Joe win a few groups and get 2 Reserve Best in Shows!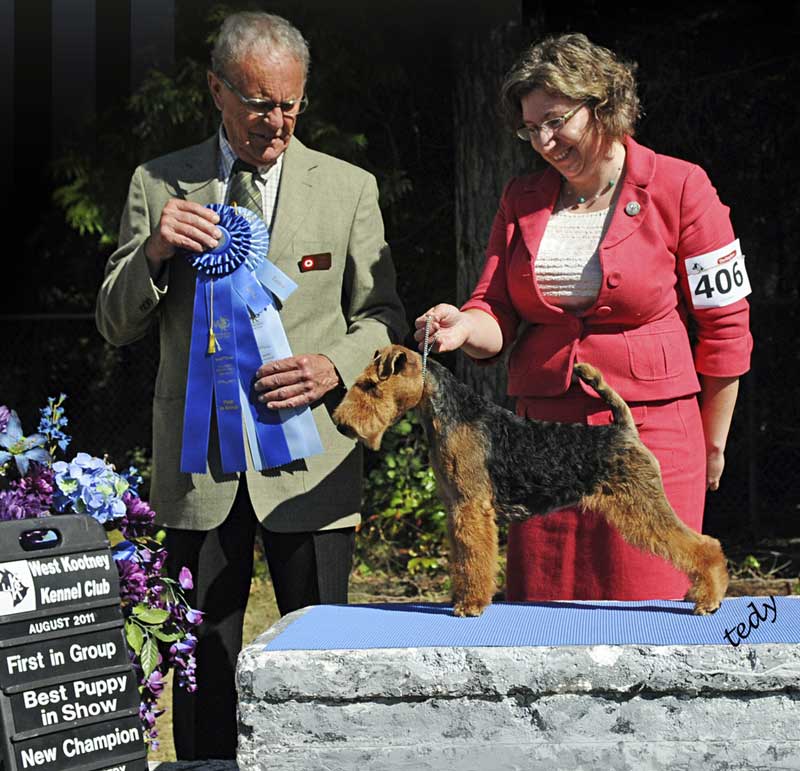 UPDATE ON COLA (Jan 2016):
Cola is now 6 years old and her owner, Nancy, who is 91 years old, is still doing very well. Cola is the centre of Nancy day-to-day life. She goes for daily walks with Nancy and Nancy's care giver, and Cola has a very special place on Nancy's pillow beside her head every night. I hope when I am Nancy's age that someone will be kind enough to let me have a dog to call my own, to love and to face each day with vigor and joy. Cola went to live with Nancy 4 years earlier, when Cola was 2 and Nancy was 87. She has been her constant companion ever since. The joy she brings to Nancy makes you smile when you see them together, or talk with her on the phone. We wish Nancy and Cola many more happy years together.
Stay tuned for Cola's next set of adventures!