ZORRO:
Can & Brazil CH. Darwyn Don Diego De La Vega
Owners: Larisa Hotchin & Marcelo Leca (Brazil)
Handlers: Claudio Cruz (Brazil, 2013); Ernesto Lara (US, 2012)
After a successful fall 2012 in the US, Zorro moved to Brazil with Marcelo Leca. Watch for Zorro and Claudio in the show rings in South America!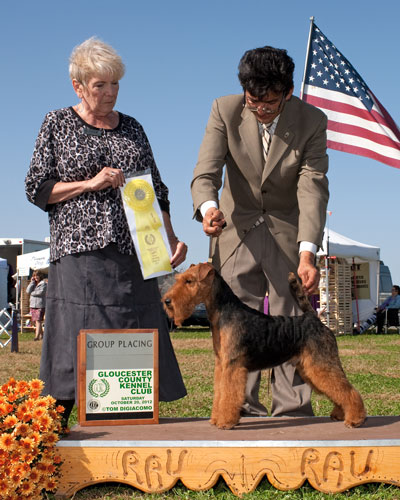 AKC Group Placement from the classes; Judge Margaret Mickelson
Key Show Results:
* Group Winner and placements from the classes (Canada, US)
*
Reserve Winners Dog at the Welsh Terrier Club of America Specialty (Hatboro 2012; Judge: Geir Flyckt-Pedersen)
* Best of Winners and BOS (Orlando, Florida, AKC National/Eukanuba weekend);
*
Dam was Winners Bitch at WTCA National
*
Sire was Select Dog at Montgomery County KC 2011
(WTCA National)
*
Litter sister, Jessie, won her class at Montgomey County KC 2011
*
#2 Welsh Terrier in Canada (click here for details)
, after just 3 weekends being shown, and 2nd only to the top winning welsh terrier in Canadian History (Joe)
Sire:
American Grand Champion and Can Ch. Darwyn Bruhil's Flying Circus (Monty)
Dam:
American Ch Darwyn's Dora the Explorer (Dora)
Click here for Pedigree
Tested OFA ( OFA #WT-PLL172/8M-PI)
: Patella (normal); cardiac/heart (normal); PLL DNA - normal / clear; DM DNA - normal / clear; Full Dentition
Zorro at the Orlando Florida shows in December 2012: Best of Winners and Best Opposite Sex (from the classes!) and meeting his new co-owner, Marcleo, and new handler, Claudio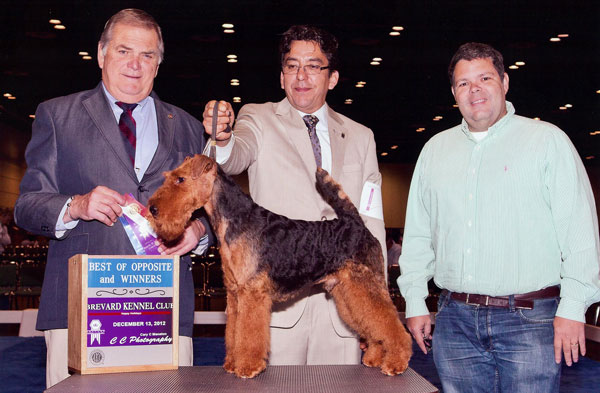 Zorro's new co-owner, Marcelo Leca Fonseca, proudly stands with Ernesto Lara as Zorro is awarded BOS/WD with judge Mr. Stanbridge
Below are a few candid photos taken by Zorro's breeder/co-owner, Larisa Hotchin, over this weekend: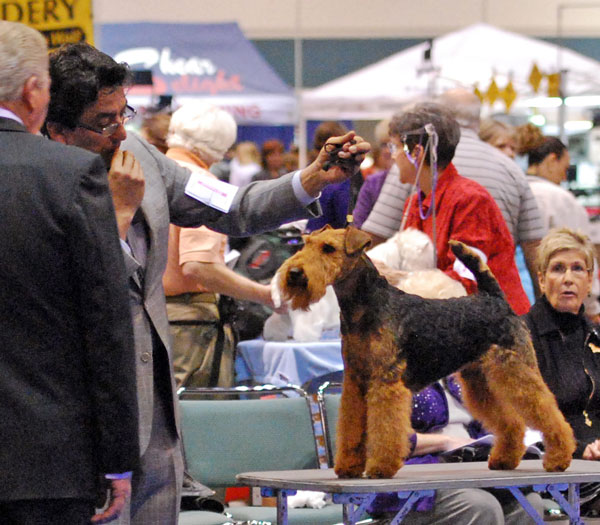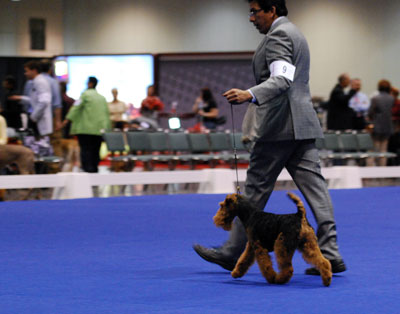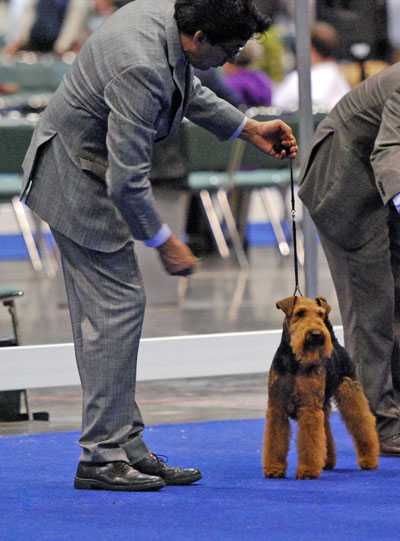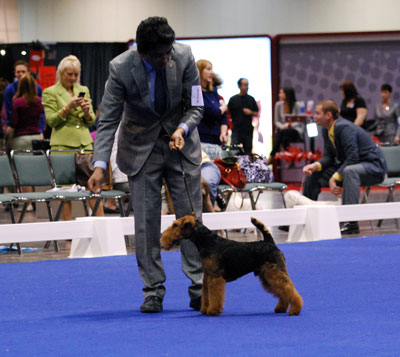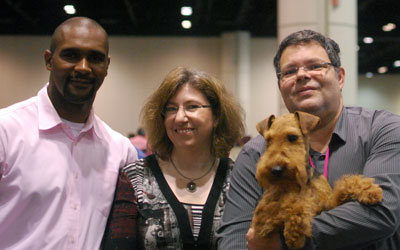 As the weekend draws to a close, Zorro is held by his new co-owner, Marcelo Leca, with his breeder, Larisa Hotchin and Zorro's new handler in Brazil, Claudio Cruz
And now for some background on Zorro - Ch. Darwyn Don Diego de la Vega!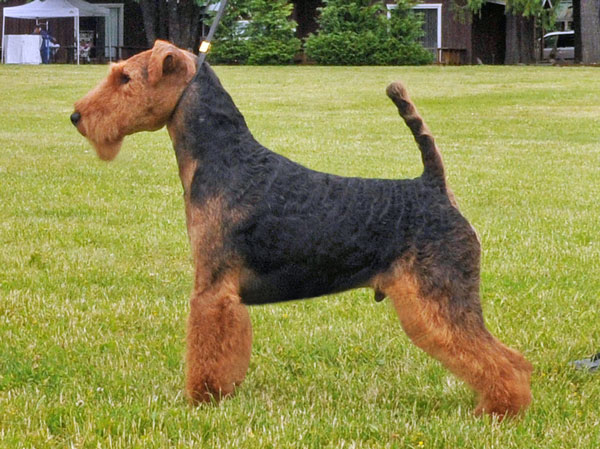 Zorro (CH Darwyn Don Diego De La Vega)
14 months old in these show photos, in a new (and still short) coat
his 3 weeks of dog shows during the spring 2012 where he became a champion after winning 2 Group 1st wins!
Candids of Zorro - 14 months old (at home) and 18 months old (MCKC 2012 weekend)
**Click here to see just the photos of Zorro at MCKC 2012
Photos by Larisa Hotchin
Zorro finished his Canadian Championship with 2 Group Wins! The judge that awarded Zorro his new champion Group Win (from the classes) is the well known, terrier expert,
Dr. Richard (Dick) Meen
(photo below). During the previous year (2011), Dr. Meen owned the #1 Terrier (Skye) in Canada. This was Zorro's 2nd weekend in the ring.
Zorro was shown one weekend before this show, also being awarded a Group 1st win, this time by long-time all-breed judge
Mr. Leslie Rogers
. And, the weekend after, Zorro's last show in Canada, he was awarded a Group 2nd. At the time of the writing of this, Zorro is the #2 Welsh Terrier in Canada with simply these 3 weekends being shown (by the way, the #1 WT in Canada at the time of this writing is
Joe - MBIS/MBISS GCh Am & Can Ch Darwyn's I'm Not ARguing That
- who is also one of Canada top 10 dogs amoung all breeds wtih 20 BISs!
For these 3 show weekends, his coat and condition was prepared by his owner-breeder (Larisa Hotchin), while he was presented and handled in the ring to these awards by Mr. Aaron Andriash.
We started Zorro out in the show ring to see if he would enjoy it - being a fairly laid back dog at home we were not sure (
just like his uncle, Donny
) ... it turns out, he enjoys being in the ring very much! Especially when he is with his buddy Aaron!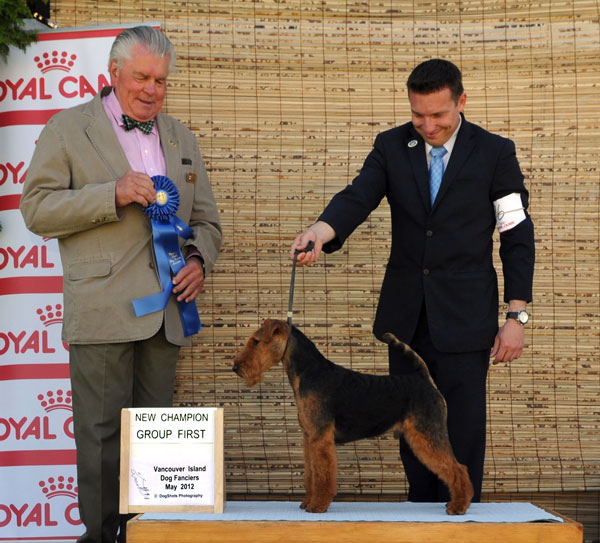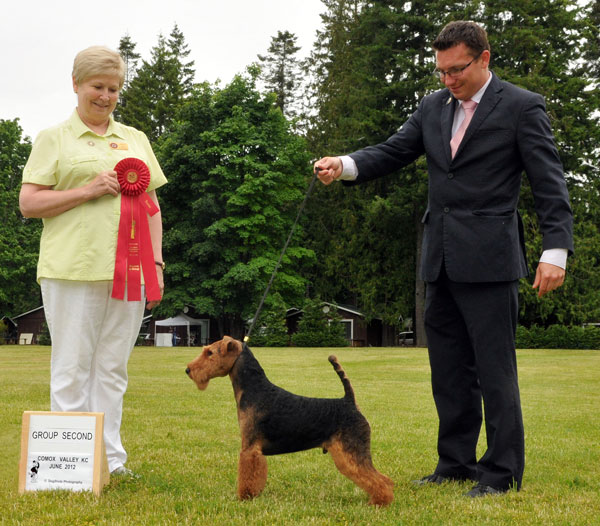 Zorro on the move!
Here is a short video that Michael and I took before Zorro ever entered a show ring. He is in a very short coat and furnishings and we took this video primarily for our own benefit to be somewhat objective and see what he looked like from another perspective. He's a fun dog, so I thought that I would share it on his webpage. Remember, he has only been on lead a few times and in very short coat! One version has music, the other does not.
CLICK HERE for the version with music
CLICK HERE for the version that does not have music
Zorro as a youngster (puppy to ~ 6 months old)
Even as a young puppy, Zorro was a very promissing Welsh Terrier. He always had an excellent coat in both color, texture and thickness. He always had a very eye catching profile, and a truly beautiful head and expression. Hopefully you see a bit of what I see in some of these photos! Enjoy!
Here's Zorro at 6 months old!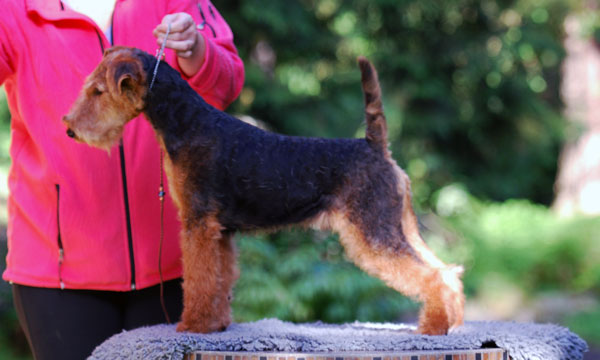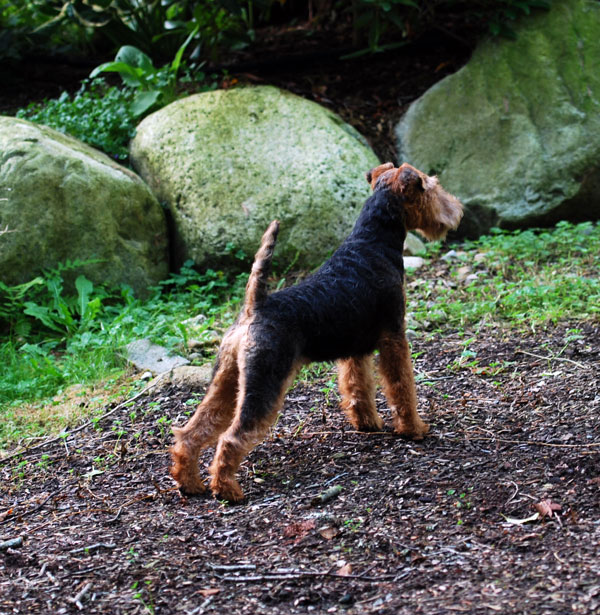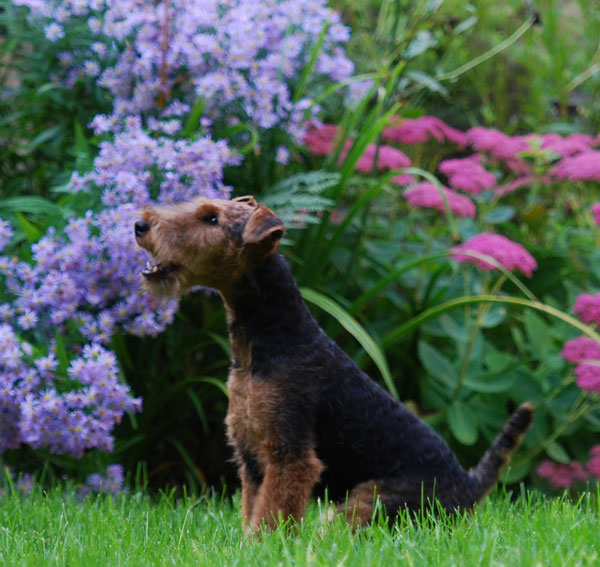 Here's Zorro with his sister Ella at 5 months old on a camping trip!
And now a bit younger -- helping Michael in the back with some building! :)
And, here is Zorro at his finest ... make a lap available and he is UP and IN it!
(BTW - Zorro is the one closest to the camera)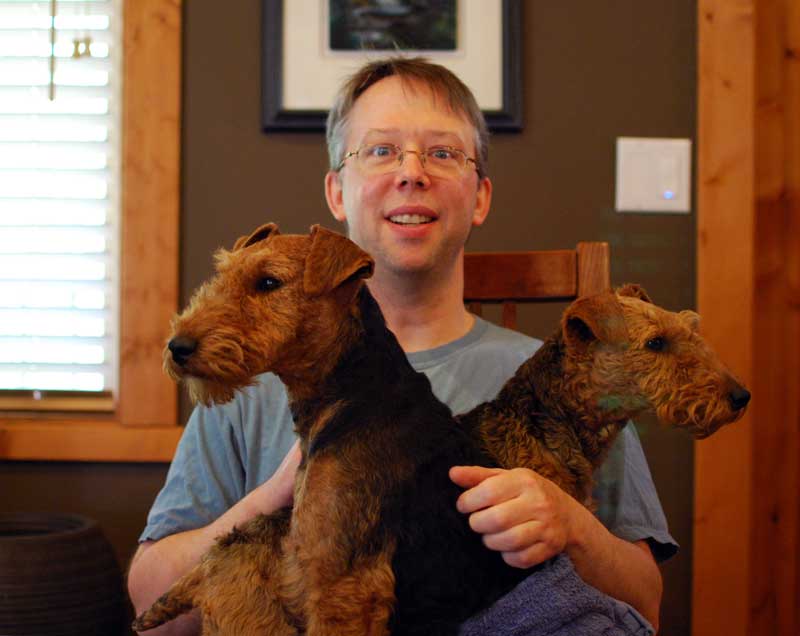 STAY TUNED!