Trooper:
RBIS American Silver Grand CH and Can. CH
Darwyn Here for a Good Time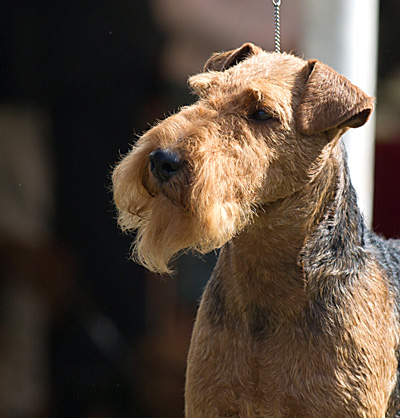 Proud owners:
Larisa Hotchin & Sonya Cornick
(also Parker's owner)
Breeders:
Larisa Hotchin & Bruce Schwartz
Handler: Mr. Ernesto Lara
* Dam (
Paisa
):
Multiple BIS winner & #1 Welsh Terrier (US and Canada - 2009)
* Sire (
Joe
):
Top winning Welsh Terrier in Canadian History + Significant wins at many top Terrier shows in the US &Canada and BIS at All-Breed shows in both countries!
**Head shot photo: Canine Candid Photography

Click here for Trooper's Pedigree
Click here for Trooper's public OFFA DNA and Health Tests:
Trooper is PLL DNA (Normal / Clear)
; DM DNA (Normal / Clear); Full Dentition
*Other tests will have the OFFA paperwork completed when he eventually comes home from being campaigned. Regular vet provides normal for patella & heart/cardiac
Troopers Key Show Facts:
Trooper is one of the top Welsh Terriers in the US for 2014!
He wasn't even a champion at the start of the year - in either country! He's now a champion in both countries AND got his Grand Championship in the US in the same time period! And ... at the time of writing this, he is only a couple of points away from his AKC BRONZE GRAND CHAMPIONSHIP -- WOW! Given the low entries in our breed, in general, this is truly an accomplishment that says much about the quality of this dog. We are very proud of him and what he has done ... and it seems like he has only just started!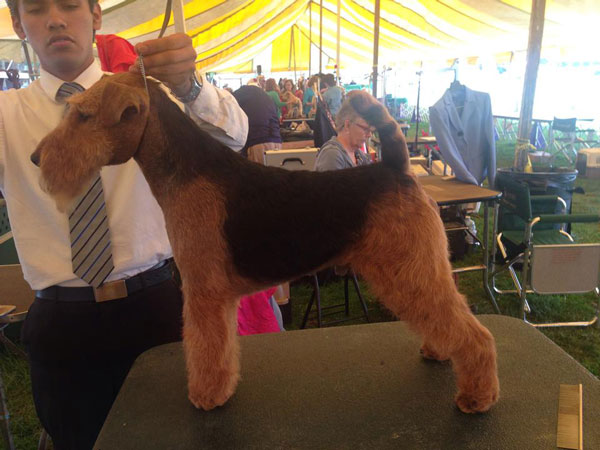 *
Reserve Best in Show!
(AKC - all breed show)
*
Multiple Group Winner!
(US)
*
Group Winner from the classes to finish his Canadian championship!
(presented by Peter Scott)
*
Select Dog at Welsh Terrier Club of America National Specialty atMontgomery County Kennel Club 2014!
*
BOS at Hatboro Dog Club (2014); WTCA Specialty, 2014 under breeder-judge Mrs. Dianne Barclay

* Finished his US CH and US Grand CH in excellent competition - and quickly!
--> Actually, he achieved his US CH in only 5 weekends of shows, his US Grand CH shortly after that (and in very competitive group of welshies. He then took a short trip up to Canada and finished that same weekend he went up with multiple group placements and a Terrier Group 1st win!
*Trooper has only sired 1 litter, but from that litter, he is the sire of 2 champions! "Maria" (Can CH Darwyn's Santa Maria) is a multiple Best Puppy in Show winner and BOS sweeps winner at the WTCA National at Montgomery 2013! "Indie" Can CH Darwyn's Miss Independant is Maria's litter sister. She finished during the summer 2014 and is well on her way to her AmCH.
Below are just a few of Trooper's award photos:
Judge: Mr. Elliott Weiss
Handler: Ernesto Lara
Show: Laurel Highlands K.A. (October 2014)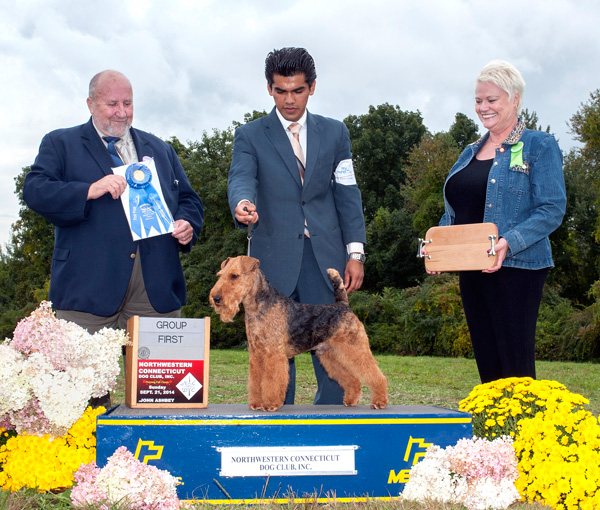 Judge: Mr. Kenneth McDermott
Handler: Mauricio Vargas (Ernesto Lara's team member)
Show: Northwestern Ct Dog Club (September 2014)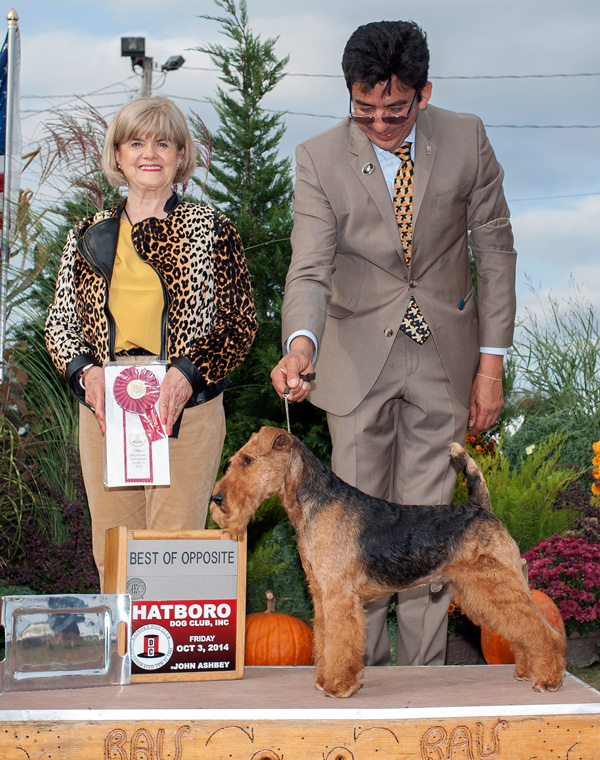 Judge: Mrs. Dianne Barclay
Handler: Ernesto Lara
Show: Hatboro Dog Club - Welsh Terrier Club of America Specialty (October 2014)
Below are a few candid photos of Trooper on Montgomery County KC 2014 weekend
(WTCA National Specialty) -- 3 years old here:
Many thanks to Rhonda Cassidy for the photos below: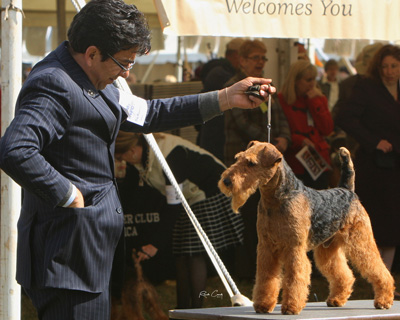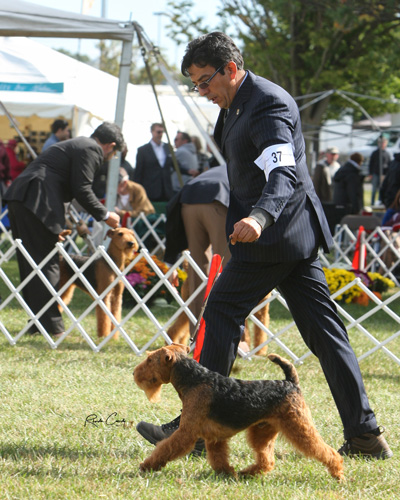 Many thanks to John Melair for the next two lovely photos: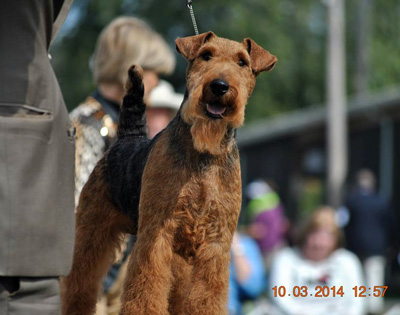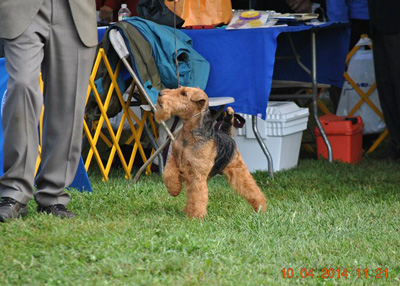 Many thanks to Candid Canine Photography for the photos below: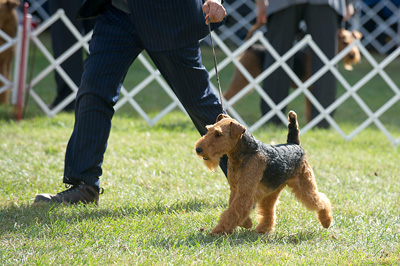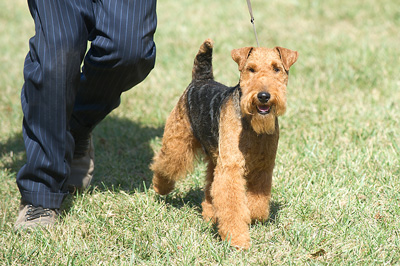 Below are a few photos of Trooper & Ernesto Lara at the AKC National / Eukanuba Florida Dec 2013 shows (just over 2 years old here) :
Photos by Rhonda Cassidy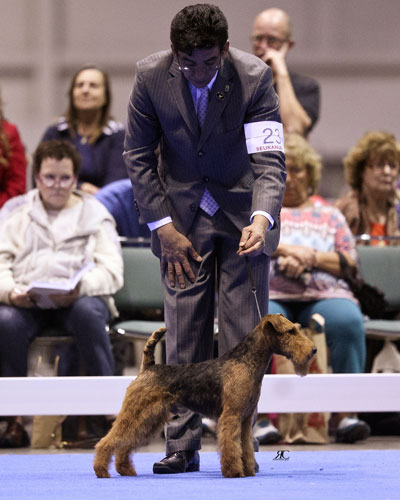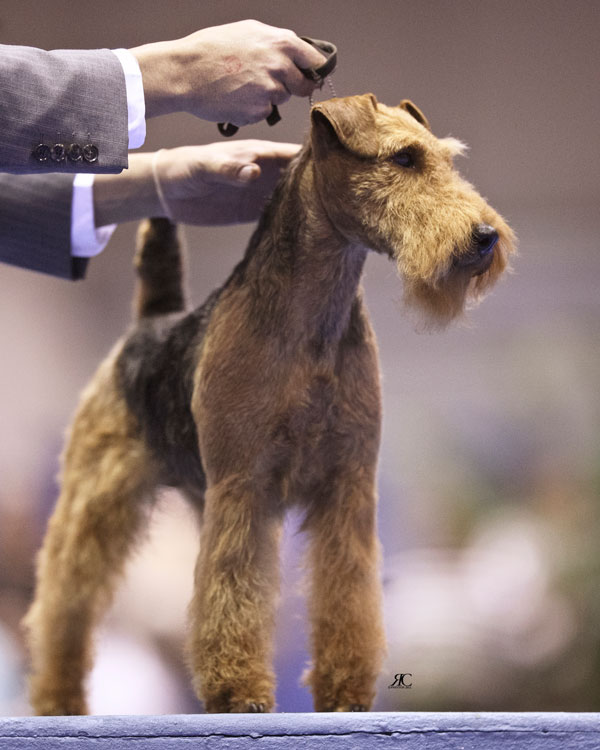 When Trooper was 1 year old, I (Larisa Hotchin) showed him at a show just to see what he would think about this "show" thing ... he liked it! We had fun. :) But, we waited until he grew up more ... here are a few photos from that weekend with his breeder/owner Larisa Hotchin...
Photos by Michael Hotchin: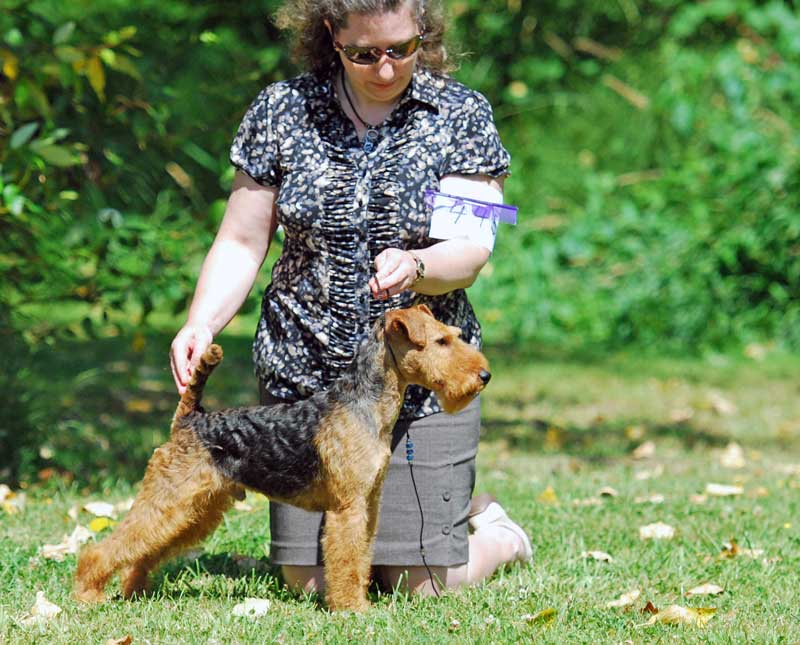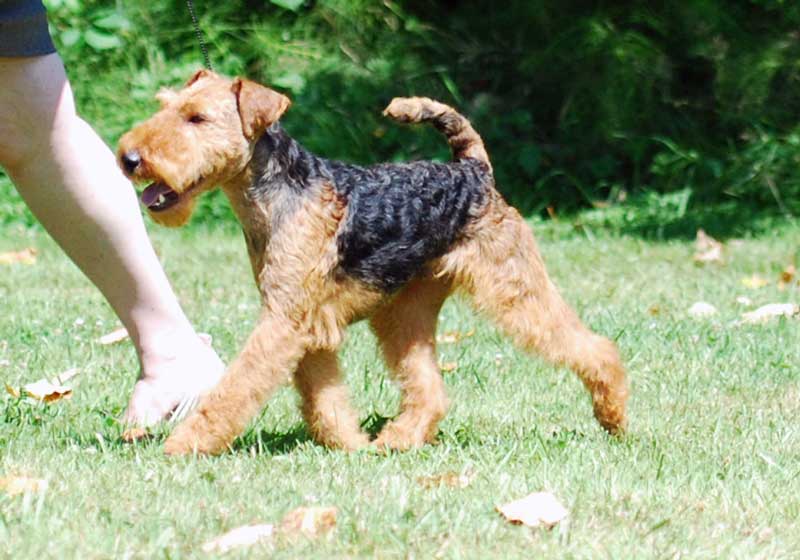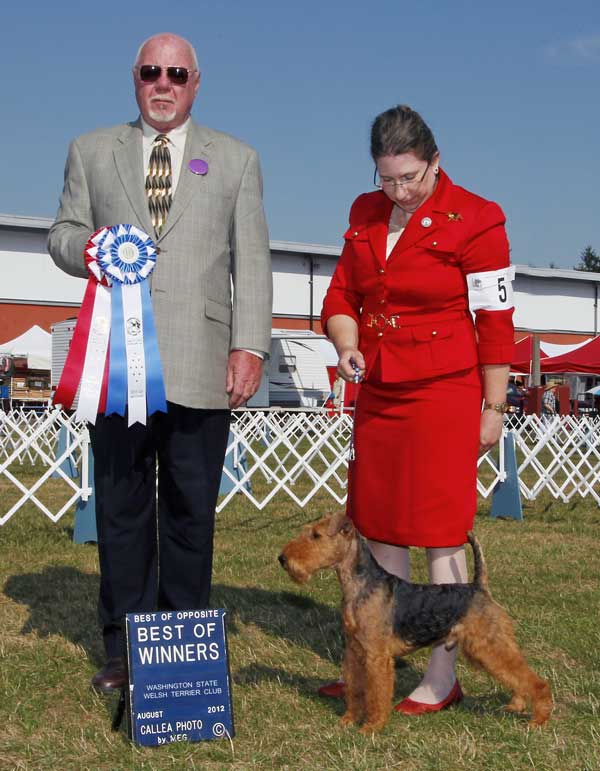 And now for something completely different .... one of the weekend getaways that Michael and I did where Trooper joined us. Here he is having fun on the beaches of the West Coast of Canada in the Tofino (Long Beach, BC) area!
Video: Scary Waves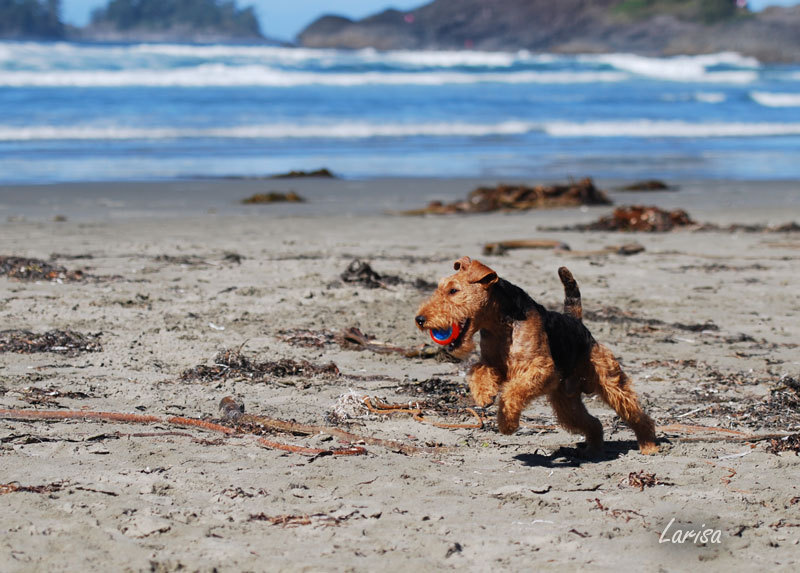 TROOPER!

American BRONZE Grand Champion & Canadian Champion Darwyn Here for a Good Time!