DONNY: Am Ch Darwyn's Mad Men
Sire:
Foreign (multiple country) Ch. Merlin Embrujo De Brujas (Merlin)
Dam:
Am & Can Ch Saredon Chasing Secrets (K-See)
Click here for Donny's Pedigree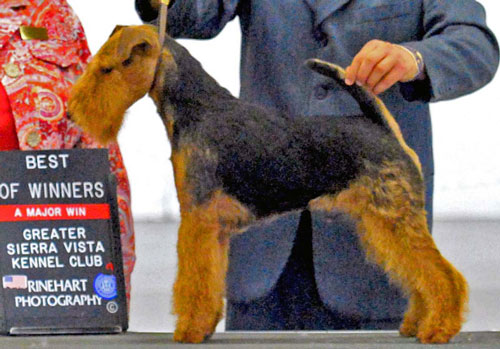 Donny (Am CH Darwyn's Mad Men); **13 months old in these show photos**
*his 2 weeks of dog shows where he became an American champion and was awarded a Group 2nd in Arizona (US)
Tested OFA (OFA #WT-PLL103/11M-VPI):
Patella (normal); cardiac/heart (normal); PLL DNA - normal / clear
A direct quote from Donny's Co-Owners:
I don't think I'd ever consider another breed of dog again to be honest; he really is the best dog ever. Just the right size to travel and hang with, more fun than anyone can properly articulate, patient and a complete joy. More human than dog really.....
Given Donny's pedigree (his dam, K-See - Am/Can Ch Saredon Chasing Secrets) was extremely successful in the show ring; and his sire - a Billy crossed with Ledgerock son - was the sire of my multi BIS bitch that I co-owned - Paisa), I was interested in "growing him up" as a potential show dog.
When he was still a puppy, I just wasn't sure he would 'make the cut'. He was beautiful to look at (K-See's gorgeous coat and color, beautiful blend of neck into shoulders and topline, enough leg but not a big dog, tail bang up on top and a really short back!) ... but he had a bit of an 'old soul' look in his eyes. When he wasn't running around playing in the front yard, he was happiest being in the kitchen (or wherever we were) hanging out, just watching us. He was a very calm dog in the house, so much so, I just could not see him being animated in the show ring (I was wrong - put a show lead on him, walk him in the building ... instant show dog!).
I kept toying with the idea of placing him into a pet home, and then I would look at him and recognize that he looked like he could easily gain his championship.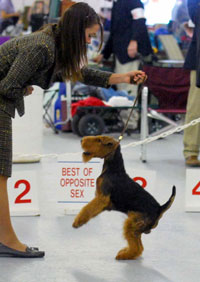 During the fall 2010, I decided to join friends at some dog shows in Arizona. A few days after getting back from Montgomery, I stripped off Donny's jacket (early October) and called an Arizona handler - Christian Rangel. He didn't have any class males, so Donny would be welcome at his set-up .... a week later he flew down to Arizona (still mostly neked!) and 4 weeks after that, I flew down to join my friends at the shows to watch Donny in the ring.
Donny was barely in an "8-week-old jacket" and certainly not "specials furnishings" .... his coat grew quickly and was the excellent texture I knew it would be (just like his dams, which is also the same as his sister Dora's). He looked beautiful - and very competitive!
Donny won Best of Winners for 3 majors that weekend! The following weekend he finished his championship as well as being awarded a Group 2! WOW ! !
During all of this I was approached by a friend that has bred and shown Irish Terriers for many years - inquiring whether if I might have a suitable dog for her very terrier knowledgeable sister - even an older dog. Once I met her sister, I knew that I would trust her with any of my welsh, anytime! Given her experience with her sisters Irish Terriers, and knowing that this is an uncommon breed, she was open to helping me extend my breeding program by keeping him intact for me just in case I might have a bitch available that could be bred to him.
So at age 13 months old, with a 2 month old jacket, Donny was a new American Champion in only 2 weekends of shows and the following month in an absolutely wonderful and loving home.
Since then Donny has had enjoyed trips hiking through the mountains of Whistler, beaches of the Oregon Coast and many places in-between. We are waiting for the right bitch to breed to him one day - or perhaps he will just live out the rest of his life as the beautiful champion he is, hanging out on the couch or playing in parks and beaches!
His sister - Dora - went on to win Winners Bitch 2 of the days at Montgomery County the following year, and is the dam of some truly beautiful Welsh Terriers.
Here are a few pictures when I watched him being shown by Christian and Rebecca (remember, he is only 13 months old, and in a very short coat as I was always on the fence about whether or not I should bother showing him!).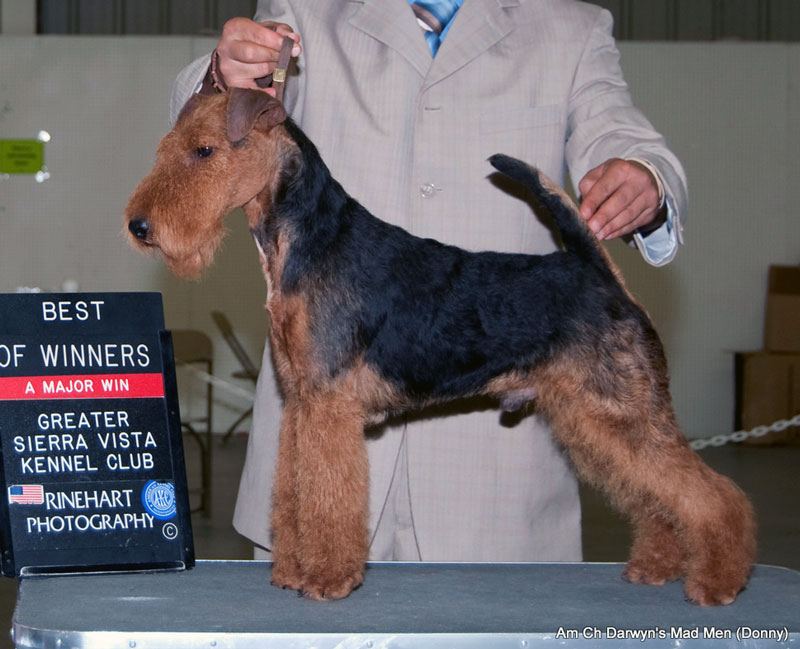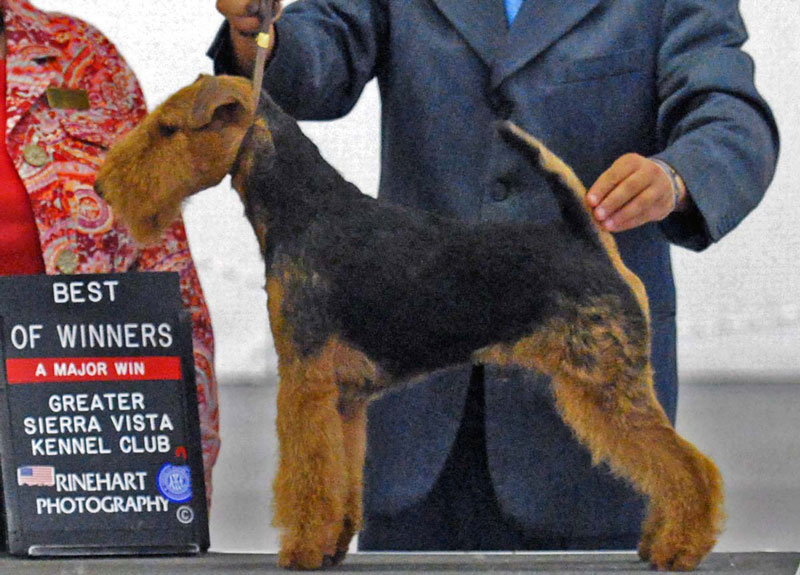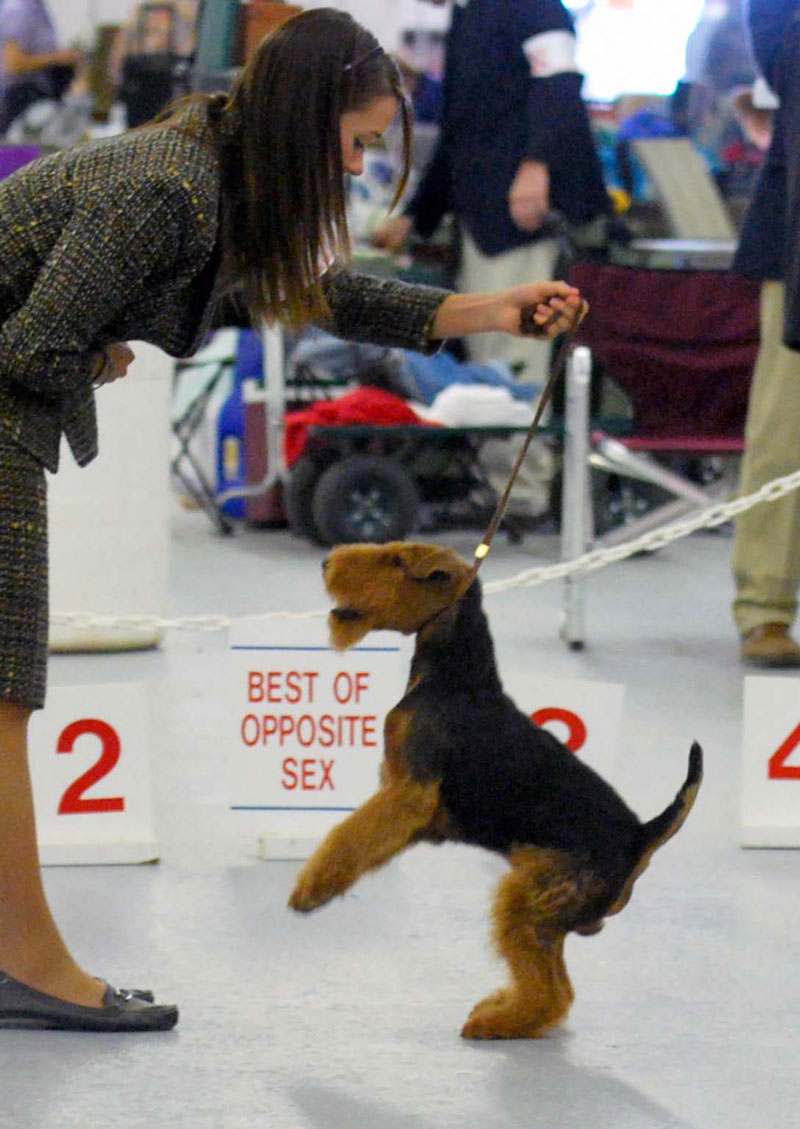 And, now a few photos of Donny living his real life! Not his "2-weeks of show fame"! :)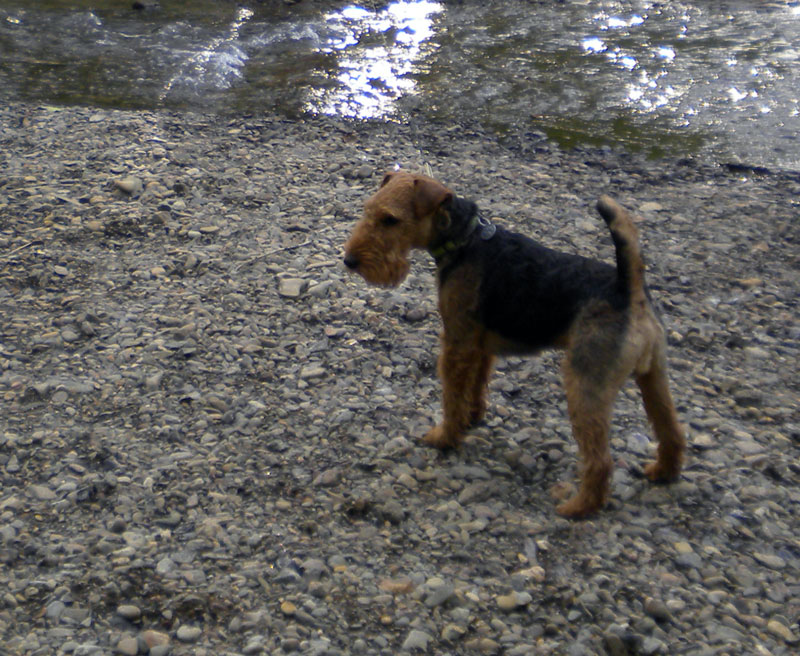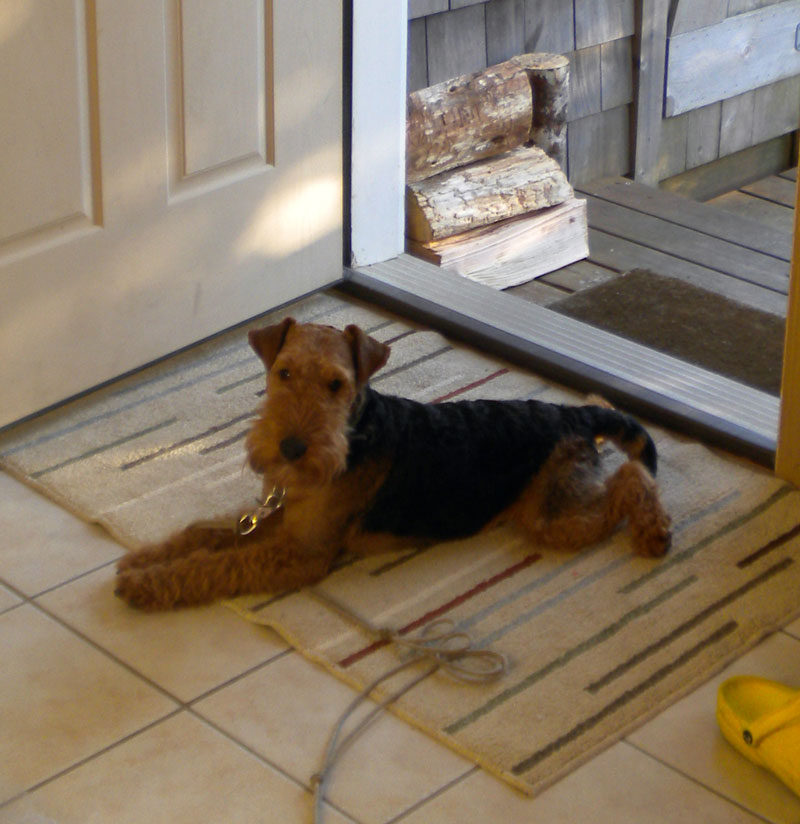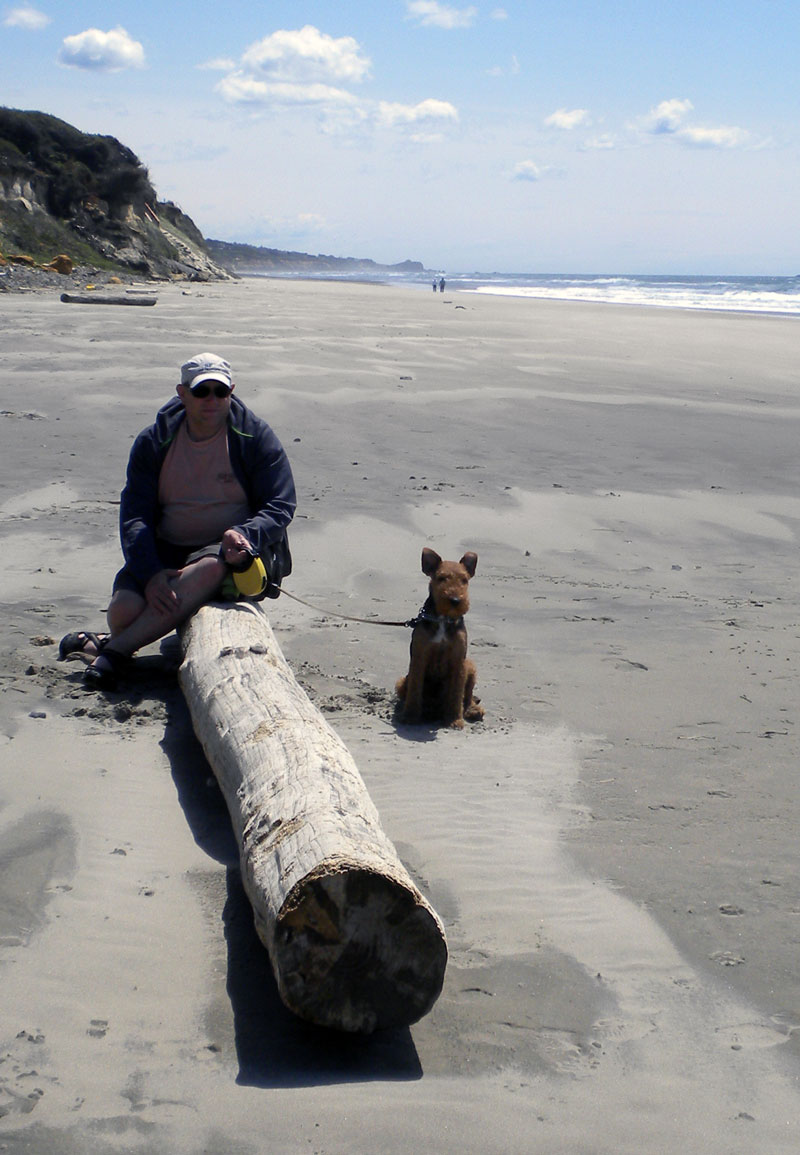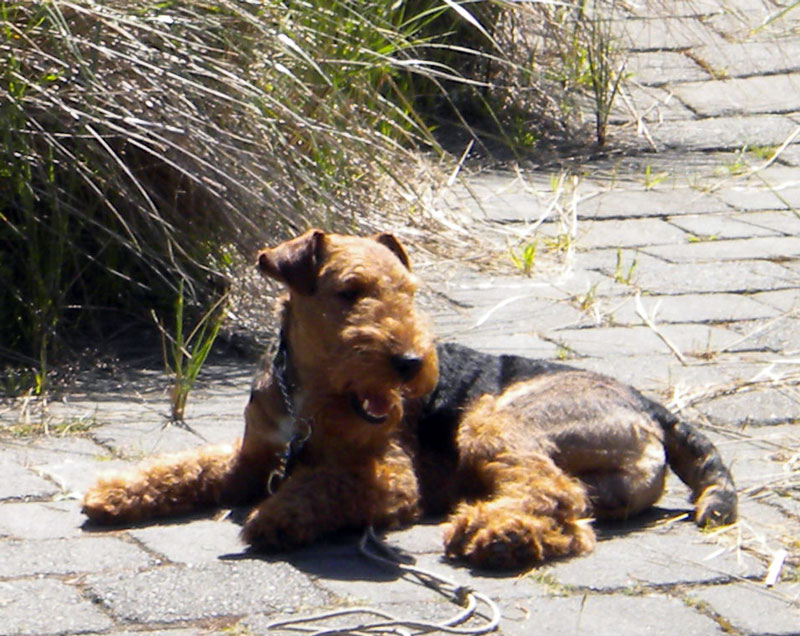 NOW - isn't this a great life?
I feel very fortunate that my friends are willing to keep this boy intact for me, while giving him a fantastic pet life that he deserves! The best of both worlds! If I choose to, I can still breed him to an appropriate girl ... and for a breed that is relatively uncommon and hard to keep many numbers in, this was a wonderful opportunity for all of us. I love the pictures and stories from his owner and am so happy for Donny.
I also am thrilled that my friends in Arizona pushed me to get this beautiful dog into the show ring (albeit for only 2 weekends!) ... where he got his American championship and Group 2nd awards which were very much well deserved ... as he deserves this life as a true pet also. :)
We love you Donny and so happy that you are happy!
NOTE FROM DONNY'S OWNERS WHEN THEY FIRST SAW HIS NEW WEBPAGE (they had Donny for about 14 months by this time):
The webpage is absolutely fantastic!! You did a great job and we love the pic you chose for the banner-really, it couldn't be any better.

He is our luvvy, no doubt about it. Got him groomed yesterday and he is feeling a bit naked and exposed today. It had been about 2 months since he last grooming (we left him with coat on because he's being coming skiing with us), so he looks like a totally different dog today. It hasn't impacted his energy level though....man, this dog has energy!

Did I mention that Donny is a snow-dog? We headed to the slopes and snow with baited breath wondering how he would feel about snow. We weren't disappointed! Donny LOVES the snow.....I always thought the Irish Terriers were snow lovers, but they don't hold a candle to the Welsh Terrier or this particular Welshie....holy wow!

At any rate, he is a hit in Whistler. We can't walk for more than a few feet with him before being stopped and asked what he is; and surprinsingly, people of all ages.Most people have never heard or seen of a Welsh and are surprised at how handsome (and yes, calm) he is.We also end up talking to a lot of Airedale owners who are very interested in him. With pretty much 100% consistency, all the Airedale owners (including the ones that live down the street with the 2 female Airedales that Donny ADORES...) say that while they love their Airedales, they are too much dog and are completely taken with the Welsh. We are quick to tell them that there are differences in the personalities....Airedales can be big lazy clowns while the Welsh are stealth in everything they do.....and this includes the fun they have. Owners can expect to be ambushed at regular intervals......

We were out looking at vehicles yesterday in Richmond Auto Mall. They have bunnies that have gone wild and live all over the area. Needless to say Bill was car shopping and Donny and were 'checking' out the bunnies....man, you should see the look on their face when they see Donny coming!

Thanks again for everything Larisa. Again, the webpage looks fantastic! ...

...I don't think I'd ever consider another breed of dog to be honest; he really is the best dog ever. Just the right size to travel and hang with, more fun that anyone can properly articulate, patient and a complete joy. More human than dog really.....